Diary 1
Date:
Thursday, November 23, 2017
Field Trip Name:
Antarctica
Where You Are:
Christchurch
Kia ora koutou,
The weather down at Scott Base has been terrible this season and many flights have been delayed. Only a few flights have left over the last two weeks and now there's a huge backlog of people and cargo waiting to head south. It was disappointing to learn that our flight had also been postponed, but hopefully we'll be on our way tomorrow. At least with the delay it gave you more time to get organised for your Antarctic adventure. 
From Dunedin to Christchurch - your gateway to Antarctica
It was a pleasant day to travel from Dunedin to Christchurch. You had plenty of time to think about what it would be like to land on the coldest, windiest, and driest continent on Earth. This will be my fifth trip to Antarctica, but I am still so excited about the journey ahead. Antarctica captures people's imagination and ignites an adventurous spirit. It's impossible to think about Antarctica and not think of the stunning environment, and the people who first explored this frozen land. Stories of extreme hardship, heroic acts and tragedies are common. Often these people were both explorers and scientists. It is a huge privilege to be able to follow in their footsteps and venture to this last true wilderness.
A history of Antarctic adventures
Aotearoa has a strong connection to Antarctica. Many expeditions to Antarctica have left from here and New Zealanders have played a key role in exploring Antarctica. According to Māori legend, Ui-te-Rangiora may have been the first to see Antarctica in the year 650. Ui-te-Rangiora led a fleet of waka southwards until they reached ice floes and icebergs in the Southern Ocean. This fleet may have reached as far south as the Ross Ice Shelf. He called this area of the Southern Ocean Tai-uka-a-pia (sea foaming like arrowroot). This was because the ice floes looked like arrowroot when it's ground into powder. Māori travelled all over the world seeking trade and knowledge. Tuati for example, was part of a United States Exploring Expedition. This expedition explored the southern oceans between 1838 and 1842. Led by Lieutenant Charles Wilkes, the expedition made maps and provided the first evidence that Antarctica is a continent. Later still, Sir Edmund Hillary led the support crew for the British Transantarctic Expedition. This 1956-58 expedition aimed to be the first to cross Antarctica. The expedition led to the construction of a New Zealand base which later became Scott Base. Scott Base will be your home during this field trip.
Dressed for the occasion 
Once you arrived in Christchurch you made your way out to the airport. Antarctica New Zealand's office is next to the airport and Antarctic Centre. This is where you collected your gear. Amanda is the logistics co-ordinator for Antarctica New Zealand and she gave you a selection of the warmest clothing available. Four jackets, overtrousers and various other layers of wool and fleece had to be tried on to ensure they fitted. It never ceases to surprise me how much clothing you need to brave the Antarctic cold. Lots of light layers are worn to trap heat and a heavier windproof layer protects against the icy winds. It took a while to wrestle all your gear into a bag and make room for multiple pairs of gloves and hats. You will have to wear your double-layered boots and Extreme Cold Weather (ECW) clothing on the plane. Then you will be ready to step off the plane on to the Antarctic ice in temperatures well below 0 degrees Celsius.
Fit for purpose
After collecting your clothing, you talked to Amanda about preparation for your trip south. Everyone heading to Scott Base must complete a medical to ensure they are fit and healthy. There are limited medical services at Scott Base and no fully equipped hospital so it's important to make sure everyone is as healthy as possible. Before your departure you also needed to know about how to protect Antarctica's fragile environment. You completed online courses. You also had to make sure your clothing and footwear were clean, so you would not be introducing any unwanted organisms to Antarctica. You learn more about this in the video.
Now you are ready for your 3,900km journey to Antarctica. Hopefully the weather is fine, and you can begin your icy adventure. Make sure you don't sleep in as you must report to Antarctica New Zealand at 0700 hours tomorrow.
See you then,
Shelley the LEARNZ field trip teacher.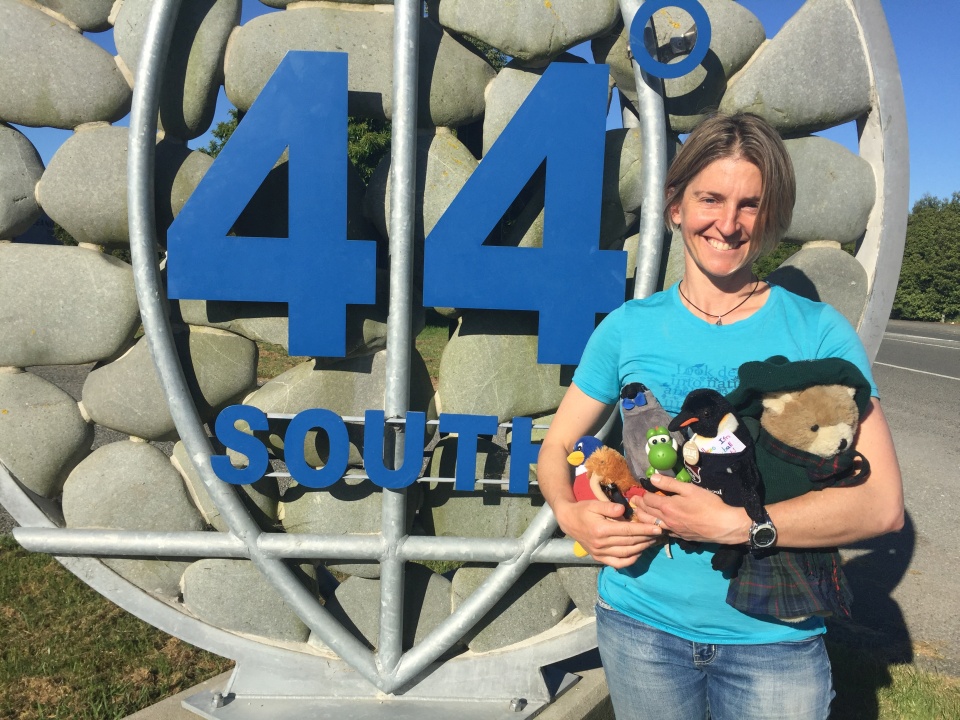 Shelley and the ambassadors reach the latitude of 44 degrees south on their journey from Dunedin to Christchurch. What latitude is Scott Base? Image: LEARNZ.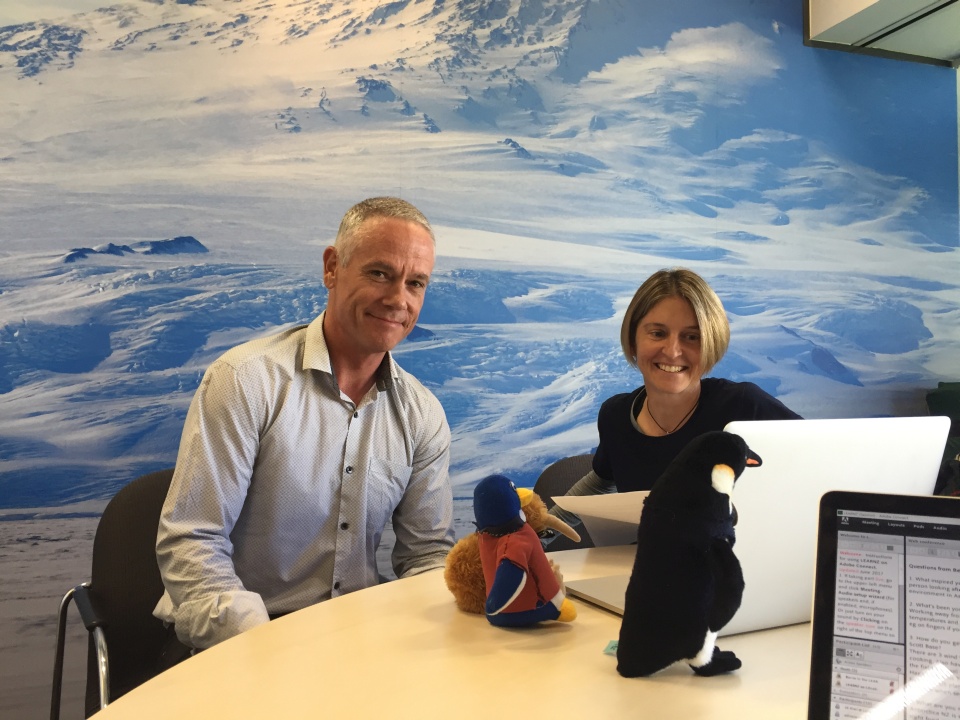 Simon Trotter and Shelley talk to Red Beach School and Belfast School during the web conference. Image: LEARNZ.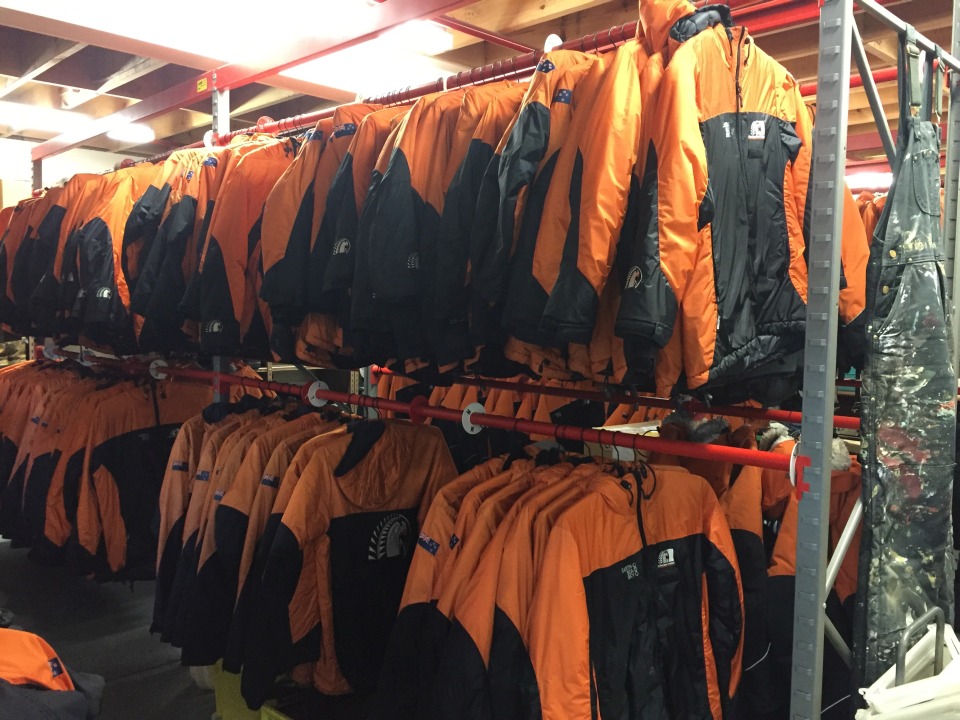 You had to report to the Antarctica New Zealand clothing warehouse to get your Extreme Cold Weather clothing. Image: LEARNZ.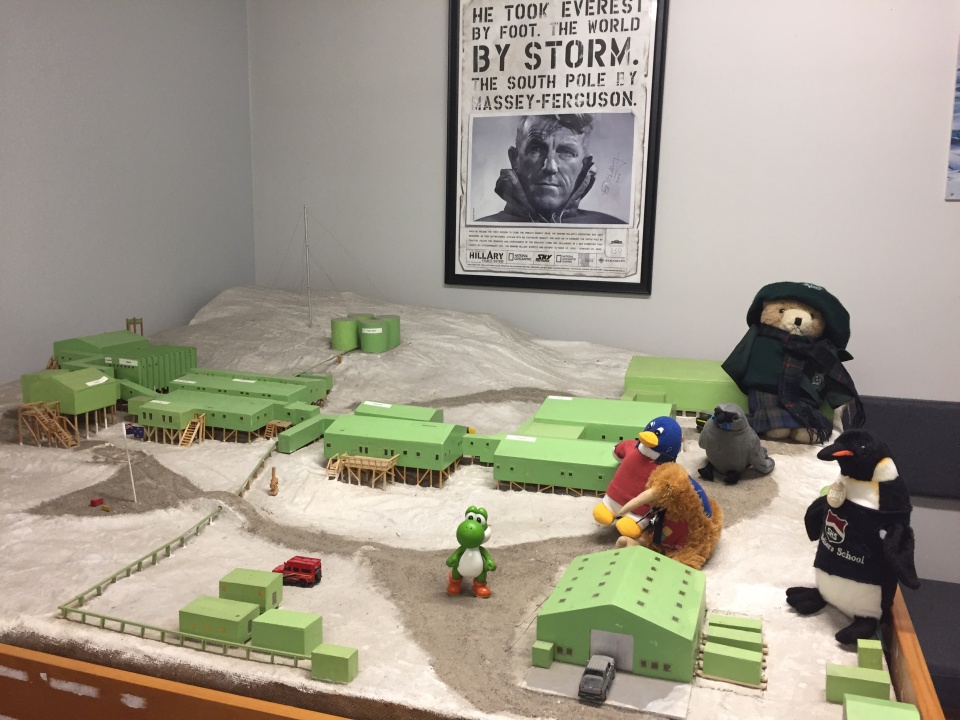 The ambassadors check out a model of Scott Base, New Zealand's research base in Antarctica. Image: LEARNZ.
Amanda shows off the Extreme Cold Weather (ECW) jacket that will keep you warm down in Antarctica. Image: LEARNZ.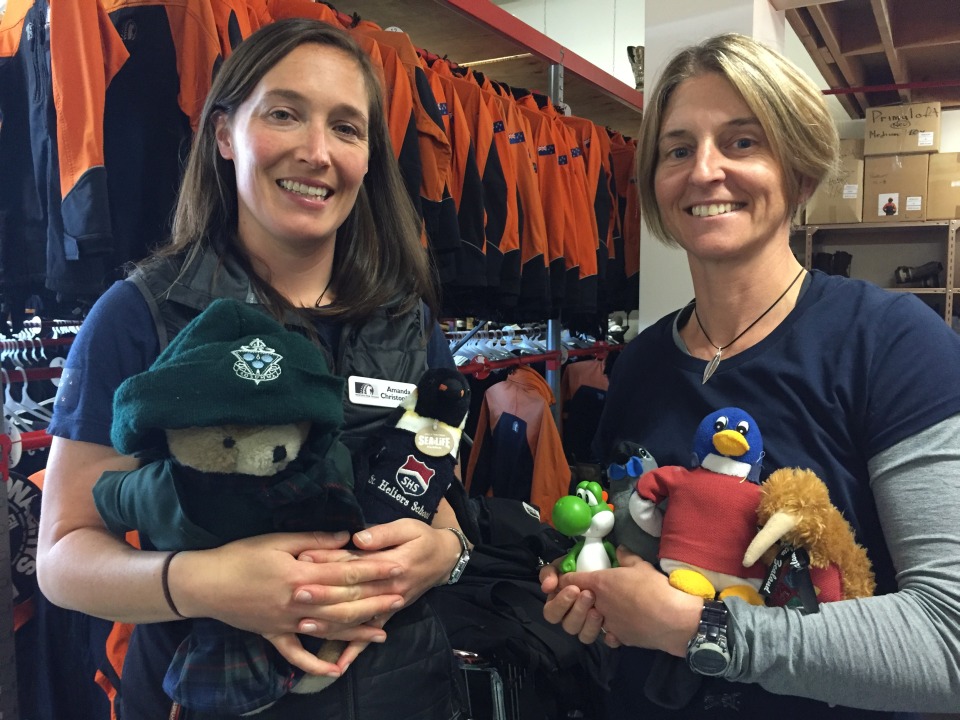 Amanda Shelley and the ambassadors talk about what to expect down in Antarctica. Image: LEARNZ.