Diary 6
Date:
Thursday, November 30, 2017
Field Trip Name:
Antarctica
Field Trip Place:
Antartcica
Weather:
Fine, light winds -5 degrees Celsius
Where You Are:
Scott Base
Kia ora koutou,
With clear blue skies and warm conditions, you were determined to make the most of your last day in Antarctica. After a scrumptious breakfast and a thought provoking web conference you hatched an adventurous plan.
Before leaving base
Ross Island has lots of walking trails so you decided to put the skills you developed during Antarctic Field Training to the test and head out for a hike. As you gathered together all the gear that you needed just to go for a walk, you realised that everything in Antarctica takes longer than it does back home. Before leaving the safety of Scott Base you had to write your intentions in the sign out book and let the coms team know when you would be back. This system means that everyone on base is accounted for and a rescue can be quickly organised if needed. You also had to take a radio with you as there is no cell phone coverage in Antarctica.
Be prepared
Once you had signed out you had to wrestle all your gear into your pack. The weather in Antarctica can change within minutes so you need to be prepared. You packed an extra jacket, goggles, gloves and a water bottle. Because it's so cold here the air is very dry, so it's easy to get dehydrated. You have to drink a lot more water than you would at home. The ambassadors also insisted on taking some snacks to maintain energy levels. Another item that you wouldn't normally take with you on a hike in New Zealand is a pee bottle. When you're away from base you must use a pee bottle because you're not allowed to leave any trace of where you have been. Strict rules like this mean that Antarctica can stay clean and unpolluted. Once you had climbed into all your cold weather clothing and applied sunscreen you were finally ready to head out the door. 
Time to explore
It was so good to get outside and breath the fresh, cool air of Antarctica. You could see for miles. Mount Erebus looked impressive in the morning light and you could just see smoke rising from the crater of this active volcano. To get a better view you headed up to Observation Hill. The track turns off the road just above McMurdo Station. This American station is much larger than Scott Base and looks a bit like a mining town with buildings dotted all over the landscape. The track up Ob Hill is steep and crosses loose volcanic rock. In places wind blown snow had built up on the track and frozen solid so you had to take care not to slip.
Take in the view
From the top fantastic views stretched out before you and you could look out to the Transantarctic mountains in the west and north towards the open ocean. Looking south you could see where Captain Scott and his team would have travelled during their bid to be the first to reach the South Pole. A large wooden cross has been placed at the top of Ob Hill in memory of Scott and his men. After their deaths in early 1912, the last members of Scott's party were found by a search party. This party took their photographic film, science samples, and other materials. They had to leave Scott and his men in their tent, and when they later returned they couldn't find Scott's campsite. The search party returned to their base camp in McMurdo Sound to await the return of their ship. After it arrived, they worked to build a memorial cross, inscribed with the names of Scott's party and the words "To strive, to seek, to find, and not to yield." After a difficult two-day sledge journey, the cross was placed on the summit of Observation Hill. The cross made you think about the hardships these early explorers faced.
New Zealand science in Antarctica
As you headed back down the hill you may have thought of Scott and his adventures. Scott's expedition was not just about being the first to the pole, it was also about science. This scientific work continues today. You met with Fiona on the road back to Scott Base. Fiona works for Antarctica New Zealand and her job is to support scientists with their work. Fiona talked to you about the purpose of Scott Base and its mission to continue science work in Antarctica. Fiona explained that Scott Base aims to value, protect and understand one of the last unspoiled landscapes on Earth. It was interesting to hear about how much science is being done and how scientists are working to better understand the possible impacts of climate change, which will allow us all to be better prepared for the future. You can find out more by watching the video.
Time for change
You ended the field trip on the beach outside Scott Base. It's not often you get to enjoy a sunny day on a snowy beach! You spoke to Christina about climate change and what can be done to reduce this. Luckily, we can all do something. Even small actions like taking the bus or walking instead of driving, and using less electricity can have a big impact. Watch the video about this. 
It has been a spectacular few days here in Antarctica and I hope you have enjoyed your icy adventure. I feel incredibly lucky to have been able to come to this special place and will return home inspired by what I have learned. 
See you on another field trip soon.
Shelley, the LEARNZ field trip.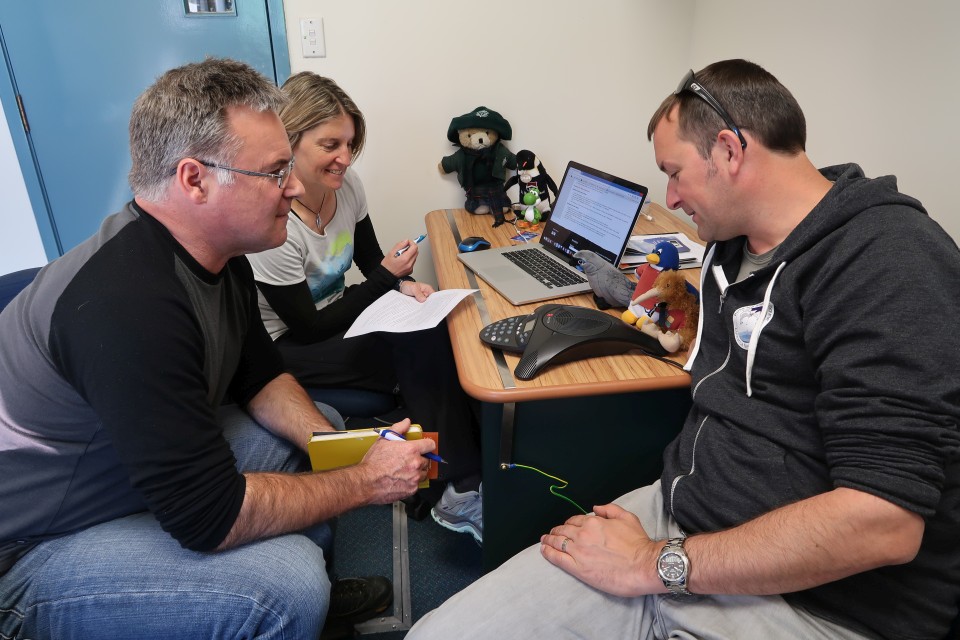 Gavin and Christian from the Ross Ice Shelf Programm and Shelley talk to St Heliers School and Ilam School during today's web conference. Image: LEARNZ.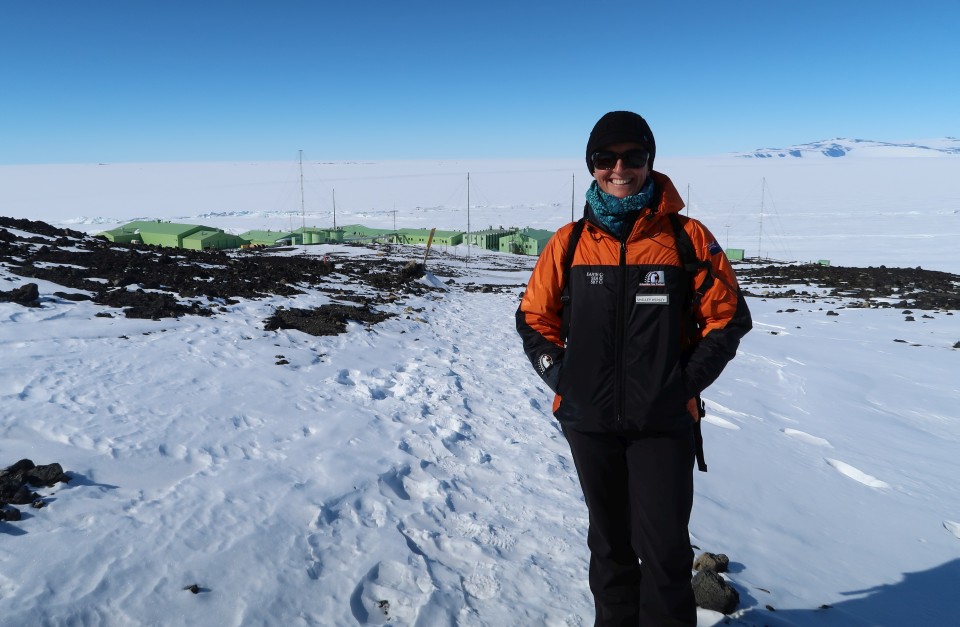 Shelley sets out on a walk from Scott Base. Image: LEARNZ.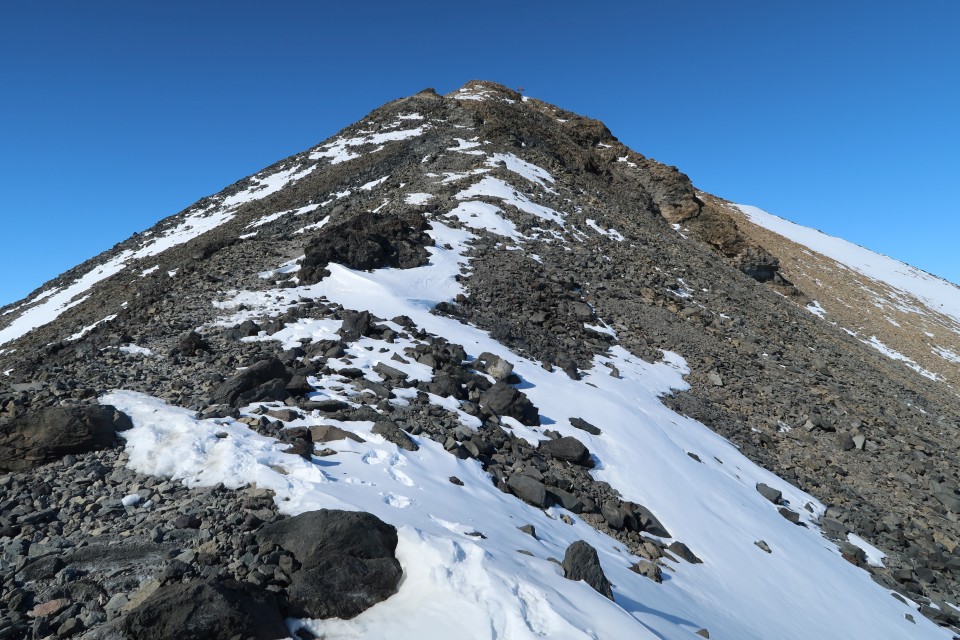 Observation Hill is a great place to go to get spectacular views over McMurdo Sound. Image: LEARNZ.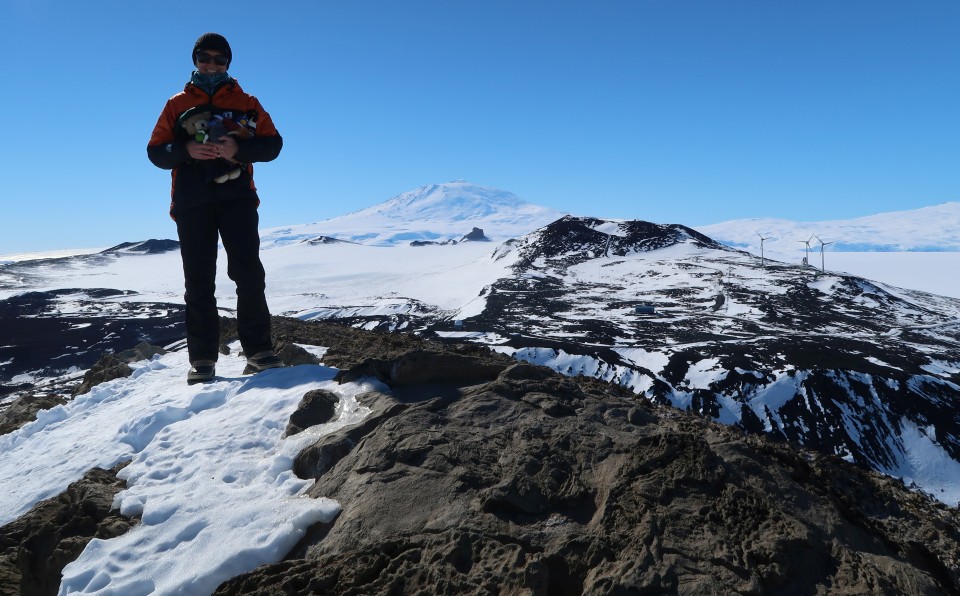 Shelley makes it to the summit of Ob Hill. Image: LEARNZ.
Shelley and the ambassadors enjoy the views from Ob Hill. The cross is a memorial to which famous explorers? Image: LEARNZ.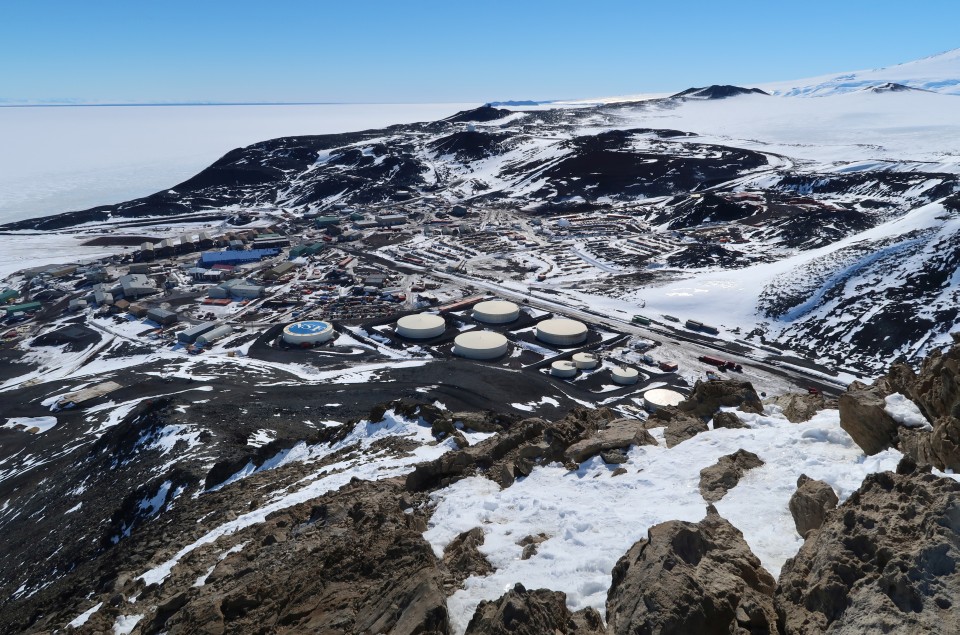 Looking down at the American McMurdo Station from Ob Hill. How many people do you think can stay at this base? Image: LEARNZ.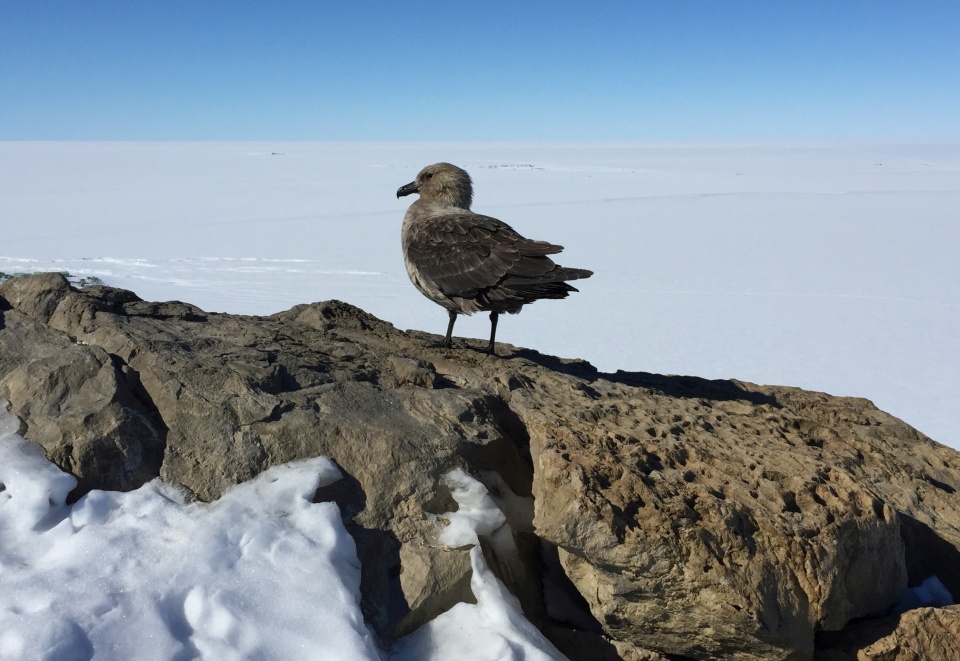 A skua came to say hello while you were on the top of Ob Hill. What do you think these birds eat? Image: LEARNZ.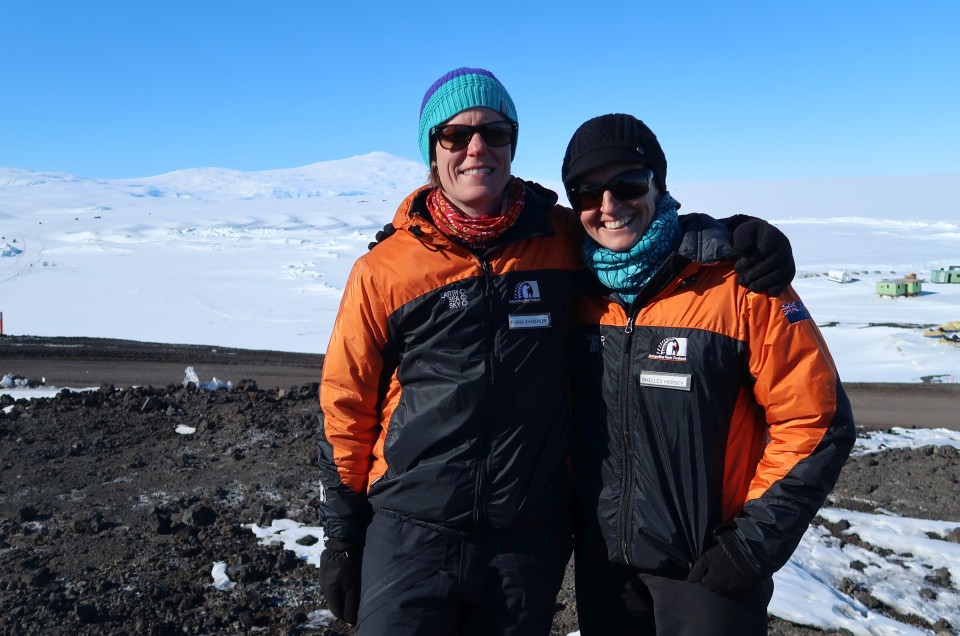 Scott Base is a great place to meet new friends. Fiona is Shelley's roomie and her job is to support scientists in their work. Image: LEARNZ.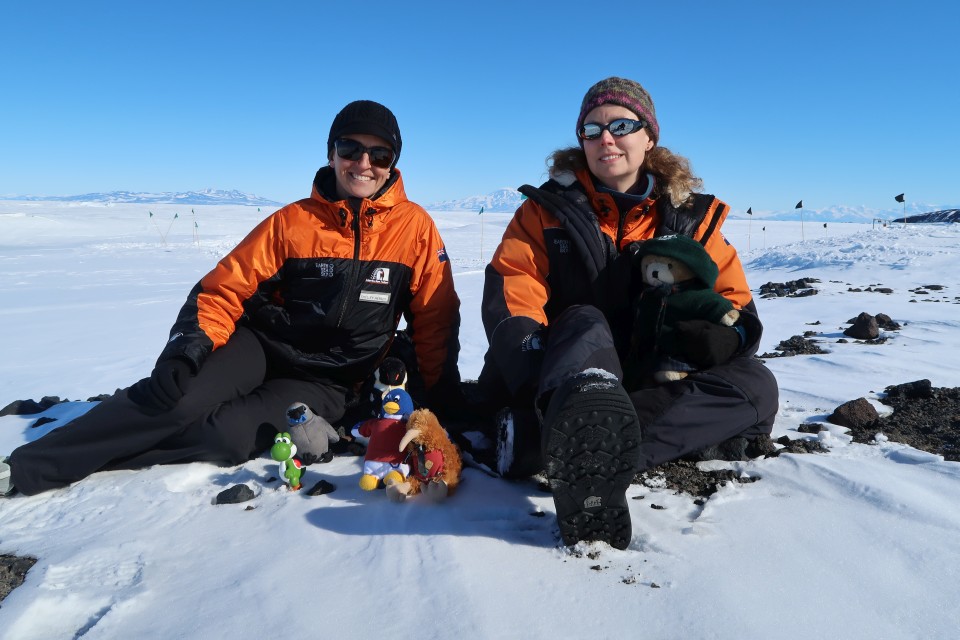 Shelley and Christina talk about climate change on the beach in Antarctica. Image: LEARNZ.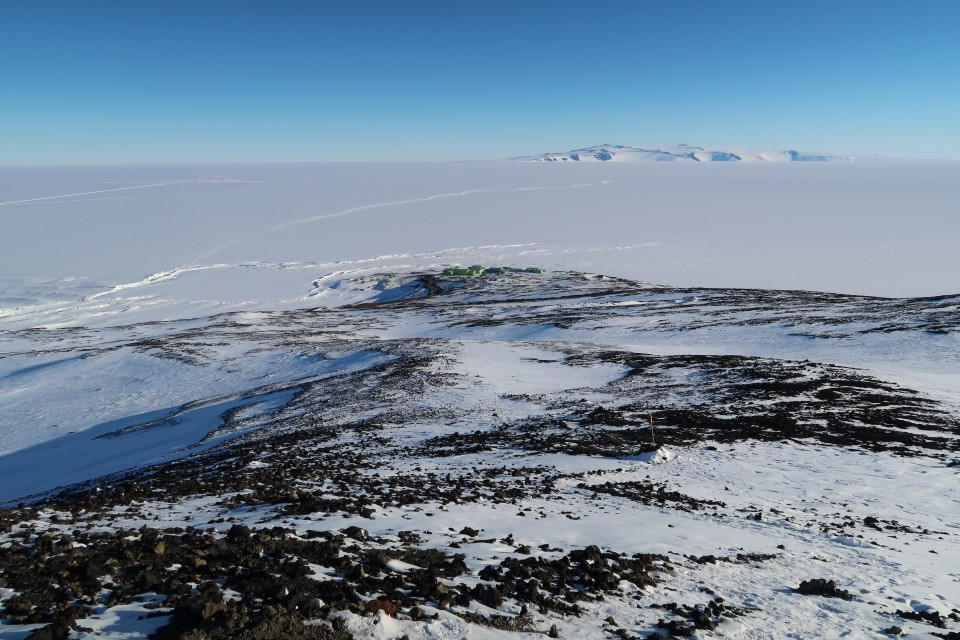 Looking out over Scott Base and McMurdo Sound on your last night in Antarctica. Image: LEARNZ.