Ambassador Cookie
Hi,
I'm Cookie and I may be small, but I achieve awesome things! I love to travel and dislike cats! My favourite parts of the school day are lunch and afternoon walkies!
I can't wait to head to Antarctica. I just hope that when I get there I don't have to haul any sleds!
See you soon,
Cookie.
Tuesday 13th November
Kia ora,
We were lucky enough not to be delayed today and enjoyed a smooth flight down to the ice. The first three hours of the flight were pretty boring until the cloud cleared. We were able to venture into the cockpit to get a view over the sea ice and then the mountains of Victoria Land.
It was an incredible feeling leaving the noisy, cramped aircraft and walking out on to the sea ice. We will spend the next few days at Scott Base settling in and learning how to stay safe. For a little guy like me my biggest fear is getting lost so I'm going to stay close to the other ambassadors.
Catch you tomorrow,
Cookie.
Wednesday 14th November
Kia ora,
We learnt so much today. We passed our Antarctic Field Training course and learnt how to drive a Pisten Bully. It was so cool driving across the ice, but we couldn't go very fast, in fact I think I could run faster! At least these vehicles have heaters in them and it will be warmer than using a skidoo. We had to follow the green and red flags which mark a safe path across the ice. I was very glad of these flags because it was hard to see much at all when it clouded over! Now that we have completed all our training, we are ready to head out to Cape Evans tomorrow.
See you then,
Cookie.
Thursday 15th November
Kia ora,
I am exhausted after a huge day of travelling. We bumped our way across the sea ice to meet with the K043 science team. It took nearly two hours to get to Cape Evans and it's only about 25 kilometres from Scott Base. The highlight of the trip was seeing Weddell Seals. These seals are huge and I couldn't help but wonder if they taste good. After arriving at camp, we only had time to have a quick tour and then we had to head all the way back again. Tomorrow we will be able to stay overnight and camp in tents – I can't wait.
See you then,
Cookie.
Friday 16th November
Kia ora koutou,
We travelled back out to Cape Evans to stay overnight at the K043 camp. It was a stunning day, we could see right across McMurdo Sound and enjoyed great views of Mount Erebus. At camp we finally got to look inside the tent where they have drilled a huge hole in the ice. We had to be very careful not to fall in because the water is -2 degrees Celsius. Emiliano showed me a piece of sea ice with algae growing on it and I even got to try some – it's not very tasty, especially if you aren't vegetarian.
Well it's getting late so I better go and help pitch the tent so we have some shelter for the night.
See you tomorrow,
Cookie.
Monday 19th November
Kia ora,
I can now say that I am a true Antarctic explorer after camping out at Cape Evans on Friday night. Just as well we had a double sleeping bag because everything outside my bag froze! We had the best Monday ever. I was so proud of all your questions this morning and to top it all off we saw emperor penguins at Cape Evans. They came right up to us and seemed very curious. It was appropriate to see penguins when we were thinking about sea ice algae because penguins rely on these microorganisms too. Penguins eat krill and krill eat sea ice algae so without the algae there's a food shortage.
Tomorrow is our last day in Antarctica and I'm determined to make the most of it.
See you then,
Cookie.
Tuesday 20th November
Kia ora koutou,
We made the most of our last day in Antarctica by heading out to Cape Evans. We talked to the scientists about their experiments and saw some weird and wonderful equipment that they use to sample and monitor sea ice algae. I even got to play with an ROV – remotely operated vehicle. It was like a little submarine. It will be used under the sea ice. I have had an amazing time down here in Antarctica and I'm sad to leave such a stunning place. I am looking forward to catching up with all my classmates though.
See you soon,
Cookie.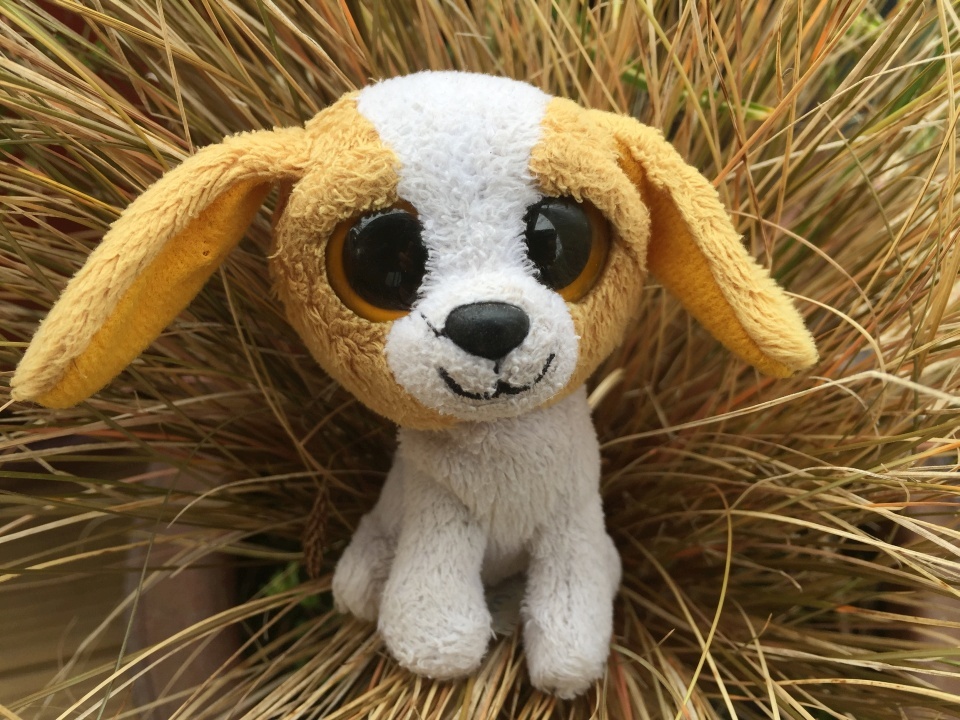 Cookie is looking forward to heading to Antarctica. Image: LEARNZ.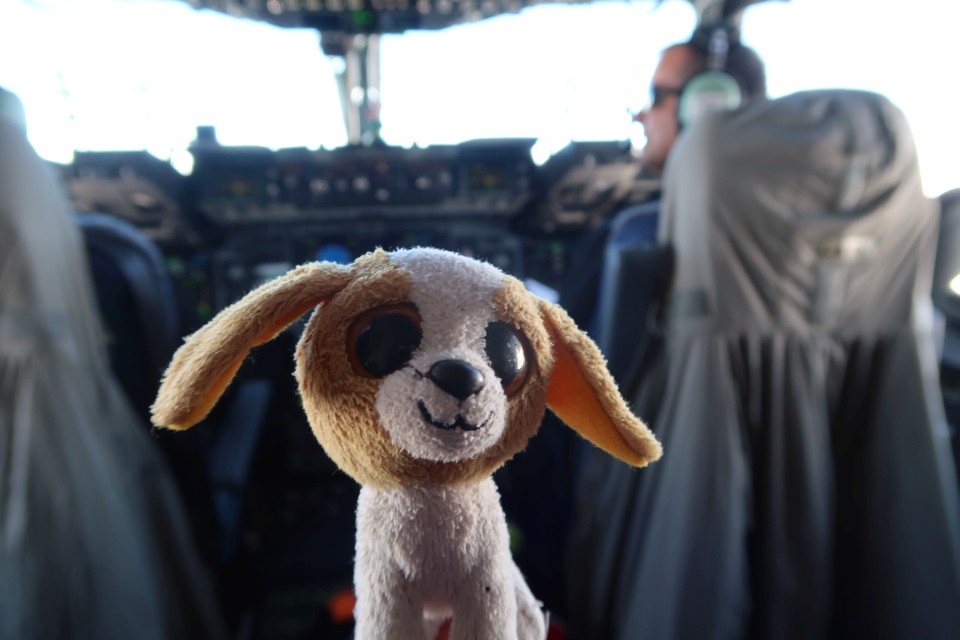 Cookie explores the cockpit of the C17 aircraft on the way to Antarctica. Image: LEARNZ.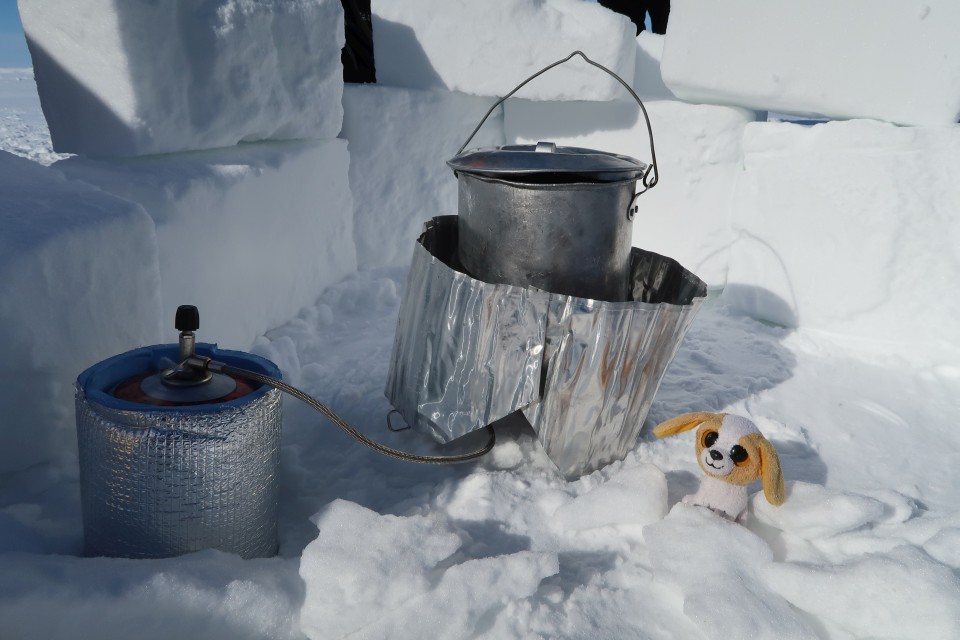 Cookie learns how to use a gas stove during Antarctic Field Training. Image: LEARNZ.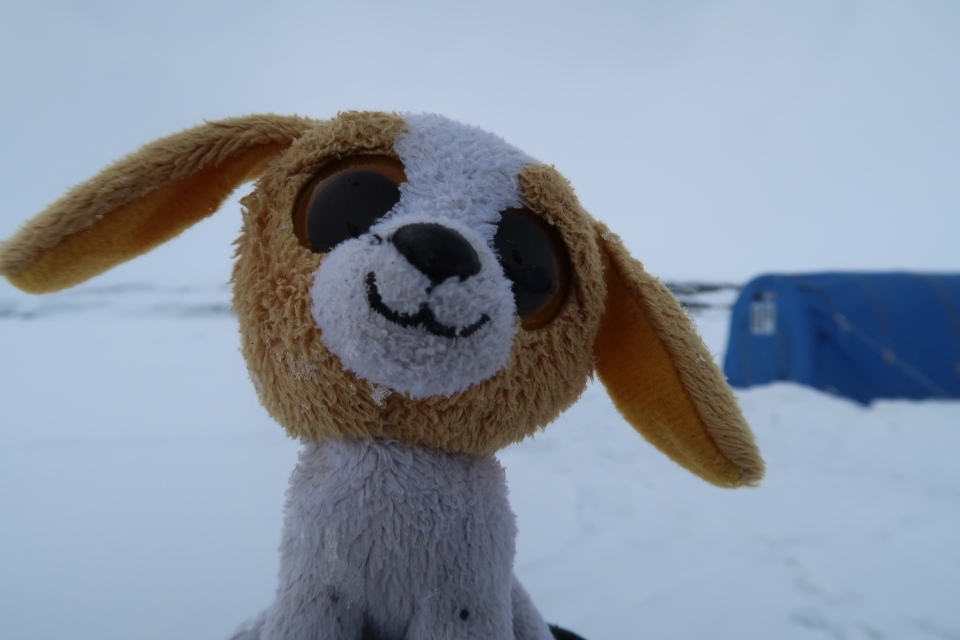 Cookie explores the K043 science field camp at Cape Evans. Image: LEARNZ.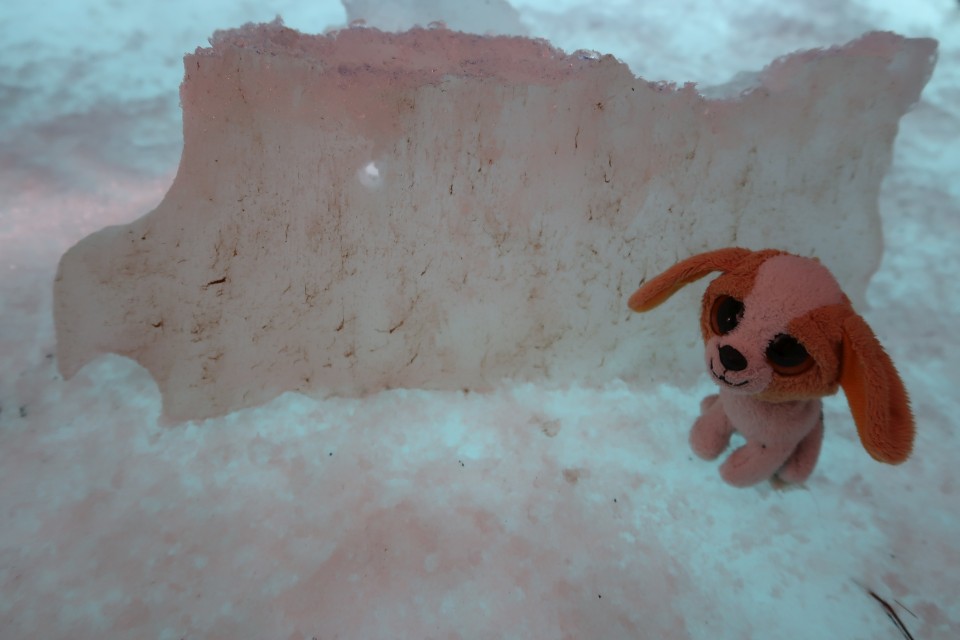 Cookie takes a closer look at some of the brown sea ice algae that grows on the underside of sea ice. Image: LEARNZ.
Cookie makes it to the top of Observation Hill on Ross Island. The cross is in memory of Scott and his team who died on their return journey from the South Pole. Image: LEARNZ.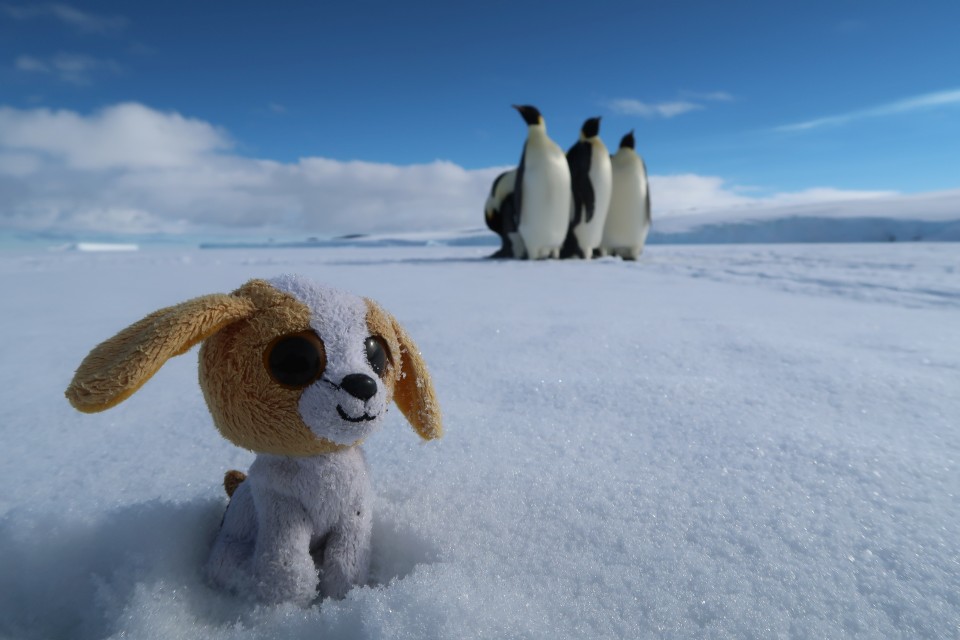 Cookie meets some curious emperor penguins at Cape Evans. Image: LEARNZ.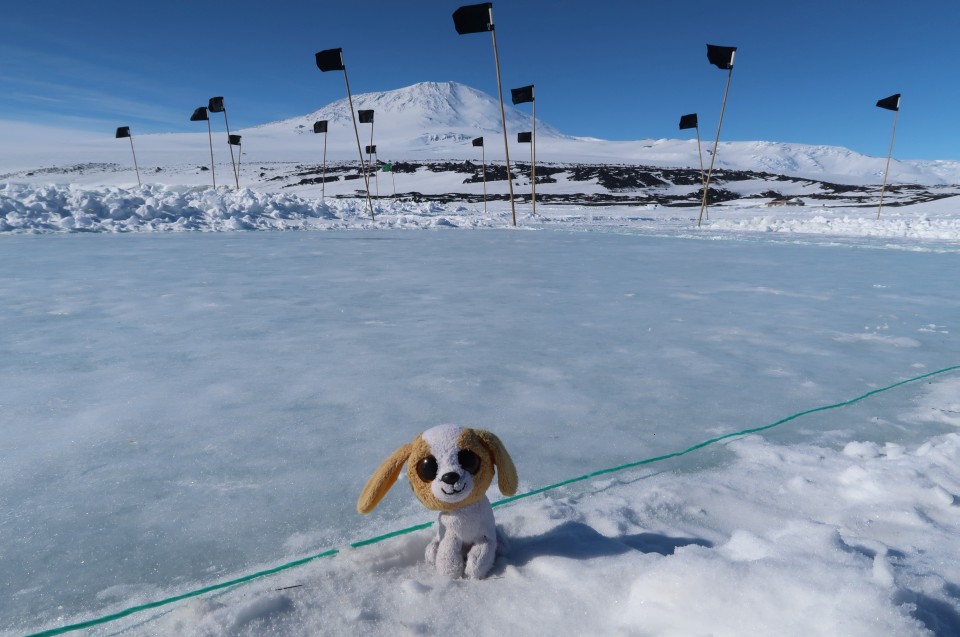 Cookie checks out the scientists sea ice algae experiment. Image: LEARNZ.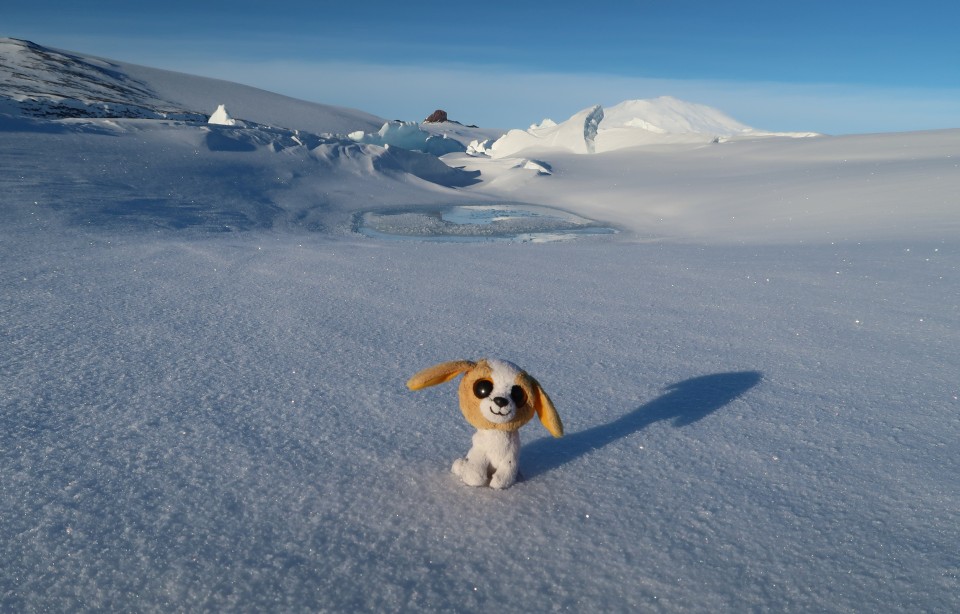 Cookie enjoys an evening walk through the pressure ridges outside Scott Base. Image: LEARNZ.