Antarctica: cool science in action - sea ice algae
Introduction 

Fly to the icy wilderness of Antarctica, a continent that captures the imagination and overwhelms the senses. Join scientists studying the Antarctic sea ice and the role that tiny organisms have on the Antarctic marine ecosystem.
During this expedition you will look at the micro-organisms that live in sea ice. These microbes form the basic food supply for Antarctic coastal food-webs. Krill graze on microbes living in the ice, so less ice could lead to less krill. Any reduction in krill will have a major impact on fish, penguins, and baleen whales.
You will help install instruments on the underside of sea ice to track the state and health of microbes living in the ice. This work will help scientists to understand how climate change and thinning sea ice will affect these unusual organisms and the ecosystems of the Southern Ocean.
Meet Shelley the LEARNZ field trip teacher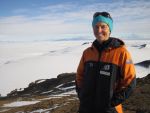 Watch the introductory video - on Vimeo.
Location
You will take the 5 hour flight from Christchurch to Antarctica aboard a C17 Globemaster aircraft. After two days of Antarctic Field Skills Training you will have the skills required to work with scientists out at a field camp. You will join a research team at Cape Evans in the Ross Sea region of Antarctica. This field trip is not for the faint hearted as temperatures in Antarctica in November can be as low as -30°C, so make sure you're prepared for this trip of a lifetime!
Field Trip Plan - November 2018
| | |
| --- | --- |
| Monday 12 - Tuesday 13 November | Join Shelley and the ambassadors at the Antarctica Passenger Terminal in Christchurch ready to check in for your flight south. Read the diary about the journey onboard the C17 Globemaster aircraft and watch the video. Read the ambassador updates, settle into Scott Base and prepare for your Antarctic Field Training. |
| Wednesday 14 November | Settle in at Scott Base and watch the videos. Venture out on to the sea ice to complete your Antarctic Field Training. Read the diary about staying safe in Antarctica. Read the ambassador updates and watch the recorded web conference. |
| Thursday 15 November | Travel out to Cape Evans to visit the K043 field camp. Read the diary to discover how scientists live and work in the most extreme environment on Earth and watch the videos. Read the ambassador updates and watch the recorded web conference. |
| Friday 16 November | Pitch a polar tent and spend a night out at the field camp. Watch the videos about the scientist's sea ice algae experiments. Read the diary about what the scientists are trying to find out and listen to the recorded web conference. See what the ambassadors have been up to by reading the ambassador updates.  |
| Monday 19 November | Travel back out to Cape Evans to help scientists drill a new hole in the sea ice. Watch the videos as blocks of sea ice are removed from this hole. Read the diary about a curious encounter with emperor penguins. Read the ambassador updates and listen to the recorded web conference. |
| Tuesday 20 November | Spend your final day out at Cape Evans. Read the diary about the sea ice algae experiments that the scientists will be doing. Watch the videos to see the technology scientists will use. Read the ambassador updates and listen to the recorded web conference. Then think about what you can do to help reduce your carbon footprint and the impacts of climate change. |