Ambassador Pongo
Kia ora,
I'm Pongo Penguin and I love ice and snow. I am so excited about the chance to see other penguins and seals. I have been on a plane when I came from Australia so I'll be fine flying to Antarctica. I'm a very well behaved penguin and I have excellent manners. I love to eat fish, especially chocolate fish!
See you soon,
Pongo.
Tuesday 13th November
Kia ora,
We were so lucky to get down to Antarctica on time. Some people have been waiting a whole week to get here. Even though the plane was crammed full of gear and people and super noisy it was very exciting to finally be heading south. After about three and a half hours we caught our first glimpse of sea ice. I felt like I was coming home. I do hope I get to meet some of my cousins while I'm in Antarctica.
We arrived in windy, cloudy conditions and I could hardly tell the difference between the ice and the sky. We are now settling into Scott Base and everyone is making us feel very welcome. Tomorrow we begin our Antarctic Field Training.
See you then,
Pongo.
Wednesday 14th November
Kia ora,
We had an action-packed day today learning how to survive in Antarctica. I didn't think I would have to do Antarctic Field Training because penguins know how to survive in icy conditions, but I was able to help everyone else and learnt a bit of first aid too. We also got our Pisten Bully license, so we can drive out across the sea ice to Cape Evans tomorrow. I hope I see some friendly penguins.
See you tomorrow,
Pongo.
Thursday 15th November
Kia ora,
I was in my element today as we travelled out across the sea ice to Cape Evans. I was a bit disappointed because I didn't see any of my cousins, but some Emperor penguins were seen near here a few days ago. It felt so good to waddle through the snow. We met some members of the K043 science team and explored their camp. They are living out of tents and shipping containers for the next three weeks. Tomorrow we will be able to camp out with them. I can't wait!
See you then,
Pongo.
Friday 16th November
Kia ora,
It was fantastic to be back out at Cape Evans today. We saw emperor penguin tracks across the snow but none of my cousins came to see me which was a bit sad. We helped shovel snow for the scientists' experiments because they are interested in finding out how the algae growing on the underside of the sea ice is affected by different levels of snow. I also got to try the sea ice algae and I was surprised at how good it tastes. It made me realise how important it must be as a food source.
Even though it's still sunny I have to try and get some sleep so I'll see you tomorrow.
Pongo.
Monday 19th November
Kia ora,
After camping out on Friday night I thought our field trip could not get any better but today was the best yet. I met six cousins of mine and they were very friendly. I couldn't quite understand their accent, but these emperor penguins were awesome. They were very curious and wanted to know what we were up to. They explored every part of the field camp and hung around for about two hours. They even let me have my photo taken with them.
Tomorrow is our last day here in Antarctica. I am going to bed early so I will have plenty of energy to enjoy it.
See you in the morning,
Pongo.
Tuesday 20th November
Kia ora koutou,
I can't believe it's our last day in Antarctica! I have had such a wonderful time and feel so lucky to have been able to travel around and meet some of my emperor cousins. We have also seen how scientists work in Antarctica and the challenges they face. It can be cold, hard work but very rewarding. It was cool to see some of the technology scientists use to measure and monitor sea ice algae. I can't wait to get home to share more of my Antarctic adventure with you.
See you soon,
Pongo.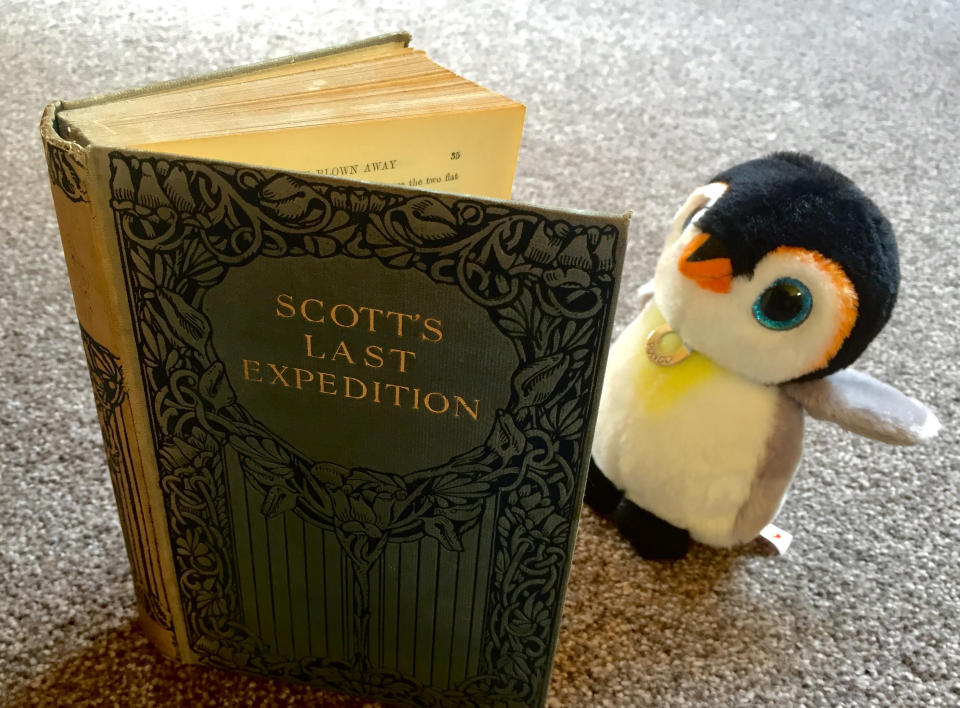 Pongo reads up on Scott's polar expedition in preparation for heading to Antarctica. Image: LEARNZ.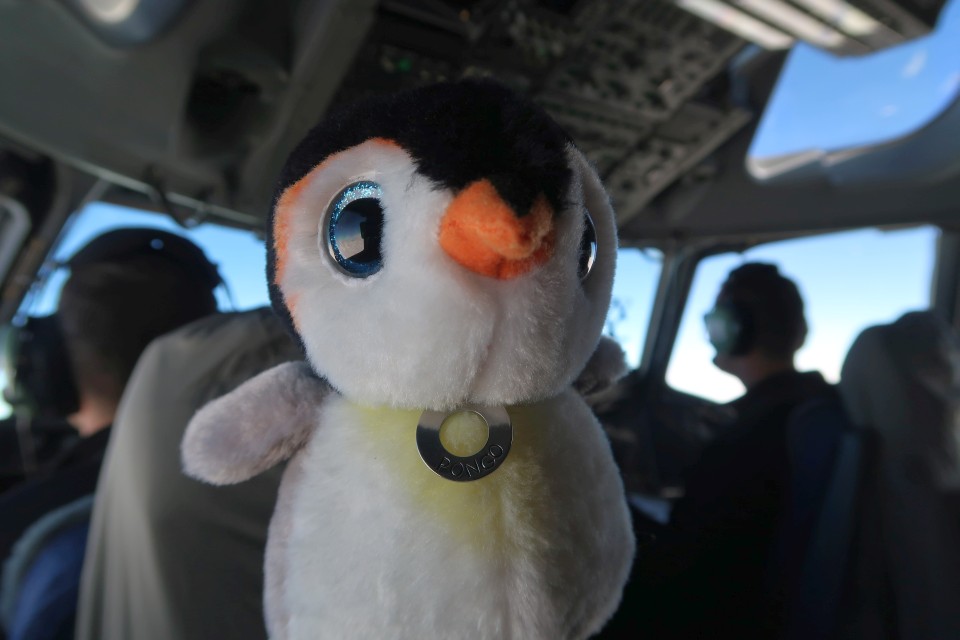 Pongo visits the cockpit of the C17 aircraft on route to Antarctica. Image: LEARNZ.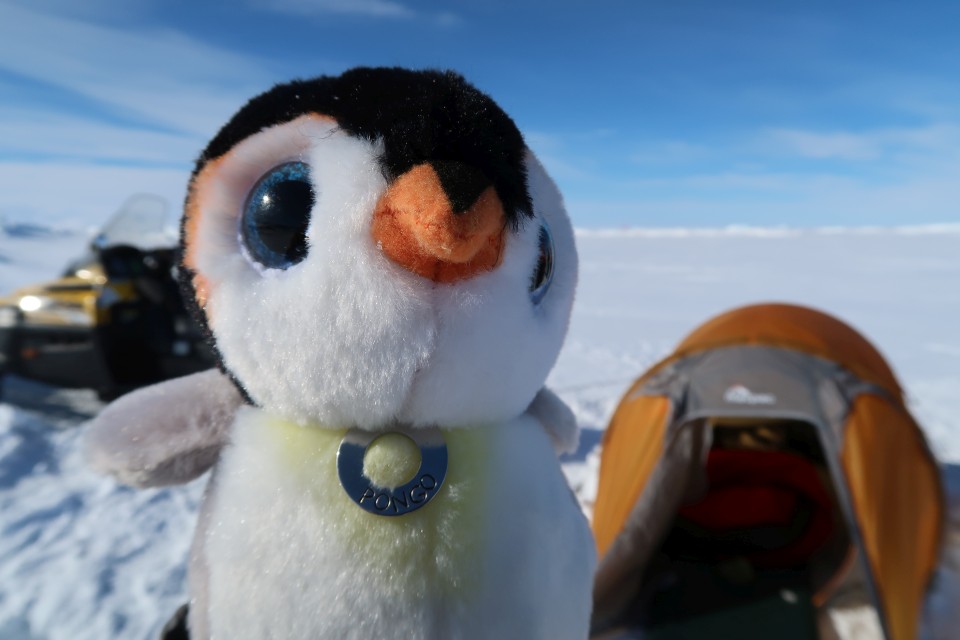 Pongo helps pitch a tent during Antarctic Feild Training. Image: LEARNZ.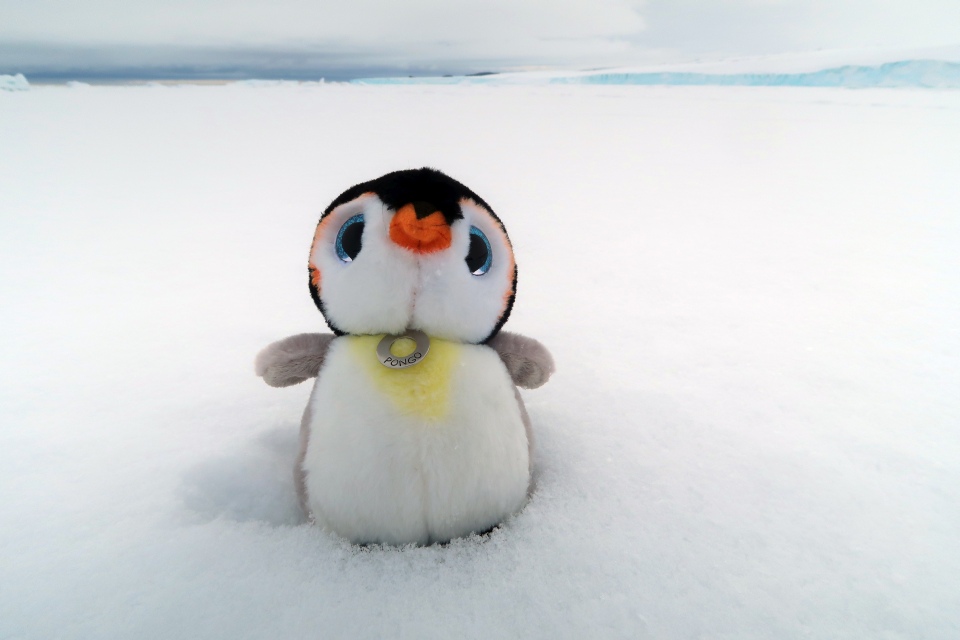 Pongo enjoys being in the snow at Cape Evans. Image: LEARNZ.
Pongo and Mount Erebus at Cape Evans on Ross Island in a Antarctica. This is where Captain Scott started his ill-fated journey to the South Pole. Image: LEARNZ.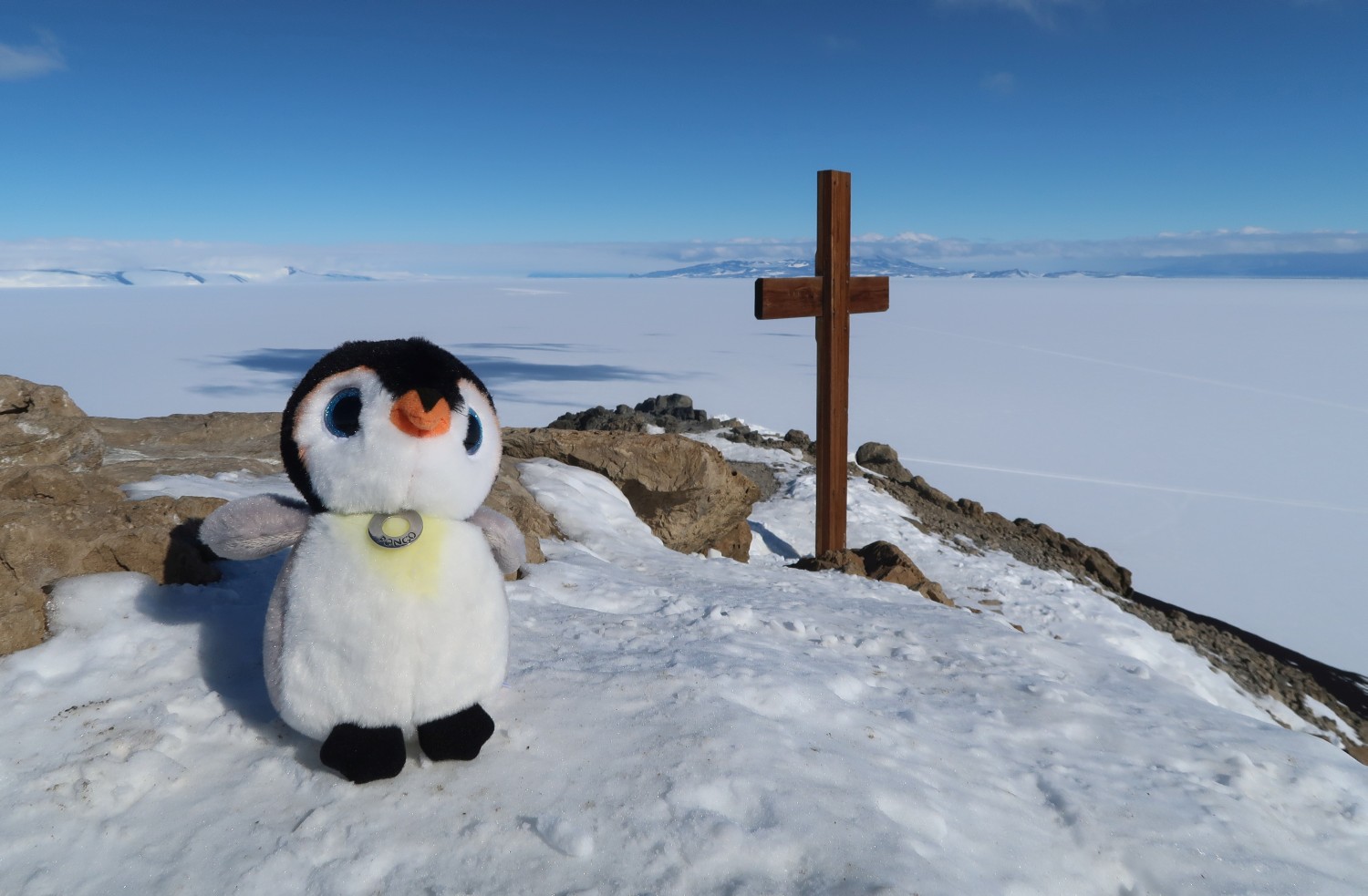 Pongo makes it to the top of Observation Hill where a cross has been placed in the memory of Captain Scott and his team. Image: LEARNZ.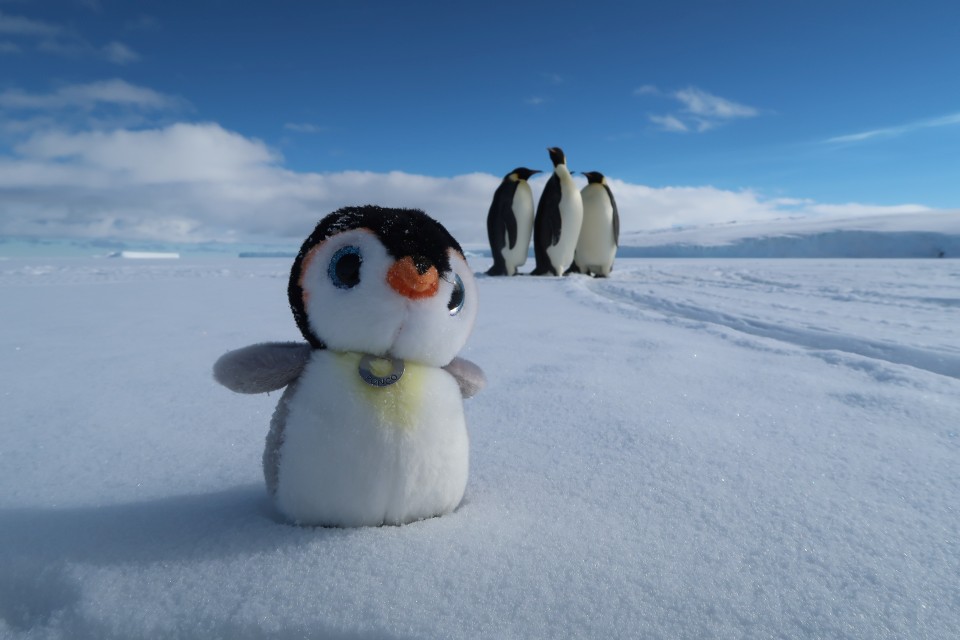 Pongo meets his cousins at Cape Evans. Image: LEARNZ.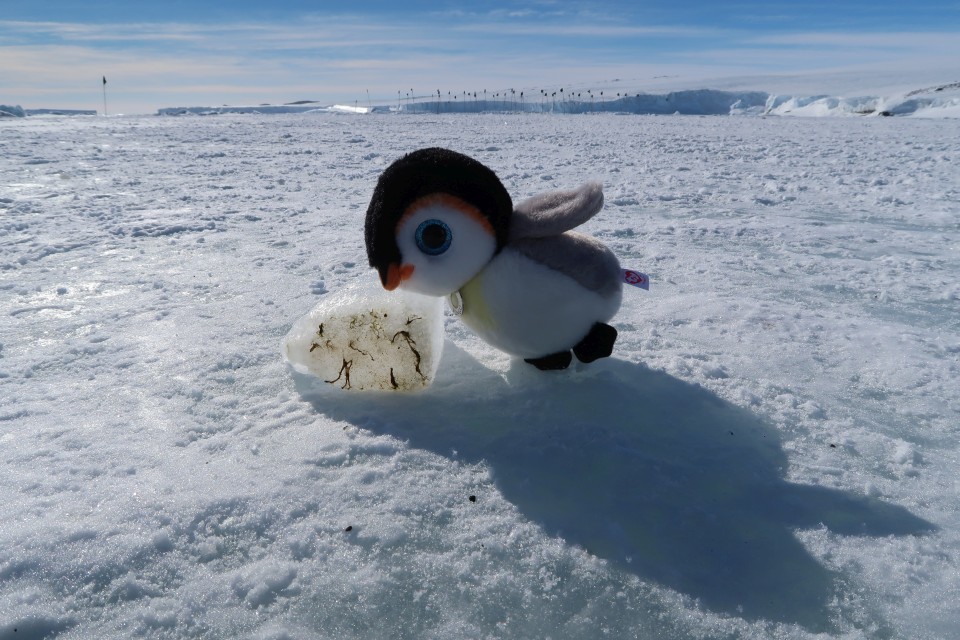 Pongo goes vegetarian and eats some sea ice algae. Image: LEARNZ.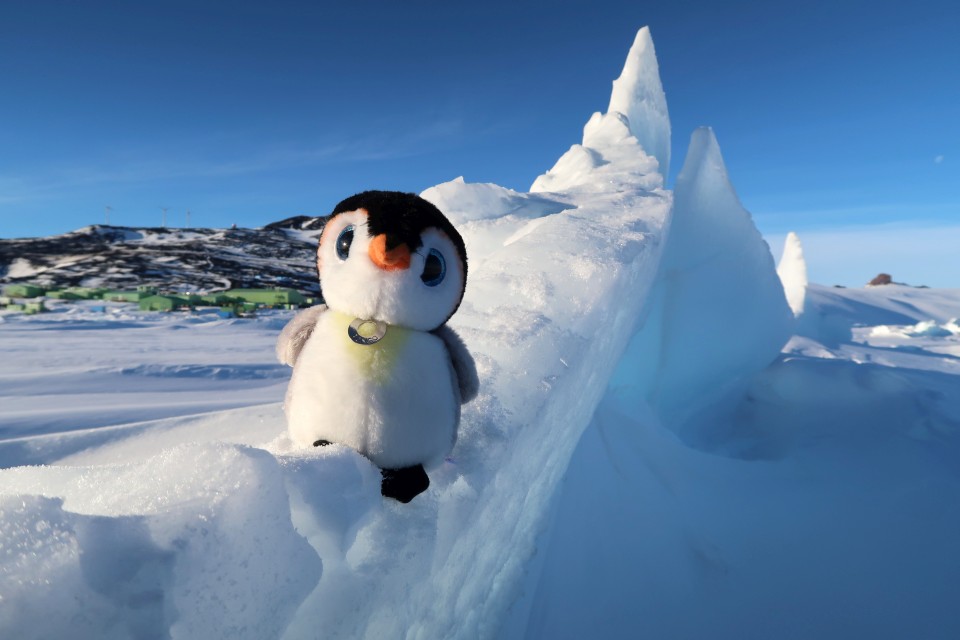 Pongo checks out the pressure ridges outside Scott Base. These form where the sea ice pushes up against the Ross Ice Shelf. Image: LEARNZ.