Testimonials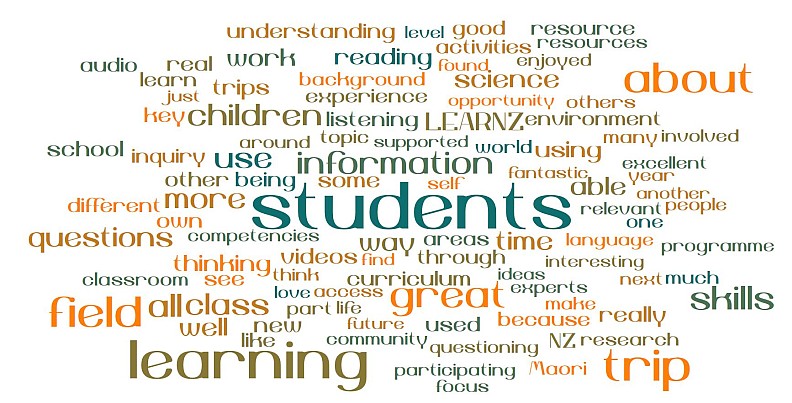 Matariki and Navigation
I could quickly look at background and ideas and use those suitable for my Year 2 class. Great for English (use sources of information e.g. videos, to identify form and express ideas), Science (PEB - Astronomical Systems - Matariki) and Social Studies (How the past is important to people | How places are significant to people).
Lynette Knappstein from Seddon School
The class were motivated and excited by the learning, as the field trip gave students the opportunity to strengthen their own identity and cultural connections/ whakapapa. In addition, I tried new ICT aspects linked to the field trip and explored the concepts of 'Cultural Narratives' and 'Social Mapping'.
Wendy Reid from Riverlands School
Relevant topic and info that fully engaged my students.
Malcolm Hepburn from Ngatimoti School
Content was perfect for our topic this term on navigators. The children's sense of belonging and dual heritage was reinforced as we discussed the videos and as our more able readers supported those less able in reading the background pages.
Hazel Halton from Witherlea School
All aspects outlined in the planning for this field trip were easy to connect to the NZ Curriculum documentation. The newsletters were informative and useful, but I also found what I needed in the online help. My students have already asked when our next LEARNZ trip will be.
Wendy Reid from Riverlands School
Meaningful and relevant content for students, pitched at an appropriate level for our multi-age classroom. Having the opportunity to interact and ask questions in real time was appreciated and is valuable.
Brenda Sutton from Waitaria Bay School
The website fitted perfectly with our current learning about Matariki and the field trip was very engaging. It helped encourage the students to be actively involved in various Matariki events in our area, as they felt confident sharing their newly acquired knowledge as well as asking questions.
Marcia Karaitiana from Ascot Community School
This was a wonderful field trip which linked with our classroom learning. The kids particularly enjoyed watching the web conferences.
Hayley Bamborough from Green Bay Primary School
In the web conferences, I find the guest speakers and hearing the other schools' questions makes our learning authentic and relateable.
Sandra Wilson from Te Rerenga School
Topic relevant to students (and whanau). Videos well paced and interesting. Background pages provide an authentic independent reading activity. All of the key competencies are addressed through the various activities.
Caroline Arnold from Lepperton School
We were studying Matariki as a whole school so this field trip was fantastic!
Jennifer Dodson from Rangikura School
 Loved it! I have used LEARNZ field trips before but not with an ambassador, which just made it! This field trip was also incredibly empowering for our Maori and Pasifika learners!
Caitlin Buttle from Knights Stream School - Mingimingi Hautoa
Encourages thinking. Culturally responsive. Appropriate access to relevant and current topics for my Y10 Geo class.
Judith McKenzie from Craighead Diocesan School
Absolutely fantastic experience. Complimented the work we were doing with School Kit. Supported all key comps, real learning for the kids, integrated into many learning areas, authentic learning.
Suzanne Crockett from Ngakuru School
It fitted in exactly with what we are studying, and my students really responded well to hearing information from different people and in different ways. The web conferences were particularly empowering and transforming for my four dyslexic learners, as their questions were chosen as "best and deepest".
Lauren Milnes from Ngatimoti School
A very integrated topic - you could could explore a myriad of Principles, Values and Key Competencies within it. LEARNZ trips are great - I like to participate in at least 2 every year and I love that I learn alongside my students.
Leasa Craw from Morrinsville School
Perfect fit for our learning. Students really responded to this teaching medium. It met our AO about understanding cultural aspects - stars / navigation, understanding signs and symbols, participating and contributing, and thinking. Also helped a special needs student to shine.
Tanya August from Havelock North Intermediate
My students loved it - it sparked lots of independent learning and sharing learning with whānau about Matariki. We fully participated in the web conferences, both as a listening class and as a speaking class.
Shona Willis from Mataura School
This coincided with our Inquiry and the class were fully engaged with the content. The learning is accessible, with differentiated activities that allow the class to learn at their own rate. All the key competencies, principles, values and different learning areas were covered. Promoted inclusion of Māori students, who were encouraged to show their knowledge and share their views.
Kristina Sheppard from Ashburton Intermediate
Great for inquiry learning about Matariki and a good link with Tuia 250. Helpful to be able to replay the videos and do the quizzes to check learning and retention in a fun interactive way.
Jean Waretini-Paul from Mercury Bay Area School
I have found the LEARNZ website an invaluable tool to support the learning needs of my class.
Kristina Sheppard from Ashburton Intermediate
Perfect timing for Matariki. Tamariki were very connected with this field trip. Strong Social Sciences link around cultural ways of knowing.
Denise Barrington from Kerikeri Primary School
As this was about Matariki and Navigation, it was of interest to my Maori and Pasifika students and showed them that we valued their stories. Excellent opportunity for all my students to learn in areas that would otherwise be inaccessible and from people they can't access locally.
Lara Moss from Remarkables Primary School
The kids loved seeing our ambassador and reading her diary. Thank you.
Nicola De Vries from St Albans School
This field trip is a great experience and learning for students and teachers alike. It caters particularly well to the High Expectation, Inclusion, Cultural diversity and Treaty of Waitangi Principles. All students have access to the knowledge offered by the audio option, and learning of Te Reo words, history and culturally different points of view are being taught. 
Anja Hennig from Green Bay Primary School
Pages