Testimonials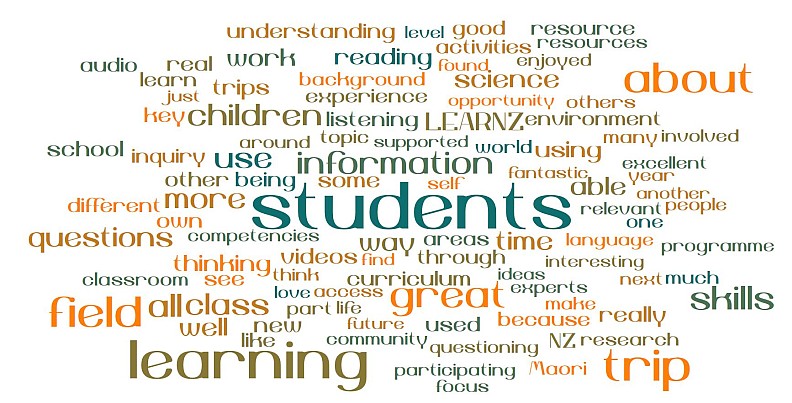 Matariki and Navigation
This coincided with our Inquiry and the class were fully engaged with the content. The learning is accessible, with differentiated activities that allow the class to learn at their own rate. All the key competencies, principles, values and different learning areas were covered. Promoted inclusion of Māori students, who were encouraged to show their knowledge and share their views.
Kristina Sheppard from Ashburton Intermediate
Perfect fit for our learning. Students really responded to this teaching medium. It met our AO about understanding cultural aspects - stars / navigation, understanding signs and symbols, participating and contributing, and thinking. Also helped a special needs student to shine.
Tanya August from Havelock North Intermediate
I have found the LEARNZ website an invaluable tool to support the learning needs of my class.
Kristina Sheppard from Ashburton Intermediate
Great for inquiry learning about Matariki and a good link with Tuia 250. Helpful to be able to replay the videos and do the quizzes to check learning and retention in a fun interactive way.
Jean Waretini-Paul from Mercury Bay Area School
As this was about Matariki and Navigation, it was of interest to my Maori and Pasifika students and showed them that we valued their stories. Excellent opportunity for all my students to learn in areas that would otherwise be inaccessible and from people they can't access locally.
Lara Moss from Remarkables Primary School
Perfect timing for Matariki. Tamariki were very connected with this field trip. Strong Social Sciences link around cultural ways of knowing.
Denise Barrington from Kerikeri Primary School
This field trip is a great experience and learning for students and teachers alike. It caters particularly well to the High Expectation, Inclusion, Cultural diversity and Treaty of Waitangi Principles. All students have access to the knowledge offered by the audio option, and learning of Te Reo words, history and culturally different points of view are being taught. 
Anja Hennig from Green Bay Primary School
Students really enjoyed it and were really engaged. They feel able to connect with their history and it has opened up discussions about our own past.
Rebecca Wilcox from Morrinsville School
The kids loved seeing our ambassador and reading her diary. Thank you.
Nicola De Vries from St Albans School
This field trip allowed my students to engage with Matariki in a new and interesting way. My students used all the key competencies and were given complete responsibility for sharing their new knowledge; we ended up with 2 raps, a play, a pop-up book and a speech. It was awesome.
Julie Reeve from Tauwhare School
Good background and build-up to Matariki. Prompted cultural awareness and discussions.
Susan Fennell from Eastern Hutt School
Excellent that students could replay the web conferences, as they can view later to find answers to their questions and hit the pause button as often as they need.
Sandra McKendry from Seddon School
The topic linked into our current Integrated Inquiry. Great resources on the website that the kids enjoyed interacting with.
Hannah Oates from Methven School
Trips like this are great because all of the students can access the material, not just the capable readers, as so much of the content is video based. Being able to access the material after the event is also great.
Frank Usherwood from Bethlehem School
 Appropriate as my class was investigating this topic. This is another way to connect my students' learning to a wider community and it let my students see that other kids ask similar questions. 
Tarakihana Roberts from Kaitao Intermediate
Students were excited to go on this virtual field trip and really enjoyed using Google maps. They were motivated to do the activities, which utilised all key competencies and encouraged multiple learning styles.
Megan Connolly from Arahoe School
Totally appropriate as we have spent the term focussing on our origins and how our ancestors reached NZ. For the Māori children, in particular, the story of Kupe was perfect.
Jane Hill from Ballance School
It integrated well with the NZ Curriculum i.e. Thinking, Managing self, Relating to others, Participating and contributing, High expectations, Treaty of Waitangi, and Future focus.
Tarakihana Roberts from Kaitao Intermediate
It was a lot of fun and very valuable learning. It took a lot of the research and planning out of my hands and allowed me to learn alongside my students.
Kellie McGinlay from St Mary's School Blenheim
A lot of learning happened for my Year 3-4 class through the background pages and videos. The trip linked to NZC through Science, Maths, Literacy and KCs. Resources were easy to use, and good to have knowledge imparted by experts.
Hilary Lintott from Brooklyn School (Wellington)
This field trip lent itself so naturally to exploring space in a NZ context. Students loved learning about our sky & our history as navigators.This was powerful for my Māori learners as it showed sophistication they were not previously aware of.
Louise Wilson from Mt Pleasant School
It added significant context and background to our current Matariki study. The range of experiences, media and personalisation was great! My students really look forward to, enjoy and learn from LEARNZ field trips. Every one they have been on is remembered and has driven a huge amount of new learning.
Christine Hailes from North Street School
The field trip was a wonderful addition to our Matariki inquiry. The learning crossed several curriculum areas and students really enjoyed using different technologies to support their interests.
Tessa Hansen from Riwaka School
Our focus this term was "Exploration" and this trip linked beautifully with this. We have many Pacifica students in our class and it enabled them to make connections to their heritage, culture and history.
Melissa Heard from Masterton Intermediate
We were able to relate this field trip to our learning around literacy, science, social science & the arts. The setup of the material encouraged students to work both collaboratively & independently.
Louise Wilson from Mt Pleasant School
Pages