Testimonials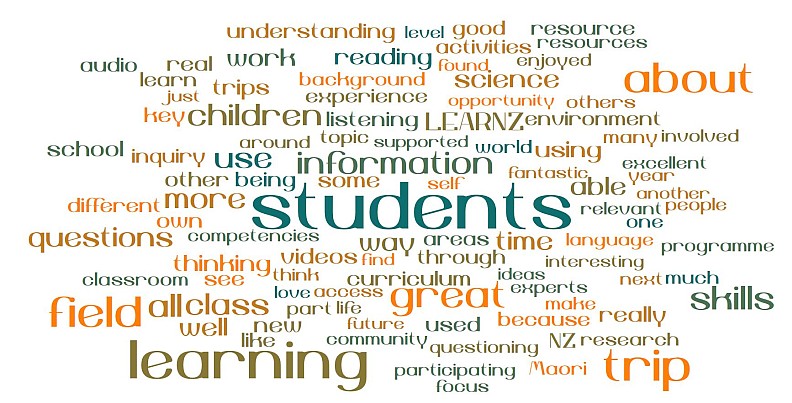 Matariki and Navigation
The topic linked into our current Integrated Inquiry. Great resources on the website that the kids enjoyed interacting with.
Hannah Oates from Methven School
This field trip allowed my students to engage with Matariki in a new and interesting way. My students used all the key competencies and were given complete responsibility for sharing their new knowledge; we ended up with 2 raps, a play, a pop-up book and a speech. It was awesome.
Julie Reeve from Tauwhare School
 Appropriate as my class was investigating this topic. This is another way to connect my students' learning to a wider community and it let my students see that other kids ask similar questions. 
Tarakihana Roberts from Kaitao Intermediate
Students were excited to go on this virtual field trip and really enjoyed using Google maps. They were motivated to do the activities, which utilised all key competencies and encouraged multiple learning styles.
Megan Connolly from Arahoe School
Trips like this are great because all of the students can access the material, not just the capable readers, as so much of the content is video based. Being able to access the material after the event is also great.
Frank Usherwood from Bethlehem School
It integrated well with the NZ Curriculum i.e. Thinking, Managing self, Relating to others, Participating and contributing, High expectations, Treaty of Waitangi, and Future focus.
Tarakihana Roberts from Kaitao Intermediate
It was a lot of fun and very valuable learning. It took a lot of the research and planning out of my hands and allowed me to learn alongside my students.
Kellie McGinlay from St Mary's School Blenheim
A lot of learning happened for my Year 3-4 class through the background pages and videos. The trip linked to NZC through Science, Maths, Literacy and KCs. Resources were easy to use, and good to have knowledge imparted by experts.
Hilary Lintott from Brooklyn School (Wellington)
Totally appropriate as we have spent the term focussing on our origins and how our ancestors reached NZ. For the Māori children, in particular, the story of Kupe was perfect.
Jane Hill from Ballance School
This field trip lent itself so naturally to exploring space in a NZ context. Students loved learning about our sky & our history as navigators.This was powerful for my Māori learners as it showed sophistication they were not previously aware of.
Louise Wilson from Mt Pleasant School
It added significant context and background to our current Matariki study. The range of experiences, media and personalisation was great! My students really look forward to, enjoy and learn from LEARNZ field trips. Every one they have been on is remembered and has driven a huge amount of new learning.
Christine Hailes from North Street School
We were able to relate this field trip to our learning around literacy, science, social science & the arts. The setup of the material encouraged students to work both collaboratively & independently.
Louise Wilson from Mt Pleasant School
The field trip was a wonderful addition to our Matariki inquiry. The learning crossed several curriculum areas and students really enjoyed using different technologies to support their interests.
Tessa Hansen from Riwaka School
Our focus this term was "Exploration" and this trip linked beautifully with this. We have many Pacifica students in our class and it enabled them to make connections to their heritage, culture and history.
Melissa Heard from Masterton Intermediate
 Fantastic background information for my students; they all really enjoyed it. Great resource that all students and teachers should use.
Daniele Cuthbert from Edgecumbe School
Fabulous trip; excellent daily videos that support teaching practice. The Māori aspect was particularly good with the lead up to our Matariki celebrations. Students loved taking part in the web conference, especially having their extra questions also answered.
Jo Dudley from Ilam School
Love it! There are connections to all of the Key Competencies and Learning Areas as students become engaged by the 'Real People' behind the information. Also gives students an opportuntity to connect with others in an authentic digital experience.
Melissa Heard from Masterton Intermediate
BioBlitz
Supported all of the KC's, the Nature of Science and the science capabilities.
Sarah Moore from Hikurangi School
Pitched at a perfect level for my Year 4/5 class and went well for our place-based focus for the term. It supported and excited my students in an inclusive and well-planned way.
Nicola Bennett from Wanaka Primary School
It fitted in with our next unit "Living Landscapes" and my students' interets in NZ spiders. It was my first time doing a live web conference and my class and I found it to be enjoyable, especially hearing from the experts, and they learned about the etiquette of that situation.
Shannon Christie from Fenwick School
The learners were excited by the theme of the trip and carried out their own BioBlitz as a result. LEARNZ provides great resources and exciting opportunities for our learners to hear from experts in the field and to see practical applications for their learning.
Andrea Tong from Academy for Gifted Education
We have been focussing on collaboration so students used this unit to work together to find information and monitor their own learning. It was easy for the children to navigate and use the website independently.
Cheryl Moeau-Jones from Postgate School
It followed on very well from the inquiry we have been doing into the plants in our local native bush. The most noticeable impact was a increase in our classes' scientific vocab. Great opportunity to communicate and collaborate with others outside of our school.
Warwick King from Otatara School
It was an appropriate level of challenge, and was fun and engaging at the same time. My students are buzzing after this experience. and are excited about the next LEARNZ field trip.
Shona Willis from Mataura School
It was really appropriate as we learnt how to do a Bio Blitz in our own backyard - which we did! Helped us in the key Learning Area of Science - provided extra information, motivation and a wider NZ focus on the environment. Also added to the kete of useful add-ons to make my teaching better.
Andrew de Wit from Fergusson Intermediate (Trentham)
Pages