Testimonials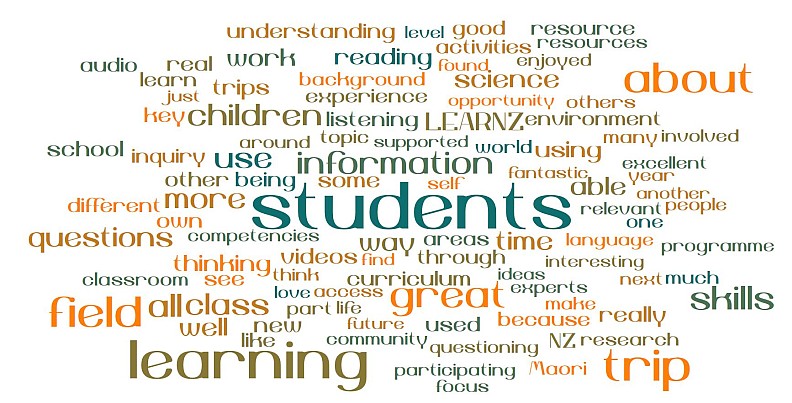 Matariki and Navigation
Absolutely fantastic experience. Complimented the work we were doing with School Kit. Supported all key comps, real learning for the kids, integrated into many learning areas, authentic learning.
Suzanne Crockett from Ngakuru School
It fitted in exactly with what we are studying, and my students really responded well to hearing information from different people and in different ways. The web conferences were particularly empowering and transforming for my four dyslexic learners, as their questions were chosen as "best and deepest".
Lauren Milnes from Ngatimoti School
A very integrated topic - you could could explore a myriad of Principles, Values and Key Competencies within it. LEARNZ trips are great - I like to participate in at least 2 every year and I love that I learn alongside my students.
Leasa Craw from Morrinsville School
This coincided with our Inquiry and the class were fully engaged with the content. The learning is accessible, with differentiated activities that allow the class to learn at their own rate. All the key competencies, principles, values and different learning areas were covered. Promoted inclusion of Māori students, who were encouraged to show their knowledge and share their views.
Kristina Sheppard from Ashburton Intermediate
Perfect fit for our learning. Students really responded to this teaching medium. It met our AO about understanding cultural aspects - stars / navigation, understanding signs and symbols, participating and contributing, and thinking. Also helped a special needs student to shine.
Tanya August from Havelock North Intermediate
My students loved it - it sparked lots of independent learning and sharing learning with whānau about Matariki. We fully participated in the web conferences, both as a listening class and as a speaking class.
Shona Willis from Mataura School
I have found the LEARNZ website an invaluable tool to support the learning needs of my class.
Kristina Sheppard from Ashburton Intermediate
Great for inquiry learning about Matariki and a good link with Tuia 250. Helpful to be able to replay the videos and do the quizzes to check learning and retention in a fun interactive way.
Jean Waretini-Paul from Mercury Bay Area School
As this was about Matariki and Navigation, it was of interest to my Maori and Pasifika students and showed them that we valued their stories. Excellent opportunity for all my students to learn in areas that would otherwise be inaccessible and from people they can't access locally.
Lara Moss from Remarkables Primary School
Perfect timing for Matariki. Tamariki were very connected with this field trip. Strong Social Sciences link around cultural ways of knowing.
Denise Barrington from Kerikeri Primary School
Students really enjoyed it and were really engaged. They feel able to connect with their history and it has opened up discussions about our own past.
Rebecca Wilcox from Morrinsville School
The kids loved seeing our ambassador and reading her diary. Thank you.
Nicola De Vries from St Albans School
This field trip is a great experience and learning for students and teachers alike. It caters particularly well to the High Expectation, Inclusion, Cultural diversity and Treaty of Waitangi Principles. All students have access to the knowledge offered by the audio option, and learning of Te Reo words, history and culturally different points of view are being taught. 
Anja Hennig from Green Bay Primary School
Good background and build-up to Matariki. Prompted cultural awareness and discussions.
Susan Fennell from Eastern Hutt School
Excellent that students could replay the web conferences, as they can view later to find answers to their questions and hit the pause button as often as they need.
Sandra McKendry from Seddon School
The topic linked into our current Integrated Inquiry. Great resources on the website that the kids enjoyed interacting with.
Hannah Oates from Methven School
This field trip allowed my students to engage with Matariki in a new and interesting way. My students used all the key competencies and were given complete responsibility for sharing their new knowledge; we ended up with 2 raps, a play, a pop-up book and a speech. It was awesome.
Julie Reeve from Tauwhare School
BioBlitz
Great way to extend learners in science and mathematics. Adjustable for Years 1-6. Lots of Key Competencies.
Nicola Douthe from West Park School
Stimulated students to look at environmental issues and biodiversity in our local area. From a teacher's perspective it was a simple way to get children engaged in learning using a digital tool. 
Kristina Sheppard from Ashburton Intermediate
The Bioblitz field trip allowed our tamariki to further explore their learning context (insects) and to add to their understanding of an area of the science curriculum. The format of the field trip meant that what the children had already learned was given relevance and promoted further inquiry, conversations, excitement and engagement in this context.
Jane Reid from Southbrook School
The content was pitched perfectly for Year 7 & 8 tamariki. As part of our unit of inquiry based around ecosystems & biodiversity, there were strong curriculum links. The word bank helped build our te reo Māori too.
Louise Wilson from Mt Pleasant School
The BioBlitz trip was an excellent activity in terms of supporting NZ Curriculum objectives in Science and Ecology for Levels 3 and 4. Science is a way of explaining the world and scientists work together to support their ideas. Ecology - students can see how organisms are adapted to their environment.
Simon Romijn from St Paul's College (Ponsonby)
Helped my teaching practice, as this BioBlitz field trip was a helpful tool to differentiate my teaching. Students enjoy a different form of lesson delivery, too.
Sangeeta Chaudhari from Coastal Taranaki School
In this virtual field trip, the students studied creatures while learning about the concepts of biodiversity and conservation so we built our Inquiry around native animals. We decided to go to the Groynes and check out creatures there. We also looked at the wildlife at Willowbank.
Vanessa Burrell from Haeata Community Campus
Supported all of the KC's, the Nature of Science and the science capabilities.
Sarah Moore from Hikurangi School
Pages