Diary 4
Date:
Thursday, August 28, 2014
Field Trip Name:
Waterview Connection
Field Trip Place:
Auckland
Where You Are:
In the Waterview Connection Tunnel
Finally the day you have all been waiting for has arrived. Today you went underground to meet Alice the Tunnel Boring Machine. 
Awesome audioconferences
The ambassadors were up early this morning, full of excitement as they prepared for their tunnel tour. Before heading underground you talked to St Therese School and Marco School during the audioconferences. Rosebud had been looking forward to talking to her class and was proud of their quality questions. Glen Kirk had done his homework and had some interesting answers to some challenging questions. You can listen to these audioconferences to find out more.
Going to meet Alice
Rachel Kelpie had promised to introduce you to Alice and met you at the site office. Rachel is a shift engineer who works on Alice. You had to get all your PPE gear on and even had to wear a heavy re-breather unit around your waist. This unit provides oxygen if the tunnel air becomes unsafe to breathe. You all had to sign in so everyone knows how many people are in the tunnel at any one time. Alice has been working hard and has now bored 1.9km. In October Alice is due to pop out at the northern end ready for maintenance before being turned around to start the other tunnel. Luckily you didn't need to walk all the way in to see Alice and managed to hitch a lift in a van.
As you drove down into the tunnel the size of this part of the project became clear; even the trench walls before entering the tunnel are huge. It was amazing to see how smooth the walls of the tunnel are and how wide it is. A large yellow pipe at the top of the tunnel reminded you that you were deep underground and air needs to be circulated. People clad in high-vis vests looked like tiny bright orange ants scurrying around inside the tunnel. Even large trucks looked much smaller in the giant 14 metre wide tunnel, which is wide enough to allow three lanes of traffic. 
Alice at work
You had to get out of the van and walk the last part of the tunnel to reach Alice. Work is being done on creating culverts which are like square tunnels; these will house all the services such as electricity and water pipes under the road. The culverts will run the length of the tunnel but they have not been completed yet. Once you reached the end of where the culverts were being placed you dropped down to the round floor where you could appreciate the full height of the tunnel. When the road is built it will raise the floor level of the tunnel so it won't seem nearly as big.
After a short walk you reached Alice the Tunnel Boring Machine. Alice has three levels and you were able to walk around these on the metal framing that makes up the back half of the machine. Alice even has a pilot who controls how fast she goes and a laser is used to keep her on track. Alice can only afford to move up to 50 millimetres off course; any more than this and she will not come out in the correct place. Alice works 24 hours a day for 6 days a week and will take a whole year to create each tunnel. Despite all the electricity being used to power the 24 motors on Alice, she still only moves at about 8 centimetres per minute which is about the top speed of a snail!
Lining the tunnel
You watched as concrete segments were put in place to line the tunnel and it was incredible to see how accurately this could be done and how quickly. Alice is a very clever machine because she not only bores out the tunnel she builds it as well. It was incredible to watch such a large machine at work and I could have spent hours down in the tunnel but we needed to meet with Shivani Siva to find out more about Alice and the construction of the tunnels. You can see more of Alice in the videos.
Shivani is a Tunnel Logistics Engineer and she showed you the concrete segments that are used to make the tunnel linings. These segments are made locally in Tamaki and over 24,000 will be needed to line the tunnel. Because the tunnel has been dug slightly wider than the concrete rings, a grout is injected in behind the concrete to hold it in place and fill in the gap. Shivani took you to where the grout is stored. She showed you how the grout works by mixing two liquids together that set solid. You can see this in the video.
A memorable week
It has certainly been a day to remember and I'm sure you have enjoyed being able to visit Alice. I feel privileged to have seen Alice operating as not many people get this opportunity unless they are actually working on the tunnel. It has been a fantastic week here in Auckland and maybe it has given you a new appreciation for our roads and how much planning and effort goes into road projects.
I hope you have enjoyed seeing how New Zealand's biggest road project is progressing and can join us on next year's Waterview Connection field trip.
See you next time,
Shelley the LEARNZ field trip teacher (and Alvin).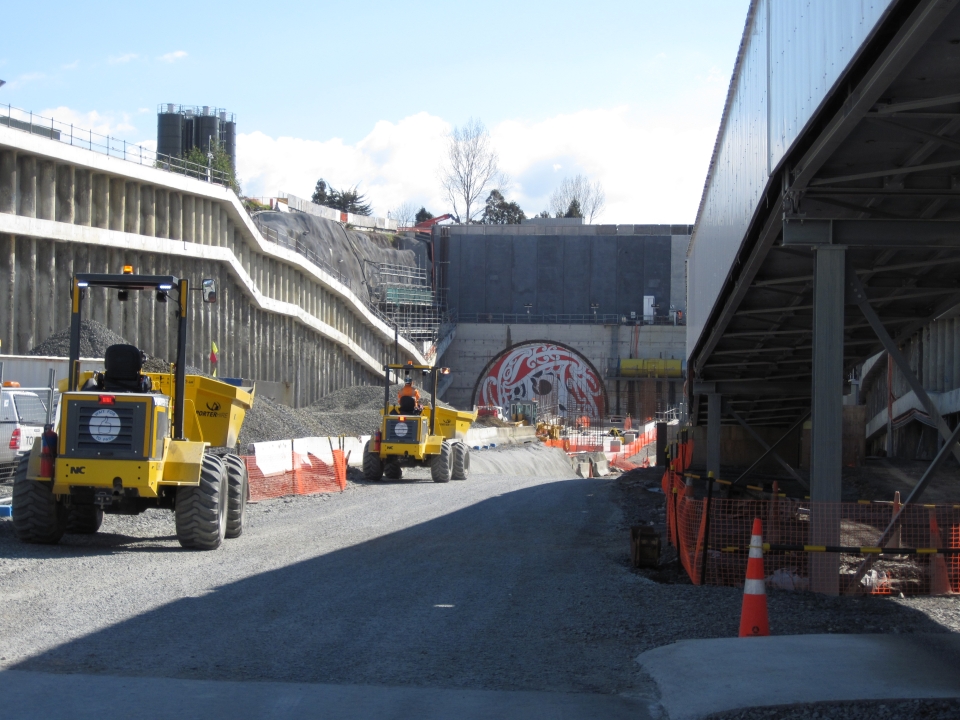 Driving down towards the tunnel entrance you can appreciate how high the Southern Approach Trench walls are. How many metres high do you think these walls are?
Inside the tunnel you can see the yellow ventillation pipe and conveyor belt which takes spoil that has been dug out by Alice to the surface.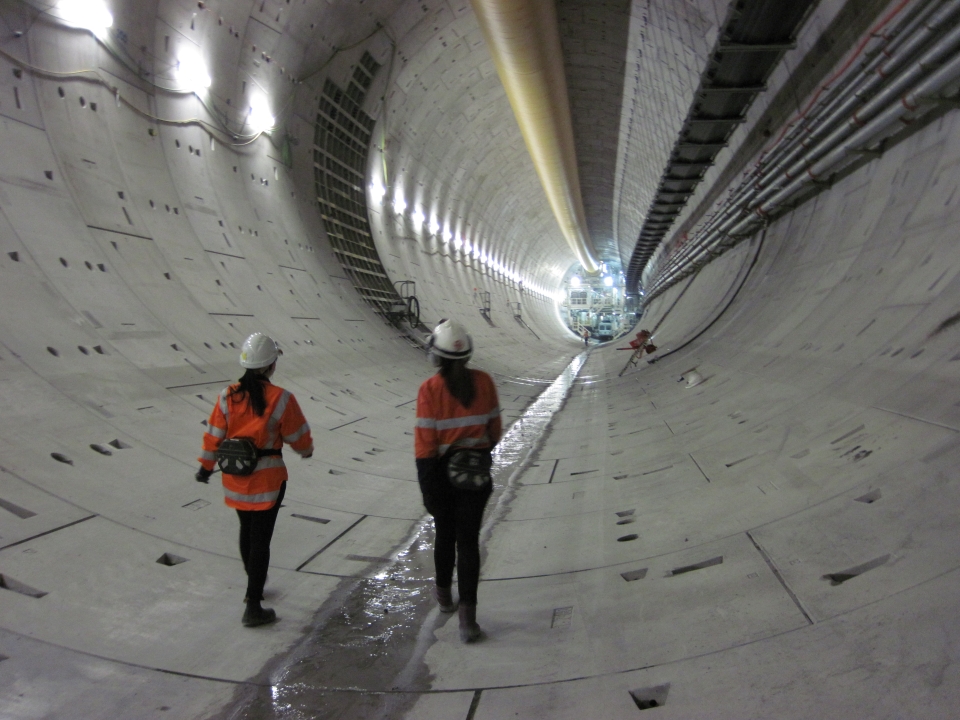 Walking down the tunnel to meet Alice the Tunnel Boring Machine. How do you think this part of the tunnel will change as the road is built?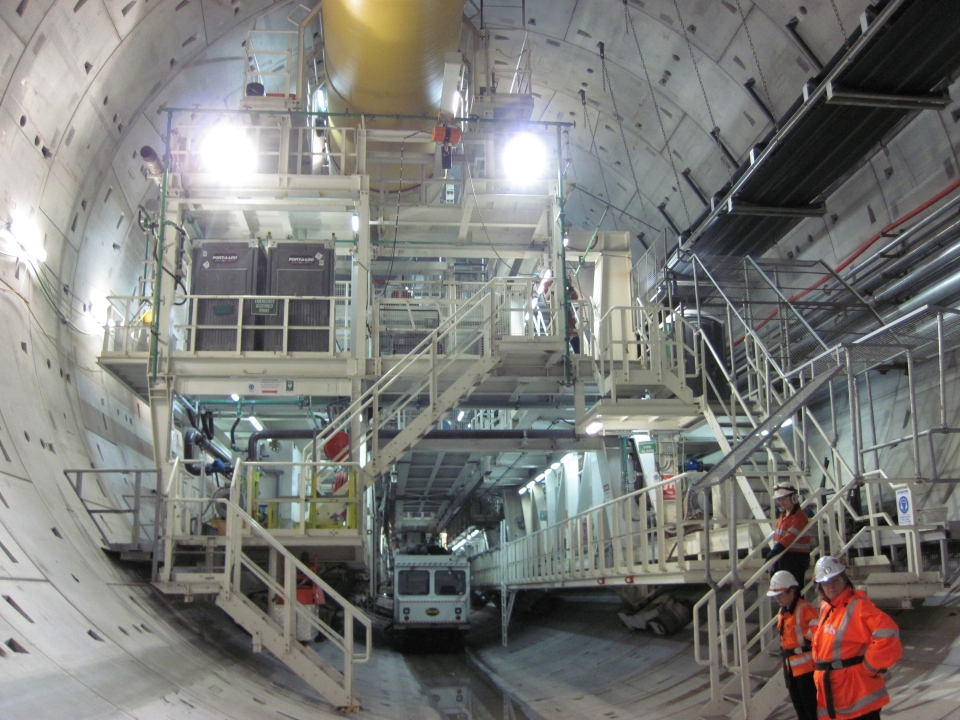 This is the backend of Alice the TBM. What is used to power this machine?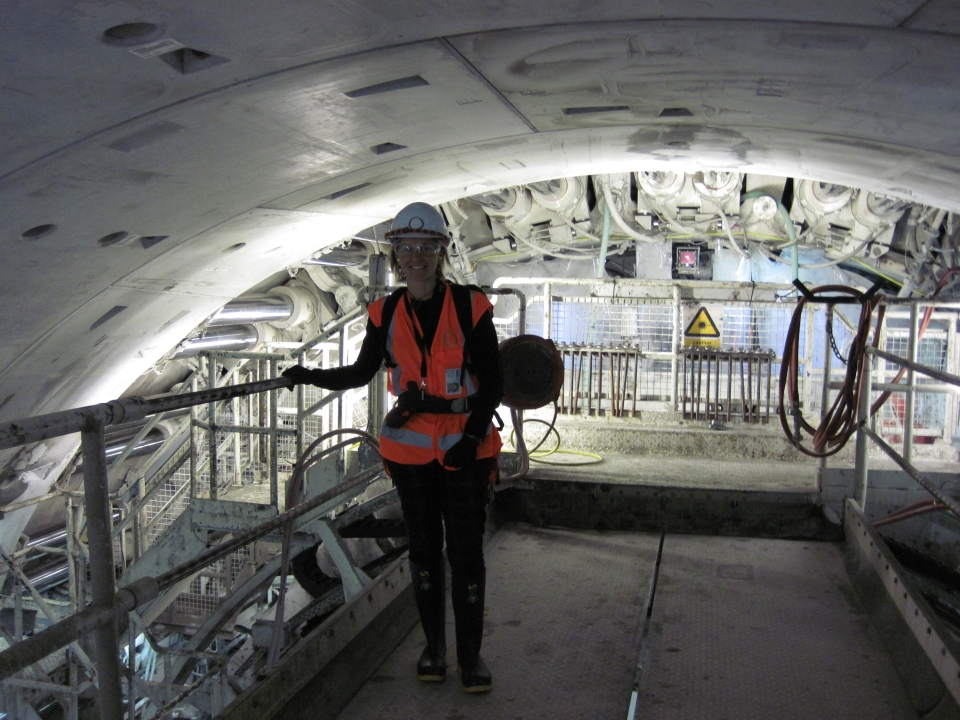 Shelley watches Alice at work at the top of the tunnel.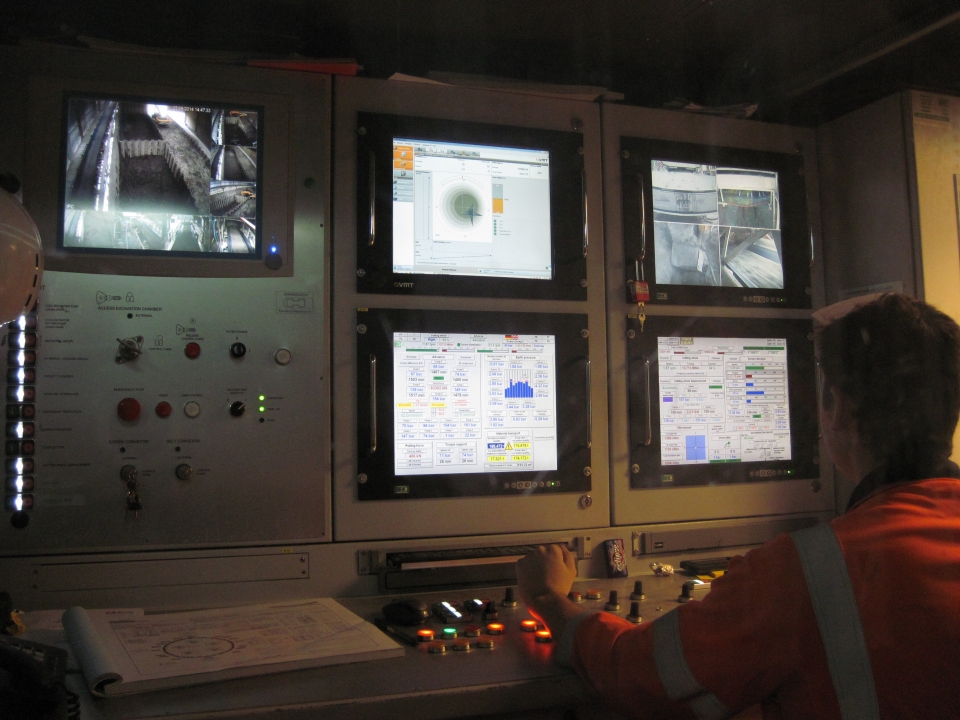 Richard is Alice's pilot and controls her from this room on board the TBM. Why do you think it is important to not let Alice move off course?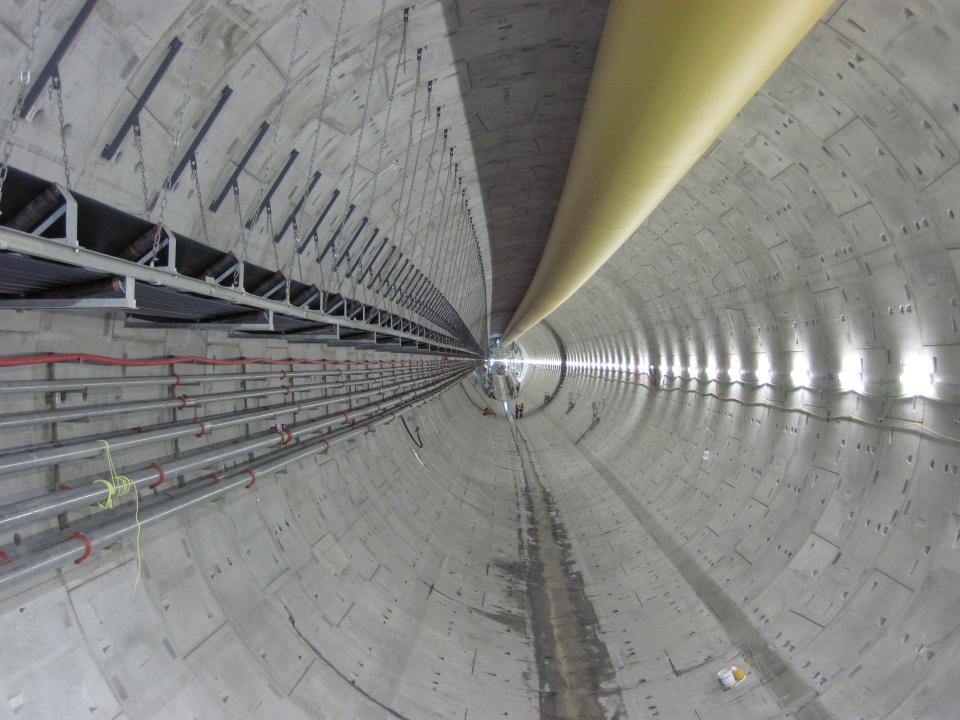 Looking back down New Zealand's longest road tunnel.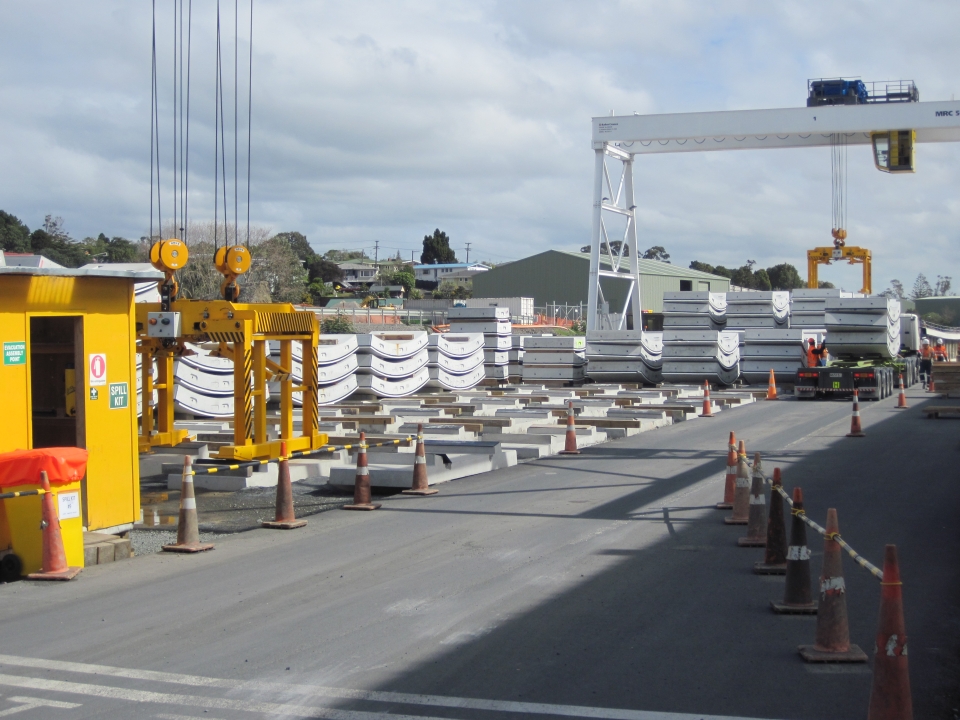 Concrete segments are stacked ready to be moved by truck into the tunnel. What are these segments used for and how are they put in place?
Shivani shows you the two liquids used to make the grout which will hold the concrete segments in place.
When the grout is mixed it sets solid. Why do you think grout is used rather than glue or another material?