Meet Dominic Preest
Job description:
Engineering work on the Waterview Connection tunnels.
Work background:
Work on;
Huntly North Ventilation Shaft – site engineer
Northern Approach Trench Diaphragm Walls – site engineer
Great North Road Interchange Staging – site engineer
Favourite part of job:
A constantly evolving workplace and seeing the products of my labour.
Least favourite part of job:
Long hours mean less time for home and other interests.
What I am working on now:
Repairing damage to the tunnel lining – end goal of achieving sign off.
A (humorous) story about a job that went badly and what you learned:
Testing water quality in a stream nearby to a project, I discovered the water pH was very low. After a week of trying to find the source, and numerous visits from environmental engineers, we discovered that the water sampling bottles were sterilised with sulphuric acid. I learned that if something doesn't seem logical, there is probably a good reason for it, so you should keep investigating and don't rule out the simple things.
Qualifications:
Bachelor in Engineering Technology (Civil) and Diploma in Civil Engineering.
Interests outside work:
Motorsport and Football.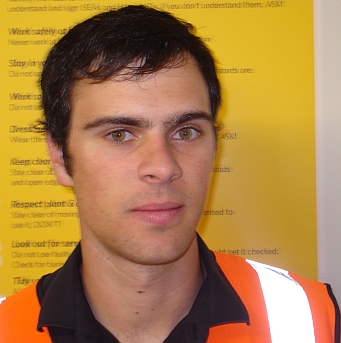 Dominic Preest is a Tunnel QA Engineer for the Waterview Connection Project.