Meet Glen Kirk
Job:
Construction Manager on the Waterview Connection Alliance.
Job description:
To provide leadership of Southern Works team to construct new motorway infrastructure leading into twin tunnels. Scope of works include;
the southern ventilation building
TBM spoil handling building
spoil handling facilities at Wiri (Off site location)
construct roads within the tunnel
new motorway roads and large scale earthmoving outside of tunnel
motorway bridge over Oakley Creek
motorway over-bridge to Richardson Road
several pedestrian bridges
stream realignment to Oakley Creek
new sports fields and cycleway.
Work background:
I have worked on several projects which form part of the Government's "Roads of National significance". As part of this scheme the Waterview tunnels will complete Auckland's ring route system. Other associate ring route projects I have worked on are the second Manukau Harbour Crossing, SH20 to SH1 Motorway Link and the Lincoln Road and SH16 upgrade. Other significant projects I have worked on are Auckland's North Shore dedicated public Busway and Brisbane's Giant $5 Billion plus Airport Link project with two tunnels and multiple bridges and viaducts.
Favourite part of job:
Being up close to really big diggers, trucks and other really cool construction equipment such as the tunnel boring machine, bridge gantry launching girder and super big cranes every day of the week.
Least favourite part of job:
Most of these projects last 3 to 5 years and I work with lots of different people from around the world which is really rewarding but when the project ends everyone has to go their separate ways.
What I am working on now:
Currently I am working with a bunch of Architects, Structural Design Engineers and High-rise Building Constructors to come up with the best solution to build the southern ventilation building which is an enormous structure that houses all the water for the fire fighting system, huge fans for ventilation and transformers for servicing the tunnels. The building will be clad, finished and lit architecturally to ensure it is visually pleasing to both road and park users, given it will be visible for a large distance due to its high vent stack. 
A quick story about a job well done:
One of the first pieces of work we had to do before we could drill and blast the main trench to enable the tunnel boring machine to start was to re-route 1.2km of stream and build two new sports fields. The stream had been previously put into a narrow deep rock clad stormwater channel which regularly flooded. The existing sports fields were of a very poor quality which meant they were often closed over winter and with the stream flooding the surrounding area was very wet and boggy. The new stream works we have constructed consist of a natural stream cross-section with a low and high flow profile complete with wetlands planted with native plants. Likewise the new sports fields we have built have a sand base with drainage and a lighting system to enable night practice. This has meant once the project is complete the local community will inherit some fantastic facilities which will also have a skate park and cycleway added.
A (humorous) story about a job that went badly and what you learned:
Recently we completed a building to take all 800,000m3 of spoil from the tunnel via conveyor and load it into trucks from within the building for disposal. At the last moment we decided to change the roof sheet type to something cheaper. During a storm we arrived at work to find the roof being lifted up by the wind and it was flapping around everywhere like a giant toupee. We had to warn people to stay in their homes and redirect footpaths to keep people away while we fixed the roof. What we learned – You get what you pay for!
Qualifications:
Bachelor of Engineering (Hons) Civil – University of Auckland. Post Graduate Engineering Papers – Latrobe University, Melbourne.
Interests outside work:
When not working I love spending time with my family and going boating, fishing and surfing. Recently I have taken up learning to play the guitar and sketching.
Watch Glen's video about his work.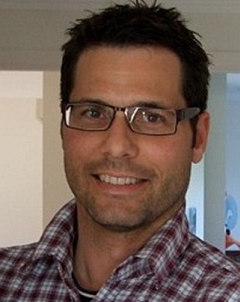 Glen Kirk is the Construction Manager on the Waterview Connection Alliance.