Diary 1
Date:
Monday, September 12, 2016
Field Trip Name:
Waterview Connection
Field Trip Place:
Auckland
Where You Are:
Travelling from Dunedin to Auckland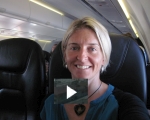 Watch Shelley's diary cam video.
Kia ora koutou, 
It certainly is easier to get up early in the morning now that spring has sprung, especially when you can be woken by the sound of birds rather than the dreaded alarm clock. It also helps to have an interesting week planned. This week you will travel to Auckland to see how the Waterview Connection project is progressing. I have been looking forward to meeting some new experts who have been working on this 1.4-billion-dollar project and taking a sneak peek through the nearly completed Waterview tunnels.
Departing Dunedin
A short drive south of Dunedin brought us to the airport in plenty of time for our direct flight to Auckland. You made the most of the leisurely drive knowing that later on today you would have to battle your way through Auckland traffic. Despite a grey vale of high cloud, it was a warm morning and it looked like perfect flying conditions. Once you had checked in and cleared security you boarded the Airbus A320. Luckily you had been assigned a window seat on the left side of the plane so you could enjoy the views out over the mountains as we flew north. 
Flying North
Cloud seemed to smother the mountains like smoke before it cleared to reveal snowy peaks below. It was amazing to see just how much snow from last week's southerly storm had melted away. You may have spotted Aoraki Mount Cook before passing over Christchurch and heading up over Nelson. You caught a glimpse of Farewell Spit before you crossed over the North Island and the cloud moved back. I lost track of where we were until I looked out to see Mount Taranaki tower above a cloak of cloud.
New Zealand's largest road project
The flight gave you plenty of time to think about your arrival into Auckland and what changes you might see on the Waterview Connection site since last year's field trip. It has been really exciting to see how New Zealand's largest road project is being constructed. It's hard to believe that two 2.4 kilometre tunnels have been created in such a short time. On this field trip you won't see Alice the Tunnel Boring Machine or Dennis the giant yellow crane as they have both done their jobs. Alice has been dismantled so parts can be re-used while Dennis has been sold.
Finding your way in Auckland
After a smooth landing in Auckland you gathered your luggage and picked up a rental car. Thankfully no map reading skills were required and you could simply follow the instructions given after entering your hotel address into your phone. The traffic didn't seem too bad and it wasn't difficult to find your way to a great café to have lunch. You will be staying in Mount Albert this week so you are close to the site office at the southern end of the Waterview Connection construction site. Once you had checked in you had time to explore Auckland. 
A walk up Mount Albert allowed you to see out over Auckland City and you could even see the construction site. The Hendon Footbridge arch stood out and reminded me that this project is more than just a road project. I'm really looking forward to finding out more about how experts in urban design have improved the area for people living nearby. I think it's going to be a busy week with lots of new things to see on site. Make sure you have taken a look at the last two field trips so you can see how things have progressed.
See you tomorrow,
Shelley, the LEARNZ field trip teacher.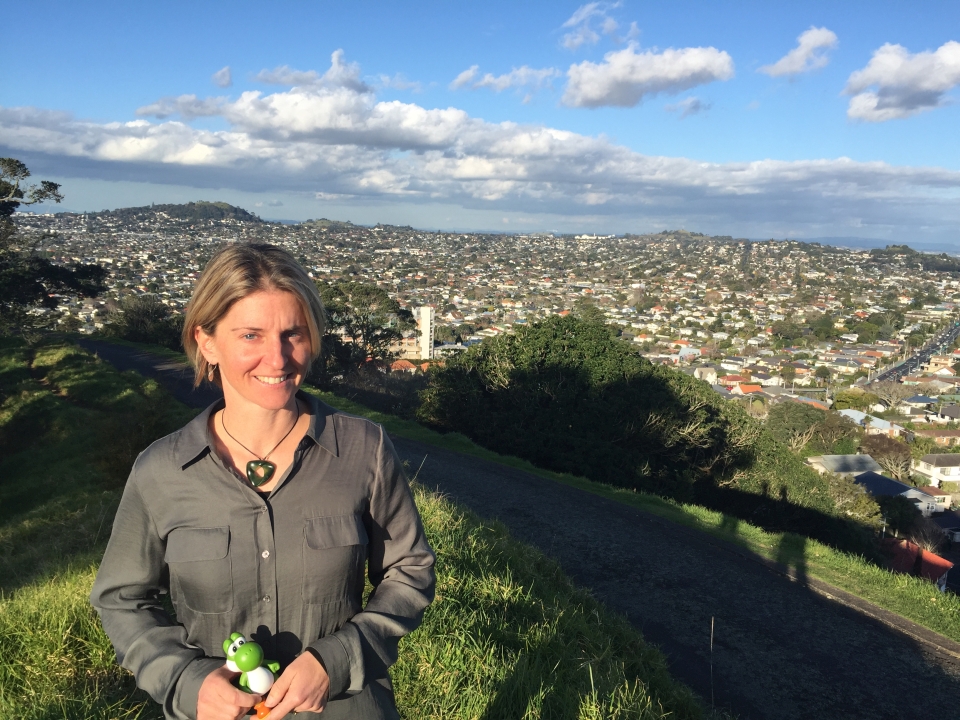 Shelley takes in the views from Mount Albert in Auckland. How do you think Mount Albert formed? Image: LEARNZ.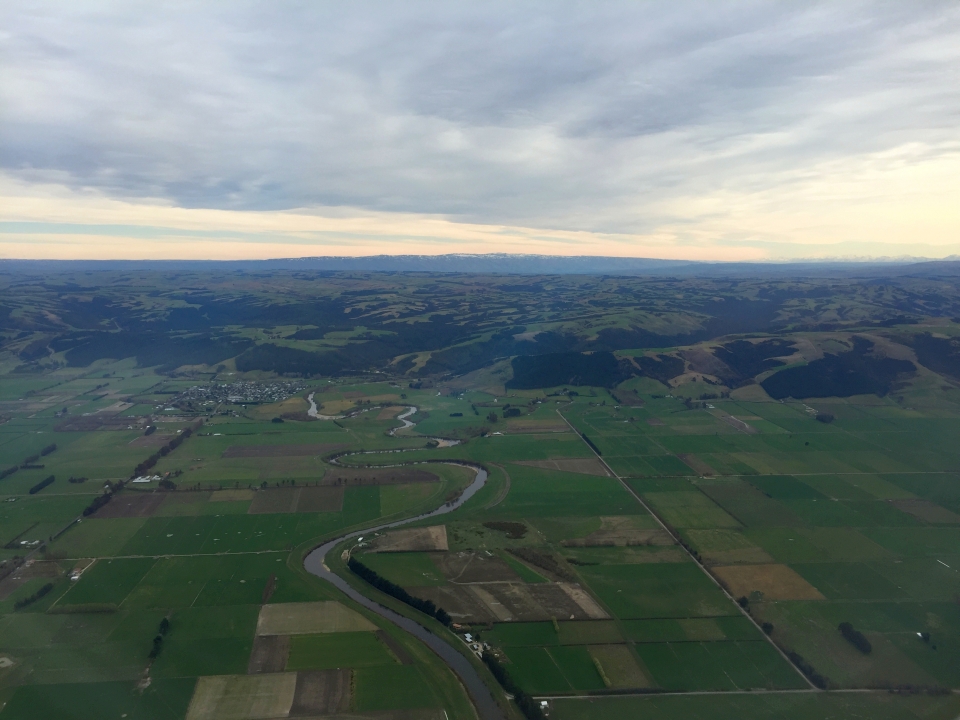 It was a warm spring day in Dunedin today as you left on your flight to Auckland. How far do you think it is from Dunedin to Auckland? Image: LEARNZ.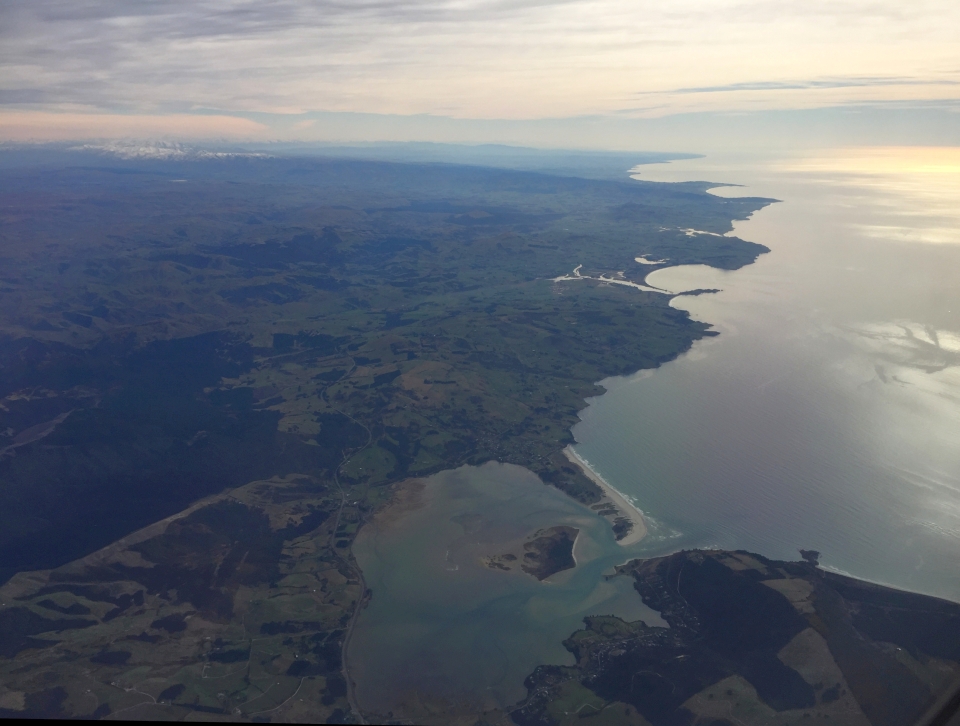 You had a great view of the east coast of the South Island as you travelled north from Dunedin. Image: LEARNZ.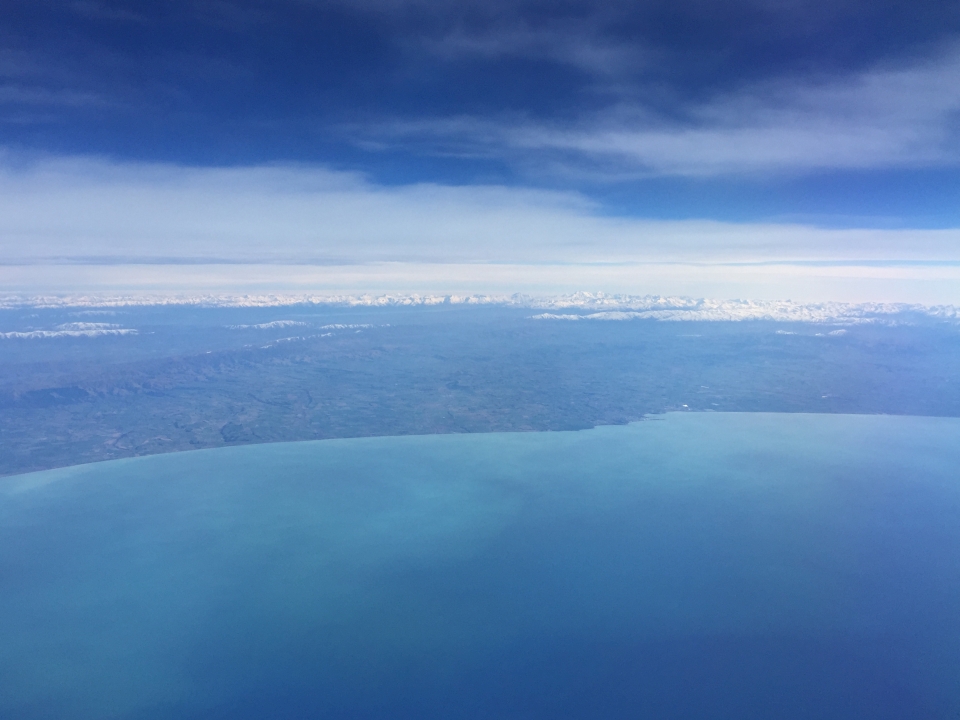 Further north you could see the snowy mountains of the Southern Alps. Image: LEARNZ.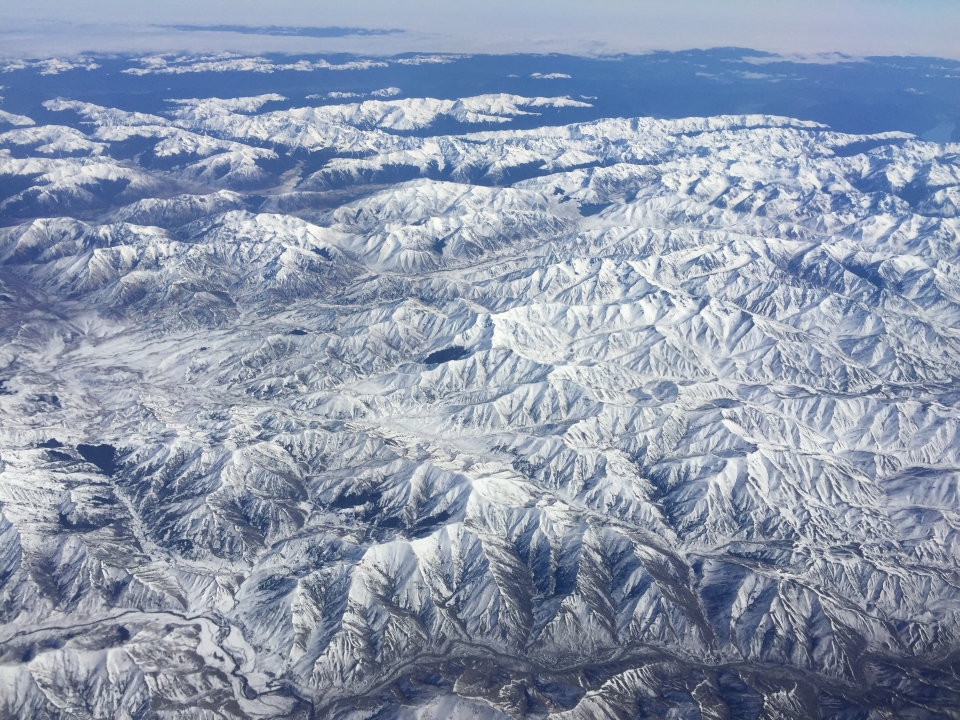 There is still plenty of snow around after last week's wintery blast but it is melting quickly. Image: LEARNZ.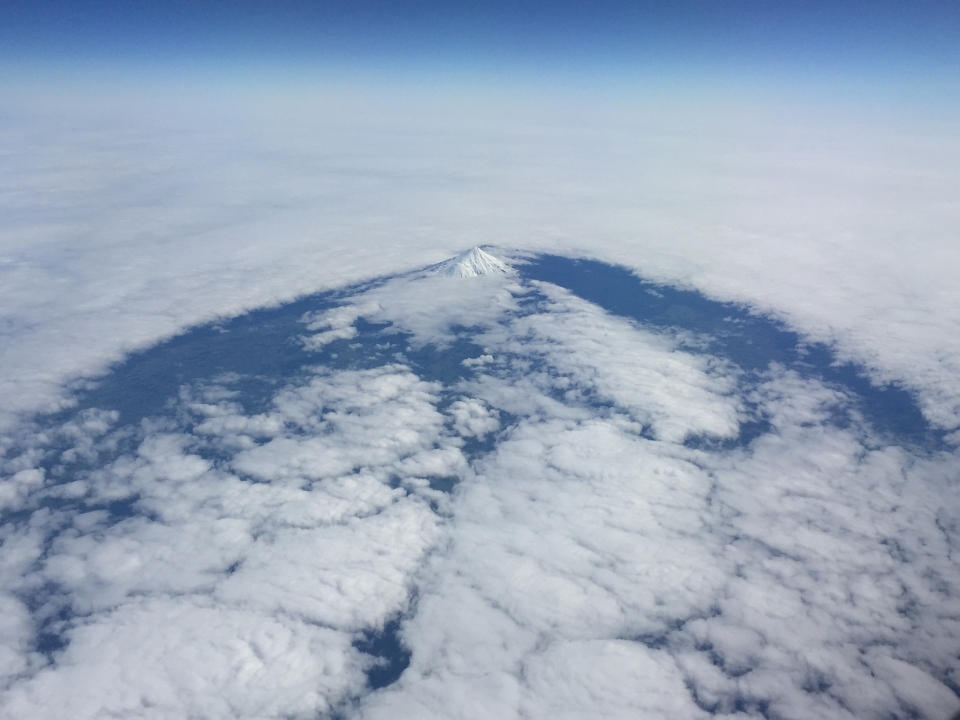 You could see Mount Taranaki surrounded by cloud as you flew over New Plymouth. Image: LEARNZ.
Shelley enjoys the flight north to Auckland. Image: LEARNZ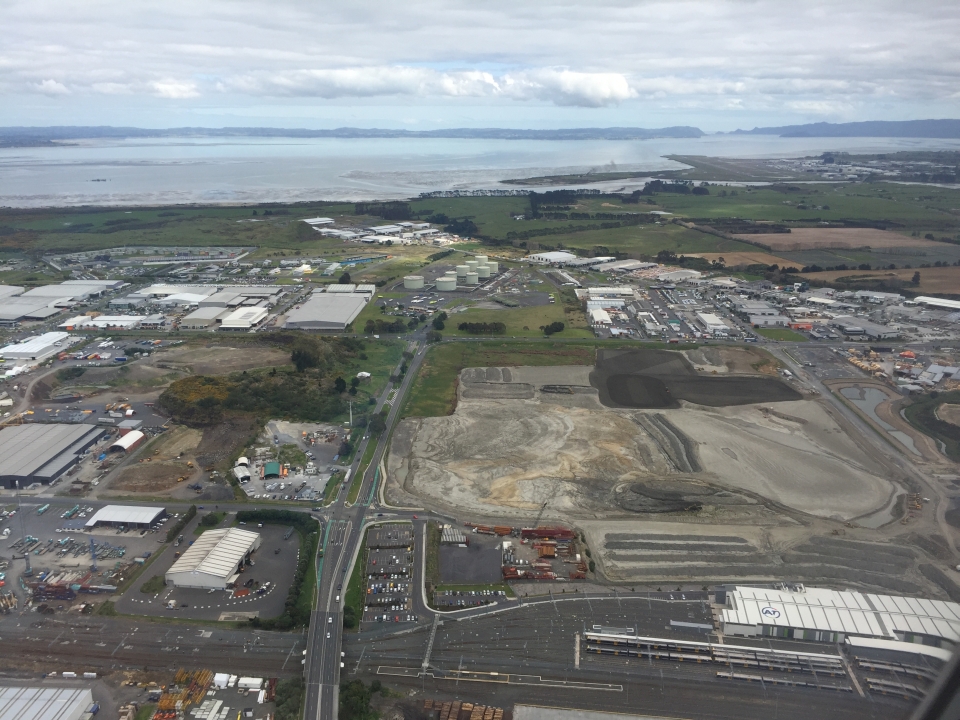 The cloud was clearing as you approached Auckland airport. Image: LEARNZ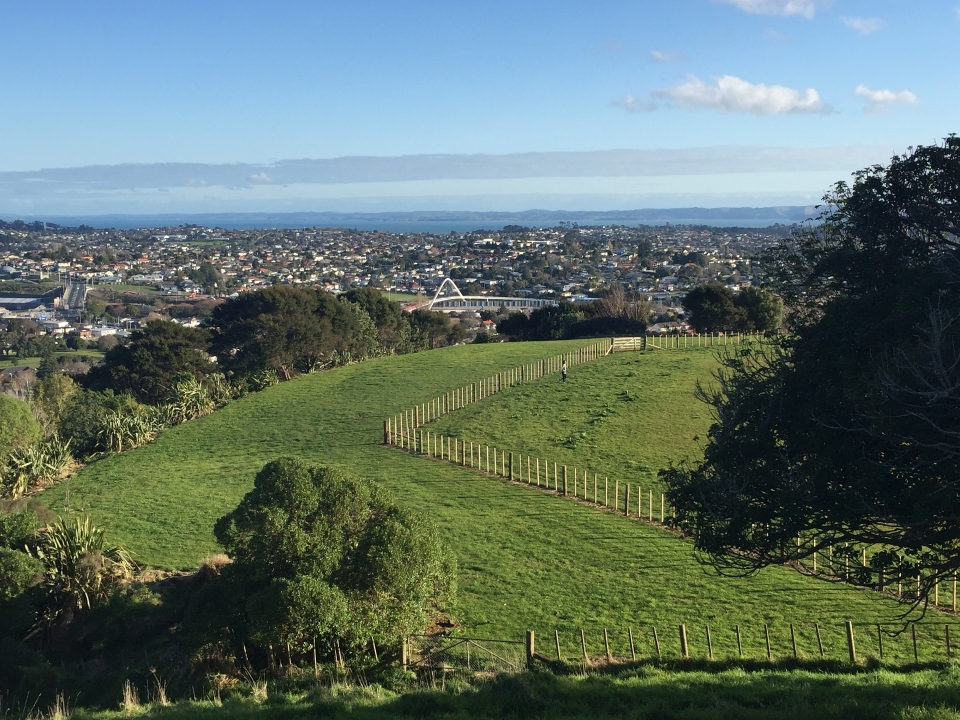 The view from Mount Albert, can you see the Hendon Footbridge? Image: LEARNZ.