Meet Simon Vincent
Job:
Auckland Transport Walking and Cycling Coordinator.
Job description:
My role is to encourage more people to walk and cycle. This involves a wide range of activities. I run cycle training for adults to ensure they have the skills and confidence to ride and look after a bicycle. I organise fun events to get the community out on bicycles – these can be guided rides, treasure hunts- we even have a Halloween dress up ride. I also support our 'Cycling' newsletter that promotes new and existing infrastructure and highlights upcoming opportunities to get out and ride a bike.
Work background:
I have had a variety of jobs that have all had a community focus. I spent 13 years in the military, including time spent helping communities back on their feet after conflict. Later I taught English to refugees and migrants and then spent a number of years working in Youth Development organising outdoor activities so students could realise their potential and set goals. This work led me into supporting councils develop plans to increase active modes of transport in schools and hence into my work for Auckland Transport.
Favourite part of job:
I am very fortunate in that I get to be alongside people as they learn to ride a bicycle for the first time and see the world of possibilities this opens up for them. To cap it all I get to ride to and from work and so get to experience the sense of freedom a bicycle can offer everyday.
Least favourite part of job:
It can be difficult dealing with people who find it hard to accept that providing options for travel is beneficial to the whole city. The more people that choose to travel by Public Transport, Walking or Cycling makes our city cleaner, healthier and friendlier – it also means there is more space available to those that need to use a car or truck. 
What I am working on now:
Currently I am supporting a number of volunteer groups that are providing places for the community to fix up bicycles and distribute them to local people who need a bicycle to get around. This sort of programme has many benefits - people become upskilled in maintenance, less waste goes to landfill and riding a bicycle becomes available to more people.
A quick story about a job well done:
Every year I organise the West Bike Fest - this is a family fun day that showcases bicycles in West Auckland. The event featured historic bicycles, bike decorating, ramps and skills courses, bike mechanics, a bicycle powered smoothie maker and a treasure hunt. Hundreds of people rode their bikes and enjoyed a great day.
A (humorous) story about a job that went badly and what you learned:
I recently organised a Guided Ride for a local group. About 30 people turned up and after an introduction they all set off to follow me. Well about 100m from our start point - a puncture – and it was my bike! Everyone had to stop and wait as I hurriedly fixed the puncture. Fortunately I had come with all the tools I needed but it was a good reminder to always be prepared.
Qualifications:
Cycle Skills Instructor
Workplace First Aid
Various leadership and instructor qualifications
Interests outside work:
Our family love the outdoors so we are often tramping in the Waitakere Ranges or further afield. I also follow the Warriors in the NRL and am always hopeful that this will be their year!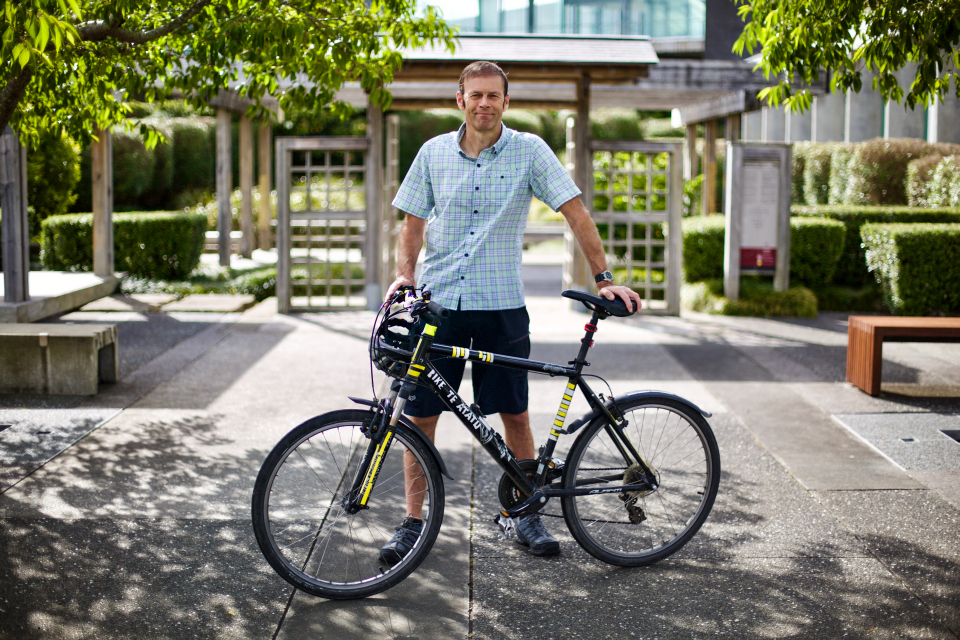 Simon Vincent is the Auckland Transport Walking and Cycling Coordinator. Image: Auckland Transport.