Testimonials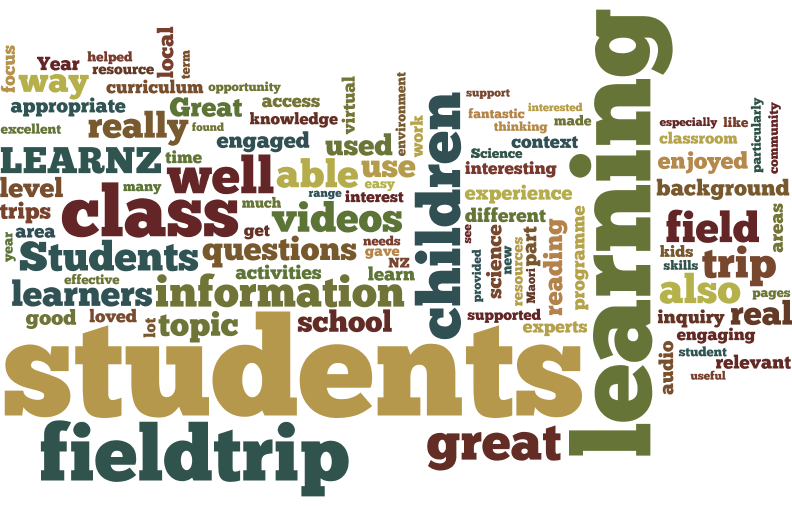 Marine Mammals
We are learning about sustainability and this was a good trip to take.
Gillian Bartlett from Mission Heights Junior College
Fitted in well with Sea Week and had good information that suited our context for Year 9. Also provided our students of various ethnicity a good opportunity to learn associated Māori vocabulary.
Wyn Morris from Mission Heights Junior College
This topic of this virtual field trip study supports our values of kaitiakitanga. Very appropriate, being a school of students who are sea people, and an interesting form of learning for isolated schools like ours.
Cheryl Waititi from Te Waha O Rerekohu Area School
It engaged the children in a different way; more authentic learning. Got students thinking about their role in our future world and how they could participate and contribute.
Rachel Ammundsen from Moturoa School
Great to connect with others in a real world context.
Katrina Curtis from Clearview Primary
The children were particularly engaged with the videos, which were easily accessible and generated a lot of group discussion. The videos were a great addition to other images, written texts and resources that we used.
Nicola Johnson from Henderson Valley School
I like the LEARNZ Inquiry approach, how the students read (or listen to) all the background information first and then formulate their own questions.
Diane Henderson from Ohaeawai School
Met our objectives for inquiry in the social sciences and science but also gave lots of opportunities for literacy. This experience also allowed the students to feel connected, to learn new things and to take responsibility for their own learning.
Denise Barrington from Kerikeri Primary School
The field trip was a great way to hook the class into our Te Moana inquiry and the children loved it! LEARNZ is a super learning tool that links well in obvious and explicit ways to many aspects of the NZ Curriculum. 
Zoe Smith from Moturoa School
Game 3, "Where have all the dolphins gone?", was so successful that we've played it with a younger class and with the new entrants, and also with the pre-school over the road! The children got a really thorough understanding of this topic through the Virtual Field trip, which tied in perfectly with our whole school topic of "The Ocean".
Amanda Barrett from St Patrick's School (Bryndwr)
I use this extensively in my reading programme - high interest content. The children love the interactives which also shows me how carefully the children have read the text.
Louise Parker from Twyford School
Whats the Plan Stan?
Linked to emergency procedures practised during the year. Online, current, and relevant to curriculum.
Helen Gibson from Hilltop School
Direct connection to what we were studying in our syndicate, all resources in one place, real people and real context helped engage the children in the learning. All resources are New Zealand appropriate and very suitable for my Year 5&6 class. I felt very supported with instant responses to the emails I sent. 
Lisa O'Connor from St Teresa's School Featherston
It led to a combination of other tasks including preparing their own households in the event of a disaster, getting to know their neighbourhood and even who can assist in times of need. Children can explore the information independently, challenge their understanding with the quizzes and then be encouraged to follow-up with related tasks and websites.
Glynn Hills from Central School
It was well organised and at the students' levels so no-one was left behind. They now have a good understanding of what to do next in the case of an emergency.
Amanda Carter from Pukekohe Intermediate
Engagement levels were very high, and they were keen to know more following the video conferences, even though we were watching them after they were recorded. The field trip enabled me to support learners with barriers to their learning, e.g. reading, and enabled the class to continue to develop their self-directed/guided learning style.
Anne Rodgers from Hanmer Springs School
I adapted it to be useful for my Year One class. I concentrated on How to keep ourselves safe during Earthquakes and Tsunamis. It assisted my delivery of interesting authentic material for my students.
Martie Andrew from Awakeri School
Activities (interactive) are great. Visiting places and discussing in short (video) clips are useful. Students had information at a variety of levels and had access to an expert, allowing teacher to become facilitator.
Kerry Godkin from Red Beach School
Timely reminder of our readiness for an emergency, also tied in our fire drill with the field trip. Gives students access to experts without having to go anywhere, particularly beneficial for our small isolated Y1-8 school.
Nicola Evans from Papanui Junction School
Very effective, especially for those students who had the ability to engage in the audio conferences and ask their own questions. This was a great way to immerse my class in lots of information and to initiate lots of discussion. Thank you!
Rachel Hall from Paremata School
Pages