Testimonials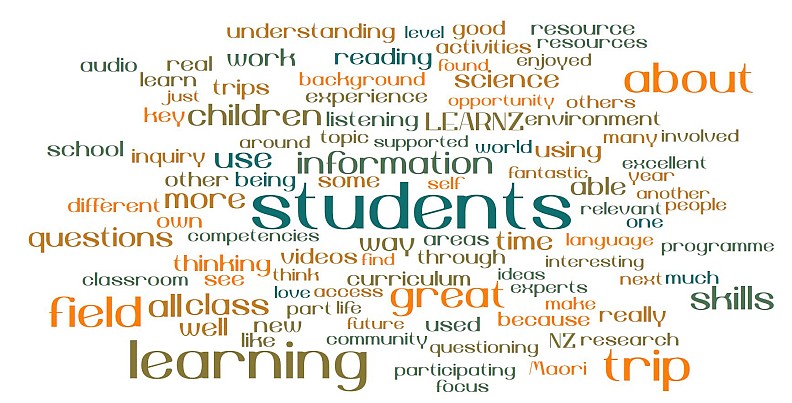 Matariki and Navigation
Perfect timing for Matariki. Tamariki were very connected with this field trip. Strong Social Sciences link around cultural ways of knowing.
Denise Barrington from Kerikeri Primary School
The kids loved seeing our ambassador and reading her diary. Thank you.
Nicola De Vries from St Albans School
Excellent that students could replay the web conferences, as they can view later to find answers to their questions and hit the pause button as often as they need.
Sandra McKendry from Seddon School
The topic linked into our current Integrated Inquiry. Great resources on the website that the kids enjoyed interacting with.
Hannah Oates from Methven School
Students were excited to go on this virtual field trip and really enjoyed using Google maps. They were motivated to do the activities, which utilised all key competencies and encouraged multiple learning styles.
Megan Connolly from Arahoe School
It was a lot of fun and very valuable learning. It took a lot of the research and planning out of my hands and allowed me to learn alongside my students.
Kellie McGinlay from St Mary's School Blenheim
A lot of learning happened for my Year 3-4 class through the background pages and videos. The trip linked to NZC through Science, Maths, Literacy and KCs. Resources were easy to use, and good to have knowledge imparted by experts.
Hilary Lintott from Brooklyn School (Wellington)
It added significant context and background to our current Matariki study. The range of experiences, media and personalisation was great! My students really look forward to, enjoy and learn from LEARNZ field trips. Every one they have been on is remembered and has driven a huge amount of new learning.
Christine Hailes from North Street School
The field trip was a wonderful addition to our Matariki inquiry. The learning crossed several curriculum areas and students really enjoyed using different technologies to support their interests.
Tessa Hansen from Riwaka School
Fabulous trip; excellent daily videos that support teaching practice. The Māori aspect was particularly good with the lead up to our Matariki celebrations. Students loved taking part in the web conference, especially having their extra questions also answered.
Jo Dudley from Ilam School
I could quickly look at background and ideas and use those suitable for my Year 2 class. Great for English (use sources of information e.g. videos, to identify form and express ideas), Science (PEB - Astronomical Systems - Matariki) and Social Studies (How the past is important to people | How places are significant to people).
Lynette Knappstein from Seddon School
Content was perfect for our topic this term on navigators. The children's sense of belonging and dual heritage was reinforced as we discussed the videos and as our more able readers supported those less able in reading the background pages.
Hazel Halton from Witherlea School
The website fitted perfectly with our current learning about Matariki and the field trip was very engaging. It helped encourage the students to be actively involved in various Matariki events in our area, as they felt confident sharing their newly acquired knowledge as well as asking questions.
Marcia Karaitiana from Ascot Community School
This was a wonderful field trip which linked with our classroom learning. The kids particularly enjoyed watching the web conferences.
Hayley Bamborough from Green Bay Primary School
We were studying Matariki as a whole school so this field trip was fantastic!
Jennifer Dodson from Rangikura School
Absolutely fantastic experience. Complimented the work we were doing with School Kit. Supported all key comps, real learning for the kids, integrated into many learning areas, authentic learning.
Suzanne Crockett from Ngakuru School
Perfect fit for our learning. Students really responded to this teaching medium. It met our AO about understanding cultural aspects - stars / navigation, understanding signs and symbols, participating and contributing, and thinking. Also helped a special needs student to shine.
Tanya August from Havelock North Intermediate
BioBlitz
We have been focussing on collaboration so students used this unit to work together to find information and monitor their own learning. It was easy for the children to navigate and use the website independently.
Cheryl Moeau-Jones from Postgate School
It followed on very well from the inquiry we have been doing into the plants in our local native bush. The most noticeable impact was a increase in our classes' scientific vocab. Great opportunity to communicate and collaborate with others outside of our school.
Warwick King from Otatara School
It was an appropriate level of challenge, and was fun and engaging at the same time. My students are buzzing after this experience. and are excited about the next LEARNZ field trip.
Shona Willis from Mataura School
It was really appropriate as we learnt how to do a Bio Blitz in our own backyard - which we did! Helped us in the key Learning Area of Science - provided extra information, motivation and a wider NZ focus on the environment. Also added to the kete of useful add-ons to make my teaching better.
Andrew de Wit from Fergusson Intermediate (Trentham)
Not only did my students enjoy this BioBlitz field trip, they were able to apply their learning to our local area. Having the ability to listen to the background pages being read to them is empowering for my lower ability readers. It means that they can still get the same information and complete the tasks.
Marcia Karaitiana from Ascot Community School
It linked in to our syndicate camp in the Tangihuas by Whangarei. It backed up our teaching points on why we need to monitor wildlife and trap introduced pets.
Anna Davis from Dargaville Primary School
Great way to extend learners in science and mathematics. Adjustable for Years 1-6. Lots of Key Competencies.
Nicola Douthe from West Park School
The Bioblitz field trip allowed our tamariki to further explore their learning context (insects) and to add to their understanding of an area of the science curriculum. The format of the field trip meant that what the children had already learned was given relevance and promoted further inquiry, conversations, excitement and engagement in this context.
Jane Reid from Southbrook School
Pages