Explorer Ernest Shackleton was born February 15, 1874, in Ireland. He was the second of 10 children and was raised in London, where his family moved when Shackleton was a young boy.
Shakleton's father wanted him to follow in his footsteps and become a doctor but Shackleton had other ideas and joined the navy.
The Nimrod Expedition
In 1907 Ernest Shackleton led his first trip to Antarctica. Shackleton wanted to be the first to reach the South Pole. Science was also an aim for this trip.
The team sailed from England on the Nimrod ship in August 1907. They reached Cape Royds in Antarctica in early 1908. A kit-set hut was built as a base for the explorers and scientists. You will see Shackleton's Cape Royds Hut during the LEARNZ virtual field trip.
The Nimrod Expedition did the following: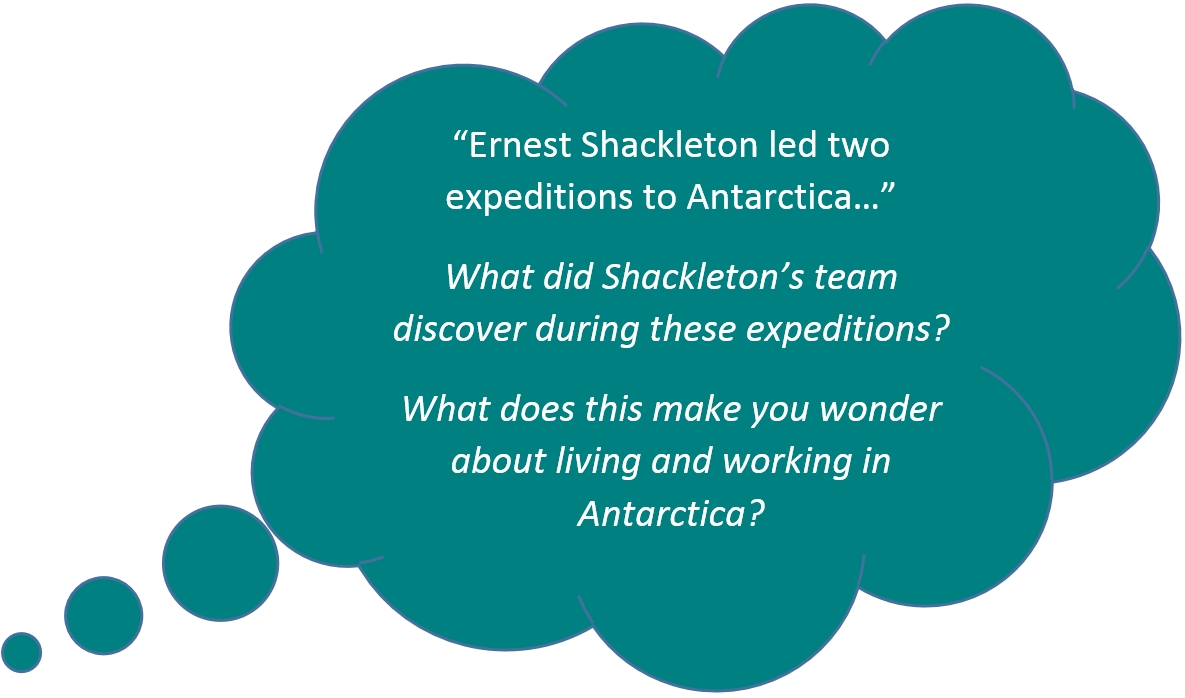 Science work such as measurements of the weather and study of sea life through cracks in the ice.
Map and survey work.
Studied glaciers.
Discovered the Beardmore Glacier and the route to the

Polar Plateau

A party of six were the first to climb Mount Erebus, a 4023m nearby volcano and many rock samples were taken from the summit crater.
Shackleton's party of four came within 97 miles of the South Pole.
South Pole attempt
In late 1908, Shackleton led a party of four in an attempt to be the first to reach the South Pole. After two-and-a-half months, and less than a 100 miles from the Pole, Shackleton famously made the decision to turn for home rather than risk running out of food and fuel on the return trip.
The Trans-Antarctic Expedition 1914-1917
Shackleton was disappointed when a Norwegian explorer made it to the South Pole first in 1911. He made a new goal of crossing Antarctica via the South Pole.
He set out on the ship, Endurance, in August, 1914. In January, the ship got stuck in sea ice. Shackleton and his team had to leave the ship, which later sunk. They lived on the sea ice for several months. When the ice began melting in the spring, Shackleton and his team used small boats to reach Elephant Island.
No one was at the island, so Shackleton and five men took a life boat to South Georgia where they arranged a rescue party to get the other men.
Shackleton and his team were on the ice for almost two years, but no one died. You can find out more about this epic adventure of survival here.
Shackleton died of a heart attack on his third trip to Antarctica.