Diary 5
Date:
Monday, November 14, 2016
Field Trip Name:
Antarctica
Field Trip Place:
Ross Island
Weather:
Fine but windy -11 degrees Celsius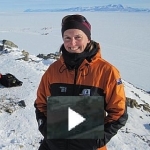 Watch Shelley's diary cam video

Kia ora koutou,
You woke to another spectacular day in Antarctica, the sun was shining but a strong wind was blowing across the sea ice. While you were eating breakfast we overheard some scientists talking about the magnitude 7.5 earthquake that hit North Canterbury in the early hours of this morning. It felt strange to be so far away from New Zealand and our thoughts go out to anyone who has been affected by the quake.
You spoke to West Gore School and Te Akau ki Papamoa Primary School during the audioconference. Lizzie enjoyed answering questions about the historic huts in Antarctica and what it's like working down here. You can listen to the recording of this audioconference.
Back out on the sea ice
Lizzie had arranged a Hagglund so you could visit Cape Royds to see Shackleton's Hut. You settled in for the two-and-a-half-hour journey across the sea ice and could only imagine how hard it would have been for Scott and Shackleton who travelled on foot. You had to wear your sunglasses even inside the Hagglund as the sun shone through the windows and the white ice reflected light. The Barne Glacier looked spectacular as you drove alongside its towering edge. The wind had picked up and you could see snow being blown into the air. You had to stop briefly to check a crack in the sea ice to make sure it was safe to cross. The Hagglunds can cross cracks up to 75 centimetres deep and 75 centimetres wide. Luckily the sea ice is in great condition this year and extends a long way north which makes travel much easier.
Cape Royds
You had to wear an extra jacket to block out the wind as you walked from the sea ice to land at Cape Royds. This is where Shackleton built his hut during his 1907 Nimrod Expedition. Shackleton had been on Scott's Discovery Expedition and wanted to be the first to reach the South Pole. As you battled the wind you may have wondered why Shackleton chose to build his base here. His ship was known as the Nimrod and they had planned to sail further south but the sea ice stopped them so they were forced to stay at Cape Royds. At least the expedition had access to Adelie penguins and their eggs for food. This area is now protected and you need a permit before you are allowed here.
Shackleton's Nimrod Hut
After brushing the snow and grit from your boots you could look inside. Shackleton had a smaller hut than Scott and it felt much more homely. You couldn't see much in the way of science equipment because most of the science work was done outside. Lizzie talked about what was achieved during Shackleton's expedition and it was incredible to hear how close Shackleton came to the South Pole. He found a route on to the Polar Plateau and made the difficult decision to turn back less than 100 miles from the Pole. During this expedition Mount Erebus was climbed for the first time and rocks collected from the summit crater. Weather recordings were made along with studies of animals, glaciers and magnetism. You can find out more by watching the videos.
The challenges of working as a scientist in Antarctica.
It was fascinating listening to the stories that Lizzie told about Shackleton's expedition and it made me think about the challenges that scientists must have faced while here in Antarctica. It would have been bitterly cold, windy and completely dark in winter. Scientists often travelled huge distances, spending weeks hauling heavy sledges loaded with equipment before they could start their actual work. Using instruments in freezing cold temperatures would have been slow and difficult, and with several layers of mittens it would have been hard to make accurate measurements. Mittens could be removed, but frostbite could strike in seconds. It will be interesting to travel out to a modern science camp tomorrow to see how science work in Antarctica is done now. 
Adorable Adelie
Before leaving Cape Royds, you headed over to look at the Adelie penguin colony. Ambassador Polly was super excited to meet some other penguins. About two thousand birds nest here and you could hear their calls and squawks as you approached. Unfortunately, you weren't allowed close to the colony without a special permit so you had to watch from a distance. It was funny to see penguins stealing stones from other penguins to build up their nests. I could have watched for hours but you had to head back to the Hagglund ready for the long journey back to Scott Base.
Tomorrow you will visit Natalie out at her sea ice science camp 60 kilometres from Scott Base.
See you then,
Shelley the LEARNZ field trip teacher.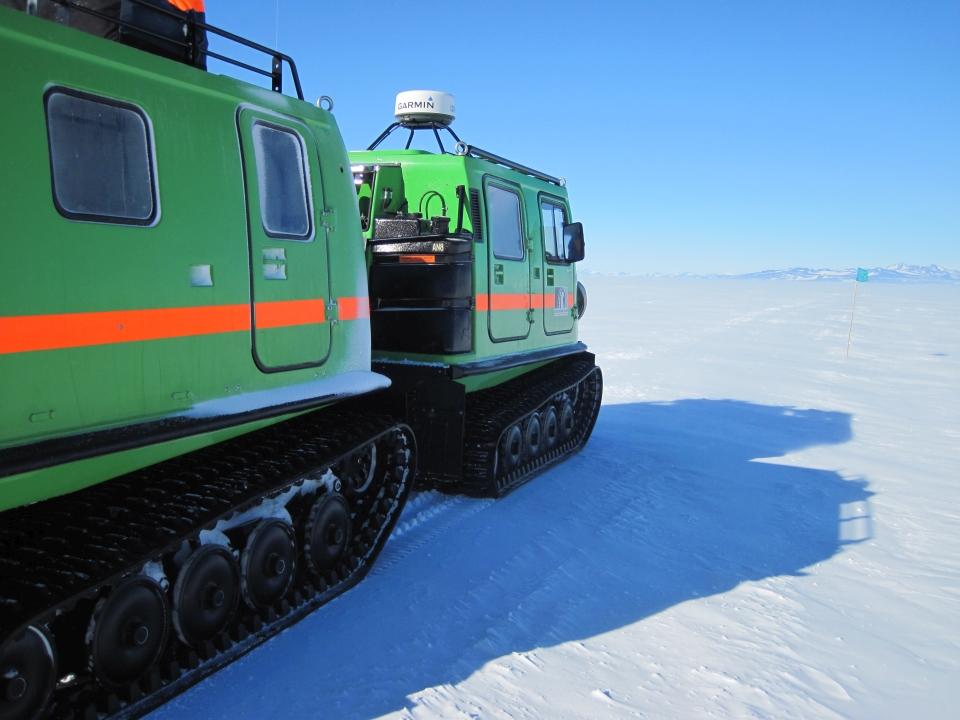 You headed out across the sea ice on the Hagglund to visit Cape Royds. How far is Cape Royds from Scott Base? Image: LEARNZ.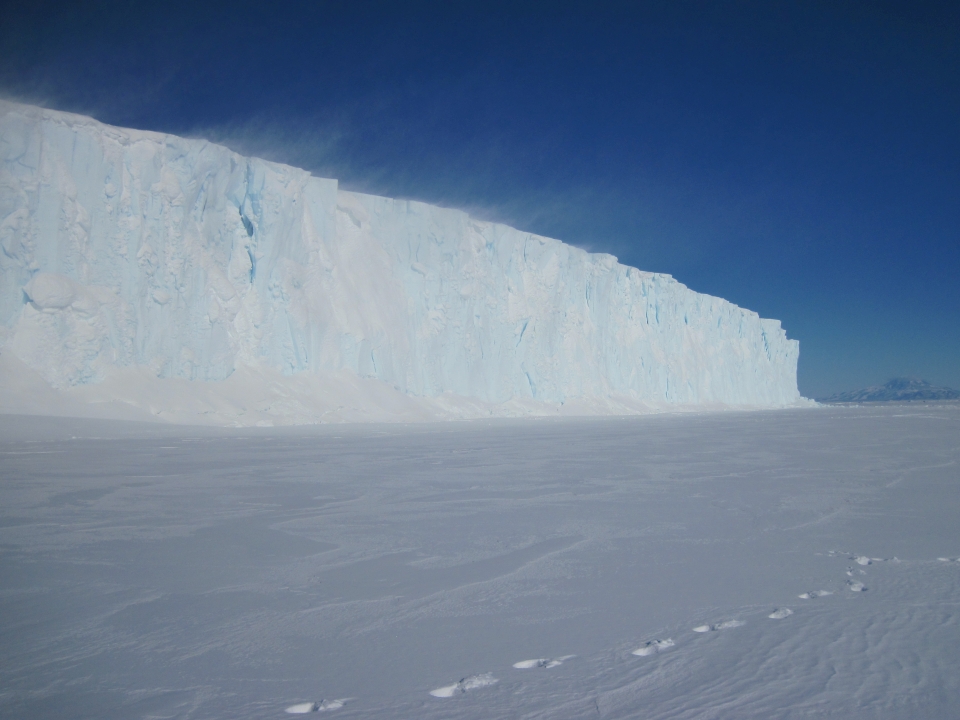 You drove alongside the edge of the Barne Glacier on your way to Cape Royds. Image: LEARNZ.
Cracks are starting to form in the sea ice. How deep and wide does a crack have to be before you can't travel across it in the Hagglunds? Image: LEARNZ.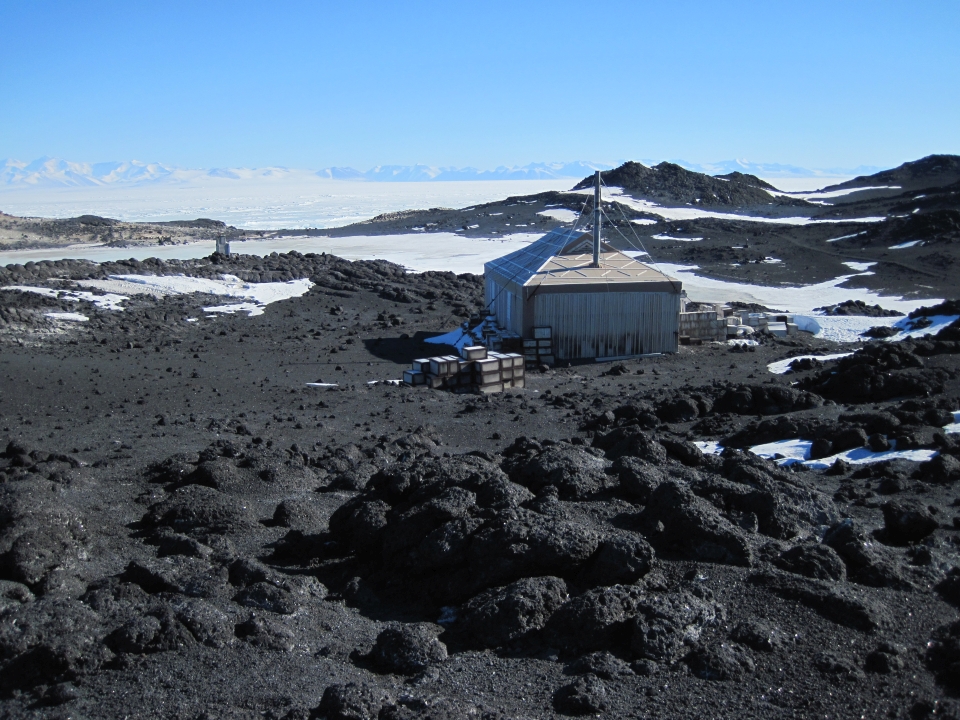 Welcome to Cape Royds, an ASPA - Antarctic Specially Protected Area. Why do you think this area is protected? Image: LEARNZ.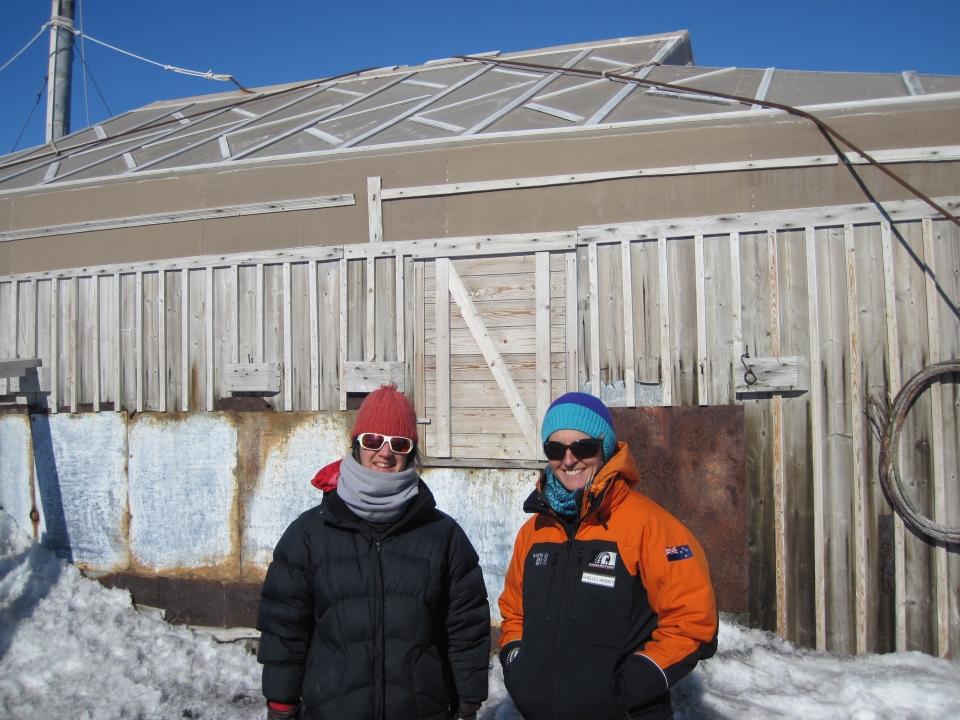 Lizzie and Shelley outside Shackleton's Nimrod Hut at Cape Evans. When do you think this hut was built? Image: LEARNZ.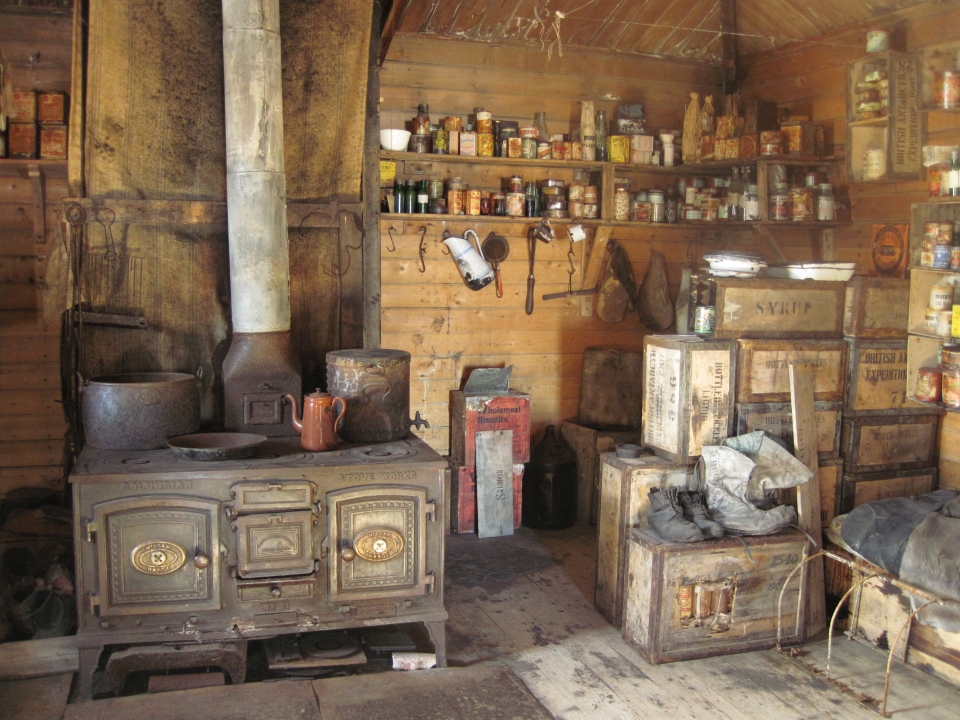 Shackleton's Hut at Cape Royds felt quite homely compared to Scott's larger hut at Cape Evans. Image: LEARNZ.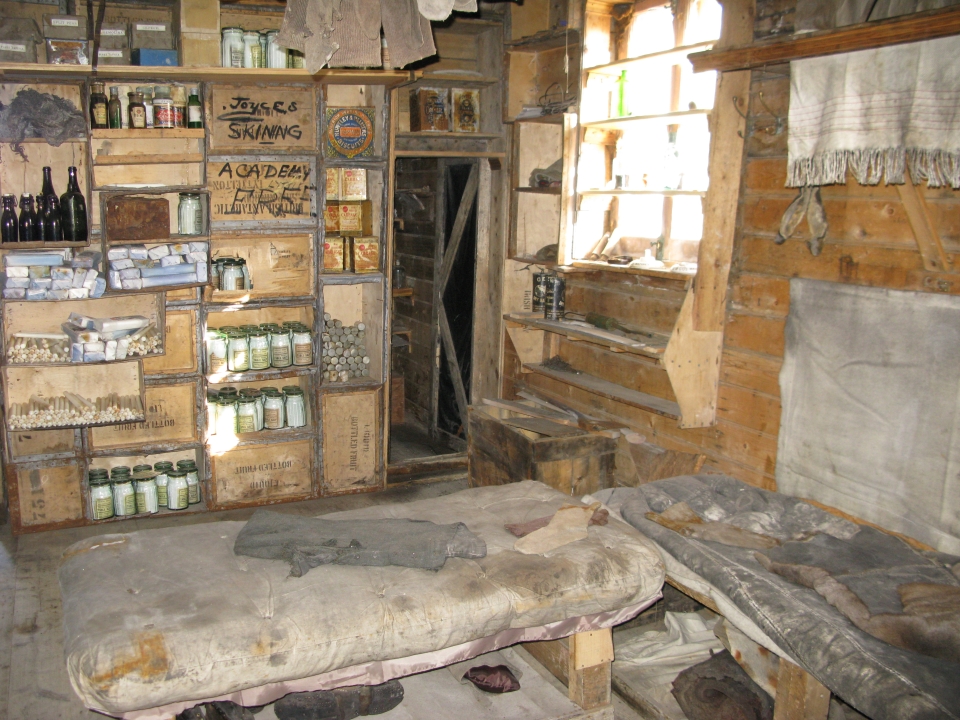 The bunks in Shackleton's hut didn't look particularly comfortable and some were folded away each day to give more room inside the hut for the 15 men who lived here. Image: LEARNZ.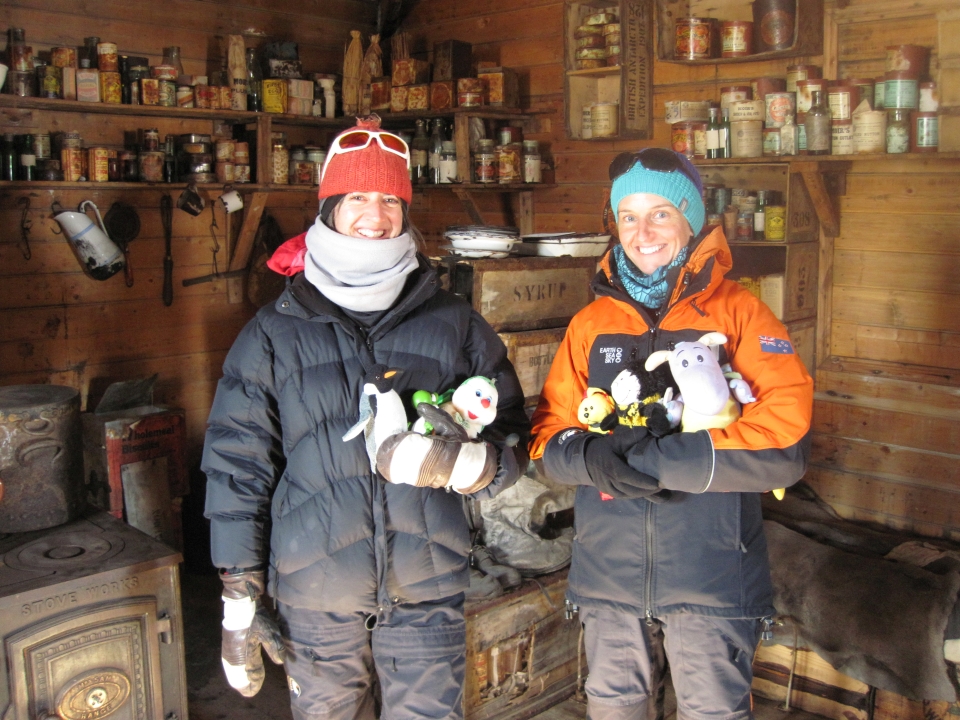 Lizzie, Shelley and the ambassadors look around Shackleton's hut. Image: LEARNZ.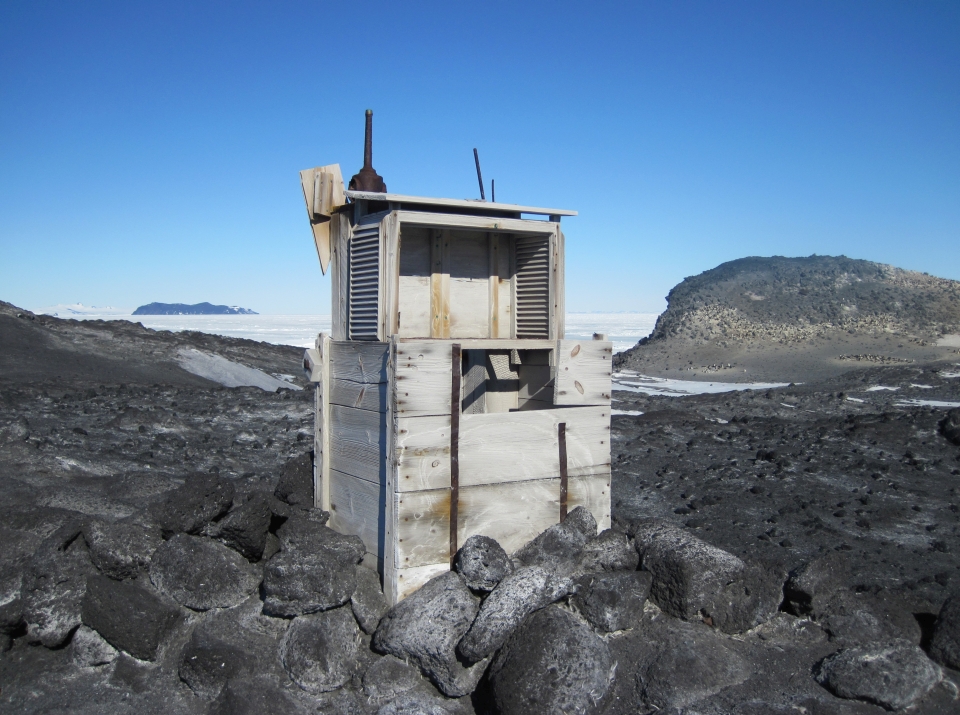 You can see the remains of a Stevenson screen which would have been used to shelter instruments to measure the weather. Stevenson screens are still used today. Image: LEARNZ.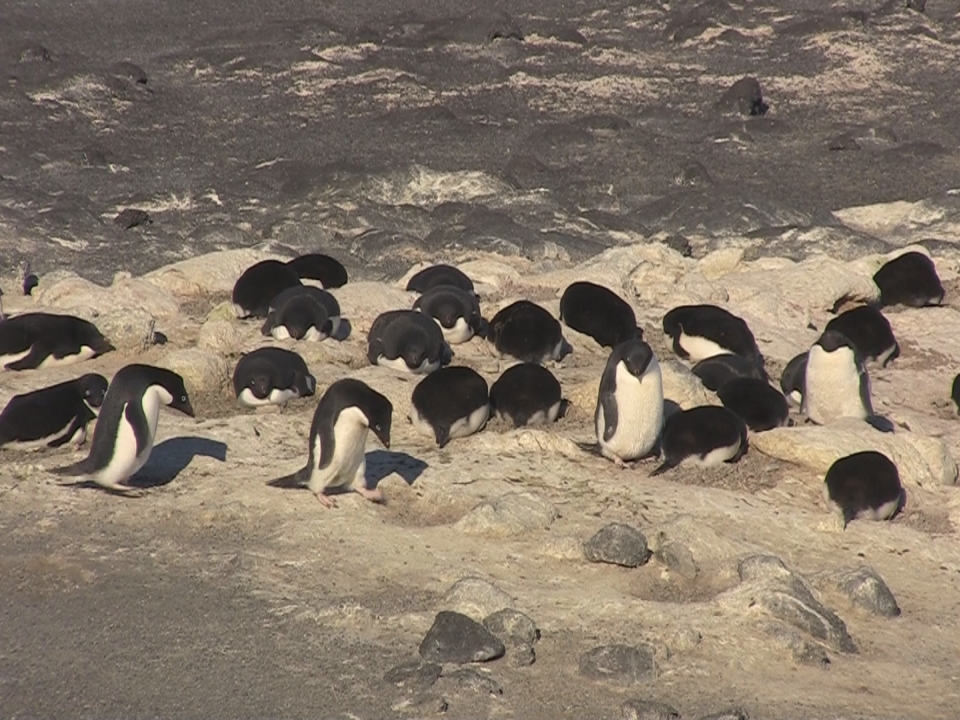 You could see adorable Adelie penguins setting up nests at Cape Royds. Image: LEARNZ.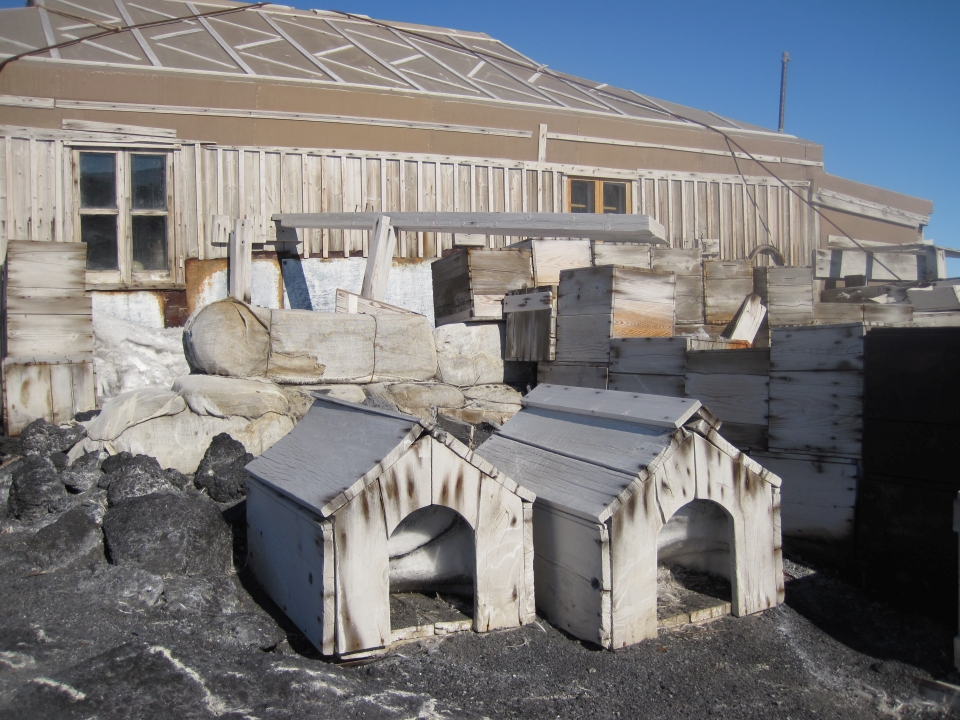 You could see small kennels that would have been used for husky puppies during Shackleton's Nimrod Expedition. This hut has been preserved by the Antarctic Heritage Trust so people can experience a piece of Antarctic history. Image: LEARNZ.