Diary 3
Date:
Monday, November 27, 2017
Field Trip Name:
Antarctica
Where You Are:
Travelling to Antarctica
Kia ora koutou,
It was such a relief to finally be on our way to Antarctica today. After all the delays this was our last chance to travel to Scott Base. Thankfully the weather was glorious. You even got to sleep in because the ice runway had to be cleared so you didn't have to report until 7.30am.
Welcome to the Antarctic Passenger Terminal
You cleared customs and security at the United States Antarctic Passenger Terminal. You had to present your passport and all your luggage for screening. Then you were shown a video of what to expect when you arrive on the ice. The departure lounge was full of excited people. Everyone was talking about how long they had been delayed and how this was going to change their plans. Most of the people at the briefing were wearing big red jackets which means that they were going to McMurdo Station, which is the American Antarctic Station close to New Zealand's Scott Base. Your flight down to Antarctica was on a C130 Hercules aircraft run by Safair (South African Air). It was easy to spot the other New Zealanders in the crowd as they had the black and orange coloured clothing supplied by Antarctica New Zealand. You had to wear your ECW boots, over trousers and jacket on the plane so you would be ready to land in Antarctica.
Southbound
There was such a sense of anticipation as you headed out on to a bus that took you across to the Christchurch Airport runway, so you could board the Hercules. These planes aren't as big as the C17's and they are a lot slower. It will take about eight hours to reach your icy destination, whereas if you had flown on the C17 it would only take five hours. You were lucky enough to be seated at the front of the aircraft, but it was impossible to see out of the tiny windows. You didn't have much space to move around and the noise was horrendous. Thankfully everyone was given ear-plugs. Antarctic travel is not luxurious and there's definitely no inflight service. The ambassadors did however enjoy the huge bag of lunch they were given before they boarded the aircraft!
Sea ice for miles
After about six hours of flying you saw sea ice as you approached Antarctica. It was incredible to see the cracks in the ice. You almost needed sunglasses just to look out the window. Frozen rivers of ice could be seen flowing out from the mountains into the sea ice. It is glaciers like these that make up ice shelves that float on the ocean. You will be finding out more about the Ross Ice Shelf during this field trip. Cloud came and went, and you were able to visit the cockpit to get better views out over the sea ice. The motion of the plane sent you to sleep until an announcement was made to fasten seat belts and the plane began a long descent towards Ross Island in McMurdo Sound.
Home away from home at Scott Base
The landing on the ice shelf was amazingly smooth. Everyone hurried to wriggle into their big jackets and grab hats, gloves and sunglasses ready to brave the Antarctic cold. It was like entering a different world as you stepped out on to the ice and felt the crisp, dry air. It felt amazing to finally be in Antarctica! The temperature was a relatively warm -7 degrees Celsius and it felt like midday rather than 6pm with the brightness of the sun. Antarctica has constant daylight at this time of the year, so you won't be seeing any stars until you return to Aotearoa. People looked like penguins as they waddled across the ice in their bulky jackets. You were met by a friendly American bus driver named Bob who led you towards a gigantic tractor-like bus made especially for travel on ice. A bumpy hour-long drive on Ivan the Terra Bus brought you across the ice shelf onto the sea ice and then on to Ross Island where the New Zealand Antarctic base is located. The bus dropped you off before heading over the hill to McMurdo Station.
Scott Base will be your home for the next few days. The base is kept at a pleasant 18 degrees so you could remove all your heavy clothing and change into normal clothes. Because of your late arrival you headed straight to the dining hall for dinner. After a tasty meal you were given a tour of the base and assigned a bunk room. By the time you had unpacked it was getting late although it didn't feel like it with the sun still streaming in through the windows. Luckily the bunkroom windows all have shutters on them to block out the light, so you can still get a good night's sleep. Tomorrow you will complete your Antarctic field training, so you can safely leave Scott Base and explore this white wilderness.
See you in the morning,
Shelley the LEARNZ Field Trip Teacher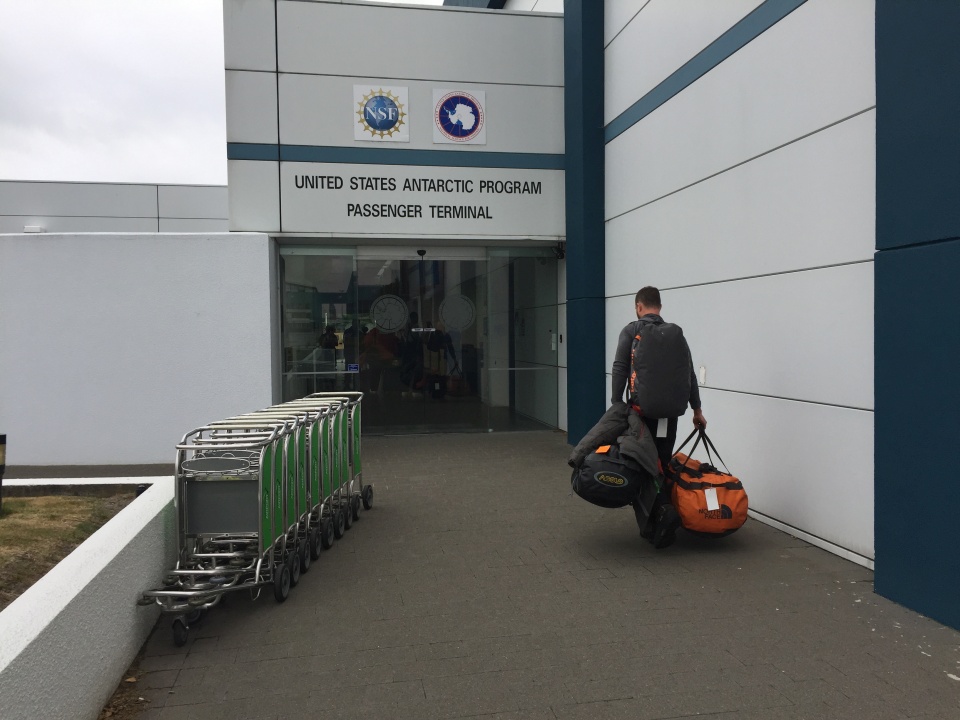 You checked in at the United States Antarctic Passenger Terminal in Christchurch this morning. Image: LEARNZ.
You had to present your passport and have your bags screened. What do you think your bags are checked for? Image: LEARNZ.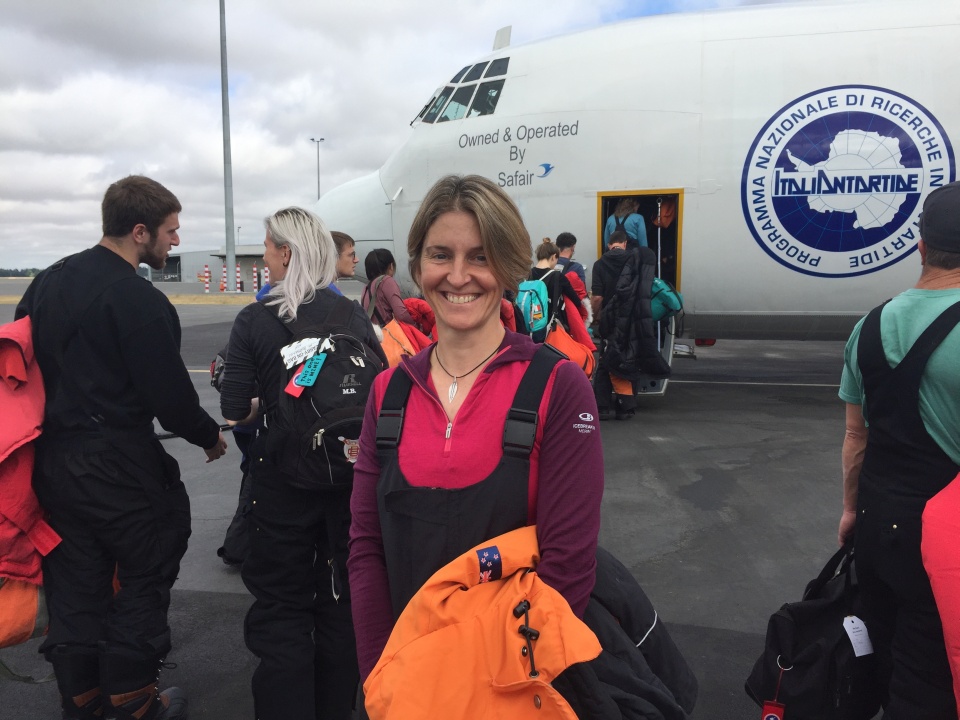 Shelley gets ready to board the C130 Hercules aircraft. Image: LEARNZ.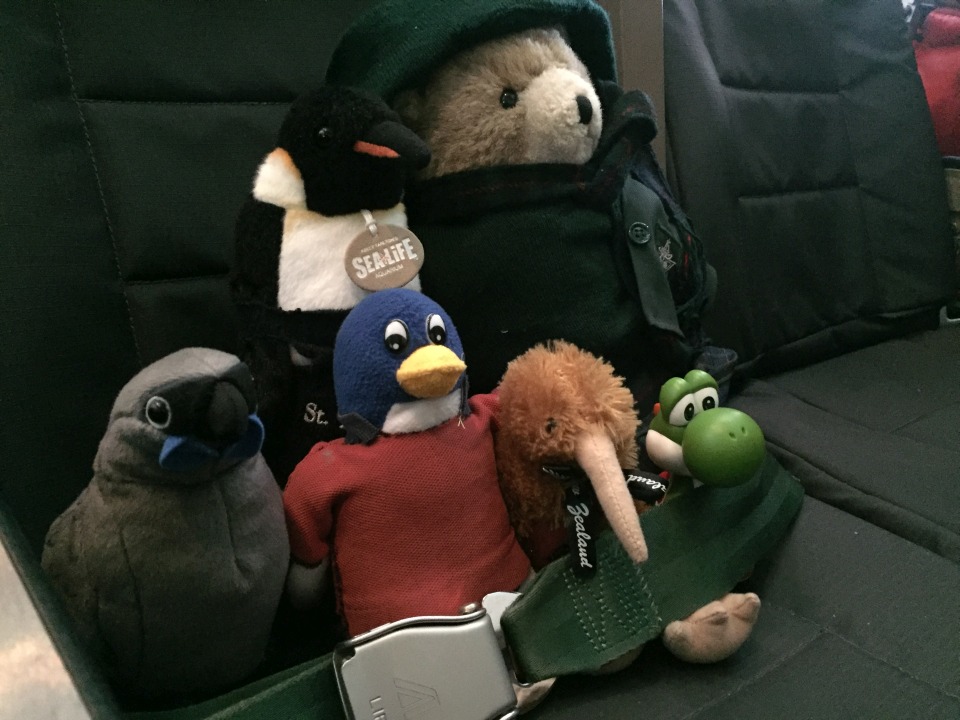 The ambassadors make themselves comfortable on the plane. Image: LEARNZ.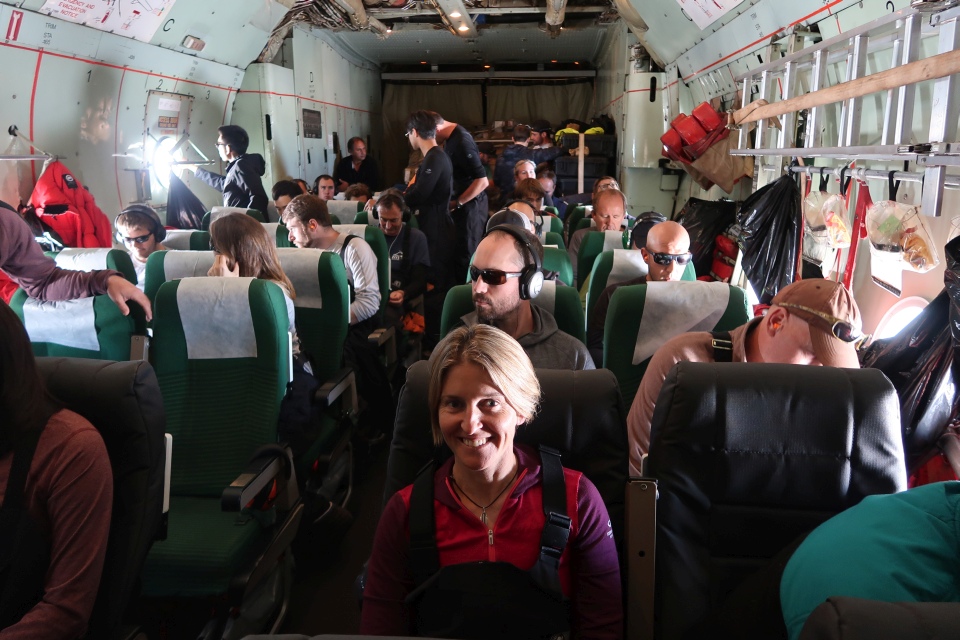 After all the delays Shelley is relieved to finally be on her way to Antarctica. Image: LEARNZ.
Your first glimpse of sea ice came after six hours of flying south. Image: LEARNZ.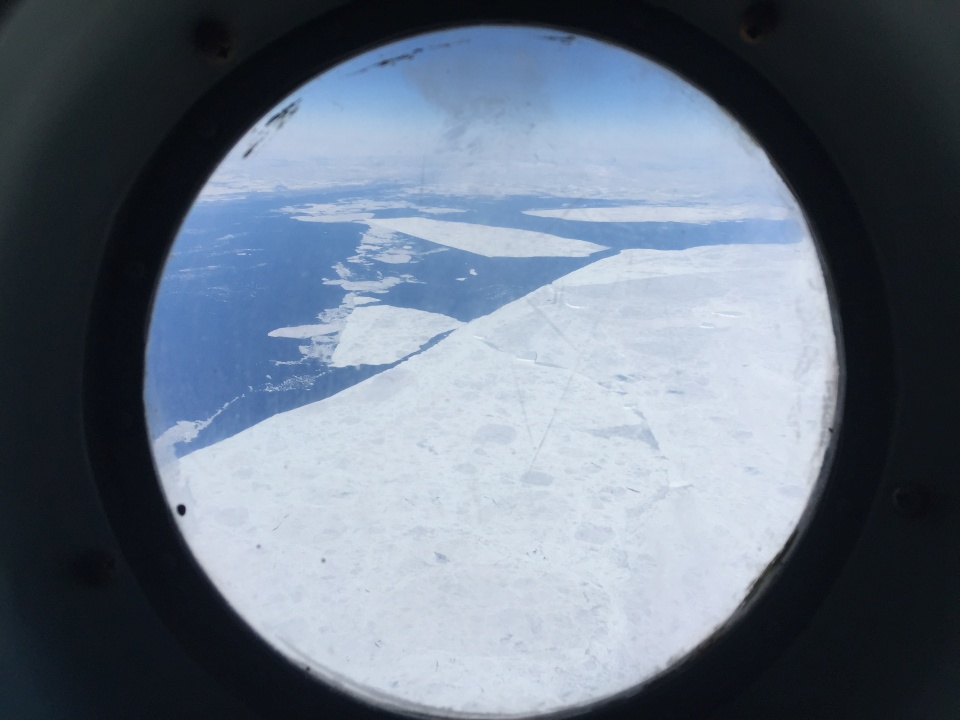 Looking through one of the small side windows of the Hercules. Image: LEARNZ.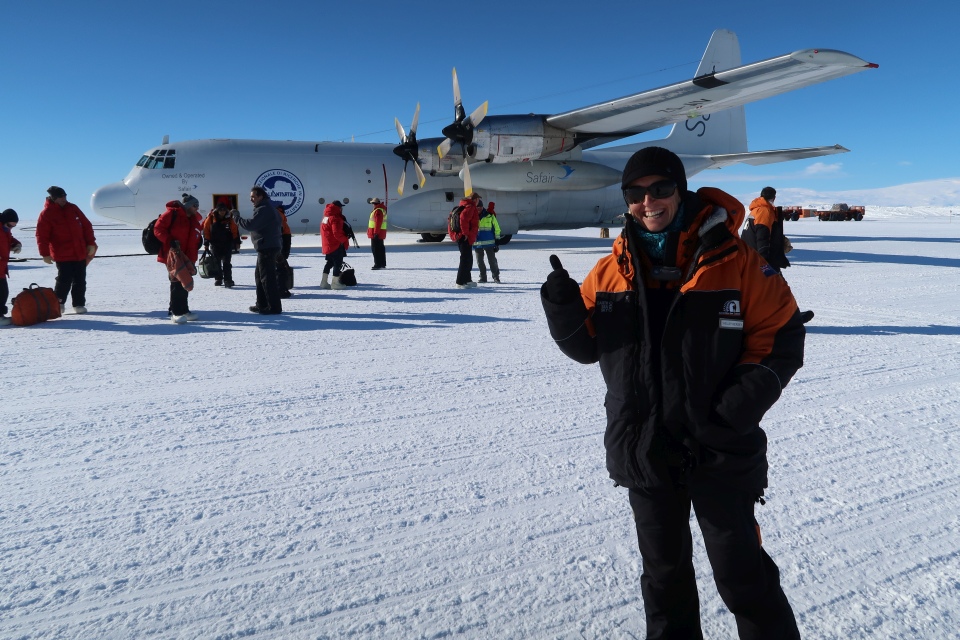 Shelley finally arrives in Antarctica and the weather is glorious. Image: LEARNZ.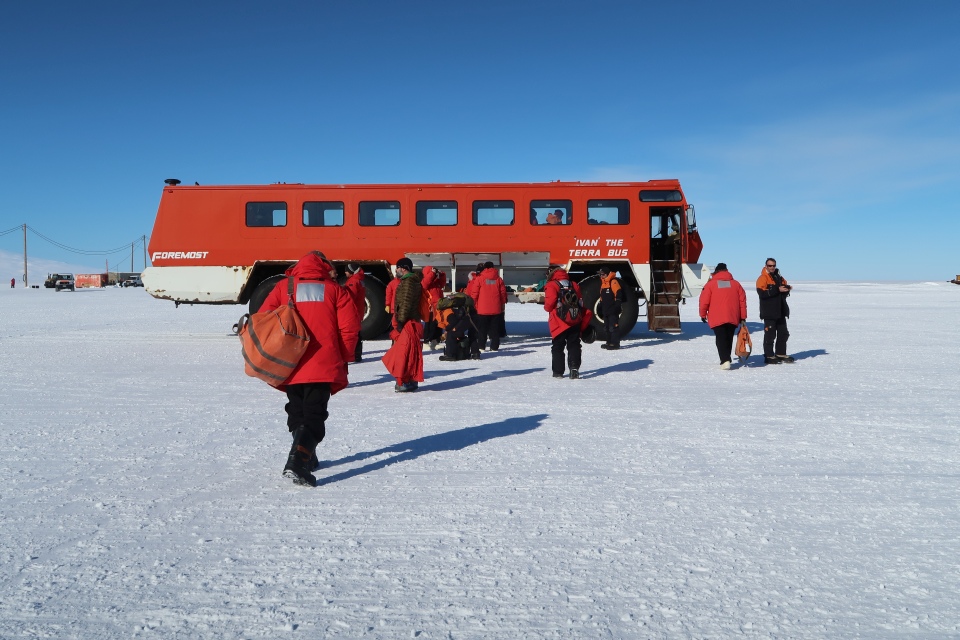 Ivan the Terra Bus is ready to take you to Scott Base. Image: LEARNZ.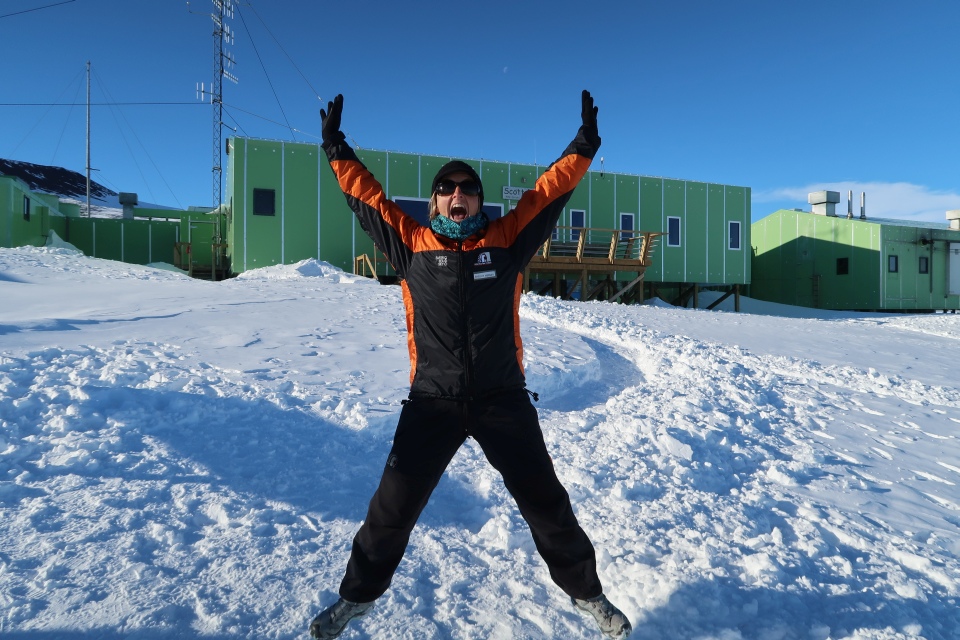 Shelley celebrates arriving at Scott Base in Antarctica. Image: LEARNZ.