Testimonials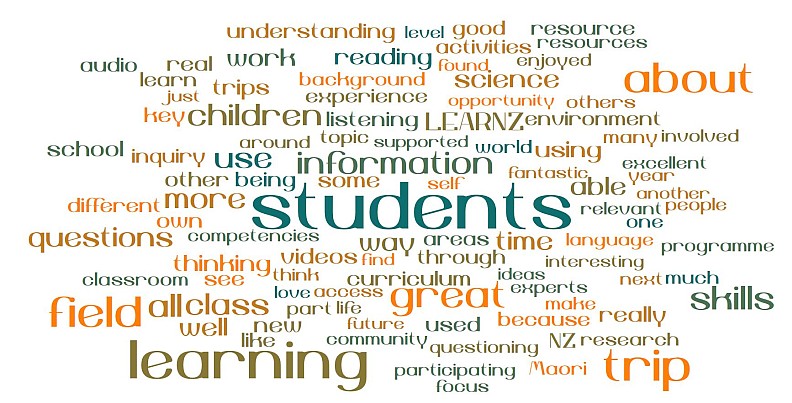 Freshwater Ecology
Students were captivated by this context. An outstanding resource to facilitate effective learning.
Graham Elsmore from Christian Renewal School
The children are completely enthralled with taking a virtual trip in their own back yard - they have taken their learning home and are working on informing others of their new knowledge. We are a Year 4 class so at the earlier stage of the Learnz system but it was really easy for the kids to get to grips with. It prompted much learned conversation and interaction from the children, excellent. Each of the Key Competencies was well covered.
Sarah Sherriff from Waipahihi School
Because it was so interactive the children were 'hooked in' from the beginning. Listening comprehension was made to be fun as it was learning they were interested in. It covered everything we wanted to know and what we were learning about.
Kylie Parkes from Waipahihi School
We found it really interesting and helpful towards our inquiry topic "Wai Care". It gave us a whole new perspective on nature and wildlife. We enjoyed feeling like we were out there with you experiencing it. LEARNZ ... helps all learners.
May Pullar from Havelock North Intermediate
Following the Inquiry model for the field trip meant students were co-constructing their own learning. It provides current and informative resources. Students were able to form good research questions.
Isobel Huggard from Katikati College
Tied into the 1.3 Geography Sustainability of tourism in Tongariro National Park. The videos gave great insight into the ecology of the area and how this ties in with all other things.
Bevan Hunter from Wanganui High School
Effective because it took my class to a place that they would not necessarily get to in reality. Provided good information at an appropriate level.
Douglas Drysdale from Bunnythorpe School
It tied in with our statistics unit, collecting data and using it to make a difference and to advise. My class love when they can view things through the data projector and it was helpful to generate discussion. Students were kept motivated and were also interested in the jobs available in this field. LEARNZ fits with all learners.
Caroline Arthur from Opawa School
Highly relevant to the students who self-regulated, worked collaboratively, and applied learnings locally. The multiliteracy approach is very engaging.
Trevor Jeffries from Levin Intermediate
As we are going to all these places for our school camp in September it was awesome to give them some background and really light the fire of the students. The activities were at the right level and there was a range of interesting things to do. The kids were very enthusiastic and were looking forward to each new day and what was happening to the experts. The learning they got from it was very real. I have got some amazing writing from the students as they try to explain complex terms like ecology and such like. It was a really good experience for me and my class, they learnt a lot about the topic and themselves. Brilliant. Have already recommended to many colleagues both in my school and at other schools.
Gregory New from Rukuhia School
Students gained an appreciation of the 'bigger picture', of how clean water or polluted water affects so many things. Students really enjoyed it - it was aimed at their level.
Sharon Joyce from Kuratau School
Having a variety of reading levels and activities helped the children to participate well. I have Pasifika children who thoroughly enjoyed the trip and participated fully - even forming the questions and talking on the audio conference. It gave us an opportunity to do some learning that was way outside our resources and actual ability to 'be there'. It gave a wider perspective to our thinking about water.
Jane Sutherland from Cornestone Christian School
Students who watched videos were motivated to set up a fresh water tank at school. Good science, reinforcing concepts of food webs and freshwater ecosystems.
Vanessa Burrell from Haeata Community Campus
Wetland Biodiversity
We used the field trip as an alternative programme for our advanced readers. The students who undertook this field trip were engaged and interested in the content. We were able to select background information and activities that were suitable, yet challenging enough for our students. The use of video, with the ability to replay and revisit parts to gain a greater understanding, was helpful. They had very little knowledge prior to the 'trip', but demonstrated a great understanding afterwards.
Megan Croll from Beachlands School
Linked closely to students understanding their immediate environment while involved in EOTC (school camp in this case). I see students engaged in the topic when involved with LEARNZ plus they tend to find more information and other areas of interest linking to the particular topic.
Jason Shaw from Geraldine High School
It is appropriate for anyone!! We had every level in our primary school- year 0-6 participating this year. It was amazing! We will use LEARNZ again because of the ignition that happens for the kids. Motivational, fun, a way for kids to take their learning home. Loved the quick responses I got from your team when I did participate in the online help.
Jennifer Wiedel from Methven School
LEARNZ projects always allow me to "let go" - to let the students lead the way for their learning. Ticks all the boxes - able to use an Inquiry approach to their learning.
Diane Henderson from Ohaeawai School
Very hands on feeling to videos and a very good learning experience all up! One of my sons loves animals and the outdoors. Living in New Zealand we all should know about the importance of these areas.
Hannelie van der Linde from Van der Linde Family Home School
It was a great learning experience that is still going as an inquiry! I love the interacting that occurs between the LEARNZ teacher and the children. The activities are very child friendly and engaging. The language was able to be learnt and the videos were fantastic to clarify anything. I love the use of Maori words throughout.
Alice Walker from Methven School
My students loved learning about the animals in the wetlands and why they are important. I have used the field trip integrated into my planning and programme.
Cheryl Isherwood from Methven School
The content and style of learning is so engaging for the children. Love the strong Science focus. It was a good field trip to compare local, national and global - it lent itself really well to discussion.
Jan Thompson from Banks Avenue School
The field trips allow me to provide an integrated literacy programme with links across the Curriculum, especially science. Everything that I use to implement the field trip within my classroom programme is clearly laid out and available on the website - thank you!
Katrina Laurie from Clifton Terrace Model School
Great for Maori and Pasifika students and ESOL.
Anthony Cairns from Wellington High School
Students were asked about the KC's they used during this field trip and they unanimously said: Thinking, Relating to Others, Participating and Contributing, and Managing Self. They also said they enjoy the enthusiasm of the presenters, especially Andrew (the LEARNZ Teacher).
Seuga Frost from Ohau School
Another valuable and appropriate topic from the LEARNZ team, as we knew very little beforehand about wetlands and their importance. LEARNZ is an excellent education tool.
Tracey Thomson from The Clan in a Caravan Homeschool
Pages