Accessing the outdoors
Preparation is key to any adventure in the outdoors. This includes checking the weather, packing the right gear, ensuring you have maps, and letting people know where you are going and when you expect to be back.
Always take the weather with you!
Checking the weather is always important. Weather forecasting is a prediction of what the weather will be like in an hour, tomorrow, or next week. It involves a combination of computer models, observations, and a knowledge of trends and patterns. By using these methods, reasonable accurate forecasts can be made up to seven days in advance.
Before weather forecasters can tell us what the weather is going to be doing tomorrow, they need to know what it is doing right now. Every hour hundreds of weather stations across New Zealand, from Cape Reinga (Rerenga Wairua ) to Stewart Island (Rakiura), send in reports of how the weather is where they are. As well as telling us how windy it is, how warm it is and how much rain has fallen, the weather stations can also tell us where it is raining or snowing, how much cloud there is, and the pressure of the air.

Mueller River, Mount Cook National Park. Image: Julian Hitchman.
Weather Description
Sunny / Paki
Weather in which the sun casts a shadow for most of the time.
Partly cloudy / He āhua kāpuapua
When the sky is partly covered by cloud.
Cloudy / Kāpuapua
There are more clouds than clear sky
Few showers / Ua tīhengi
A few short bursts of rain, often separated by blue sky.
Showers / Tūāua
Usually begin and end suddenly. Mostly short, but may last half an hour. Often, but not always, separated by blue sky.
Rain / Ua
In contrast to showers, rain is steadier and normally comes with cloudy or overcast skies. 
Drizzle / Ua kōnehunehu
Consists of very small water droplets very close to one another
Fog / Kohu
Fog is a cloud that touches the ground. Fog can be thin or thick, meaning people have difficulty seeing through it.
Snow / Hukarere
Soft, white flakes of ice that fall from the sky to the earth. Snow is formed when water in the upper air freezes into crystals.
Wind / Hau
The wind speed is an important aspect of the weather. The wind icon is used to highlight that.
Stormy / Āwha
Strong or gale force winds accompanied by rainfall.
Thunder /  Whaitiri
The loud cracking noise or low distant rumble that follows a flash of lightning. 
Hail / Ua whatu
Round pieces of frozen rain or a storm of this frozen rain.
Frost / Hukapapa
When the air temperature is forecast to drop below 0°C and no rain is expected.
Packing and planning for the outdoors
Think about what you will need to plan and prepare. Try this online tool to help you organise your trip. There are also some great e-Learning modules included.
https://www.mountainsafety.org.nz/plan-my-trip/#/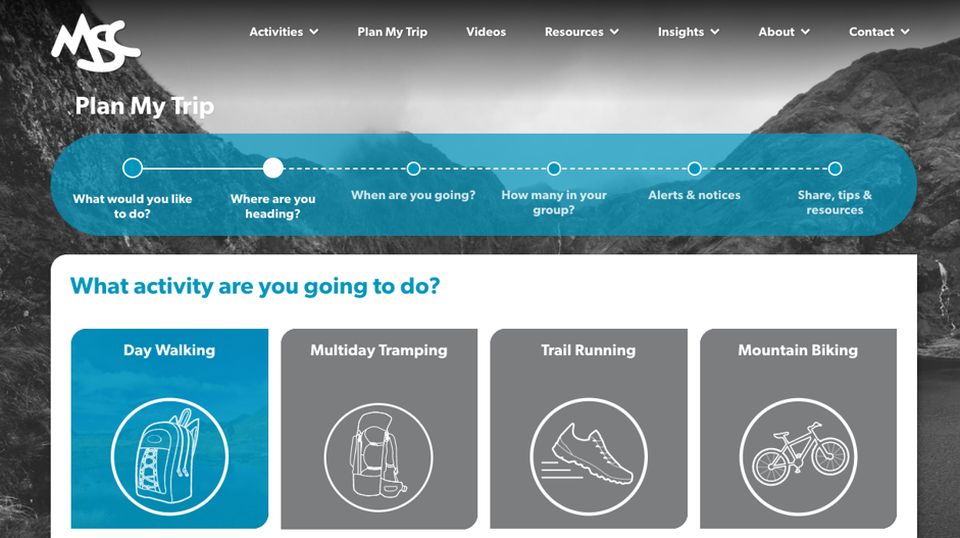 Image: Mountain Safety Council New Zealand.
Think about the basics such as clothing, food, and shelter. Also think about navigation aids such as maps and GPS as well as emergency equipement such a Personal Locator Beacon (PLB) and a First Aid kit.