New Zealand's largest roading project
The biggest road project in New Zealand is currently underway in west Auckland. This project is called the Waterview Connection. The project involves building a 4.8km, six lane motorway connection.
The connection will be between Auckland's Southwestern Motorway (State Highway 20) and Northwestern Motorway (State Highway 16). Almost half of this connection is underground, in New Zealand's longest and deepest road tunnels.
The 1.4 billion dollar project involves:
Designing, building and managing two 2.4km long, 13.1m diameter tunnels 
Connecting the tunnels to the existing motorway network 
Expanding the Great North Road motorway interchange to provide connections between the tunnels and SH16
Work started in early 2012 and the Waterview Connection will be completed by early 2017. 
The tunnels will be up to 45 metres below Avondale and Waterview. Tunnelling will be by a tunnel boring machine designed and built just for the Waterview tunnels.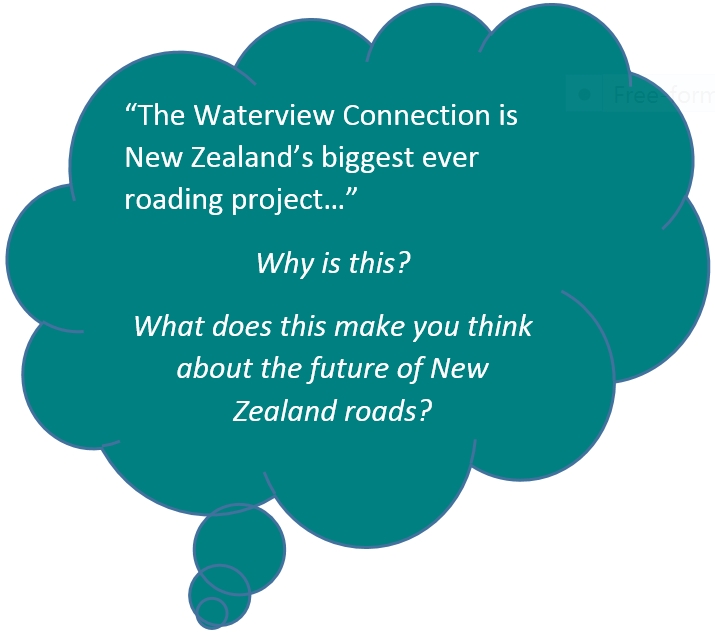 The tunnel boring machine
has a cutting head measuring just over 14m (as large as a four-storey building)
it is the 10th biggest ever used in the world
it will take two years to complete its underground journey from Ōwairaka to Waterview and back
it will place 24,040 tunnel lining segments as it goes
it will excavate 800,000 cubic metres of soil.
Working together
Most construction projects are completed by different groups or oganisations working separately on different tasks. The Waterview Connection Project is different because groups have come together to work as an alliance with common goals. This alliance is called the Well-Connected Alliance.
The Well-Connected Alliance is made up of;
the NZ Transport Agency
Fletcher Construction
McConnell Dowell
Parsons Brinkerhoff
Beca
Tonkin & Taylor
Japanese construction company Obayashi Corporation.