Diary 3
Date:
Wednesday, August 5, 2015
Field Trip Name:
Waterview Connection 2
Field Trip Place:
Auckland
Where You Are:
Great North Road Interchange (GNRI)

Kia ora koutou, 
You woke to the sound of heavy rain on the roof this morning but construction on the Waterview Connection must go on, so you headed back to the site office. Lynne Makepeace was already at her desk doing some fact checking in preparation for the audioconference. You spoke with Avondale Intermediate and Westmere School who were interested in how many people worked on this project. Lynne explained that there are over 800 people working on site with different shifts so construction can carry on 24 hours a day. You can hear more of the answers from today's audioconference by listening to the recording.
The Great North Road Interchange
You then put all your wet weather clothing and safety gear on to head out on site. Your mission for the day was to explore and discover more about the Great North Road Interchange (GNRI). The GNRI includes four new ramps to provide connections between the Waterview tunnels and SH16. Alison Craigie is a Site Engineer and she wanted to show you how columns and crossheads are constructed to hold up the ramps that will make up the GNRI.
Building ramps
A lot of work goes into working out where columns need to be placed and how much reinforcing is needed in the concrete. Steel reinforcing is used to make the concrete stronger and flexible. It was amazing to see how much steel is used and how the crossheads at the top of the columns are built to spread the load. You can see this in the photos and video. Work on the interchange began back in 2013. Alison has enjoyed seeing the progress since then. Looking at the bridges high above the motorway it made me wonder how strong these structures are. Alison reassured me that all the concrete has been tested and the ramps and bridges have been designed to withstand large earthquakes.
Out on the deck
You then headed back up on to one of the decks to meet Kent Evans. Kent is a Graduate Site Engineer. He has been working on the massive decks that form the road surface that cars will drive over when the interchange is finished. These decks are carefully designed so they will be smooth to drive over and will spread the weight of vehicles. Kent showed you a model of how the beams holding up the deck can bend. You can see this in the video. Like many of the engineers you have met on this field trip Kent talked enthusiastically about his work. Kent loves being able to work on huge construction sites like this, solving problems and seeing designs become a reality. You can look at the expert profiles to find out more about some of the work that engineers are doing on the Waterview Connection.
Team work
After lunch you caught up with Lynne Makepeace again. Lynne oversees all the work in this area as the Construction Manager and she had some great stories to tell about the different people who have come together to work in the Well Connected Alliance. This team is made up of people from several different companies who are now all working together to complete the project. Lynne explained that people have been trained to work together rather than in competition and this alliance will mean the project takes less time to complete. Lynne also talked about the challenge of working on the interchange above a busy motorway. Careful planning is needed to keep the roads below open and a lot of work is done at night when the rest of us are fast asleep. Watch the video to find out more.
Hidden treasures
You may not realise that this area has a long history. Archaeologists have uncovered evidence of Māori middens (old rubbish sites) and other artefacts that show Māori lived here over 500 years ago. This area was known as an ara or pathway for Māori. Old Māori living terraces and food storage pits have been discovered near the construction site and are now protected. You met Leon Field who works to find and protect such treasures and he took you to this protected area. There are also more recent relicts from the past, including an old boiler from the tannery. Leon has even found old shoes and vases from the mid-1800s. Footpaths will be built so that people can walk through this area and signs will give visitors information about the special history preserved here. Watch the video to find out more.
It was a relief to head indoors and escape the rain after a busy day exploring. Tomorrow you will head back out on site to meet the mighty Dennis.
See you then,
Shelley, the LEARNZ field trip teacher.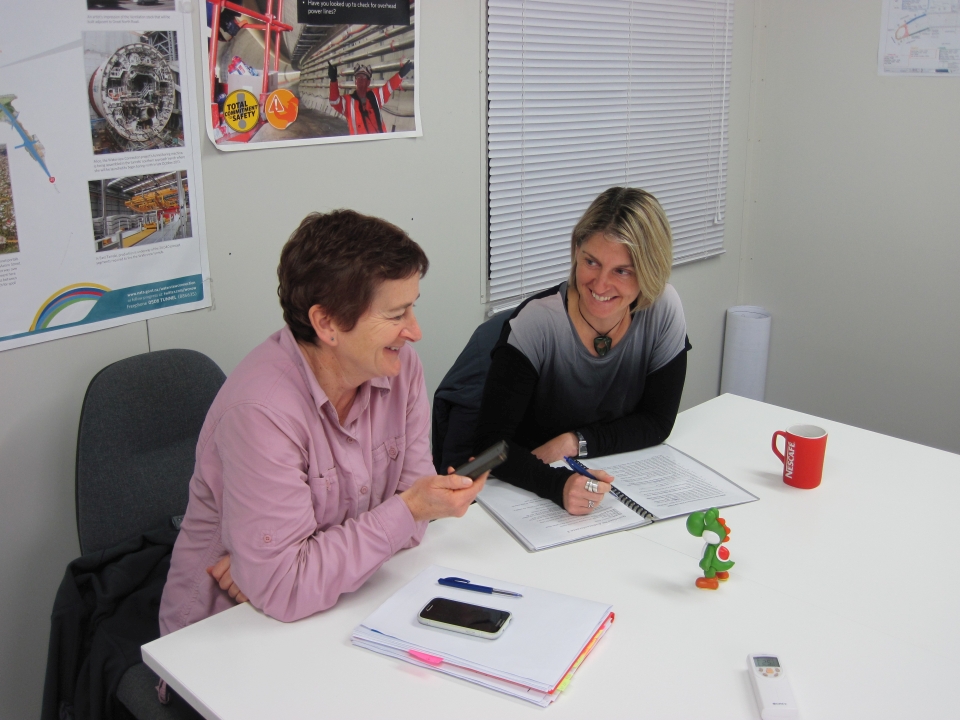 Lynne and Shelley talk to Avondale Intermediate and Westmere School during the audioconference this morning. Image: LEARNZ.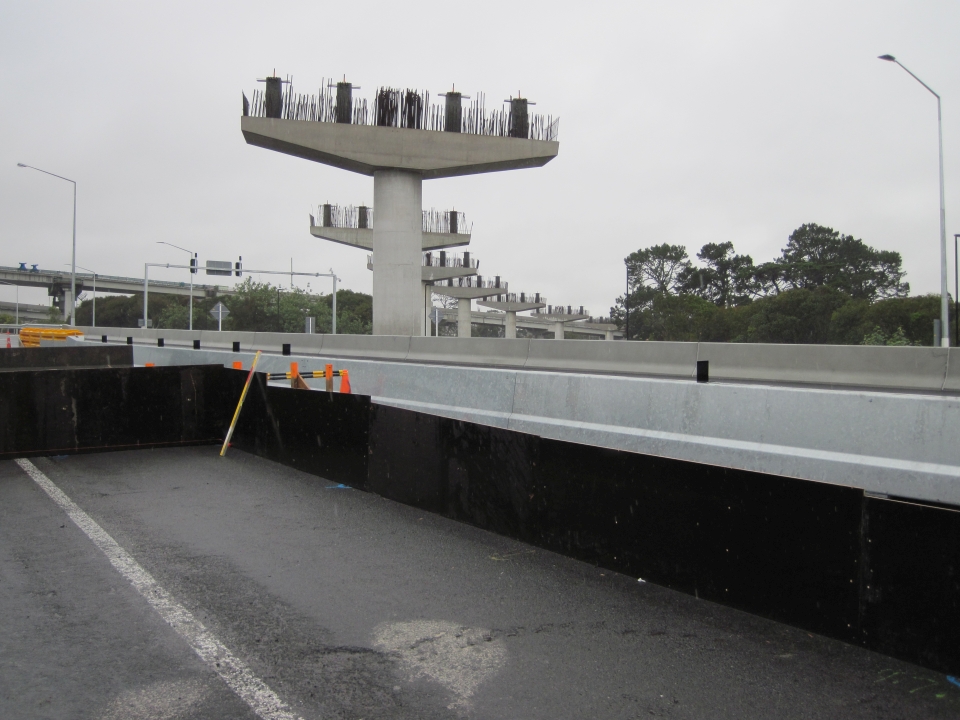 You can see a line of columns with cross-heads at the top, these will support a ramp on the GNRI. Image: LEARNZ.
A crane delivers steel to help construct the cross-head. Why is steel needed? Image: LEARNZ.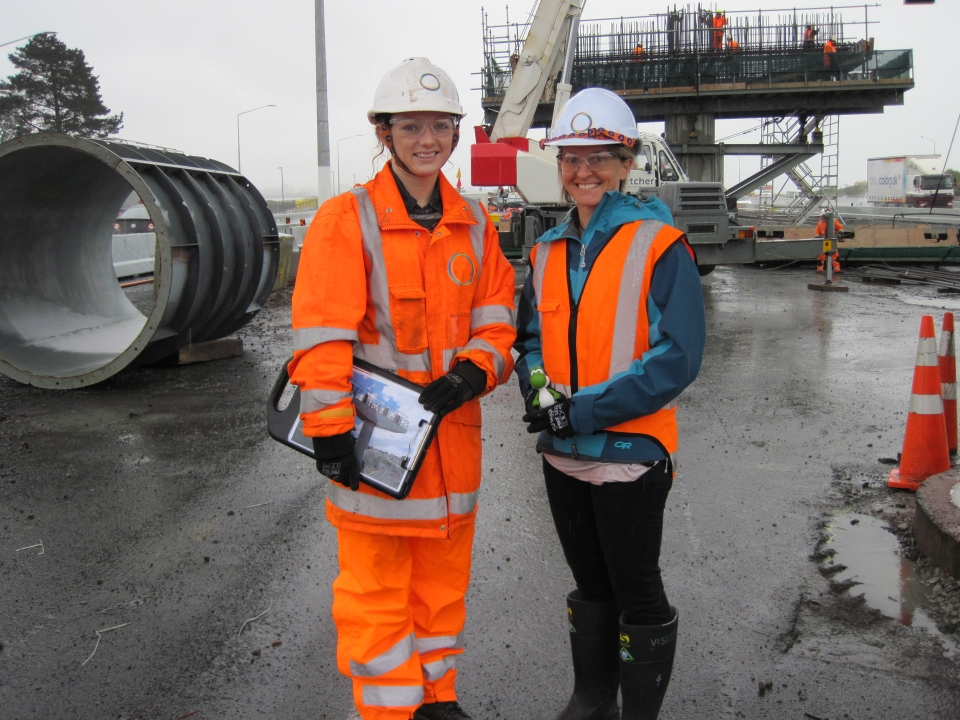 Alison explains to Shelley how columns and cross-heads are constructed. Image: LEARNZ.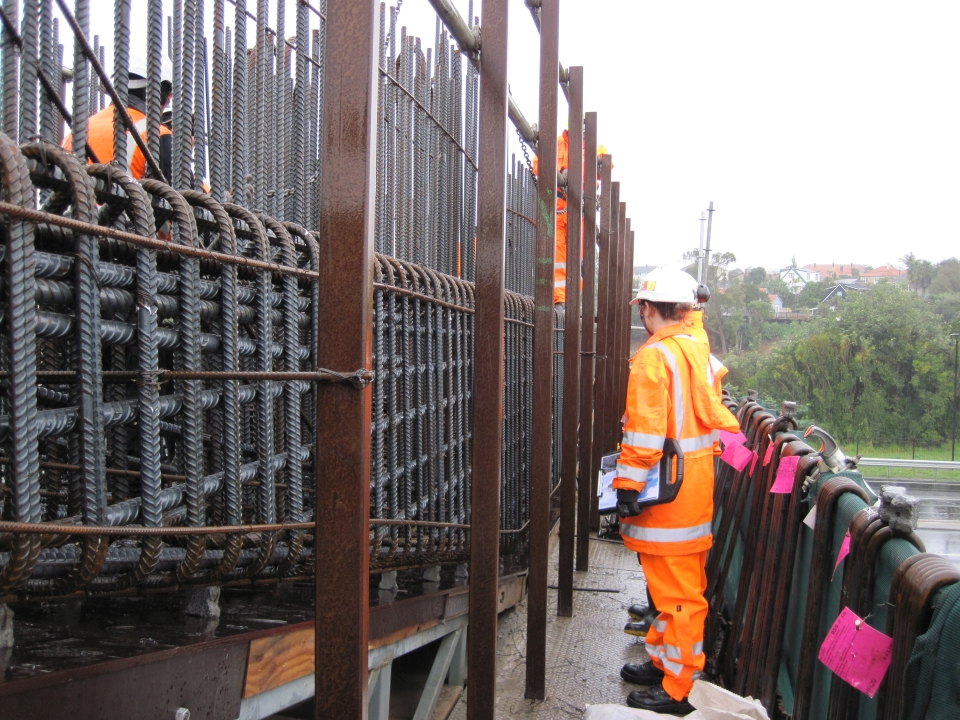 You can see all the steel needed to reinforce the concrete that will make up the cross-head. Image: LEARNZ.
Alison stands inside the casing used to pour concrete into to form a column. Image: LEARNZ.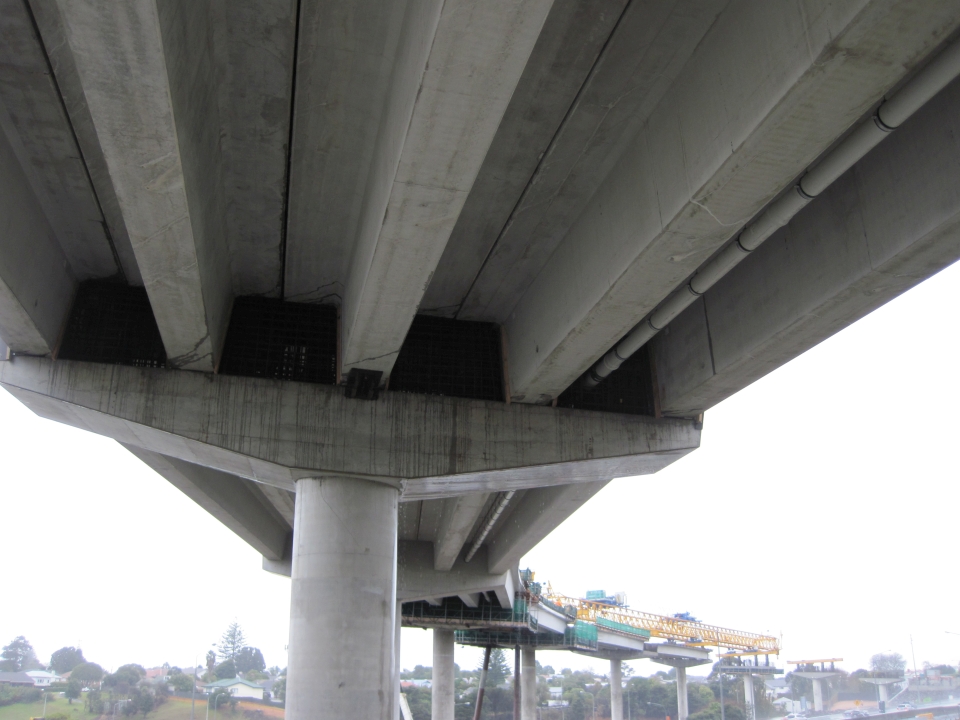 You can see the concrete beams that support the road deck. Image: LEARNZ.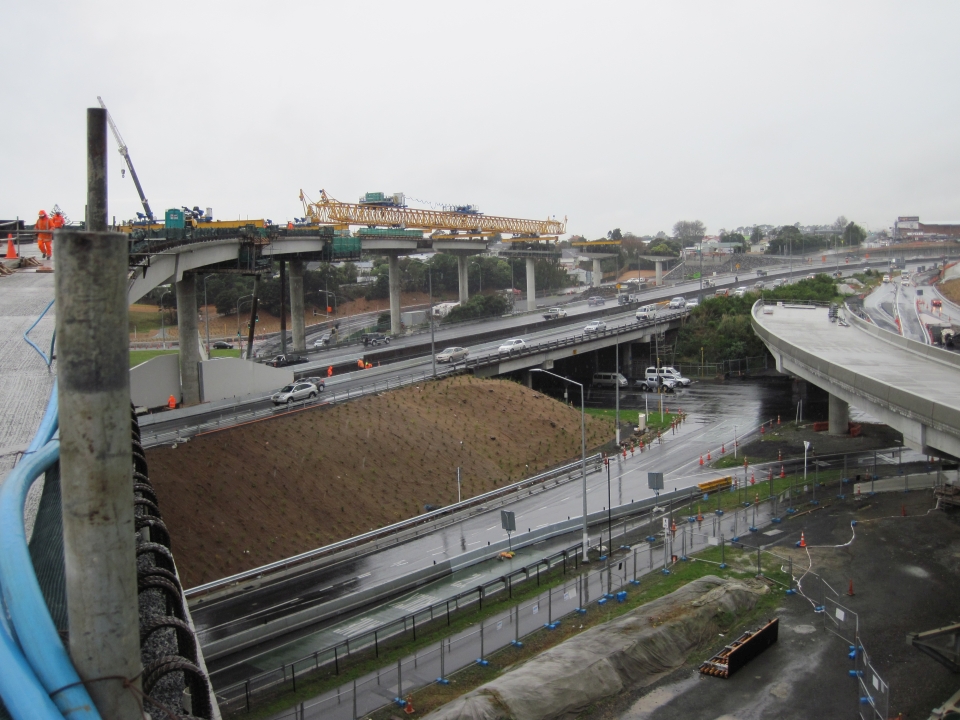 Looking out across part of the Great North Road Interchange construction site. What do you think some of the challenges of working above a busy motorway are? Image: LEARNZ.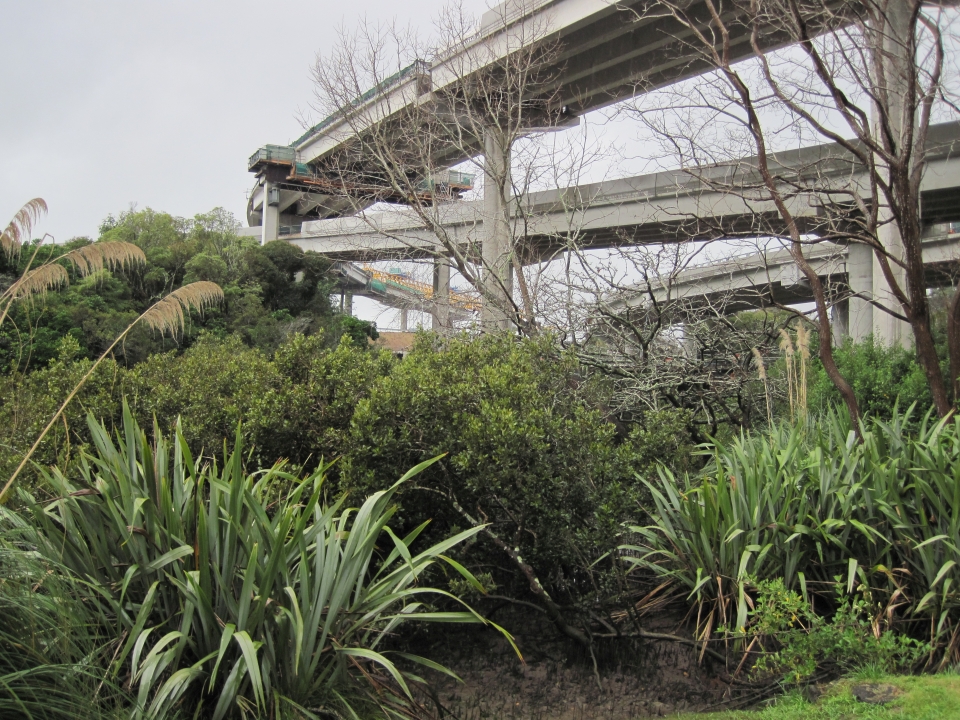 This area is a protected historical site that people will be able to access after the Waterview Connection is completed. What artefacts have been found here? Image: LEARNZ.
Leon Field shows you an old vase that was found on the construction site; where do you think it came from? Image: LEARNZ.