Diary 2
Date:
Tuesday, August 4, 2015
Field Trip Name:
Waterview Connection 2
Field Trip Place:
Auckland
Where You Are:
Northern Approach Trench

Kia ora koutou,
I have been looking forward to seeing how the Waterview Connection Project is progressing for a long time now. Last year's first field trip probably gave you an appreciation of just how large this project is but it probably didn't give you much of an idea of the different parts of this project. During this field trip you will see a whole different area of construction at the northern end of the Project.
Question time
You started the day at the northern site office where you met Lynne Makepeace the Northern Area Construction Manager. Lynne is in charge of all the works in this area and was the perfect person to answer questions from schools during our audioconferences. Owairaka School and Avondale Intermediate joined us for the formal audioconference this morning and asked thoughtful questions including why expensive tunnels are being built rather than a normal road above ground. Lynne explained that the Waterview Connection tunnels allow a connection between existing roads and also cause less damage to the environment. Only 113 houses had to be removed rather than thousands. It was great to hear from other schools who took part in the Adobe Connect LEARNZ meeting room after the audioconference where more interesting questions were answered. You can listen to the recording of this to find out more or post your own questions during tomorrow's session.
Where's Alice 
After the audioconference it was time to head out on site to see the progress that Alice the Tunnel Boring Machine has made. Warwick Sextus a Project Engineer took you down to the Northern Approach Trench. Here you could see both tunnel portals and Warwick talked about how they turned Alice around after she had completed the first tunnel so that she could start building the next one. Turning Alice around took 6 months. You can see why from Warwick's model in the video. Alice is a huge machine and weighs as much as five A380 Airbuses or 750 elephants! You can imagine how difficult it was to turn her around in such a small space. Alice is now over half way through completing the second tunnel and should break through in October. To find out more about how Alice works check out the videos from the first field trip.
Managing the impacts
Without careful management New Zealand's largest road project could have a huge impact on the environment. Rachel Blake is an Environmental Manager on site and she showed you some of the methods used to reduce these impacts. Water from the construction site needs to be treated and monitored to make sure it is clean enough to enter natural waterways. Auckland can have a lot of rain and any exposed soil can erode easily so these areas are covered in plastic, hay or bark to reduce erosion. Ponds collect water so the dirt or sediment can settle out and chemicals can be added to help finer clay particles to settle to the bottom. Rachel also showed you how they monitor the pH of water (how acidic or alkaline the water is) so only water with a natural pH level of around 7 is released back into waterways. Watch the video about this.
Looking after the locals
Rachel took you up to an area overlooking the site to show who is affected most by the construction. People living in this area are protected from some of the construction noise by noise walls and noisy activities are carried out during the day rather than at night. The local wildlife hasn't been forgotten either. Dotterels nest in this area so special care is taken not to disturb these sites and some skinks have been moved to other areas to keep them safe.
The art of road building
Section Engineer Ben Parsonage caught up with you near the tunnel portal. Ben is an expert in the art of road building and gave you an understanding of just how much effort goes into building a good road. A lot of work has to been done when choosing the best place to put a road and then designing it before construction can start. Water can be a big problem so special designs and materials have to be used to keep water from pooling on the surface. You can find out more in the video.
Better places and spaces
Along with the road other places and spaces are being built to improve the area. Paul Rasmussen is a Site Engineer and he has been in charge of creating a playground at Waterview. To find out how this playground should be built, students from Waterview Primary School were asked what their dream playground would be. Amazing ideas were shared and these have been used to design the park. Everything from fruit trees to high towers, treasure hunts and even water guns are being built. You might like to think about what you would want to have in your 'dream playground'. Paul has really enjoyed working on this playground and admits that building some of the features has been a real challenge. You will be able to see this playground on the third Waterview Connection field trip next year.
Tomorrow you will leave the Northern Approach Trench to see how the Great North Road Interchange is being built.
See you there,
Shelley, the LEARNZ field trip teacher.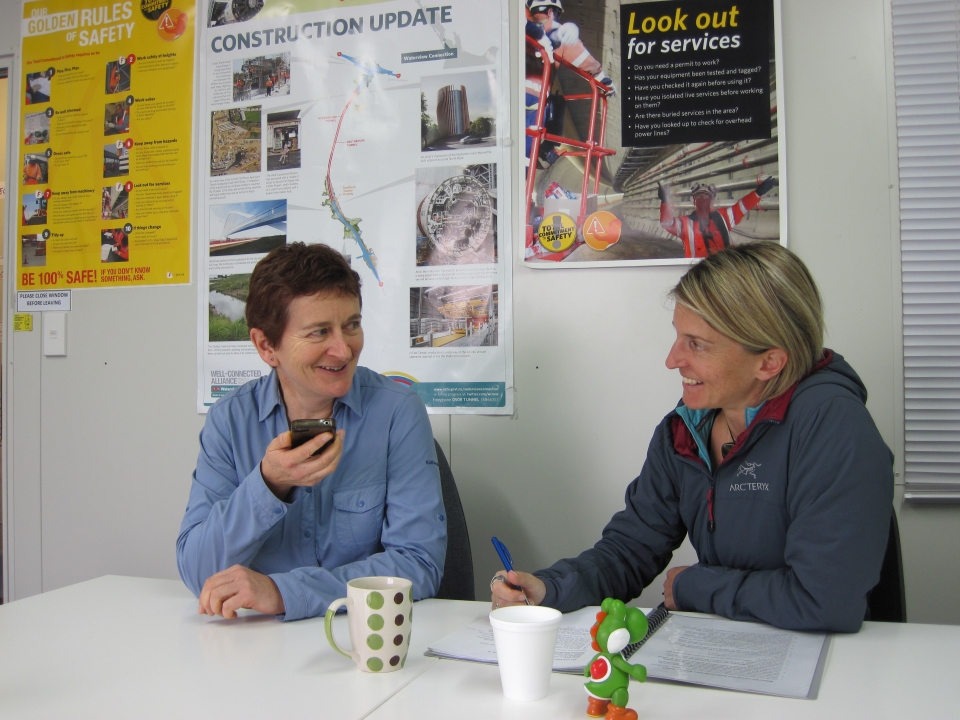 Lynne and Shelley talk to Owairaka School and Avondale Intermediate School during the formal audioconference this morning. Image: LEARNZ.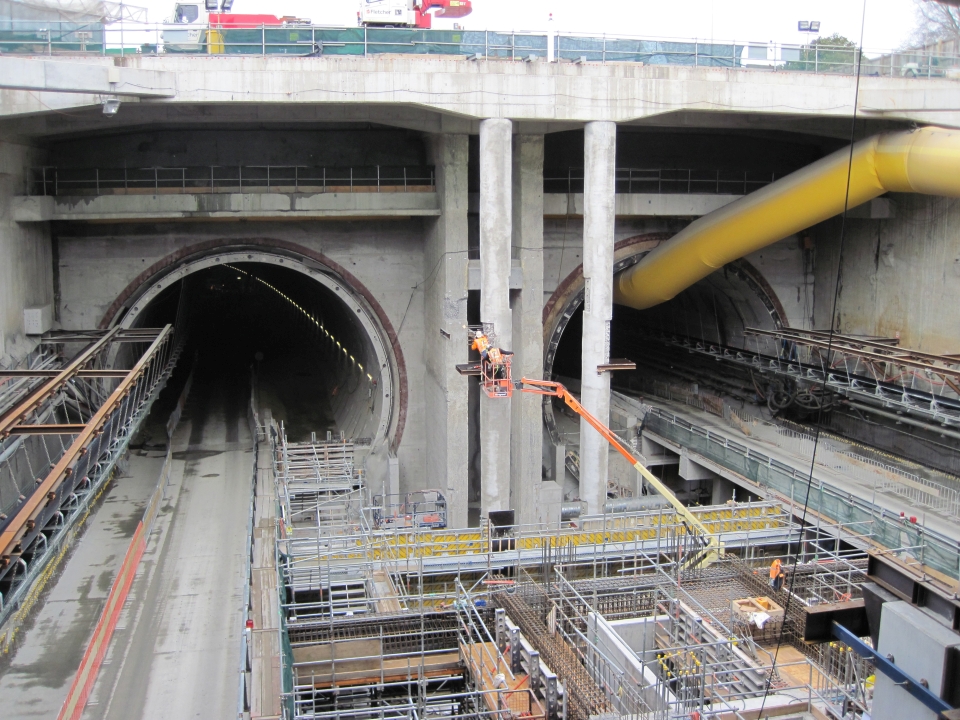 Alice the Tunnel Boring Machine has completed the first tunnel and is over half way through finishing the second tunnel. Why do you think there are two tunnels? Image: LEARNZ.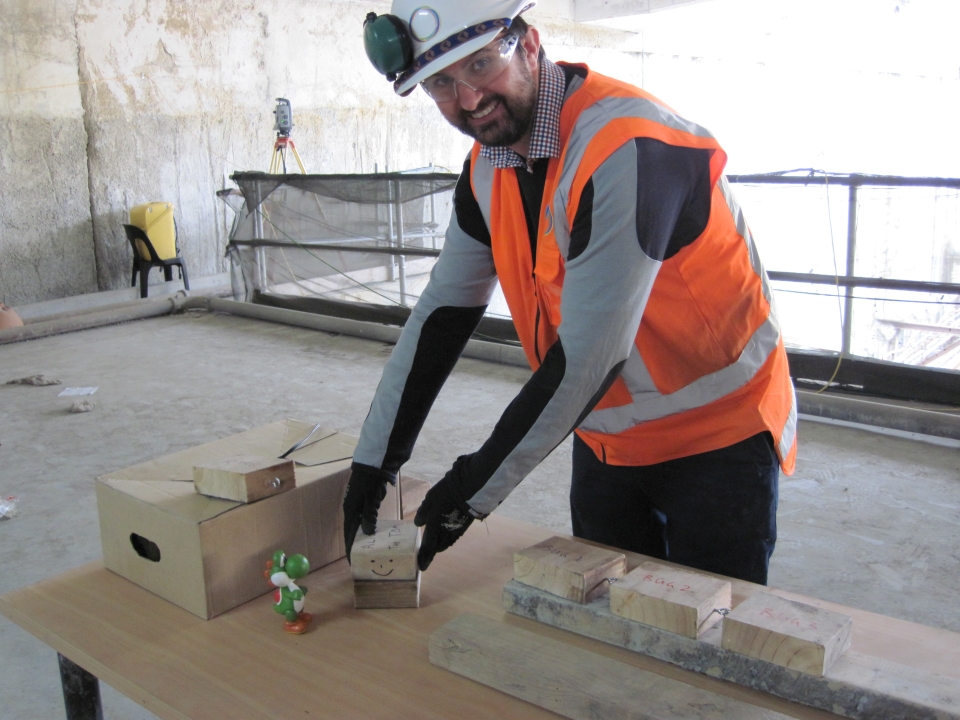 Warwick uses a model to show how Alice was turned around to start the second tunnel. Image: LEARNZ.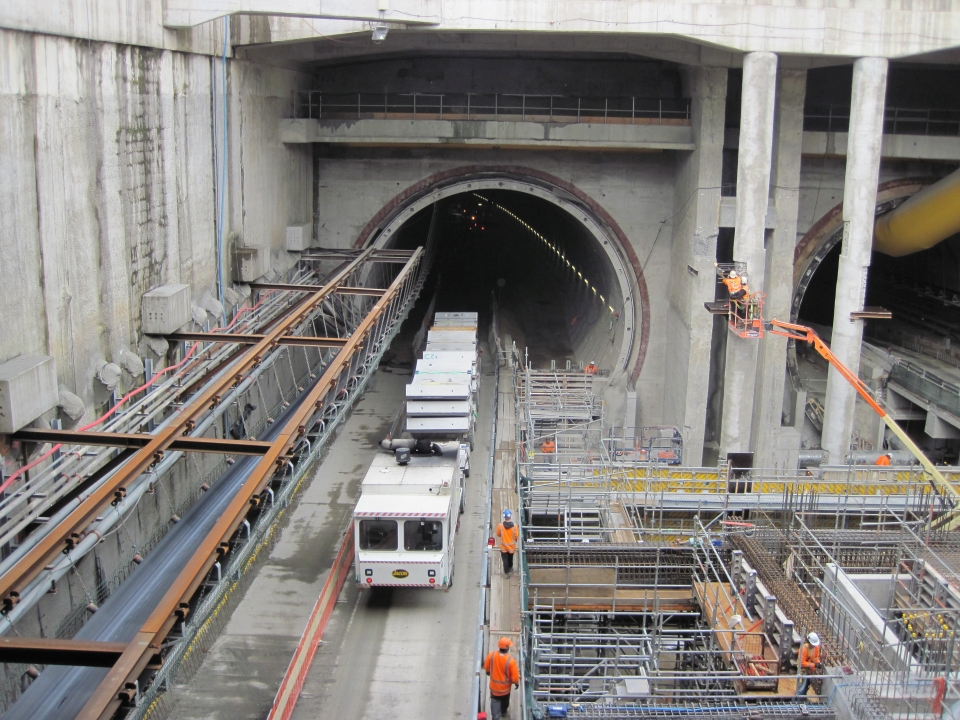 Concrete segments are taken into the tunnel. These segments will line the tunnel. How are the segments put into place? Image: LEARNZ.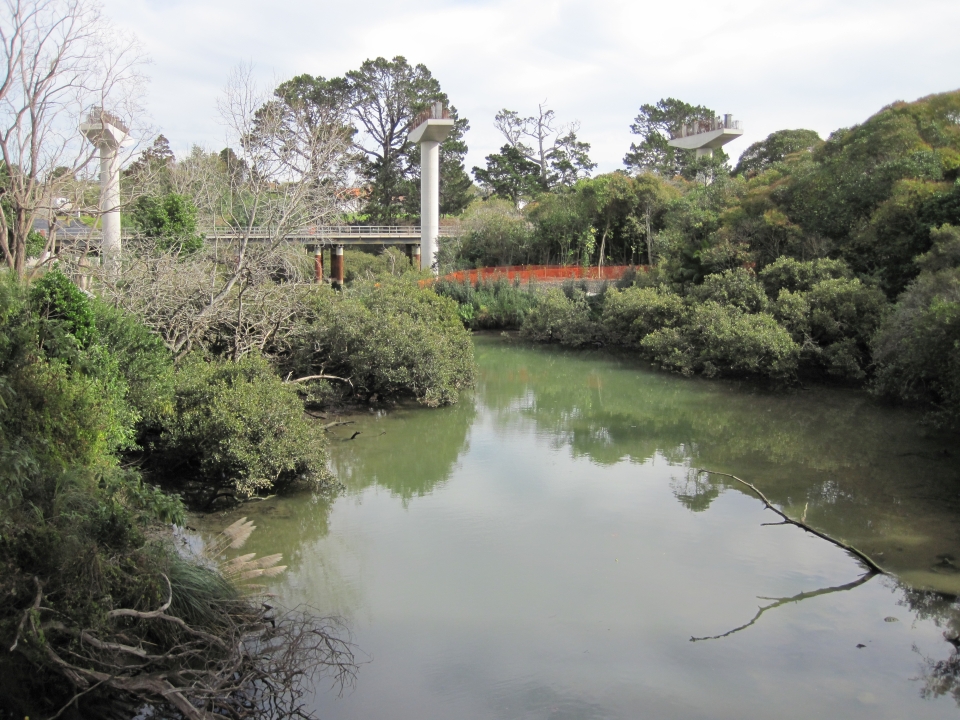 This area of trees has been protected as it is a rare volcanic rock forest. Water is treated before it leaves the site to protect this creek. Image: LEARNZ.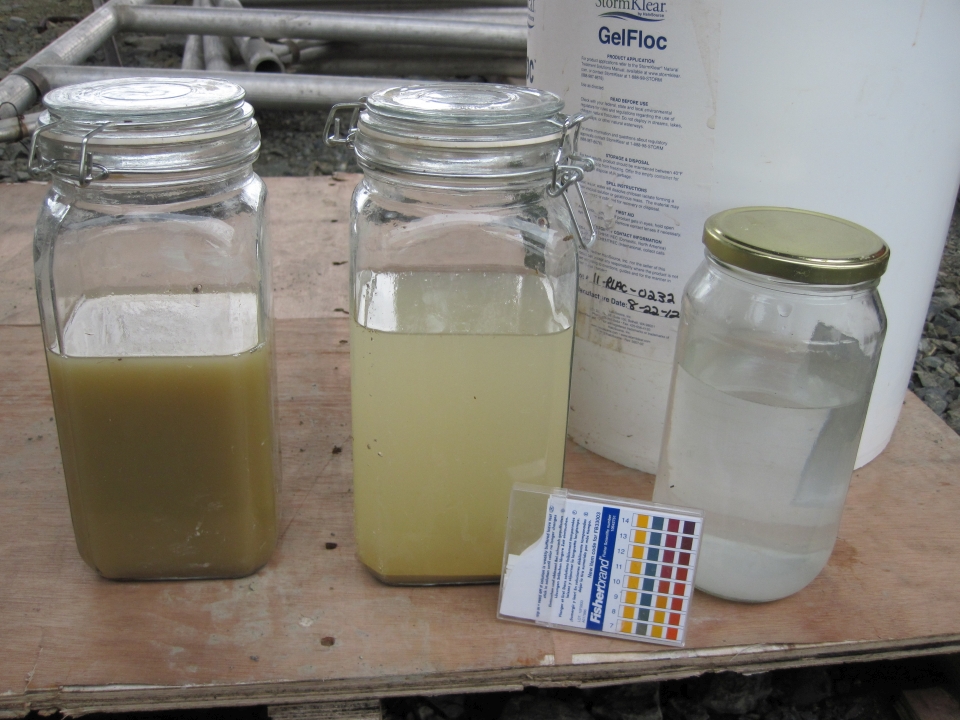 Rachel demonstrates how water is treated to remove sediment and then tested to make sure it has a safe pH (acidity). Different chemicals can be added to help sediments settle out and to reduce the pH. How is pH measured? Image: LEARNZ.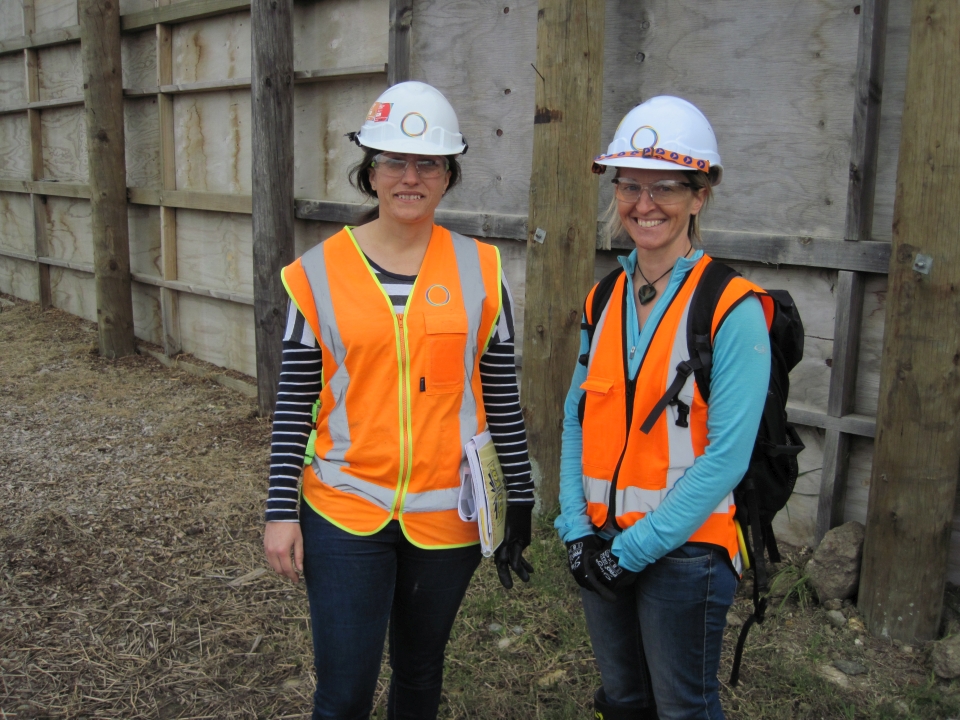 Rachel shows Shelley a noise wall that helps reduce the noise of construction for people living near by. Image: LEARNZ.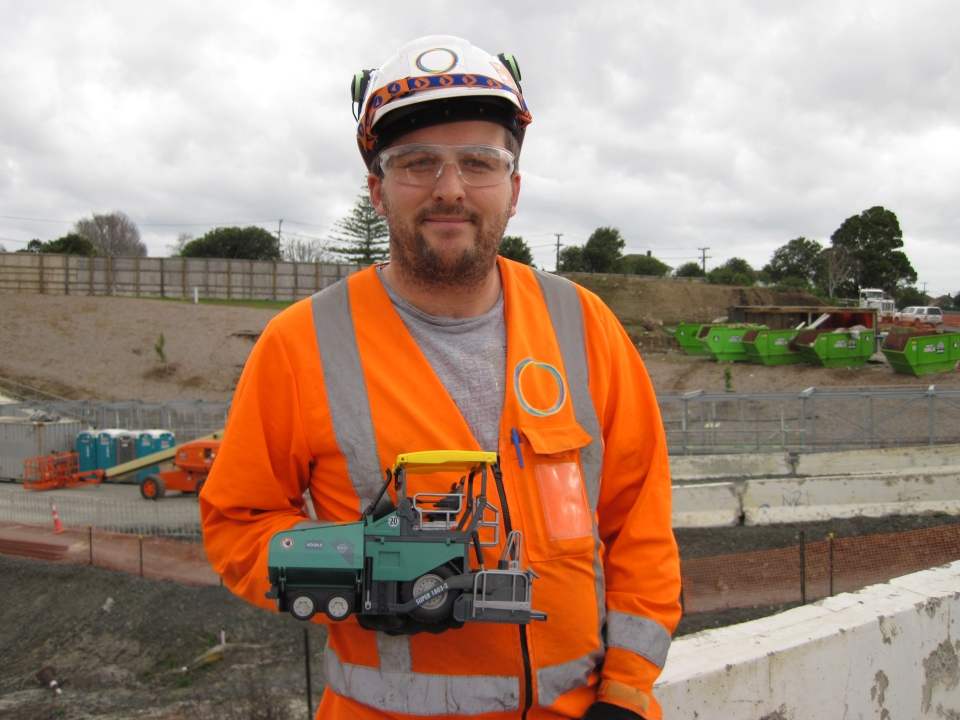 Ben shows a model of a machine used to build roads. Image: LEARNZ.
Shelley overlooks the Northern Approach Trench. How is this end of the tunnels different to the other end? Image: LEARNZ.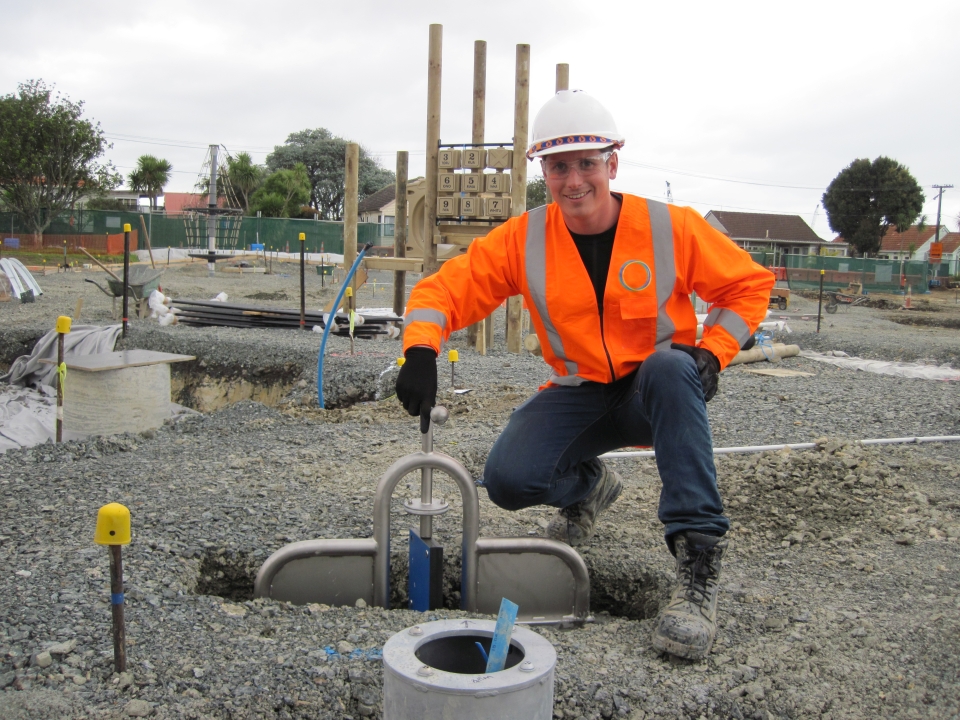 Paul shows you part of a water feature that is being built in the Waterview playground. Image: LEARNZ.