Diary 1
Date:
Monday, June 26, 2017
Field Trip Name:
Waterview Connection 4
Field Trip Place:
Auckland
Weather:
Fine after a frosty start
Kia ora koutou,
It was a frosty start in many places around the country this morning. At least you didn't have to get up early for your flight to Auckland to begin the final Waterview Connection field trip. I was thankful for the leisurely start to the day and the opportunity to watch the America's Cup racing – go Team New Zealand!
The journey begins
After the frost had thawed you headed south of Dunedin to the airport. On the journey I thought about how lucky I am to be able to travel so easily, with hardly any traffic. Once you arrive in Auckland you will have to negotiate the traffic and plan your travel carefully to try and avoid congestion. In less than a month the new Waterview Connection should be finished and you will be able to drive through the tunnel that you saw Alice the tunnel boring machine create on the first Waterview Connection field trip. 
Spectacular scenery
The direct flight to Auckland took just under two hours and you were fortunate enough to have a window seat and fine weather which allowed you to see some of New Zealand's most spectacular scenery. Kā Tiritiri o te Moana, the Southern Alps glistened under a winter cloak of snow and Aoraki Mount Cook was easy to spot as you headed north. The braided Waitaki River took on a golden glow as the sun reflected off it and showed the path of one of our most popular cycle trails. 
The New Zealand Cycle Trail
The Alps to Ocean cycleway leads from Aoraki Mount Cook village, across the McKenzie Basin, then alongside the Waitaki River and on to Oamaru on the east coast. This 300km trail is part of The New Zealand Cycle Trail project Nga Haerenga, which has been set up to create a network of cycleways throughout the country. You can find out more by visiting The New Zealand Cycle Trail website. It is great to see money being spent on providing cycleways in spectacular areas such as this as well as in our towns and cities. I am looking forward to seeing how the Waterview Shared Path is being built during this field trip and finding out more about the role that cycleways can play in improving our transport networks.
Arriving in Auckland
You said good-bye to the South Island as Farewell Spit disappeared from view and you didn't see any of the North Island until you flew over Mount Taranaki. From here you began your descent towards Tāmaki-makau-rau, Auckland. A smooth landing delivered you safely into New Zealand's largest city. Auckland is home to more than 1.5 million people and is spread over a huge area which can make it difficult to travel around. Projects such as the Waterview Connection are helping to improve Auckland's roads. This is the largest road project to have ever been constructed in New Zealand and will finally complete the Western Ring Route. As you drove from the airport into the centre of Auckland you could see where you will soon be able to drive directly through the tunnel.
You had time to have a look around the city and admire the waterfront and Sky Tower before the sky began to darken and you headed to Mount Albert. You will be staying in Mount Albert, close to the Waterview project this week so you will be able to see how the project is progressing. I'm sure you are looking forward to seeing how the area has changed since our last Waterview Connection field trip. 
See you in the morning,
Shelley the LEARNZ field trip teacher.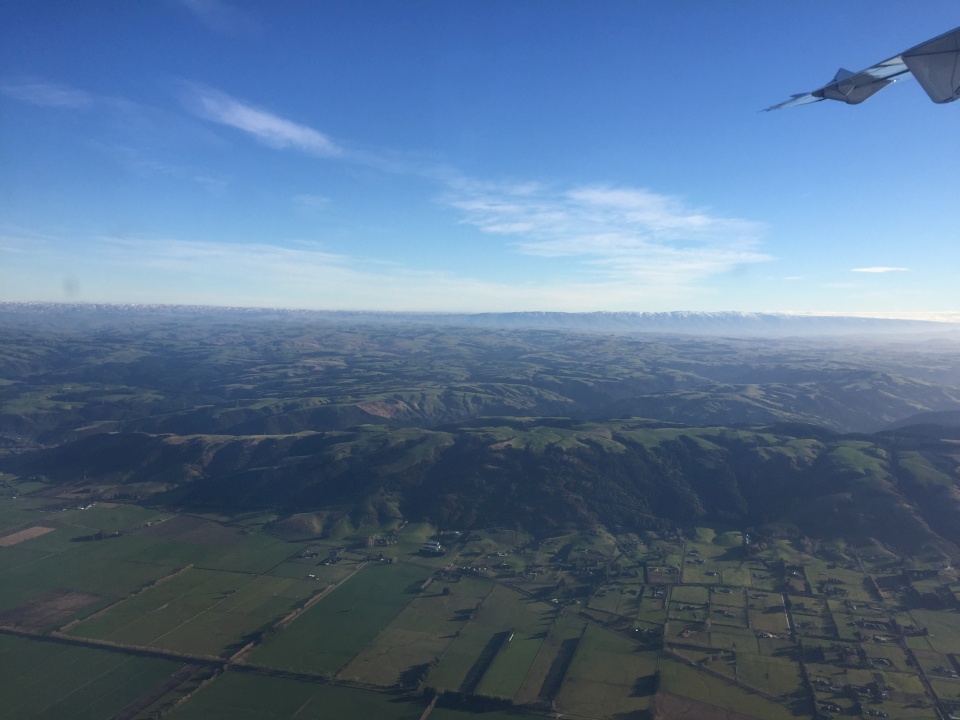 It was perfect weather for flying today. Image: LEARNZ.
Kā Tiritiri o te Moana, the Southern Alps towered above the cloud. How high are these mountains? Image: LEARNZ.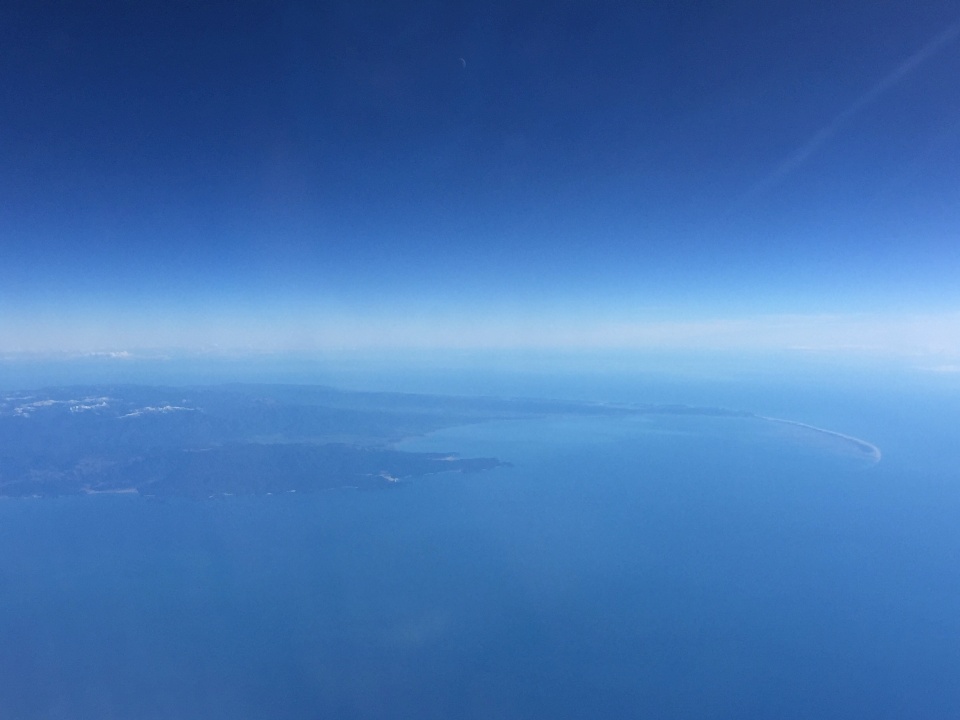 You could clearly see Farewell Spit as you headed north. How do you think this sand spit formed? Image: LEARNZ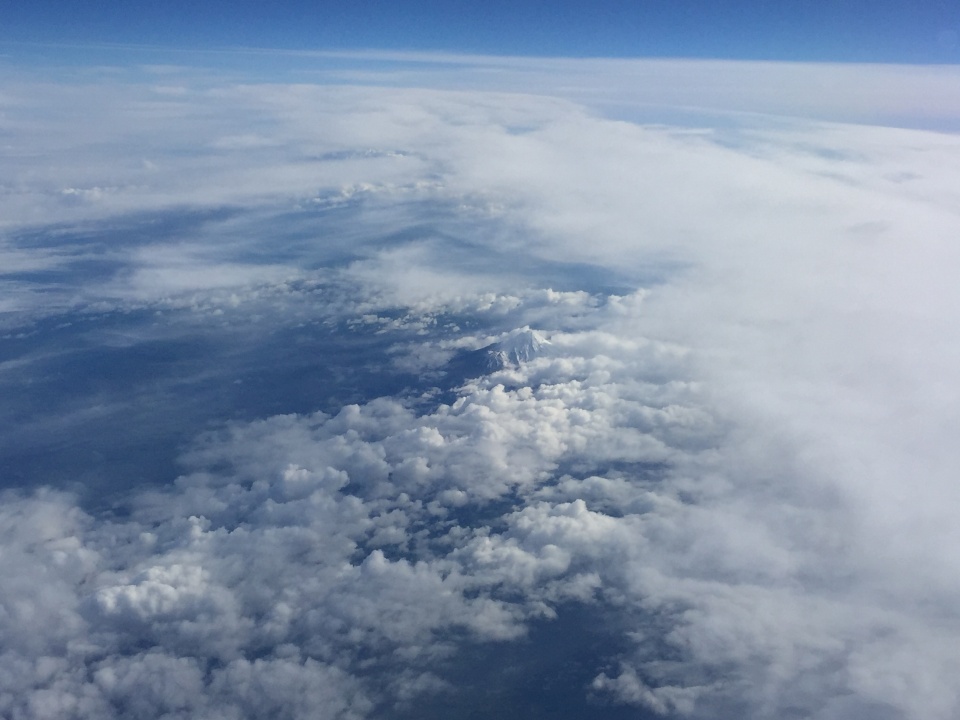 Mount Taranaki could be seen peeping through the clouds. Image: LEARNZ.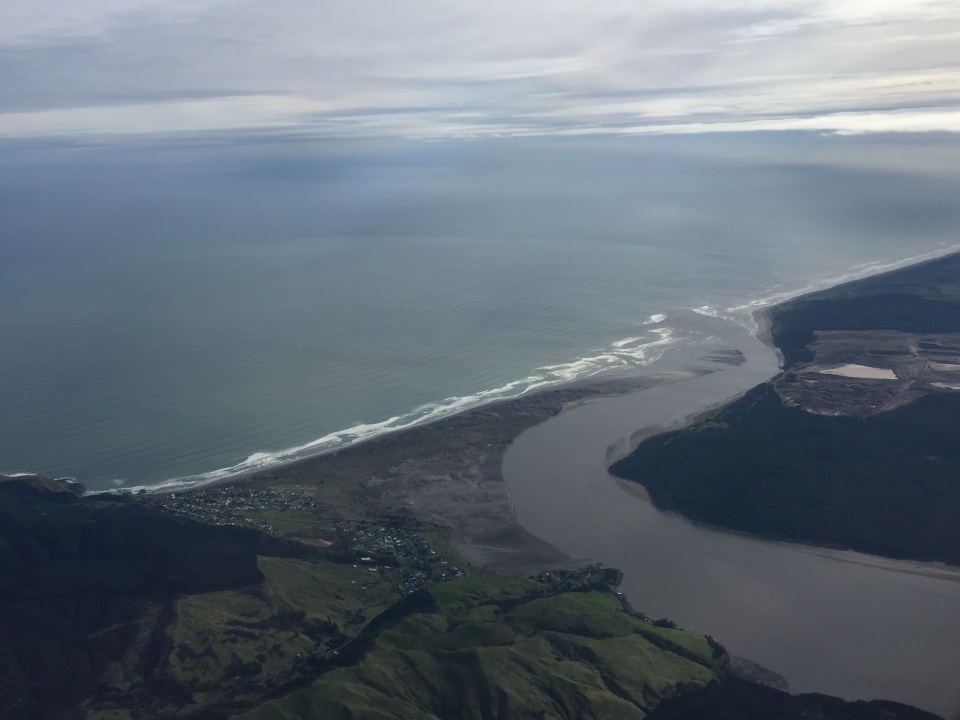 You could see waves rolling in as you approached Auckland from the west. Image: LEARNZ.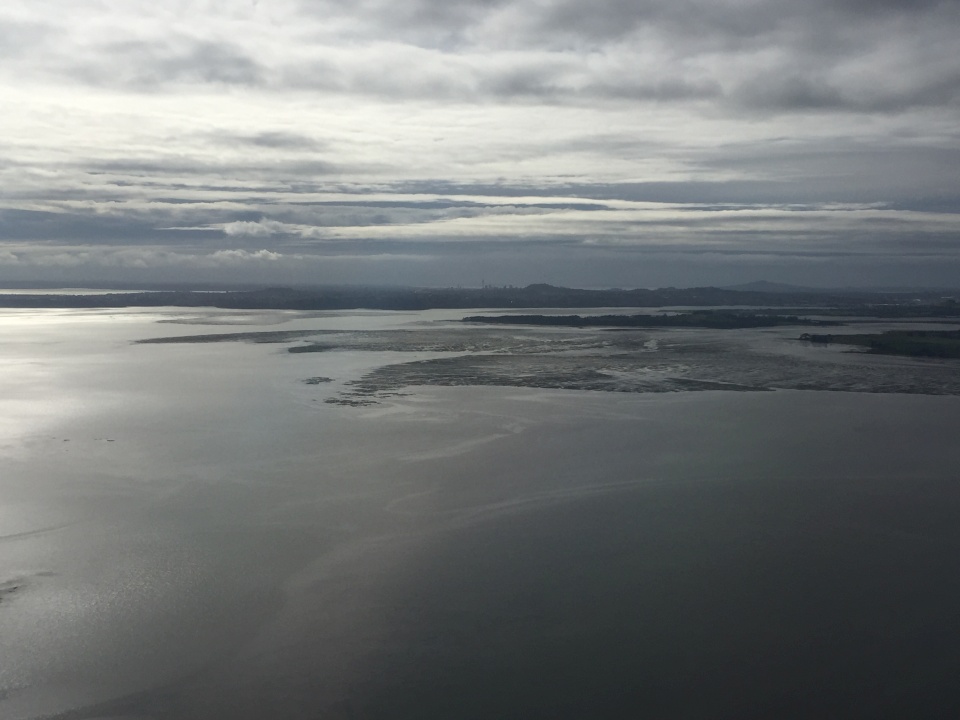 You could just see the Sky Tower before landing at Auckland Airport. Image: LEARNZ.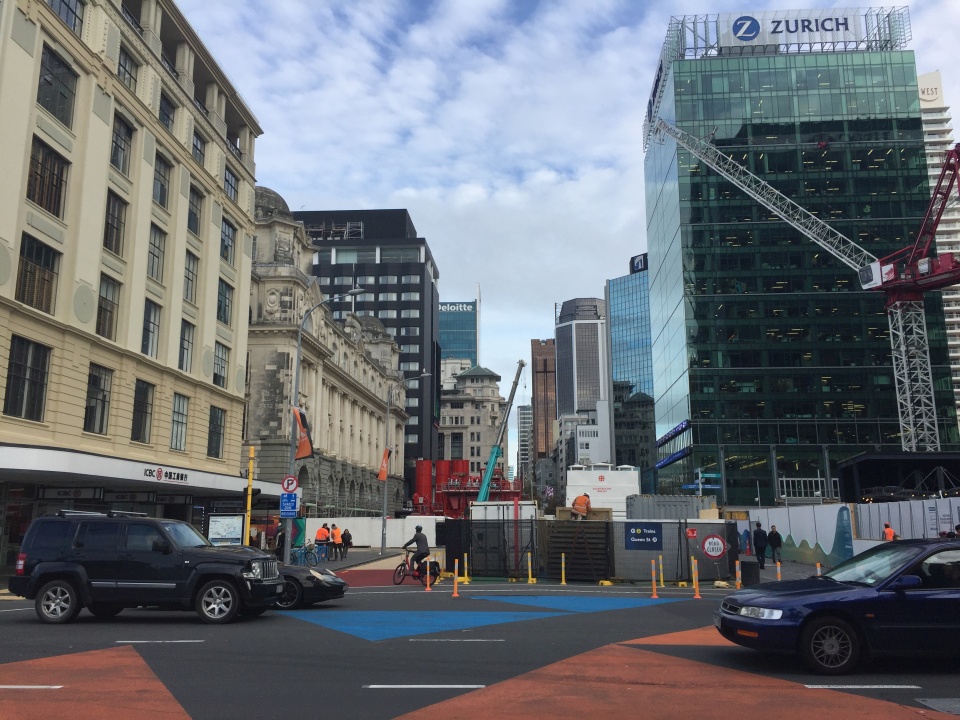 You had time to have a look around the centre of Auckland where a lot of construction is taking place. Image: LEARNZ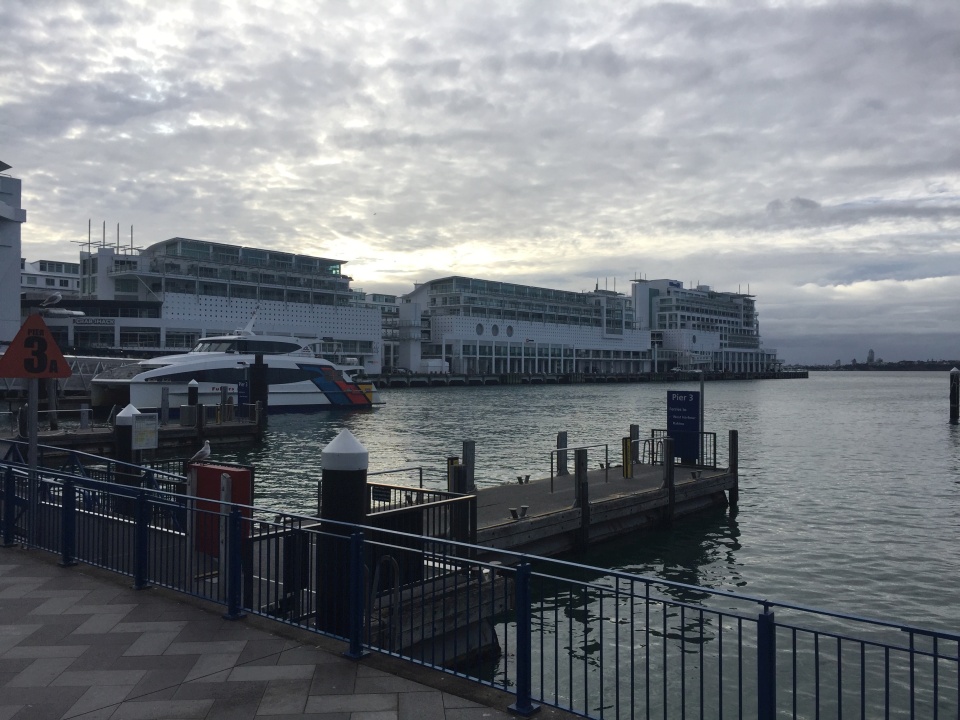 The water front in Auckland is a great place to visit. What do you think are the challenges and opportunities that the harbour provides in terms of transport. Image: LEARNZ.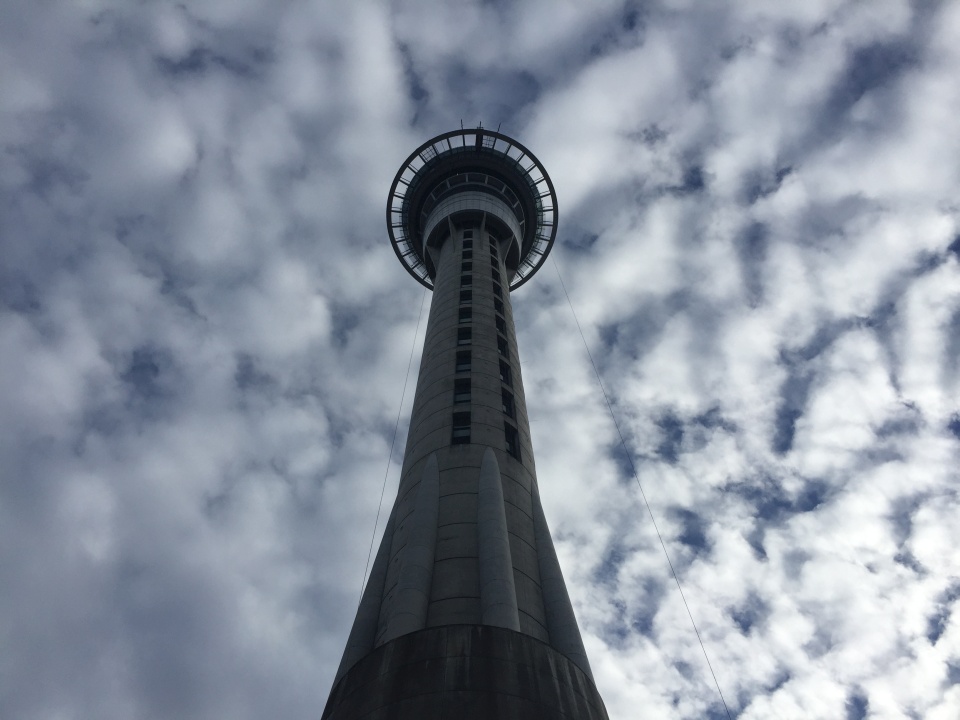 The Sky Tower is hard to miss in the centre of Auckland and was a helpful landmark when we were finding our way around the city. Image: LEARNZ.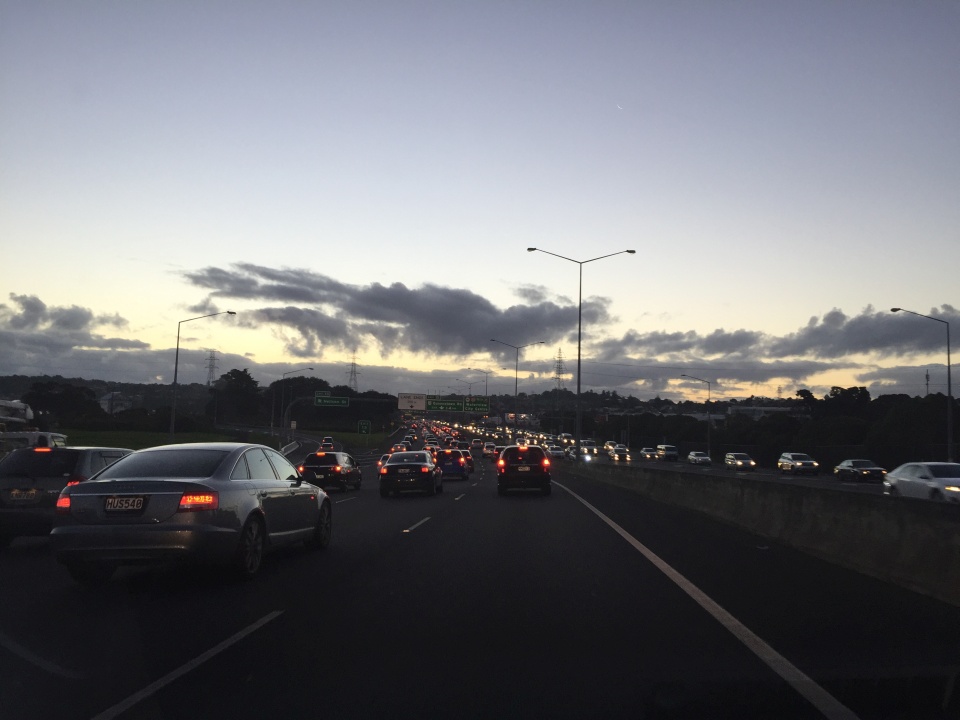 Traffic in Auckland reminded us about why the Waterview Connection is being built. Image: LEARNZ.