Diary 3
Date:
Wednesday, June 28, 2017
Field Trip Name:
Waterview Connection 4
Field Trip Place:
Auckland
Kia ora koutou,
You may have heard traffic reports on the radio or TV in the morning and usually Auckland traffic is described as heavy. This morning was no different and you had to brave the congestion to head back into the centre of the city to complete the first web conference. 
Reducing traffic
Auckland is spread over a huge area and with the harbour and the way the city has grown it's not surprising that traffic continues to increase. During the drive into town, you may have noticed that many cars only had one person in them. To reduce traffic, we need to think about how to get more people in fewer vehicles. You met Marcus from Auckland Transport at his office and talked to students from St Francis School and Ashgrove School during the web conference. These students asked about ways to reduce traffic and Marcus explained that there isn't one simple solution. New roads are needed but also improvements to public transport and cycleways can help. People can also car pool, walk and sometimes may be able to work from home. You can find out more by listening to the recording of this web conference.
Cycle safety
To make the most of the new cycleways around Auckland you need to know how to ride safely. Auckland Transport runs cycle safety courses for schools so after the web conference you headed to Point Chevalier School to complete a course. You were welcomed by lots of keen students who had all brought their bikes to school. Cycling is very popular here and many students are looking forward to the opening of the Waterview Shared Path, which isn't far from the school. Students learned how to check their bikes to ensure they were safe to ride and how to fit their helmets correctly. Before riding it's important to make sure your bike tyres are pumped up, the wheel nuts or quick release levers are tight, and the brakes work. It is illegal to not wear a helmet when cycling but the helmet won't protect you if it's damaged or not fitted correctly. You can watch the video to find out how to fit your helmet and learn some more cycle safety tips.
Encouraging cycling
It was inspiring to hear from students who had joined a travel wise group. These students regularly bike to places and have even worked out ways to travel further by taking their bikes on the train or bus. One way of increasing the number of cyclists in cities like Auckland is to not only provide more cycleways but also to connect these cycleways with public transport services so you can bike to the train, bus or ferry and take your bike with you. After your cycle training you headed to the Waterview Shared Path to test your skills. You met Simon Vincent from Auckland Transport who is a cycle and walkway co-ordinator. Simon talked about encouraging more people to cycle and how providing places for people to store their bikes or even borrow a bike can help. Hopefully in the future there will be bikes available to share in the centre of Auckland. Many places overseas have bike share schemes and sometimes these bikes are electric making them even easier to use.
Share the path
Simon talked about the growing number of cyclists in Auckland and how shared paths are designed so that ordinary people of any age can bike or walk safely with minimal effort. Once you own a bike, cycling is free. Biking can improve your health, and can even reduce stress and travel time. However, people do need to know how to ride a bike safely. Cyclists should have a bell that they can use to warn walkers that they need to pass and keep to the left where possible. Shared Paths only work if people share the space and consider others. You can find out more about how to use a shared path responsibly by watching the video.
From design to reality
On your way home, you stopped off at the Alford Street Bridge which is just about ready to open to the public. Marcus has been managing the work on this bridge and described some of the challenges the team has faced. Lots of different people needed to agree on a design and the land is weak and prone to slips, so the bridge had to be built very carefully. It was incredible to see how much work had gone into engineering the bridge so while it was being built the surrounding land and creek were not damaged. The design is also impressive and is based on two kauri trees. You can find out more by watching the video.
Tomorrow you will be looking to the future as you explore new ways to improve our transport networks.
See you then,
Shelley the LEARNZ field trip teacher.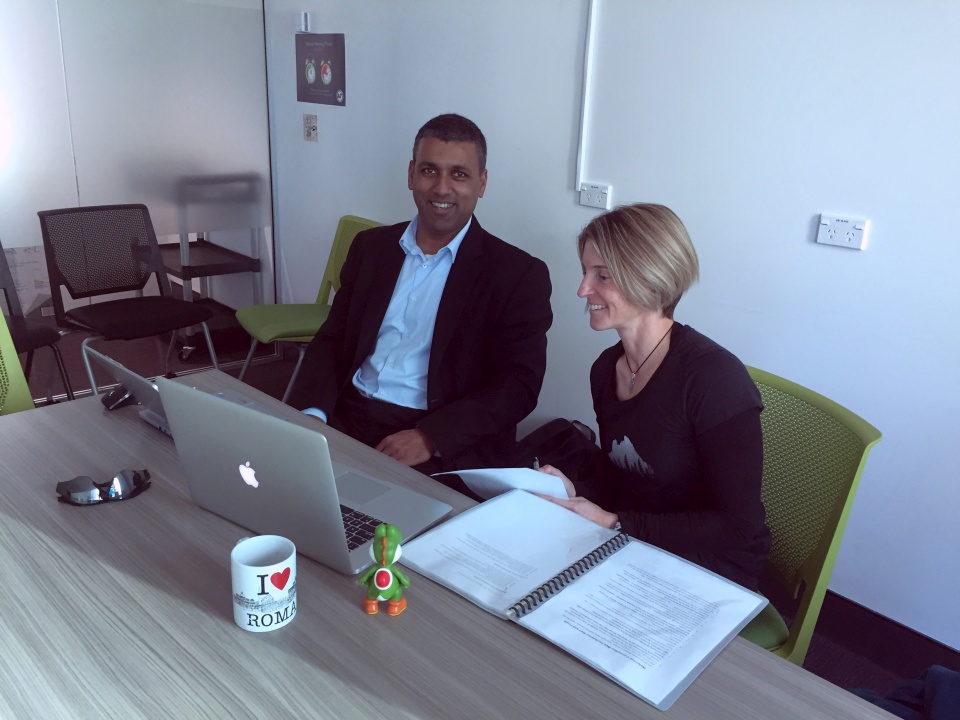 Marcus and Shelley talk to St Francis School and Ashgrove School during the web conference. Image: LEARNZ.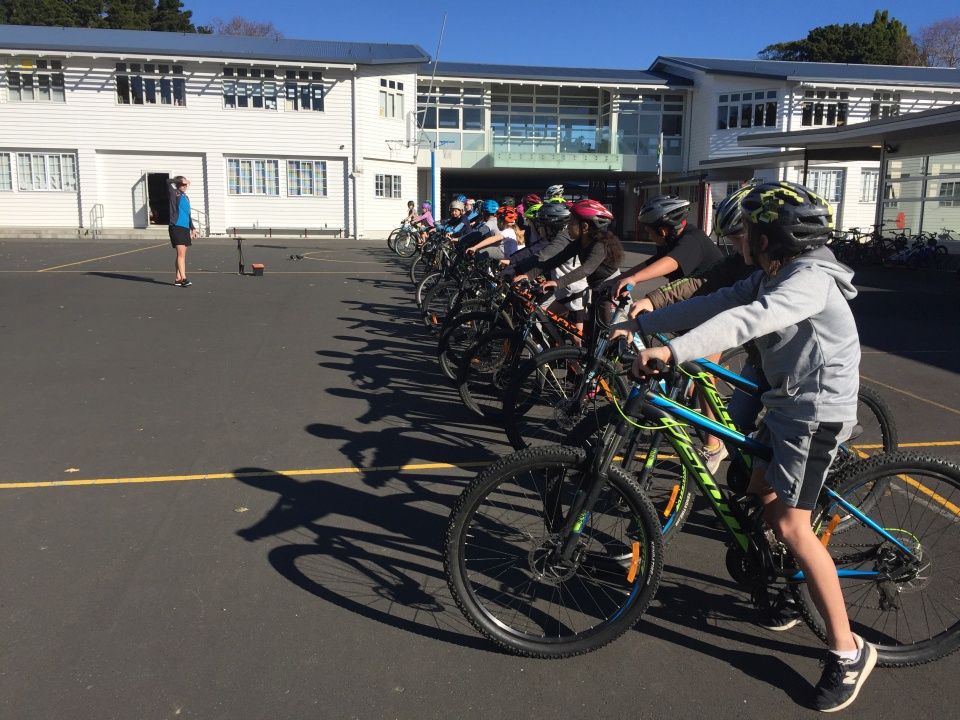 Students from Point Chevalier School complete a cycle training course with Auckland Transport. Image: LEARNZ.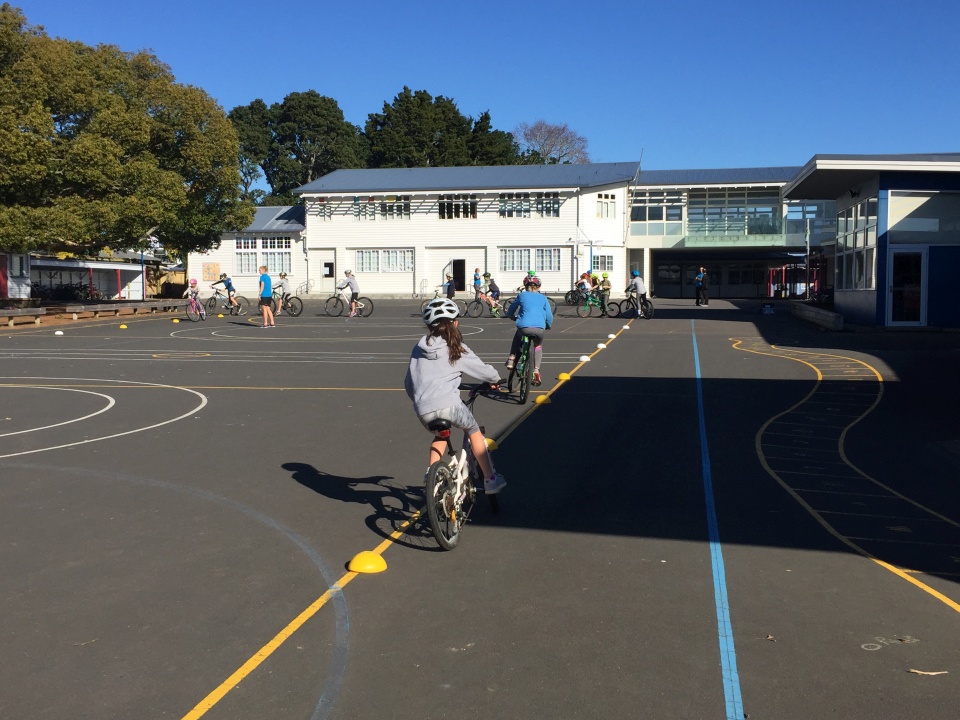 Students test their bike skills by negotiating obstacles during the cycle safety course. Image: LEARNZ.
Shelley meets keen cyclists from the travel wise group at Point Chevalier School. Image: LEARNZ.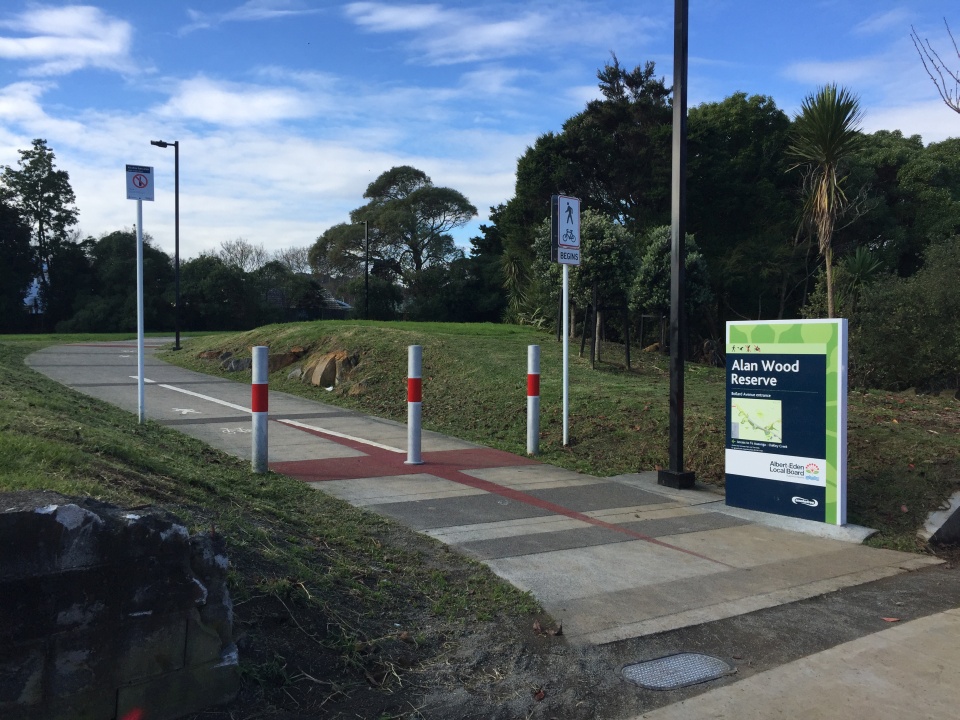 Part of the Waterview Shared Path at Alan Wood Reserve is already open to cyclists and walkers. Image: LEARNZ.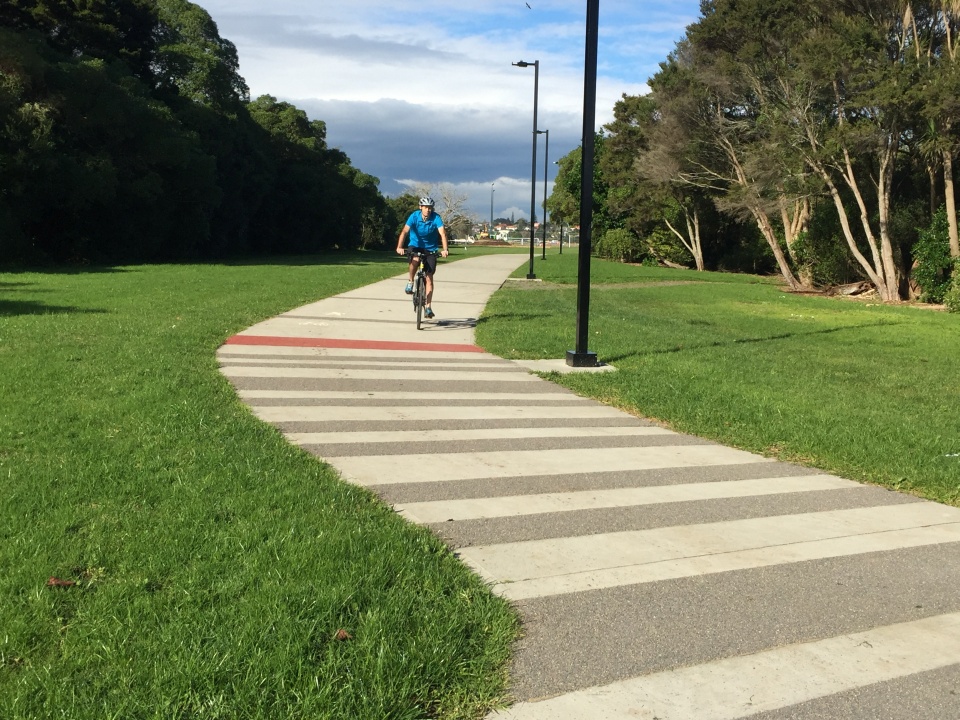 Simon Vincent from Auckland Transport bikes on to meet you on the Waterview Shared Path. How do you think people can use this path responsibly? Image: LEARNZ.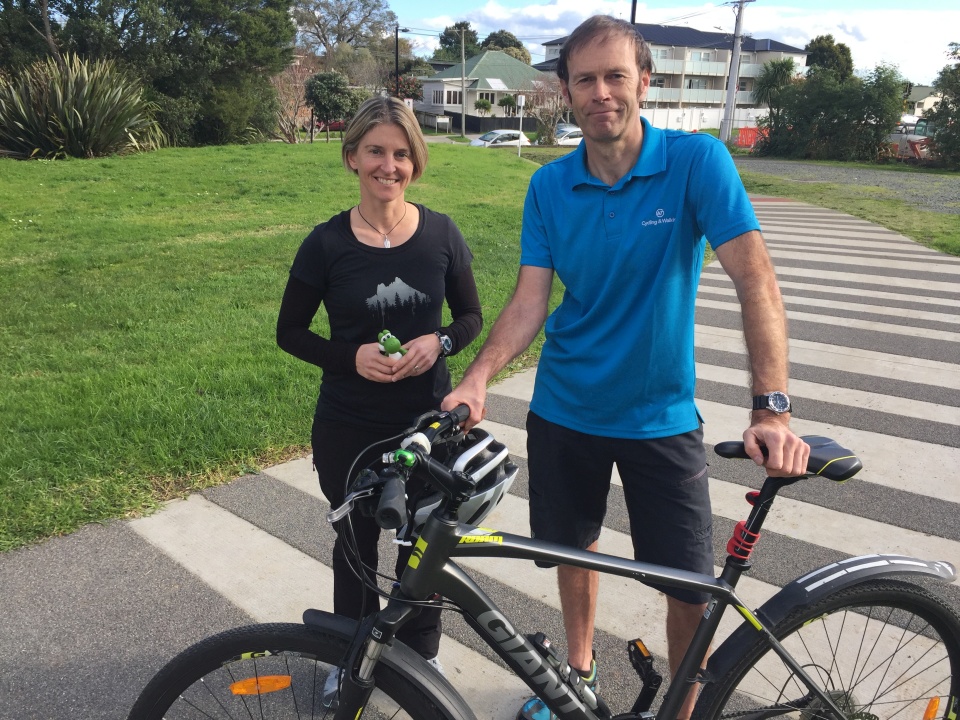 Simon talks about the benefits of cycling for people, the economy and the environment. What do you think these benefits are? Image: LEARNZ.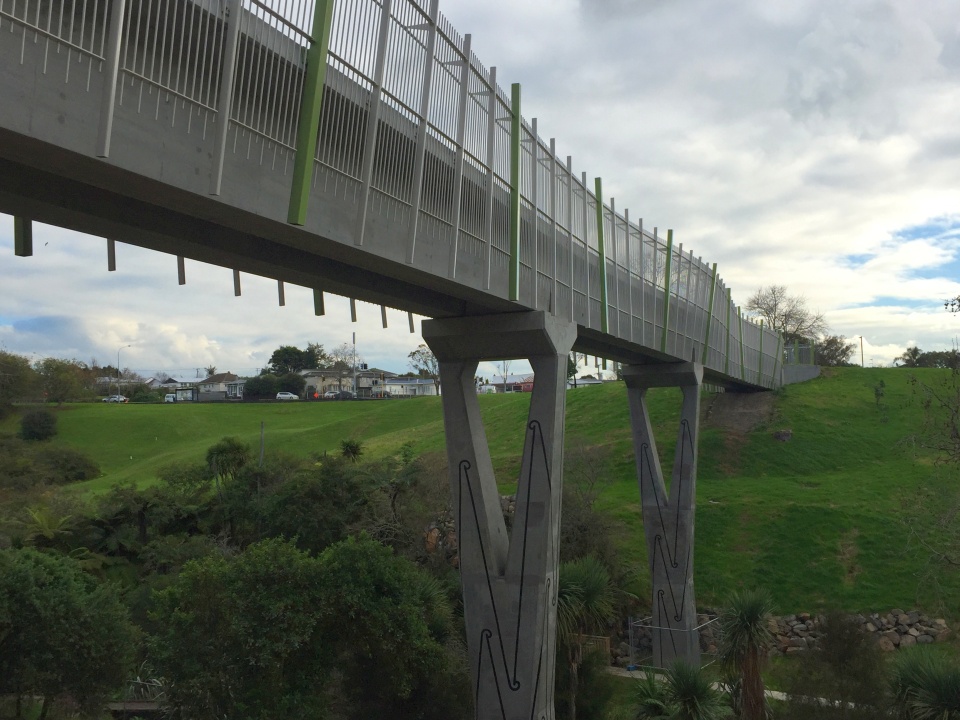 The Alford Street Bridge has been carefully designed and engineered to meet the needs of people and protect the area. What inspired the design of this bridge? Image: LEARNZ.
Looking over the Waterview Connection Project towards the Hendon Footbridge. Where does the Waterview Shared Path go? Image: LEARNZ