Ambassador Oola
Kia ora koutou
I'm Oola the owl from Rangiora Borough. I work with all the students in the Rua team to help them become 'Super Rurus'.
I am looking forward to this field trip because I think it is very important to make sure we are all prepared for when an emergency happens.
Talk soon,
Oola
Monday 16 October
Hello everyone,
Today we flew from Kerikeri to Christchurch. It was a pretty good flight except Egbert got more answers right than I did on the quiz. I'm sure he was cheating! Also on the flight to Christchurch we were spoiled with heaps of lollies. Andrew was asleep for most of the way so he didn't even know – although he may have seen a few wrappers lying about when he finally woke up!
Talk again tomorrow,
Oola
Tuesday 17 October
Kia ora koutou,
We visited a few places around Christchurch today. We even went through Kaiapoi on our way to the beach. We were so close to Rangiora! But we didn't have time to come and visit sorry. 
Today we learned about some of the hazards. It can be a bit scary talking about lots of possible hazards. My mind was playing a few tricks on me! I guess the thing is to not become too worried about it all – in other words: STAY CALM. Sure, get ready to get through an emergency, but don't let the threat of a disaster keep you from getting out and being active.
Talk again tomorrow,
Oola
Wednesday 18 October
Kia ora koutou,
Today we went to Governors Bay School. I wonder how many students from my school have been to Governors Bay. It's a nice place – worth a visit if you haven't been.
I learned a lot about making sure you are prepared for a natural hazard emergency. We met Chris Duggan who helped us learn the importance of having a plan. It is also a good idea to have an emergency kit. In this kit you should have things like water, food, and a first aid kit. And don't forget about your pets (especially if they're owls!).
Till tomorrow,
Oola
Thursday 19 October
Kia ora koutou,
I have had an awesome adventure during this field trip. There has been a fair bit of travel involved but it was neat going to some places in Christchurch that I haven't had the chance to visit yet. I am also proud of all the students who took part in the web conferences this week – great job! 
Hopefully I will have a chance to go on another field trip in the future. In the meantime, I need to think about all that I have learned this week so that I can make sure I am safe and informed during an emergency – you never know when it might happen.
See you next week,
Oola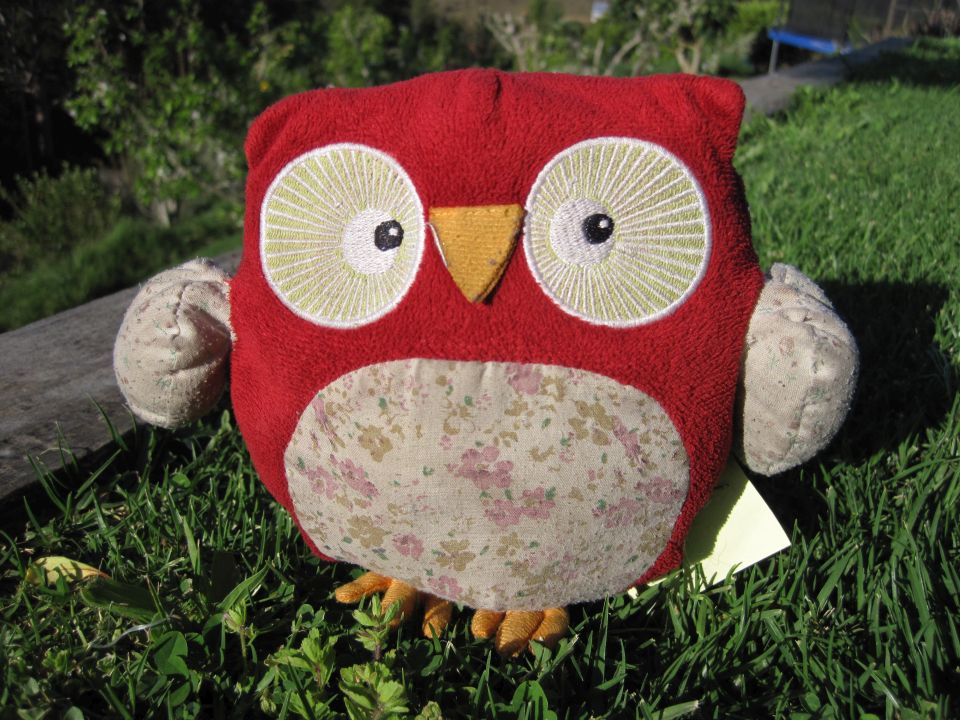 Oola the owl is from Rangiora Borough. Image: LEARNZ.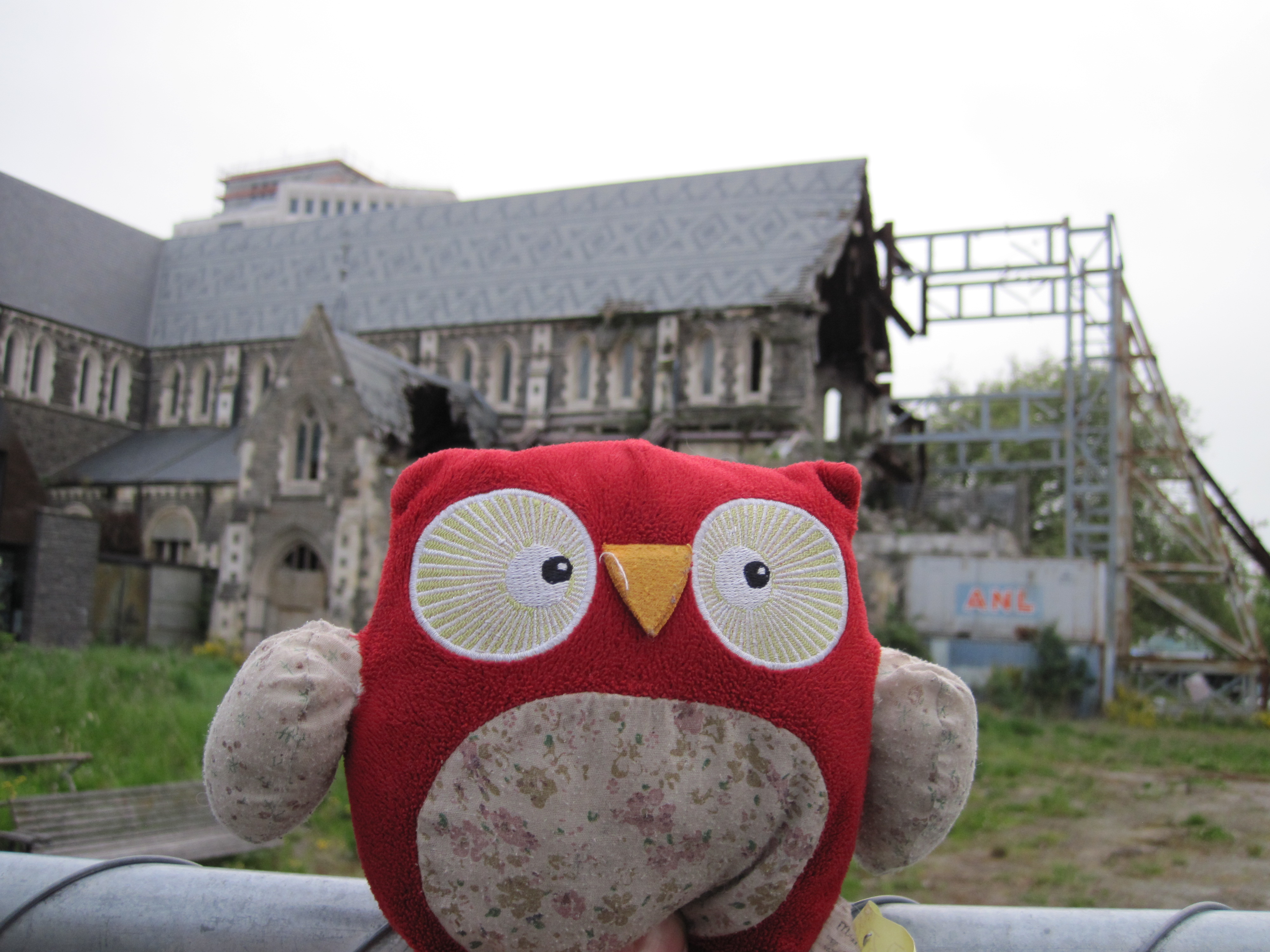 Monday. Oola is outside Christchurch Cathedral. Image: LEARNZ.
Tuesday. Oola is at the old Redcliffs School site where a landslide caused the school to shut down in 2011. Image: LEARNZ.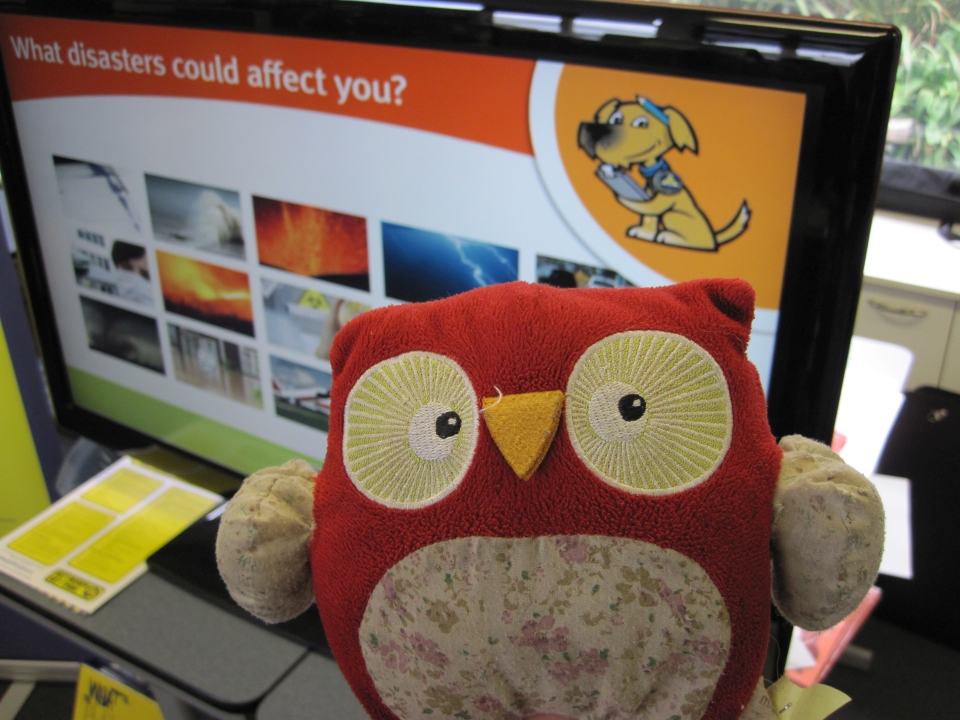 Wednesday. Oola learned a lot about making sure you are prepared for a natural hazard emergency. Image: LEARNZ.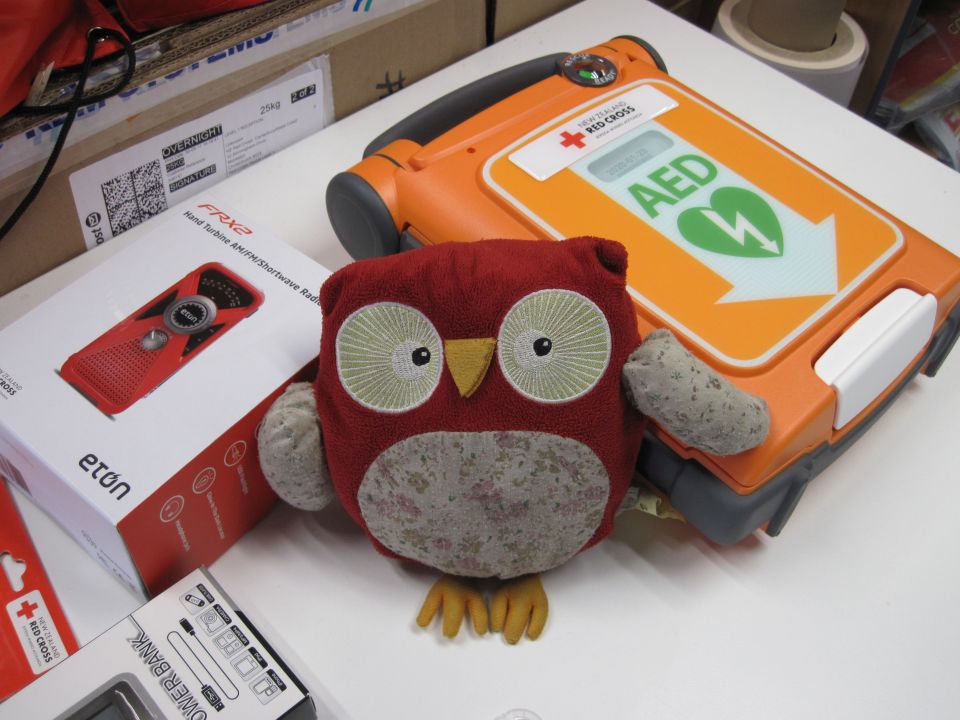 Thursday. This is Oola at New Zealand Red Cross looking at some of the first aid gear. Image: LEARNZ.