What's the Plan, Stan? Diary 3
Date:
Wednesday, October 18, 2017
Field Trip Name:
What's the Plan, Stan?
Field Trip Place:
Christchurch
Where You Are:
Governors bay - Ōhinetahi
Kia ora tātou,
Today's theme was all about being prepared for an emergency. I was especially keen to hear from some Governors Bay School students about their recent experiences with the Port Hills Fire.
Web conference number two
This week's second web conference took place at Governors Bay School - Te Kura ō Ōhinetahi. Chris Duggan from the Christchurch City Council joined us, answering questions from Papatoetoe East Primary School. It was another great session which you can listen to again via the Web Conferences page.
Also great was the post web conference chat session. There was another bunch of thoughtful questions showing the high level of interest this field trip is generating.
Community preparedness
After the web conference, we spoke with principal Judy Cooke. It was interesting to hear how the school's emergency management procedure is shared within the community. The school uses an online tool that can be accessed at any time by families. It is important that the wider school community is aware of how its school will manage an emergency. It leads to safer outcomes and less confusion should such an event happen.
The school and community has certainly had its fair share of hazards over the past six years. So I guess it isn't surprising how well the school is set up to deal with an emergency. Learning to cope with the stress these events bring can be a sure way to build resilience. Watch the video with Judy to hear more.
What's the Plan, Stan?
After morning tea, we visited the senior classroom. Chris Duggan was working with the students on four key ideas: learning about disasters and how to keep safe; creating and practising a household emergency plan; assembling and maintaining emergency survival items; having a getaway kit in case you must leave in a hurry. 
We chatted with some of the students during the session. I was impressed with how well they were working on the tasks. It was a good insight to what you might find within the 'What's the Plan, Stan? teaching resource. Teachers, you can find out more about this emergency preparedness unit via the Resources page.
Student stories
In the afternoon I sat down with some students to chat about their recent experiences resulting from the Port Hills fire. Some students had to be evacuated from their homes, others had relatives fighting the fire. There were scary moments, but also moments where the community came together to help one another.  
Listening to the students describe some of the events really made me consider the reality of an emergency. I feel sometimes we can think that these situations won't happen to us. I encourage you to watch the video, and to realise that emergencies do happen – so best you be ready for them.
Homework to do
The ambassadors and I realised after today that we have some homework to do. For me, I must check batteries and food expiry dates. Plus, I am going to sort a getaway kit because we only have a survival kit for staying at home. 
I say "I", but really it is the responsibility of everyone in the family. There are many reasons I can think of to have all the family involved in getting ready to get through a civil emergency. For example, if it is only me who makes the plan and knows where all the emergency items are, what happens when disaster strikes and I'm not at home? What other reasons can you think of?
Catch you tomorrow!
Andrew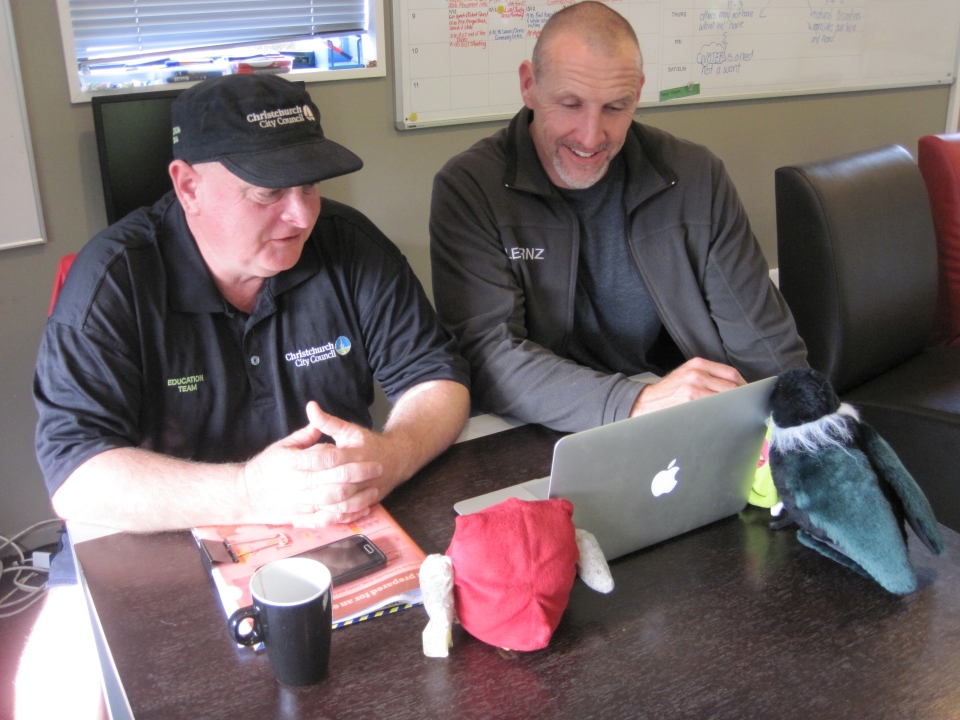 Andrew and the ambassadors with Chris Duggan on this morning's web conference. Image: LEARNZ.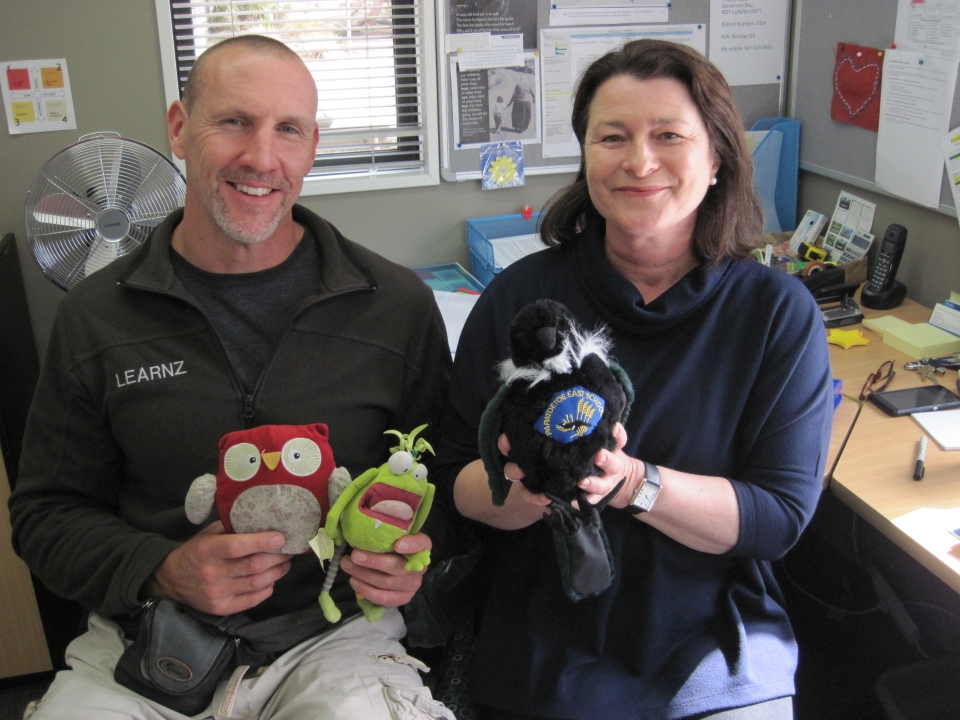 Andrew and the ambassadors with Governors Bay principal Judy Cooke. Image: LEARNZ.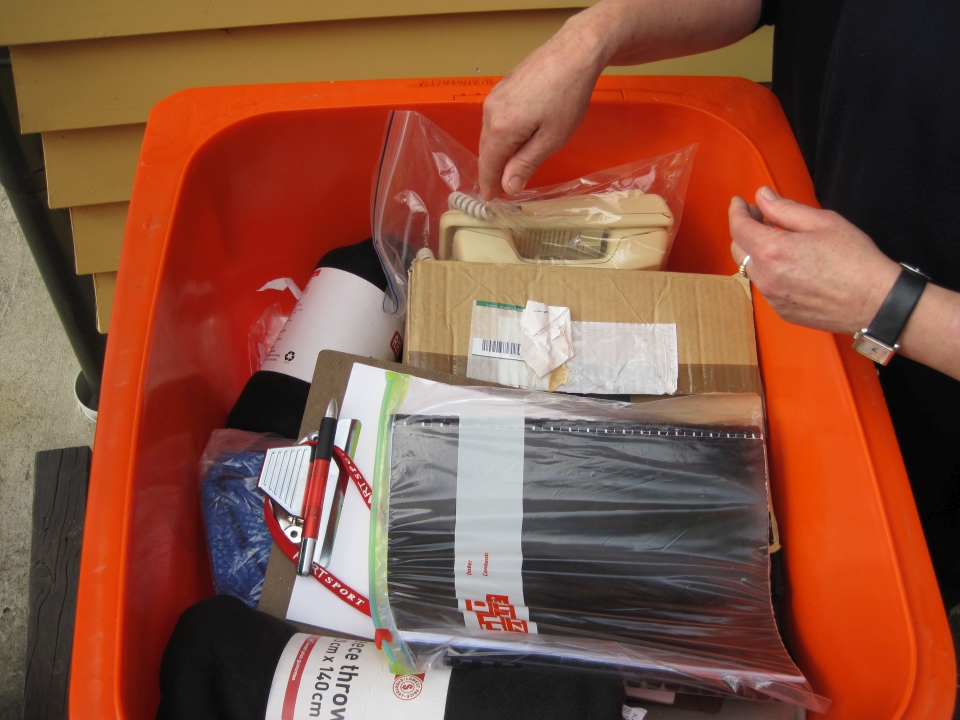 Each day this emergency evacuation kit is placed outside the school office. Do you have school emergency supplies? Image: LEARNZ.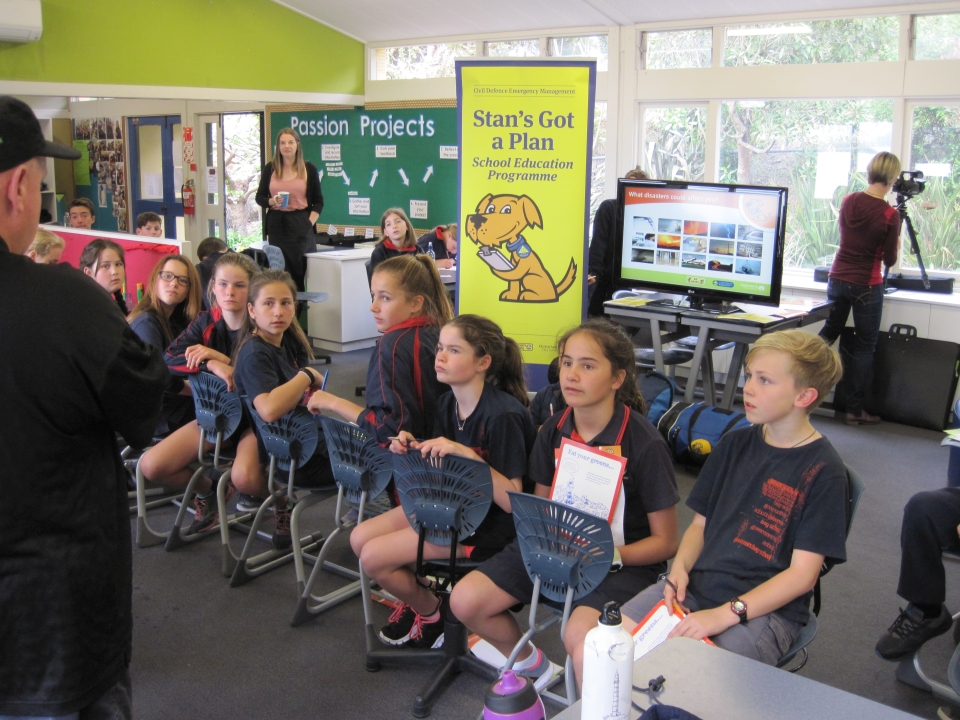 Chris Duggan begins the What's the Plan, Stan? session with students from Governors Bay School. Image: LEARNZ.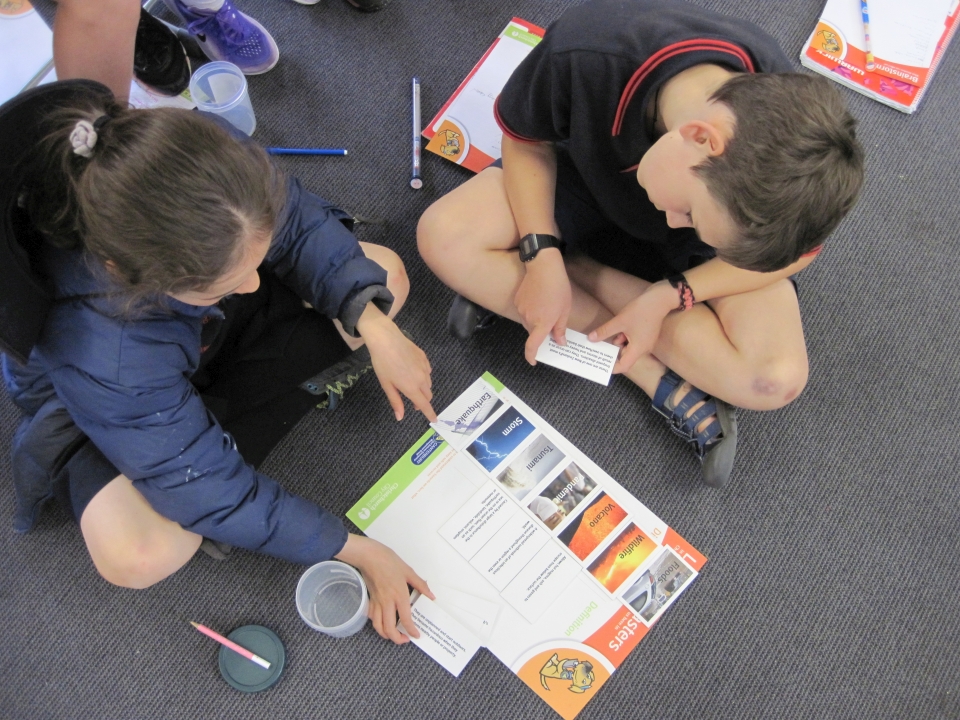 Some of the students work on a task to do with identifying and describing natural hazards. Do you know what the main natural hazards are? Image: LEARNZ.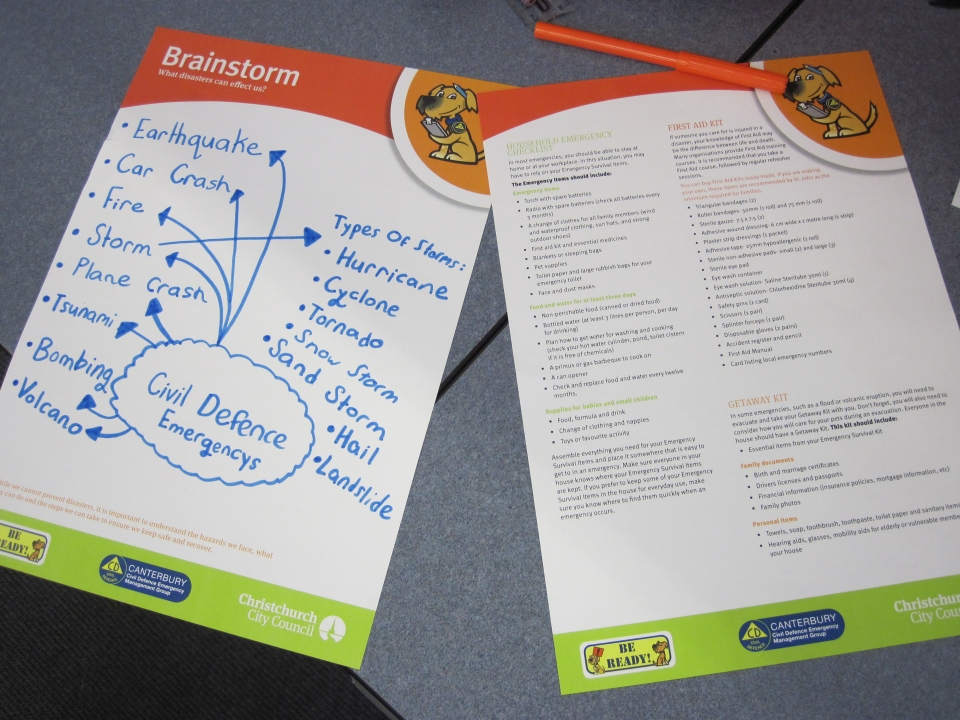 Some of the students' work from What's the Plan, Stan? How are you learning about emergency preparedness? Image: LEARNZ.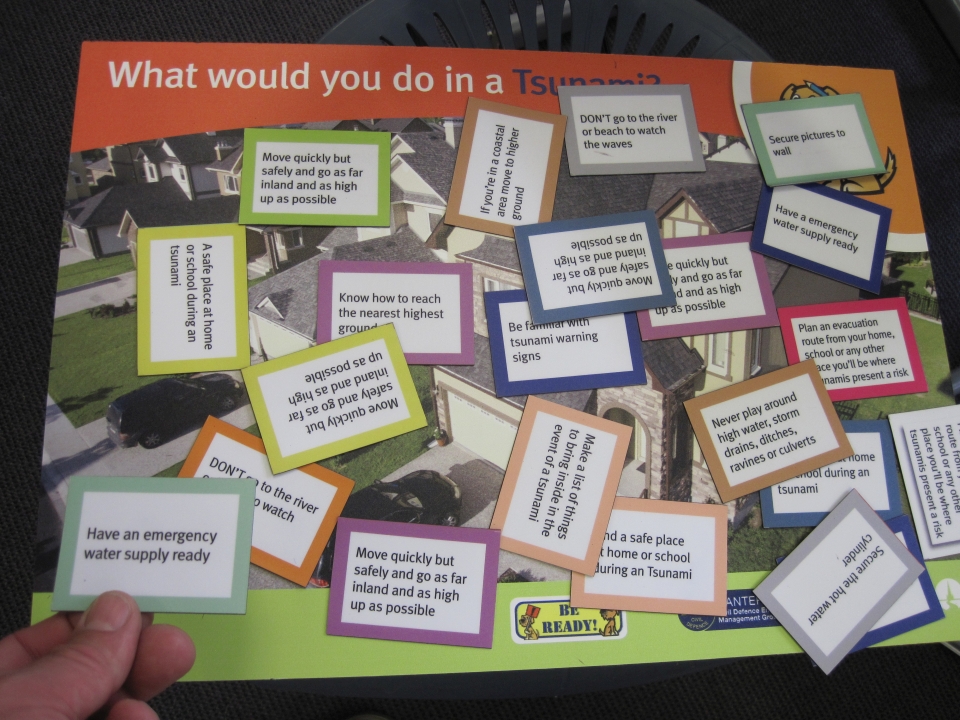 The question 'what would you do?' is a good place to start when thinking about planning for different types of natural hazard emergencies. Image: LEARNZ.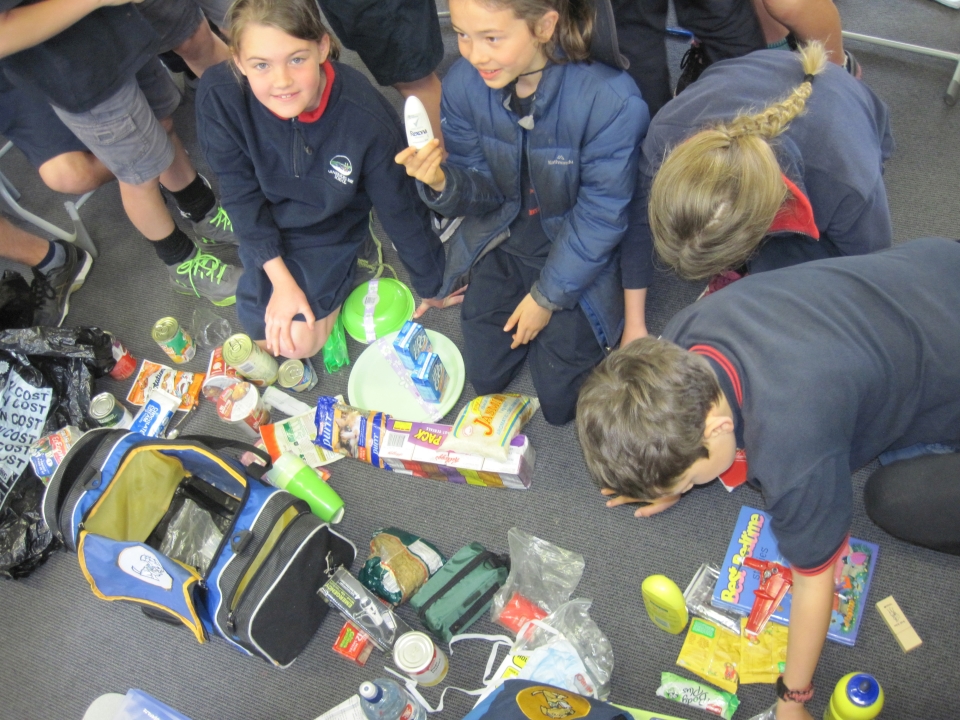 Students looking through Chris Duggan's emergency supply kit. What items would you expect to see? Image: LEARNZ.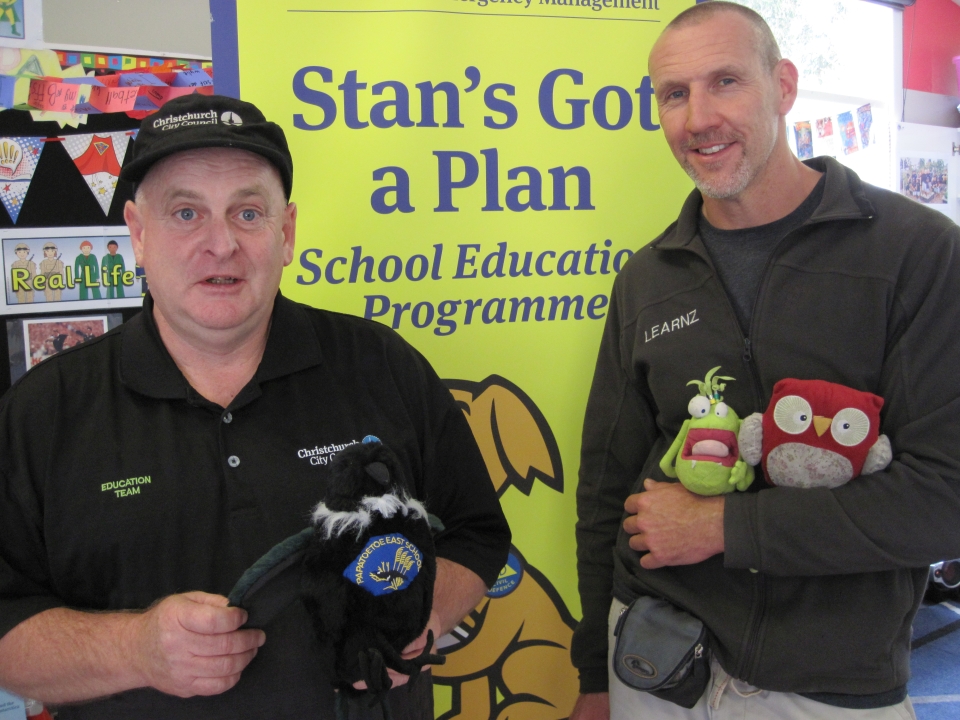 Andrew and the ambassadors with Chris Duggan. Image: LEARNZ.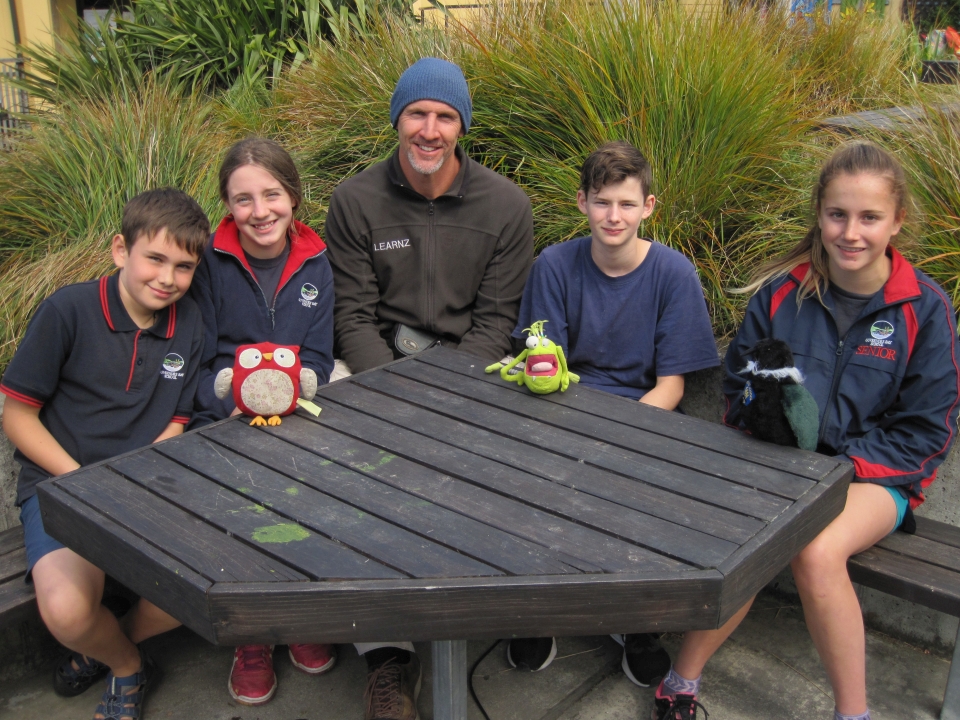 From left: Josh, Kate, Andrew, Xavier, Morgan. Image: LEARNZ.