Meet Marion Schoenfeld
Job:
Geological hazard analyst at Environment Canterbury
Job description:
My job involves taking scientific research on earthquakes, tsunamis, landslides and volcanos and translating it into something useful and understandable for town planners, emergency managers and the community (pretty much everyone!).
Work background:
I worked for many years teaching and researching in the Geology Department at Auckland University. After that I worked for Tonkin and Taylor as an Engineering Geologist- mainly working on landslides and on testing the ground before buildings are built. After a brief spell back at the university I worked for Auckland Council CDEM as a hazards analyst. As part of that job I worked in Christchurch for a couple of months after the February 22nd earthquake. In 2012 I moved to Christchurch to take up my current job with Environment Canterbury Regional Council.
Favourite part of job:
Helping people to understand the dynamic environment they live in, and giving them the information they need to make decisions about where to live or what to do in an emergency.
Least favourite part of job:
It can be hard dealing with sad or angry people, or people who want to blame others for something that has happened.  Earthquakes, tsunamis, landslides and volcanoes can be scary, and people can get sad or angry when they think they might be affected by them, or when they are affected by them. 
What I am working on now:
Right now I'm working with Kaikoura and Hurunui Districts to help them get information they need on landslides and earthquake faults to help them recover from the earthquakes and plan better for future events. I am also working with Selwyn District Council to tell people in the mountain villages what an Alpine Fault Earthquake Sequence would be like for them to help them get ready. I'm also working with one of my colleagues and Christchurch City to plan for tsunami evacuations. When we've finished planning, I'll be helping the emergency management officers at Christchurch City Council explain to their communities what the zones mean, and what they need to do if they feel a long or strong earthquake or get an official tsunami warning.
A quick story about a job well done:
There is a village where in the past people had never wanted to hear about the hazards their village faced. They even used to get really angry with the people telling them about earthquakes and landslides that could happen there.After the Kaikoura earthquake, I went to a meeting to talk to the people of the village about the damage that had been done there in the earthquake, and what could happen if there was another earthquake.  At my meeting, at first the people were angry and upset, but I didn't just tell them about the hazards, I also listened to what they were upset about and what they were afraid of. Then I answered their questions and concerns as well as telling them about the earthquake faults. The people became quieter and more accepting, and even agreed to us doing more research to find out even more about the hazards they face, so that they can understand better. That was a job well done because the people could see that I cared how it was for them, and answered the details of what was really worrying them, so they wanted to find out more rather than hiding from the truth.
A (humorous) story about a job that went badly and what you learned:
In the November 2016 earthquake, many people knew "long or strong get gone" and lots of them evacuated. Some of them lived a very long way from the sea, and weren't actually in danger from a tsunami. Lots of them went many, many, many miles inland- nearly to the mountains because they didn't know where to stop that was safe. This was in the middle of the night and lots of people were out by the mountains all night because they were afraid of the sea. What I learned there is that we don't only need to tell people who are affected by hazards about them, we also need to tell people who are NOT affected by them, so they know what to do (or what not to do) too.
Qualifications:
Bachelor of Science in Geological Sciences, PhD (Doctorate) in Applied Geology
Interests outside work:
Walking and tramping, waka ama, reading, movies hanging out with my husband and grown up kids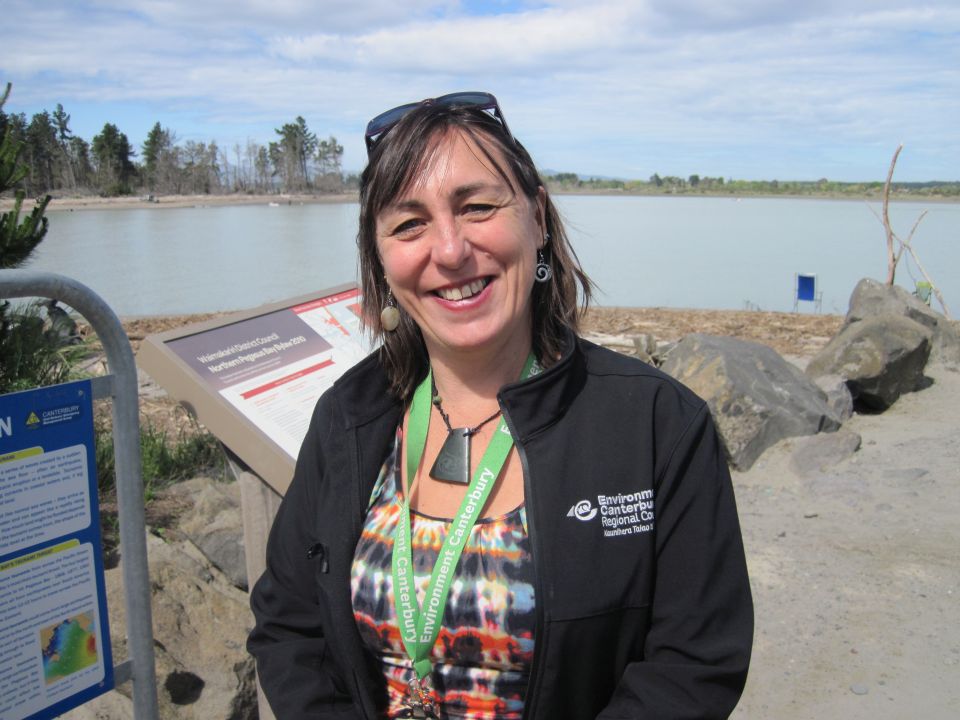 Marion Schoenfeld is a geological hazard analyst at Environment Canterbury. Image: LEARNZ.