Ambassador Egbert
Tēnā koutou,
I am Egbert the LEARNZ ambassador. I go on all the trips with Andrew and help look after the other ambassadors from your schools.
I really love LEARNZ field trips about New Zealand's special places. I am looking forward to learning about hazards and how to keep safe during an emergency.
Best,
Egbert
Monday 15 October
Kia ora tātou,
It didn't seem to take very long at all to arrive in Wellington today. It is amazing that you can travel almost 1,000 kilometres in only four hours.
Stan and I had a whole seat to ourselves for the flight from Auckland to Wellington. They were really comfortable too. We were given a Cookie Time cookie and a cup of tea to dunk it in – yum!
In Wellington City, Stan was a bit nervous because it's the first time he has been out of Wanaka. It even takes me a while to get back into city life after being in Kerikeri between field trips.
Best,
Egbert.
Tuesday 16 October
Kia ora tātou,
Today I was reminded about some important emergency preparations. It took me back in time and reminded me of my own emergency story. Did you know I was also in the Canterbury earthquakes? I certainly learned about the need to be prepared for the unexpected, although I hope I never have to ever go through that experience again!
We are going to find out more about emergency preparedness tomorrow. I wonder how well prepared you are for a natural hazard emergency.
Best,
Egbert.
Wednesday 17 October
Kia ora tātou,
Today we learned some more practical ideas to stay safe during an emergency. It can be a bit scary talking about lots of possible hazards. My mind was playing a few tricks on me! I guess the thing is to not become too worried about it all – in other words: STAY CALM. Sure, get ready to get through an emergency, but don't let the threat of a disaster keep you from getting out and being active.
Talk again tomorrow. Best,
Egbert.
Thursday 18 October
Kia ora tātou,
Today was the ShakeOut earthquake drill and tsunami hīkoi. Did you do ShakeOut too? I sure can see the reason for doing Drop, Cover, Hold. You should know by now that this is the best action to take if an earthquake happens.
I have had a super week. I have met friendly staff and awesome students from Island Bay School, great guys from WREMO, cool dudes from GNS, and learned a lot along the way.
See you on another field trip soon!
Best,
Egbert.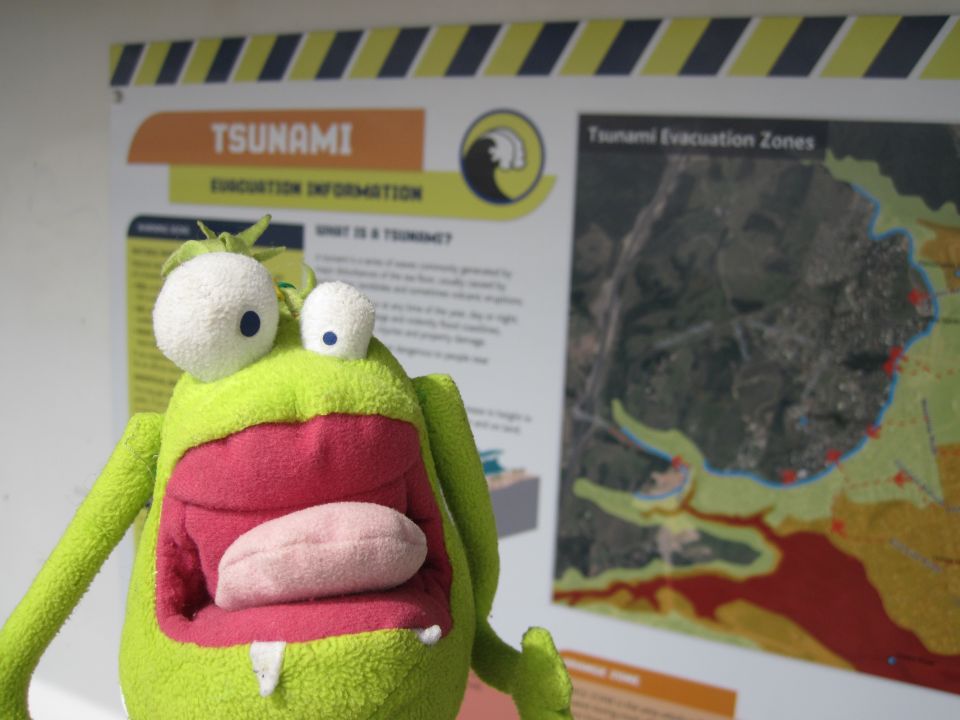 Egbert is Andrew the LEARNZ Teacher's ambassador. Image: LEARNZ.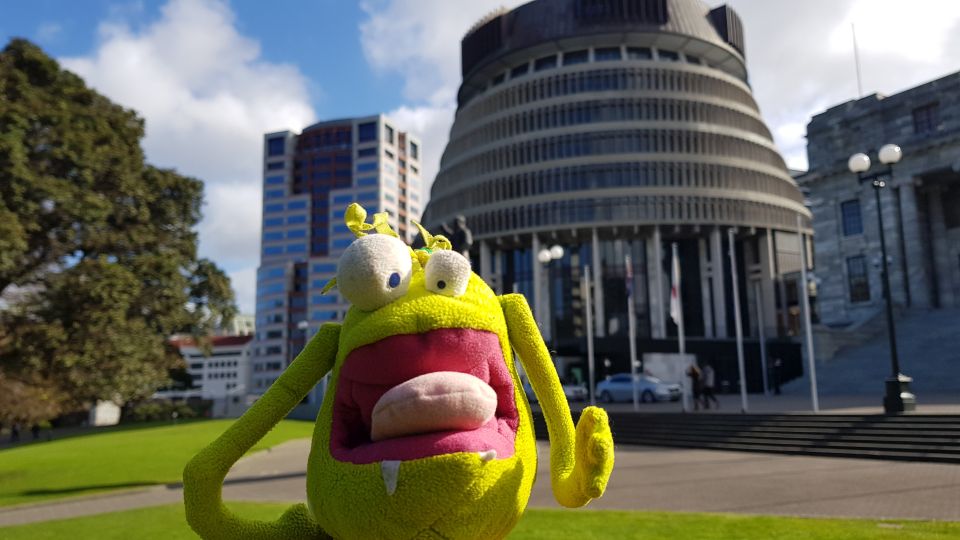 Monday. Egbert is outside the Beehive in Wellington. Image: LEARNZ.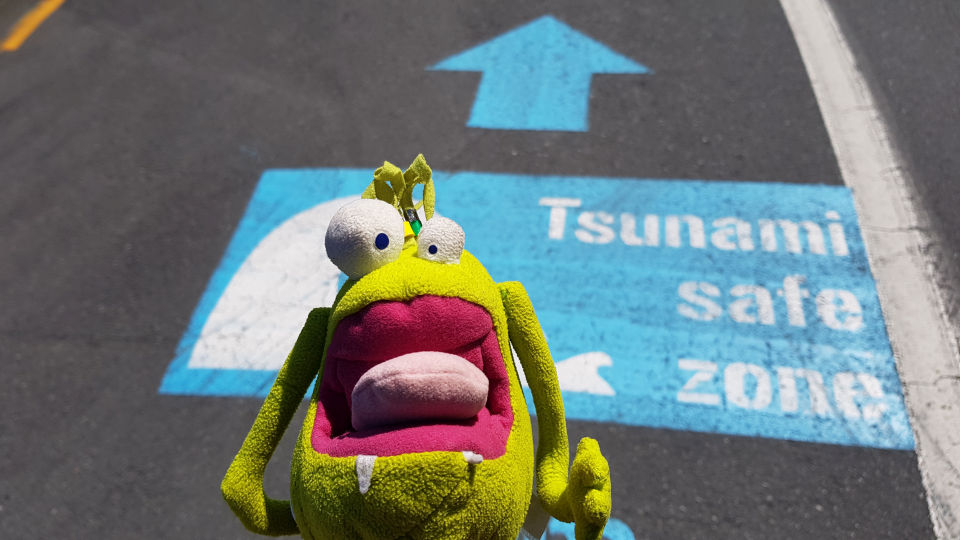 Tuesday. Egbert is next to a sign showing the way to a tsunami safe zone at Owhiro Bay. Image: LEARNZ.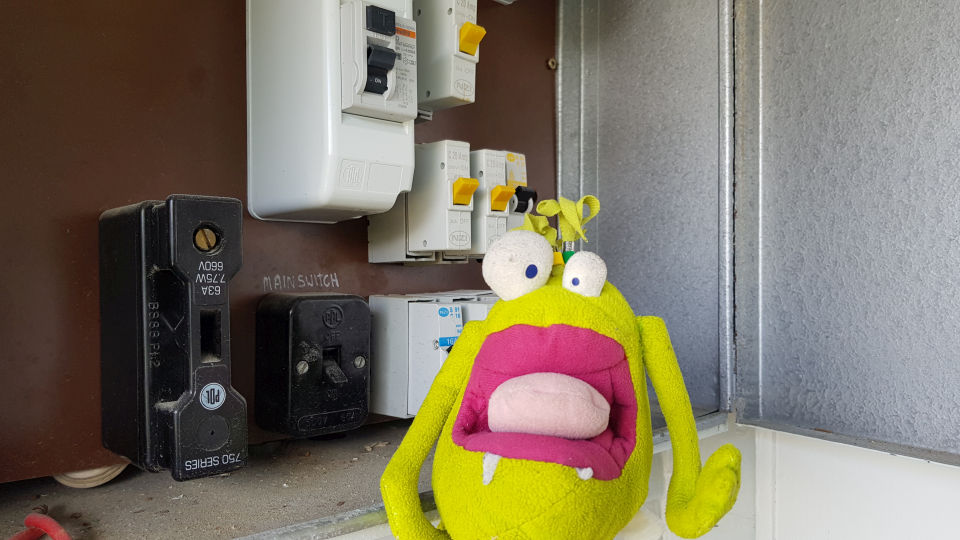 Wednesday. Egbert checks out how to turn off the mains power switch. Image: LEARNZ.
Thursday. Andrew let me take some photos today. This is one I took of the Island Bay School students practising drop cover hold outside. Image: Egbert Monsta.