Ambassador Stan
Kia ora everyone
I'm Stan. I have never been away from Wanaka before (except virtually through two virtual field trips this year to Kaikoura and Iceland). I am so excited about going on this adventure!
In my free time, I enjoy skiing and hanging by the lake. I belong to POD 6, Wanaka Primary School.
Talk soon,
Stan
Monday 15 October
Hi everyone,
I quite enjoyed the travel day today. Some people don't like flying, but I think it's a lot of fun. We had a lot of laughs along the way and some great views out of the aeroplane window. I even got some answers right on the inflight quiz!
When we got to Wellington we checked into our hotel. Then Andrew, Egbert and I went for a walk around the city. It's very busy – there are people and cars everywhere! It might take me a while to adjust to the level of noise – it's a lot busier than Wanaka!
Talk tomorrow,
Stan
Tuesday 16 October
Hi everyone,
I learned a lot about being prepared for a natural hazard emergency today. Things like storing water if the taps don't work after an earthquake or similar. Dan says that out of everything to prepare for, having an emergency supply of water is number one on the list.
We also talked about tsunami safe zones and something called Drop Cover Hold. Drop Cover Hold is something you can practice during an earthquake drill. I hope you are all going to take part in the ShakeOut drill this Thursday! I am looking forward to finding out more about emergency preparedness tomorrow.
Talk then,
Stan
Wednesday 17 October
Hi everyone,
Today I learned more about being prepared for a natural hazard emergency. We talked with Dan and Graham who helped us learn the importance of having a plan. It is also a good idea to know where your family are going to meet if something happens during the day. You could be at school and your parents or caregivers might be at work.
Dan also said it is a good idea to keep a well-stocked pantry and have other ways of cooking such as a barbeque. He talks about the idea of camping at home, especially if services like power and water get shut off during an emergency. This is all part of the plan. I think it is a good idea to get a plan in place with your family if you don't already have one. Or if you do, make sure it is up to date and make any changes if needed. And don't forget about your pets (especially if they're bears!).
Talk tomorrow,
Stan
Thursday 18 October
Hi everyone,
I have had such a great time on the field trip this week. I'm quite tired from the adventures and learning along the way. But it has all been very worthwhile. I hope you have gained a lot from the experience too.
Hopefully I will have a chance to go on another field trip in the future. In the meantime, I need to think about all that I have learned this week so that I can make sure I am safe and informed during an emergency – you never know when it might happen.
See you all again next week!
Stan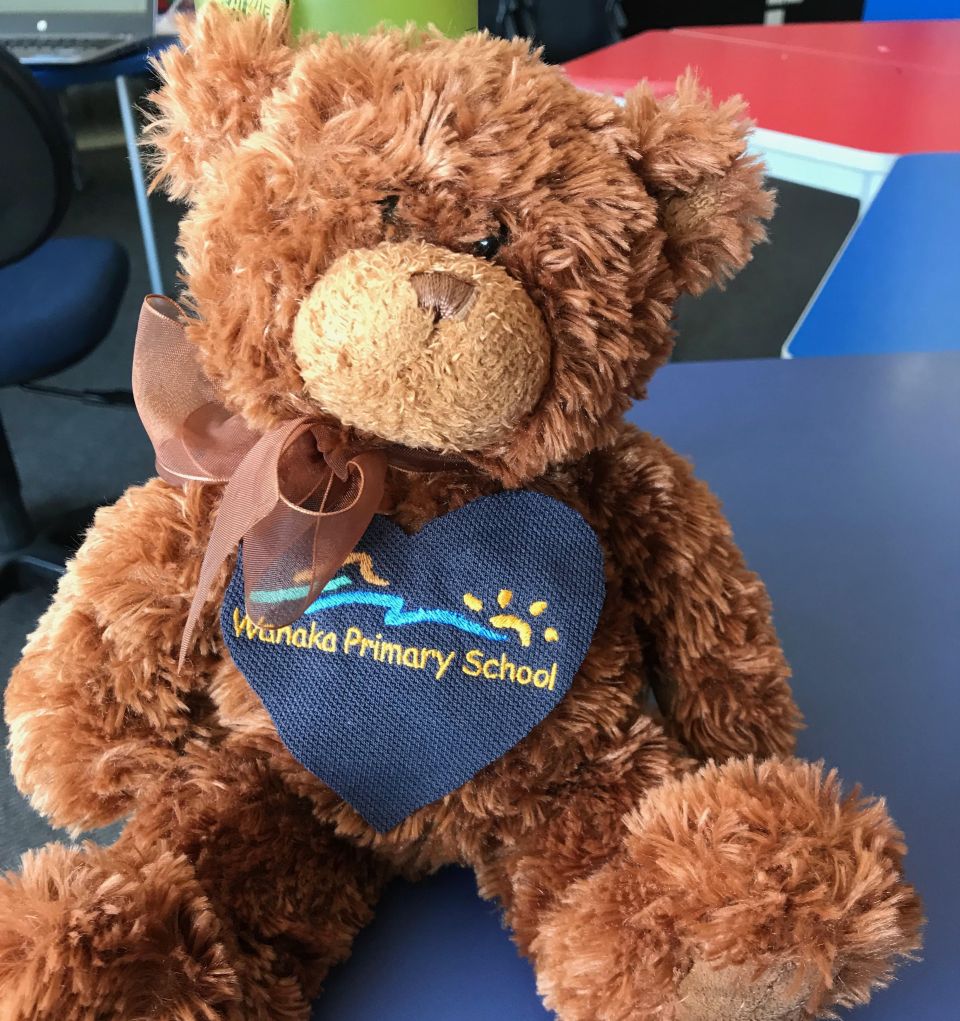 Stan is from Wanaka Primary School. Image: Nicola Bennett.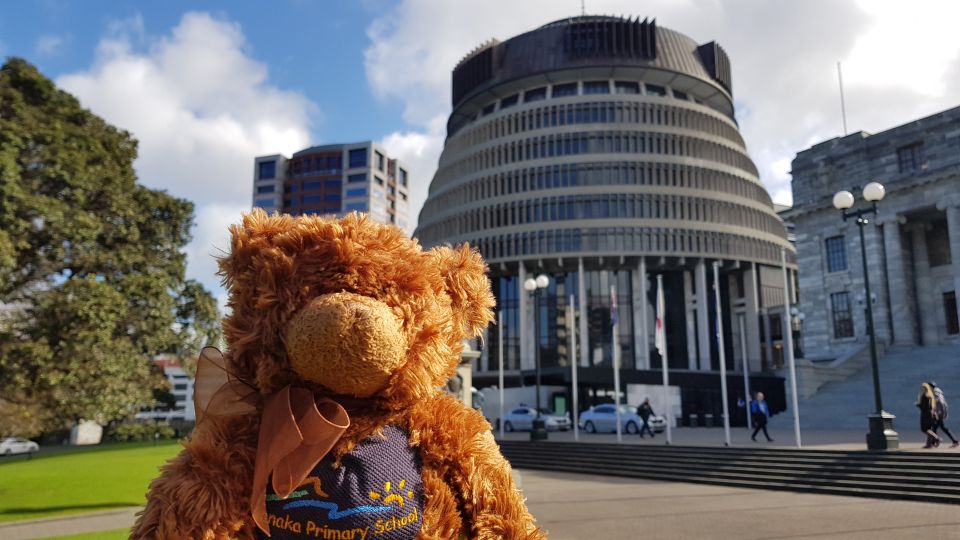 Monday. Stan is outside the Beehive in Wellington. Image: LEARNZ.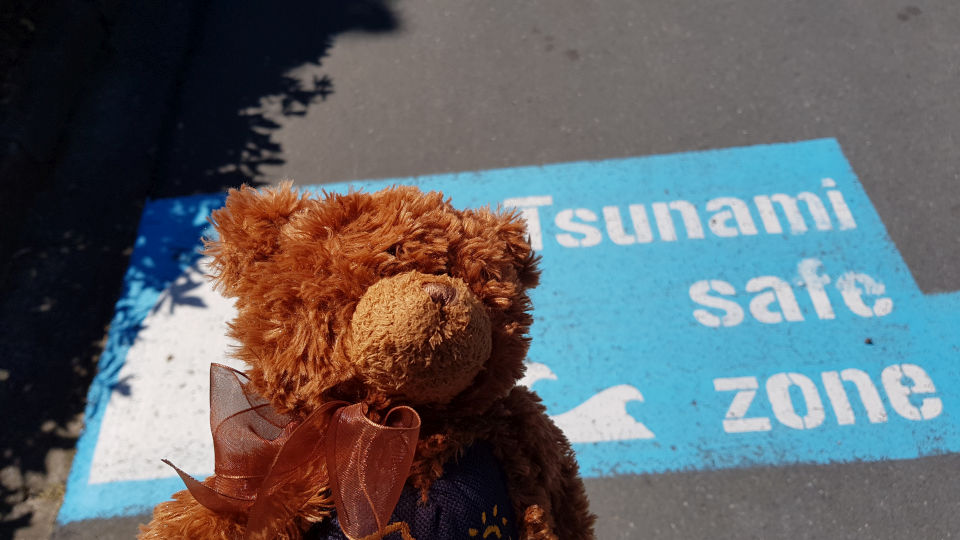 Tuesday. Stan is at a tsunami safe zone in Owhiro Bay. Image: LEARNZ.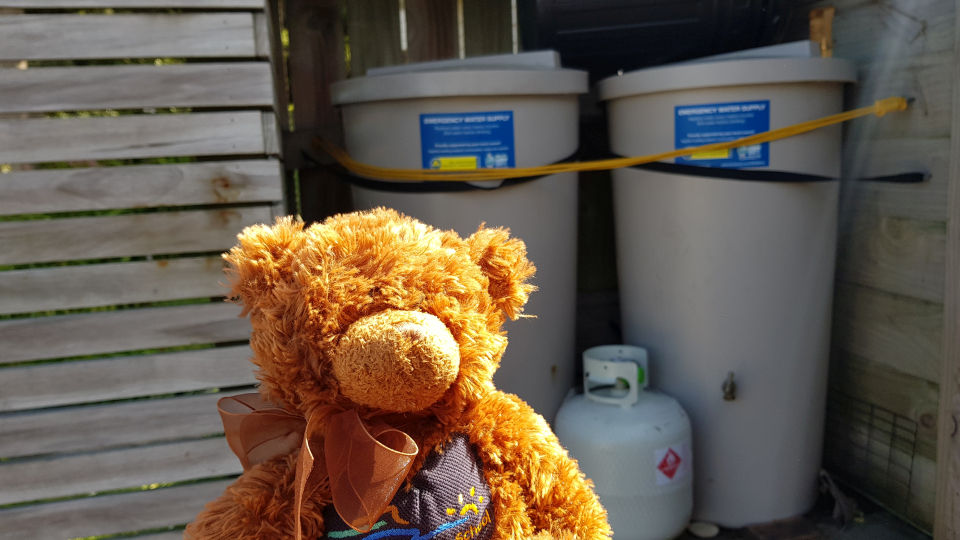 Wednesday. Stan checks out Dan and Graham's emergency water supply, including spare gas bottle. Image: LEARNZ.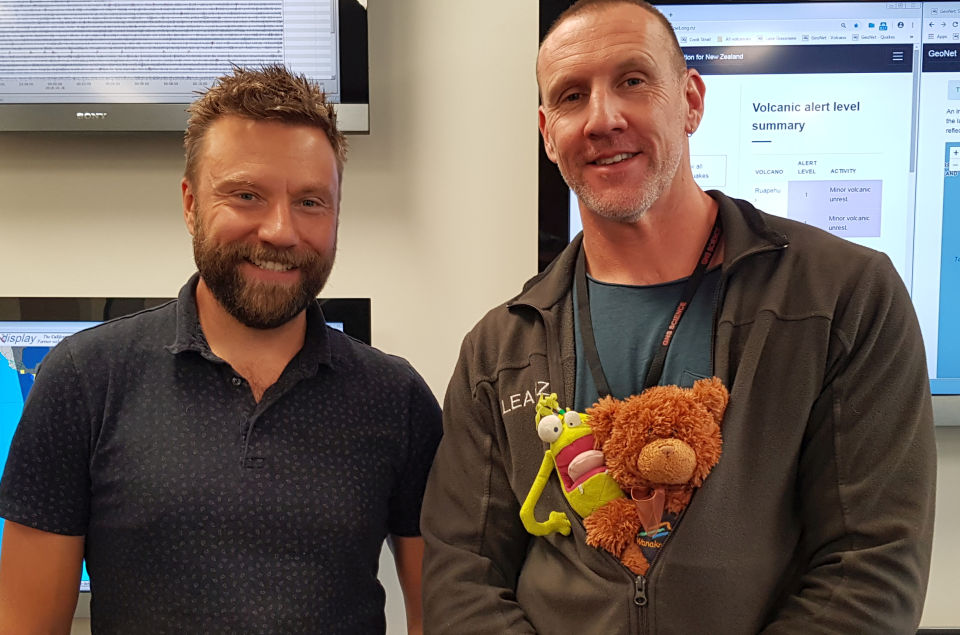 Thursday. Here is Stan with Egbert, Andrew, and Graham at GeoNet. Image: LEARNZ.