Meet Graham Leonard
Job:
Senior Scientist – hazard maps and warnings.
Job description:
I make hazard maps and do research on warning systems, especially for volcanoes and tsunami generated by earthquakes. I also work on earthquake preparedness projects. I get to fly in helicopters and ride in boats and 4WDs quite a lot for work.
Work background:
I have been with GNS Science for 15 years. I worked as an Engineering Geologist before that, fixing foundations of buildings on slippery hills, and looking out for fault-lines and rock falls where people wanted to build things.
Favourite part of job:
Field work – climbing volcanoes and visiting interesting pieces of coastline around the world.
Least favourite part of job:
Sitting in front of a computer, but we all have to do it sometimes these days.
What I am working on now:
Helping with a guideline for tsunami vertical evacuation buildings, helping with the new Emergency Mobile Alerts to cell phones, training the new GeoNet 24/7 shift worker staffing, and making a map of our Supervolcanoes.
A quick story about a job well done:
With a friend of mine Dougal Townsend and several other people we learned that Ruapehu and Tongariro have spent most of their lives erupting under thick ice caps and glaciers, which only disappeared at the end of the last ice age. Then pointy cones like Ngauruhoe were finally able to start forming, not before – we only just worked this out. We learned this during 8 years of field work high on these mountains, and just published a book on it last month.
A (humorous) story about a job that went badly and what you learned:
Our 4WD vehicle filled with cow pee and poo after we drove fast through a pond in a farm collecting samples of old lava near Rotorua. We had to park on a hill to let it drain out, then use all of our drinking water to wash as much out as we could.
Always double check vehicle doors are closed properly!
Qualifications:
PhD in Earth Sciences. Mountain first aid training, Alpine snow and ice climbing certificate, 4WD training certificate, Farm motorbike certificate, Quad bike certificate, US government security clearance (to work with US Geological Survey computers).
Interests outside work:
Mountain biking, brewing beer, playing music.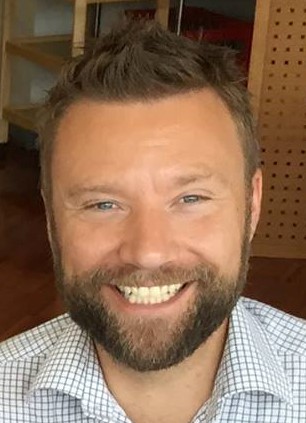 Graham Leonard is a Senior Scientist, specialising in hazard maps and warnings. Image: Supplied.