Diary 2
Date:
Wednesday, November 14, 2018
Field Trip Name:
Antarctica
Weather:
Fine, -9 degrees Celsius
Where You Are:
Scott Base
Kia ora koutou,
You may not have slept that well during your first night at Scott Base. The constant daylight can trick you into going to bed really late! It may take a while to adjust to life in Antarctica, but I feel very lucky to be here. Not many people get the chance to journey this far south. Scott Base has been set up to support scientists. It isn't a place that tourists can come and stay. You are lucky enough to be able to spend the next week experiencing this incredible place and finding out more about how science is done here. Before doing this, you will have to complete your Antarctic Field Training.
Connecting with students back in Aotearoa
You will also need to take time to connect with people back home and take part in our first web conference. Because Antarctica is such a long way from anywhere the internet in frustratingly slow. This means that the only way we can connect to New Zealand is via the telephone. It was a shame that we could not see students from Masterton Intermediate and Waitetuna School, but their fantastic questions sparked some great discussions. Matilda Ballinger is working as a domestic here at Scott Base which means she helps keep the base clean and tidy. Matilda volunteered to be an expert for the web conference. Matilda also has a Masters in Antarctic Marine Science, so she was able to answer all the curious questions that students came up with. You can listen to the web conference to find out more.
Antarctic Field Training
Everyone who comes to Scott Base must learn how to survive the intense cold of Antarctica, so you spent the afternoon with John, an Antarctic Field Trainer. John helped you gain all the skills that you will need to stay safe during your field trip. After learning about things like wind chill, frost bite and dehydration you went out to test the theory. The wind chill made the actual temperature of -9 degrees Celsius feel more like -18. You quickly learned the value of wearing so many layers of clothing. Everything seemed to freeze, even the tent that you were trying to pitch became brittle in the cold. You also discovered that everything takes longer in Antarctica. Even simple tasks like lighting a stove can be challenging.
Working as a team
John talked about Antarctic weather conditions. The weather can kill you so there are times when you are not allowed to leave base. Thankfully today conditions are far less extreme, and you were free to head out on to the sea ice where John set up scenarios to test you. You had to respond to an accident where a team member had crashed and fallen from their skidoo. A team leader was chosen, and everyone worked together to help the patient and radio for help. A leg and back injury were identified, and first aid given. Because no help was close by everyone decided to pitch a tent to shelter the patient. You used the survival bag that everyone must carry when travelling away from Scott Base. These bags contain everything from tents to emergency food, shovels and sleeping equipment. Before long the patient was snug inside a tent and a hot drink was prepared. You can see this in the video. This scenario was a great way to test your skills and remind you of all the things you need to think about to keep safe in Antarctica.
Antarctic transport
Each winter sea ice grows and reaches a maximum in October before shrinking. To travel from Scott Base on Ross Island you often travel across this sea ice. There are vehicles that are purpose-built for travelling on sea ice. These vehicles include skidoos, hagglunds and Pisten Bullies. All the skidoos have been booked out, so you learnt how to drive a Pisten Bully. Scott, a mechanic taught you everything you need to know about looking after a Pisten Bully. These vehicles run on tracks and don't go very fast. They are very manoeuvrable though, so you had to be careful not to over steer. You learned to follow the red and green flags which mark safe routes and to keep your foot gentle on the accelerator. You will use this vehicle to travel out to Cape Evans tomorrow to meet the K043 science team. This team is trying to find out more about the microbes that grow on the underside of sea ice. These microbes are an important food source for marine creatures, so it will be interesting to find out more about them. I can't wait to leave the comfort of Scott Base behind and head out into the field.
See you then,
Shelley the LEARNZ field trip teacher.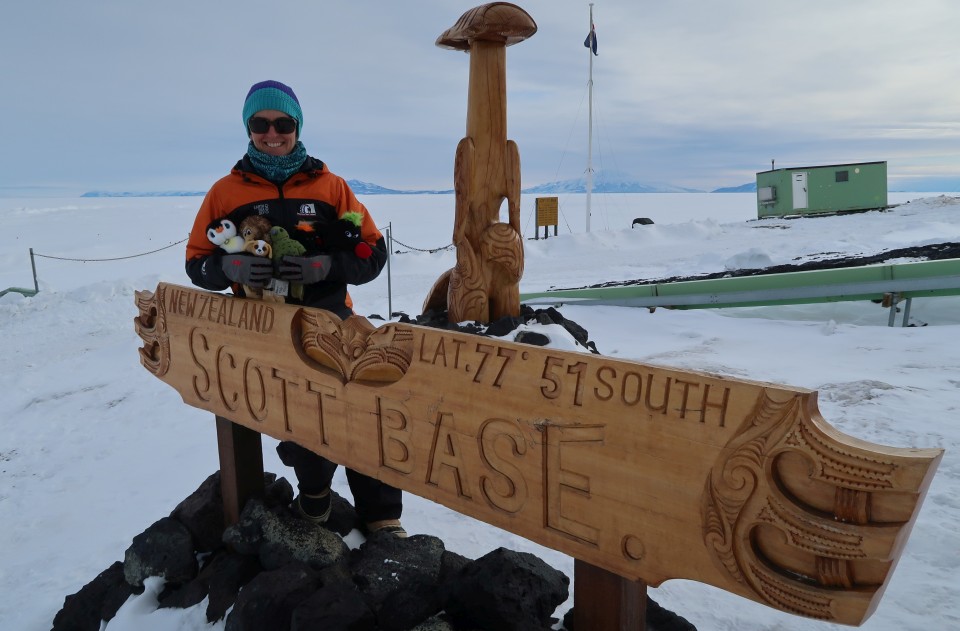 Shelley and the ambassadors celebrate being 77 degrees South in Antarctica. What is the latitude where you live? Image: LEARNZ.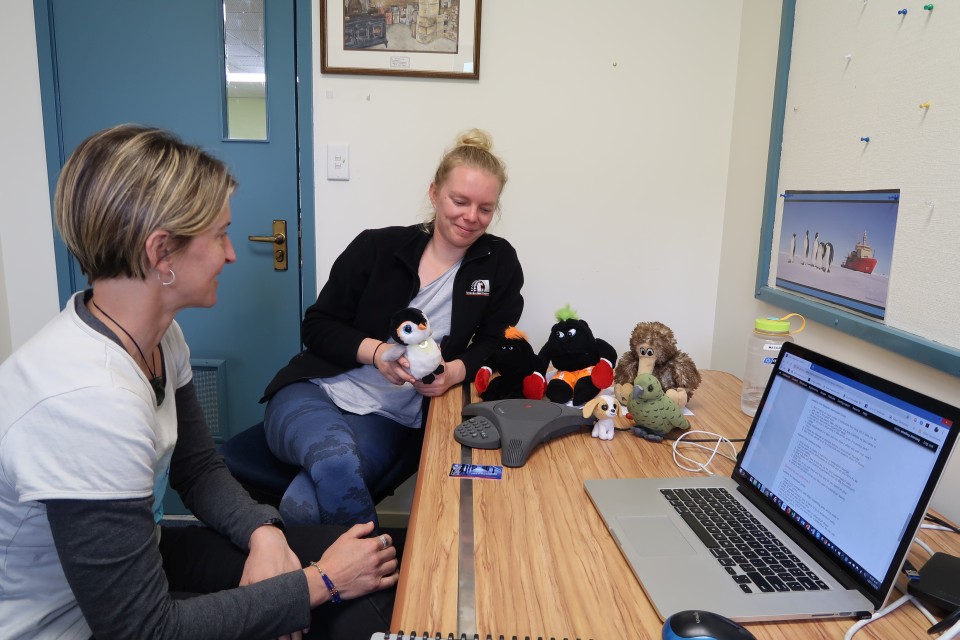 Shelley and Matilda talk to Masterton Intermediate and Waitetuna School during the first web conference. Image: LEARNZ.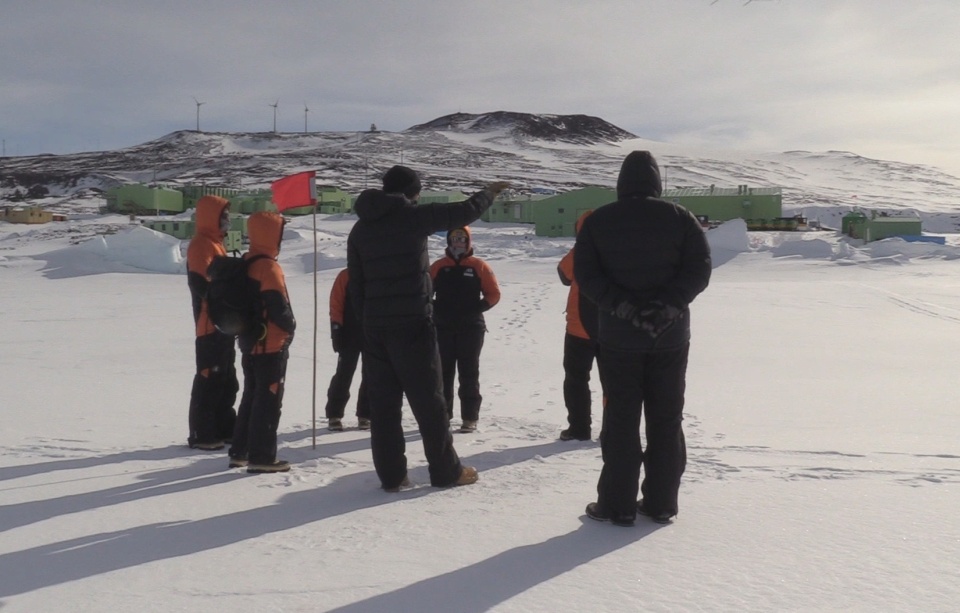 John, a field trainer for Antarctica New Zealand, takes a group out on to the sea ice for Antarctic Field Training. What do you think you would need to learn to stay safe while in Antarctica? Image: LEARNZ.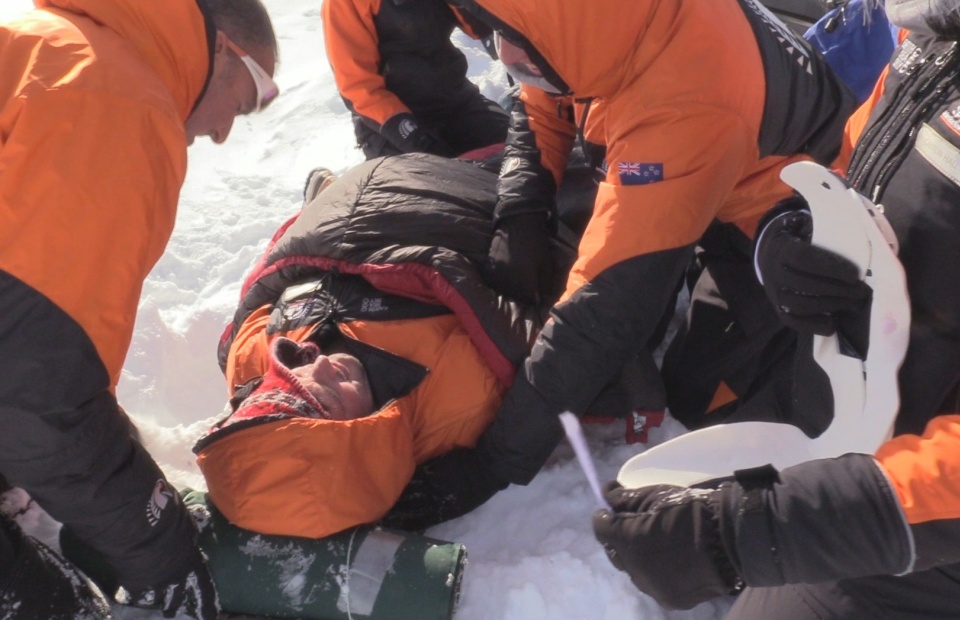 A patient receives first aid after a simulated skidoo accident during Antarctic Field Training. Image: LEARNZ.
Cookie helps melt snow as part of his field training. Why do you think it is important to know how to use camping stoves in Antarctica? Image: LEARNZ.
Shelley and the ambassadors pitch a tent during field training. These tents are part of the emergency survival bags that everyone must carry when travelling away from Scott Base. What else do you think is in these survival bags? Image: LEARNZ.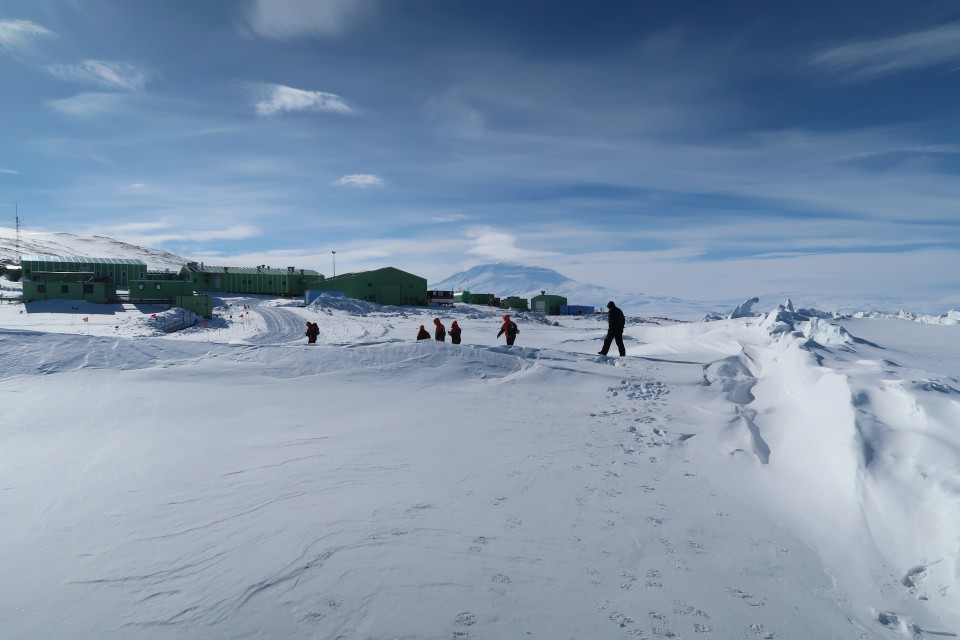 Antarctic Field Trainees head through the pressure ridges in the sea ice on their way back to Scott Base. What do you think creates these ridges? Image: LEARNZ.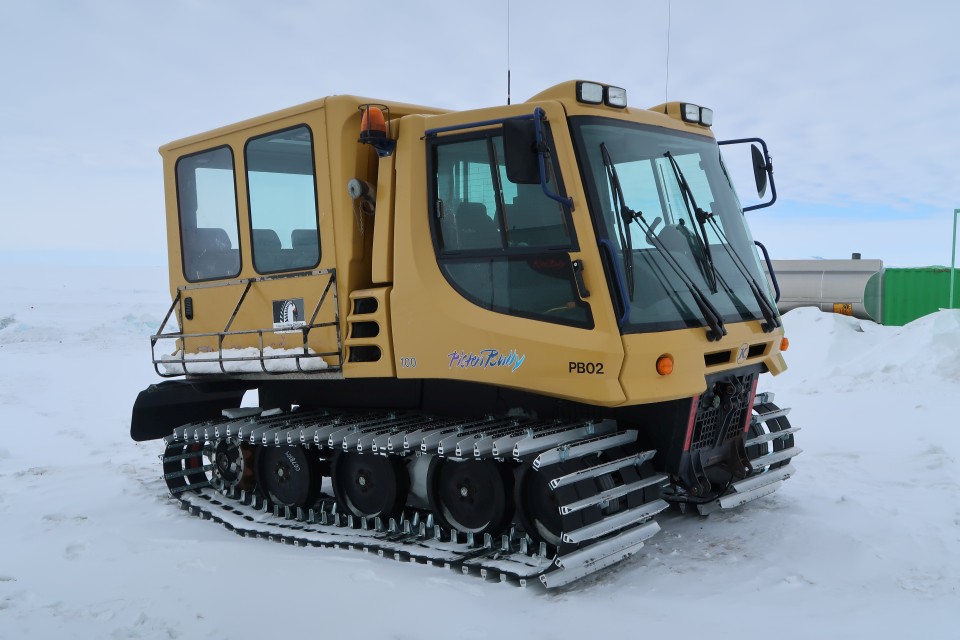 This is a Pisten Bully used to drive on ice. You will learn to drive these so you can travel out to Cape Evans. Image: LEARNZ.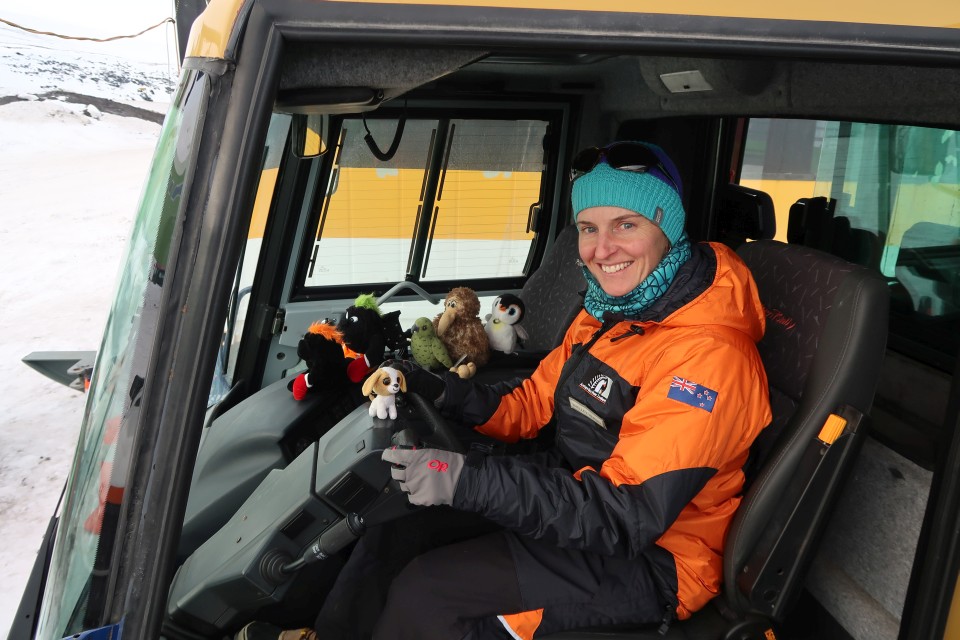 Shelley and the ambassadors learn how to drive a Pisten Bully. Image: LEARNZ.
Vehicles such as these Hagglunds have to be plugged into generators to stop the engines from freezing. Image: LEARNZ.