Diary 3
Date:
Thursday, November 15, 2018
Field Trip Name:
Antarctica
Weather:
Cloudy, -10 degrees Celsius and very little wind
Where You Are:
Scott Base and Cape Evans
Kia ora koutou,
After completing your Antarctic Field Training yesterday, you were ready to head out to Cape Evans. Before escaping Scott Base you had to phone home and talk to Glendowie School and Mata School during the web conference. Ken Ryan from Victoria University arrived at Scott Base yesterday and he had been looking forward to answering students' questions. Students were interested in what it was like to live and work in Antarctica. Ken had some great stories about his many trips down to the ice, including being caught out in blizzard conditions that came without warning. You can find out more by listening to the web conference.
Heading off base
Before leaving Scott Base there are a lot of things you need to remember to do. You must sign out, collect a radio and wriggle into all your layers of clothing. Then you had to get the Pisten Bully ready for travel. This is quite a process because of the extreme cold. Vehicles are plugged in overnight to an electric system to stop the engine from freezing. Even with this system you still must run the vehicle for a good fifteen minutes to warm it up. You also had to take the cover off the exhaust. Wind blown snow can get into the smallest of gaps and cause havoc. After collecting a survival bag and radioing into base to say you were crossing the transition between land and sea ice, you were finally on your way to Cape Evans.
Crossing sea ice
Although it felt like driving across snow covered land you were actually crossing frozen ocean. To make this possible, safe routes across the ice have been marked out with flags. Scott Base staff regularly check the ice to make sure it is thick enough to drive or walk across and mark any areas of danger with black flags. You followed the green and red flags that marked the Cape Evans Road and bumped your way north. Pisten Bully's run on tracks so they grip the snow and ice, but they aren't built for speed. It was a bit frustrating not being able to go any faster but great views across the ice stopped the journey from being boring. You even spotted some Weddell seals that had hauled themselves out onto the ice. They looked like big fat slugs lying happily on the frozen sea.
K043 Field Camp
Two hours later you arrived at Cape Evans. The K043 camp was easy to spot. A collection of three shipping containers and a large blue tunnel tent sat out in the bay. On land two containers had been transformed into a kitchen and lounge while bright yellow dome tents were pitched for the scientists to sleep in. It was hard to believe that all this gear had been set up only a few days ago. Everything was dragged here by tractors from Scott Base and will be taken back once the scientists have finished their work. You met Andrew Martin from the University of Tasmania and he showed you around the camp. Andrew explained why this area was chosen for their research. Cape Evans is a sheltered bay with no strong currents. It is protected by islands which stop cold water from the Ross Ice Shelf from draining into the bay. This makes Cape Evans the perfect place to study the algae that grows under sea ice. You can find out more by watching the video.
Leave only footprints
Antarctica is one of the most pristine and unspoilt places on Earth, so it is important to make sure we keep it this way. The K043 team must take all their rubbish with them and this includes everything from grey water to human waste. All the water from the kitchen sink is sieved and collected so it can be taken back to Scott Base. Pee and pooh must also be separated. You have to pee into a bottle and pooh in a bucket! This waste is also taken back to Scott Base where it can be put through the sewage treatment system. You will be able to try this system for yourself when you camp out at Cape Evans tomorrow night. After a tour of the camp and meeting a few members of the team you had to head back to Scott Base. I'm looking forward to finding out more about K043's science tomorrow.
See you then,
Shelley the LEARNZ field trip teacher.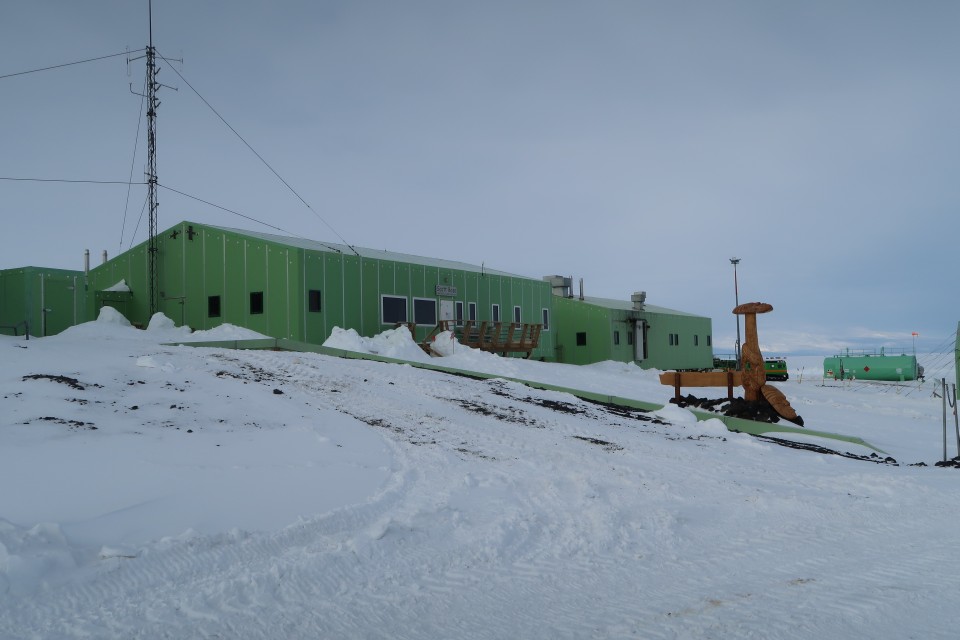 Another day in a frozen paradise at Scott Base. Image: LEARNZ.
Shelley keeps her eye on the flagged route as she drives the Pisten Bully out to Cape Evans. Image: LEARNZ.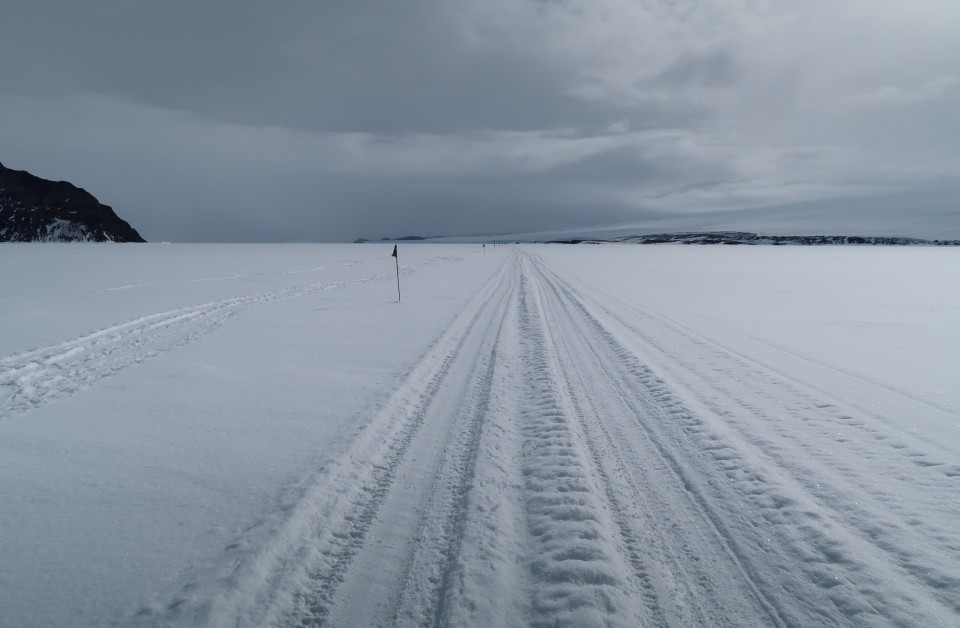 Heading north to Cape Evans across the sea ice. Image: LEARNZ.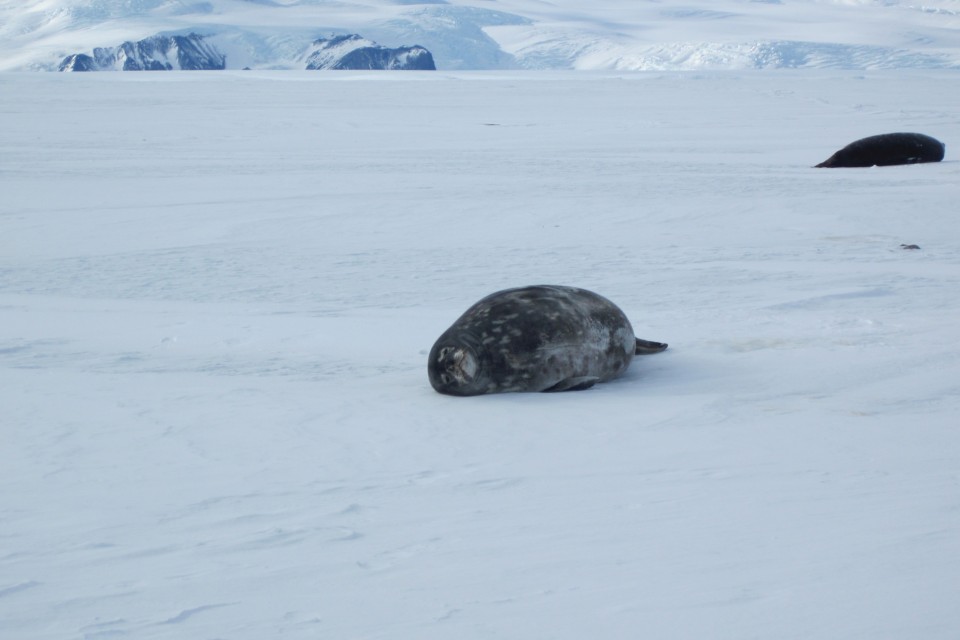 You could see Weddell seals lying on the sea ice as you drove to Cape Evans. What do you think these animals eat? Image: LEARNZ.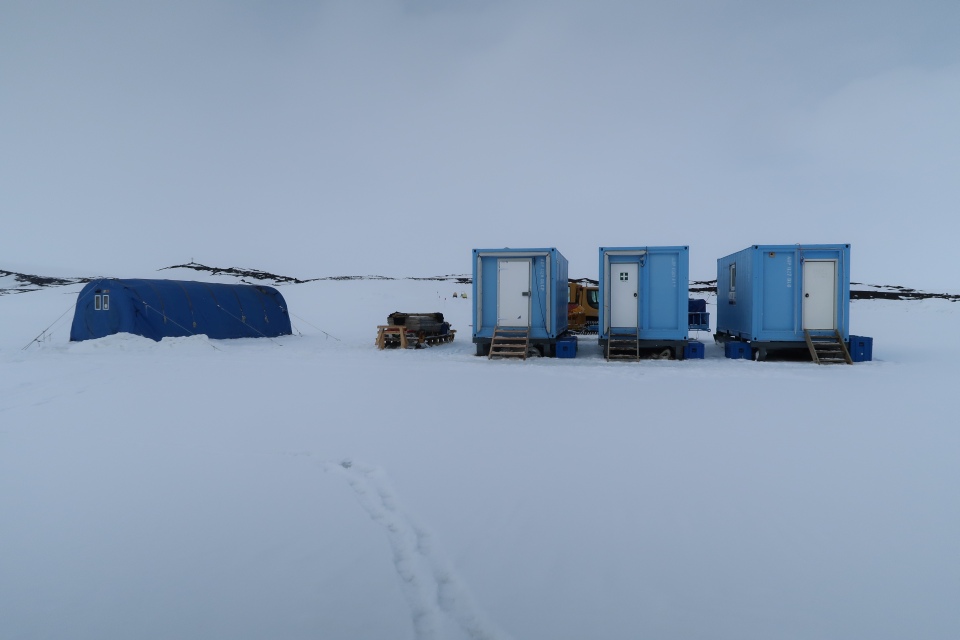 When scientists set up a field camp they bring massive amounts of equipment. Image: LEARNZ.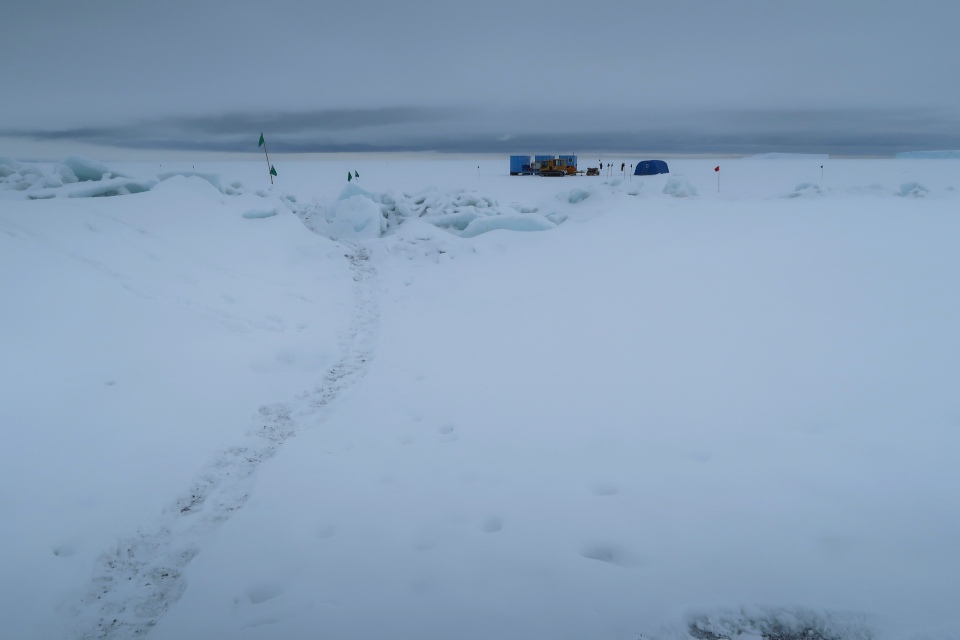 You had to be careful walking between the land and the sea ice to avoid the tide cracks. Why do these cracks form? Image: LEARNZ.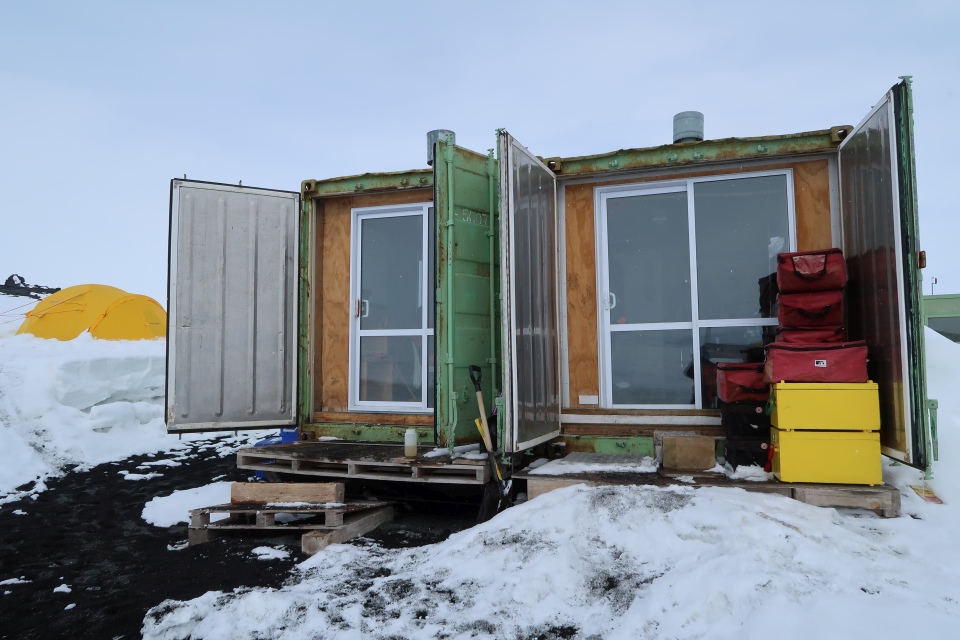 A kitchen and lounge has been set up inside these shipping containers. Why do you think shipping containers have been used? Image: LEARNZ.
Shelley gets to see how toilet waste is separated and contained so it can be taken back to Scott Base. What happens to this waste at Scott Base? Image: LEARNZ.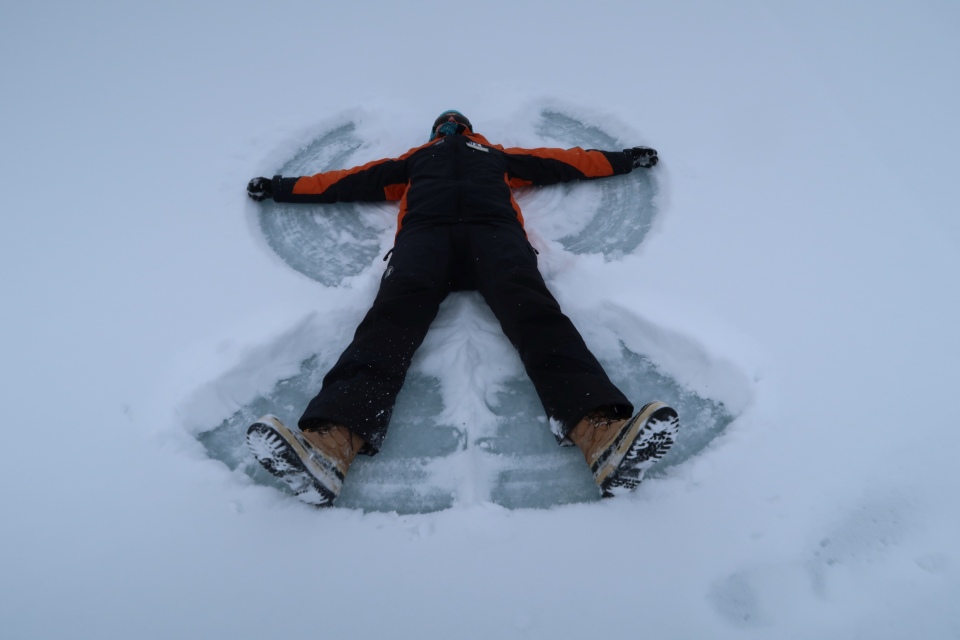 Fresh snow fell overnight at Cape Evans so Shelley couldn't resist making a snow angel. It doesn't often snow in Antarctica, why is this? Image: LEARNZ.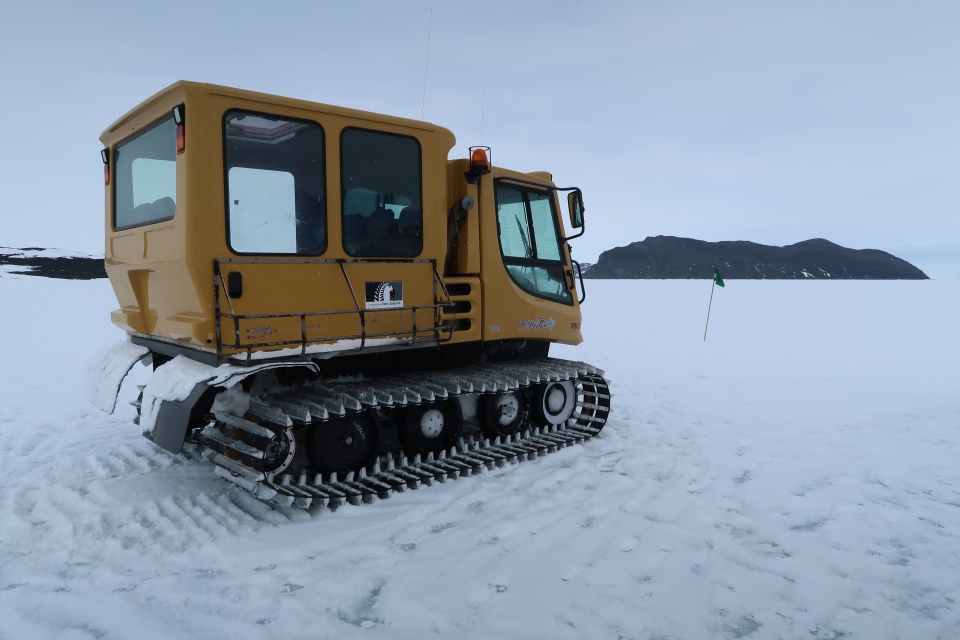 Before long it was time to head back to Scott Base. Tomorrow you will have time to camp here overnight. Image: LEARNZ.