Diary 4
Date:
Sunday, November 18, 2018
Field Trip Name:
Antarctica
Weather:
Fine, -10 degrees
Where You Are:
Scott Base, then Cape Evans overnight
Kia ora koutou,
It was another stunning day in the frozen paradise of McMurdo Sound today. This area is rich in Antarctic History with many expeditions to the South Pole beginning from here. With flight access McMurdo Sound has also become a hot spot for science. Today you will head back out to Cape Evans to find out more about this area and K043's science. You will be camping out overnight and will need to pack wisely to survive the cold.
Talking to students from North Street School
Before sorting your gear, you met with Ken Ryan to complete the web conference with students from Nifty Nine at North Street School in Fielding. These students had been studying microorganisms. They had carefully read the background pages, so they could challenge Ken with fantastic questions. It was interesting to think about how important microorganisms are. Some can be helpful, and others can make us sick, but they all have a role to play. You can find out more by listening to this web conference.
Sea ice algae
Ken has spent years studying the microorganisms that live on the underside of sea ice. These algae use the sun's energy to make food so are like the grass on a farm, providing food for many other animals. Ken and his team want to find out how these microorganisms would cope with changes in the amount of sea ice and snow cover. With climate change there is likely to be less sea ice. There could also be more snow because warmer air can hold more moisture. This snow can build up on sea ice and stop sunlight from reaching the algae that grows beneath. Ken's team will set up experiments to see how sea ice microorganisms cope with different levels of sea ice and snow.
Camping Antarctic style
It took time to pack everything you needed for your overnight camp. Just imagine how much gear you would need for three weeks out in the field! You organised your sleeping kit and battled to get it all into one gigantic bag. To stay warm in Antarctica you need a double sleeping bag and a thick inflatable mat to keep you warm when camping on snow. Although it seemed like far too much gear, I'm sure you'll be glad of it when the temperature drops below -15 degrees Celsius tonight.
A hole in the ice
Back out at the field camp Emiliano invited you into a big blue tunnel tent to see the hole that has been drilled into the sea ice. This hole will allow scientists to send equipment under the sea ice to photograph and monitor sea ice algae. Before getting too close to the hole you had to put on a life jacket. Falling into -2 degree water would not be much fun so people have to be very careful while working around such a large hole in the ice. You could see many different animals. Sea stars, krill and worms were all visible and you even caught a glimpse of a seal as it cruised past. Beneath the two metres of sea ice you could see a brown layer. This layer is sea ice algae. It's amazing to think that these plant cells can survive such cold conditions. Emiliano is setting up equipment to put on a sled that can be dragged across the underside of the sea ice. Sensors and cameras will send back information which will help the scientists understand more about the health of the algae and how it responds to stress. You can find out more in the video.
Snow gardening
You met Andrew and Fraser who were hard at work shovelling snow. They had created 5 metre square areas. Some of these squares had lots of snow piled onto them and others had all the snow scraped off. Andrew talked to you about his 'snow gardening'. These different areas will be used to monitor how sea ice algae responds to change. Storms can bring in lots of snow, but strong winds can quickly blow all this snow away. This means that as the climate changes and storms become more frequent, sea ice algae will have to survive these changes. You can watch the video to find out more. After helping shovel snow, you realised how fit you need to be to work out in the field.
With the constant sunlight everyone lost track of time and you nearly forgot to set up camp. It took a bit of problem solving but eventually you managed to pitch your tent. It was 11pm so ignoring the sunlight you headed inside to snuggle into your double sleeping bag.
See you in the morning,
Shelley the LEARNZ field trip teacher.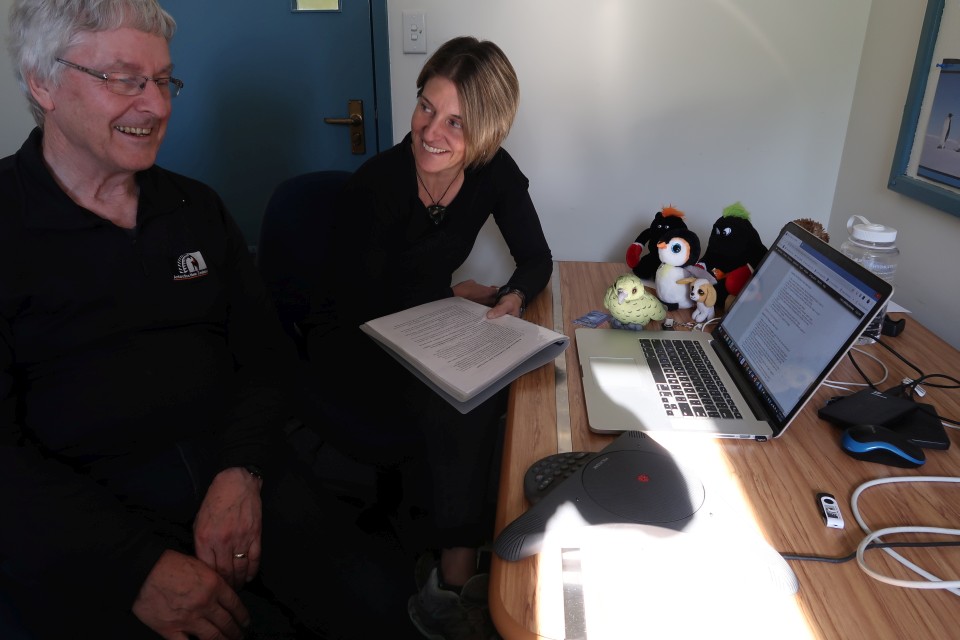 Ken answers questions from North Street School during today's web conference. Image: LEARNZ.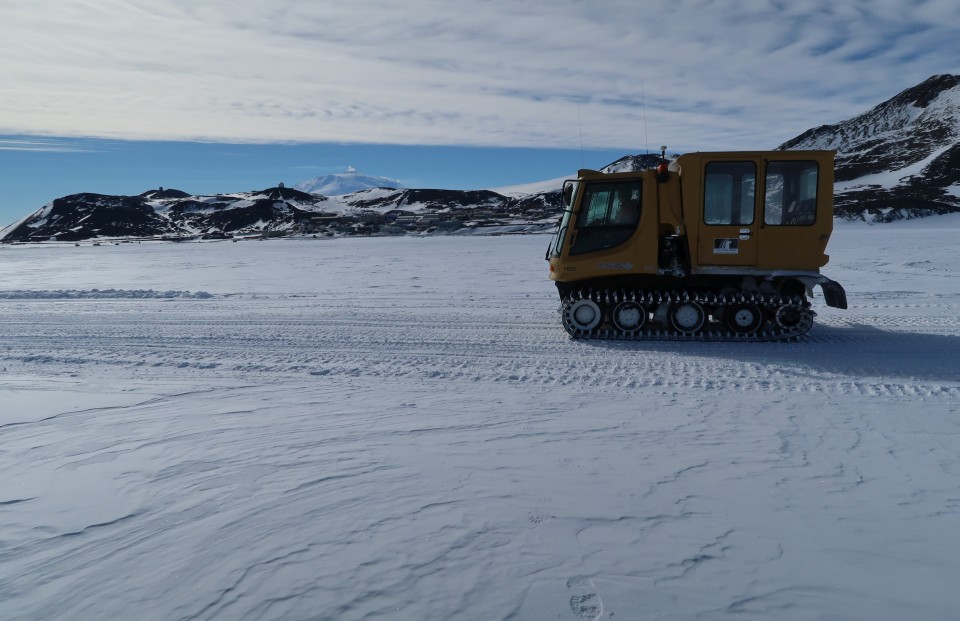 Shelley and the ambassadors head back out to Cape Evans on a Pisten Bully. Image: LEARNZ.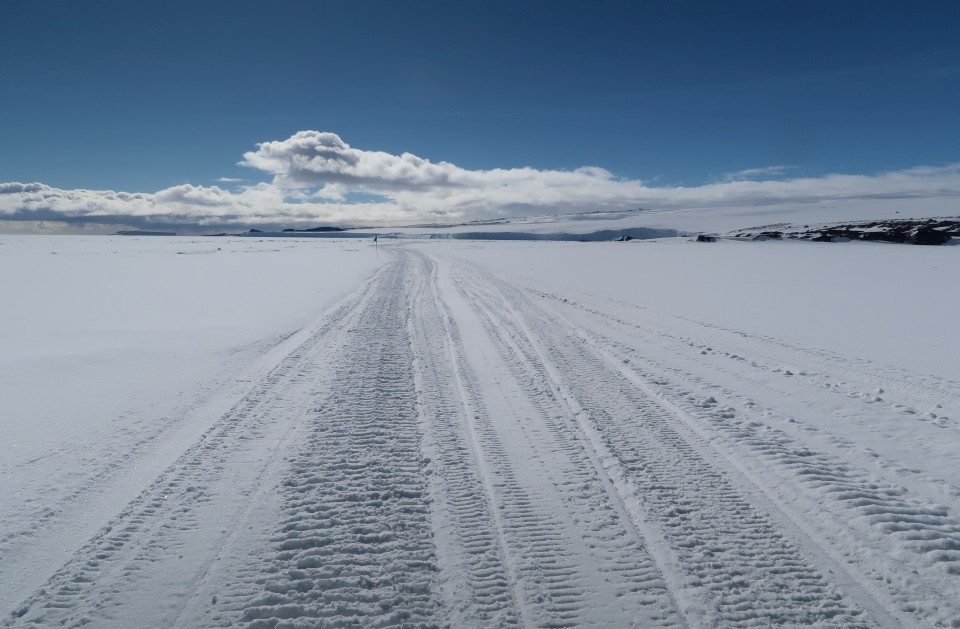 As you approached Cape Evans you could see the Barne Glacier. Image: LEARNZ.
The ambassadors look through a hole that has been drilled into the sea ice. How cold do you think this water is? Image: LEARNZ.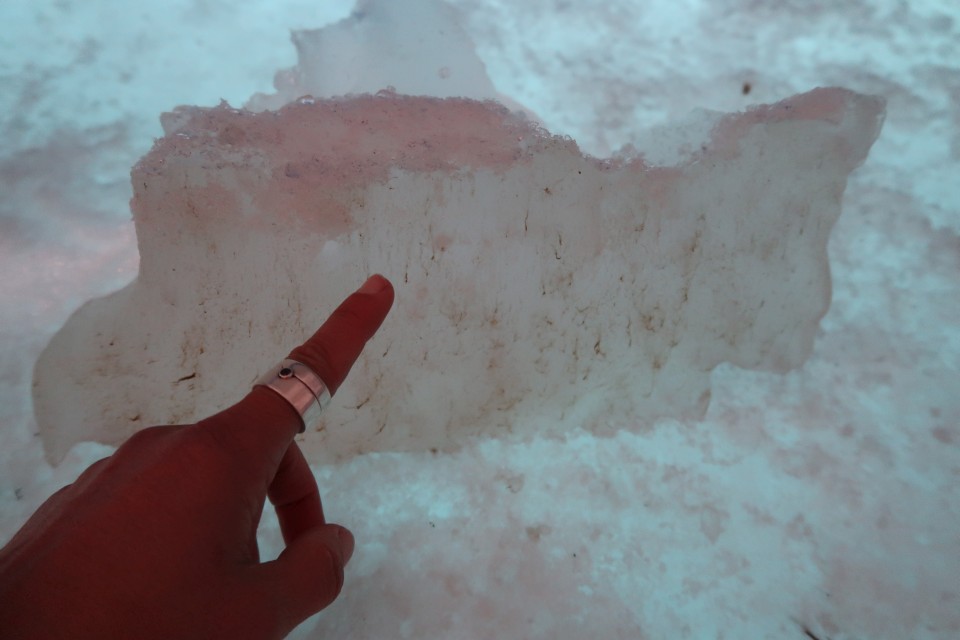 This chunk of ice shows brown sea ice algae growing on the surface. Image: LEARNZ.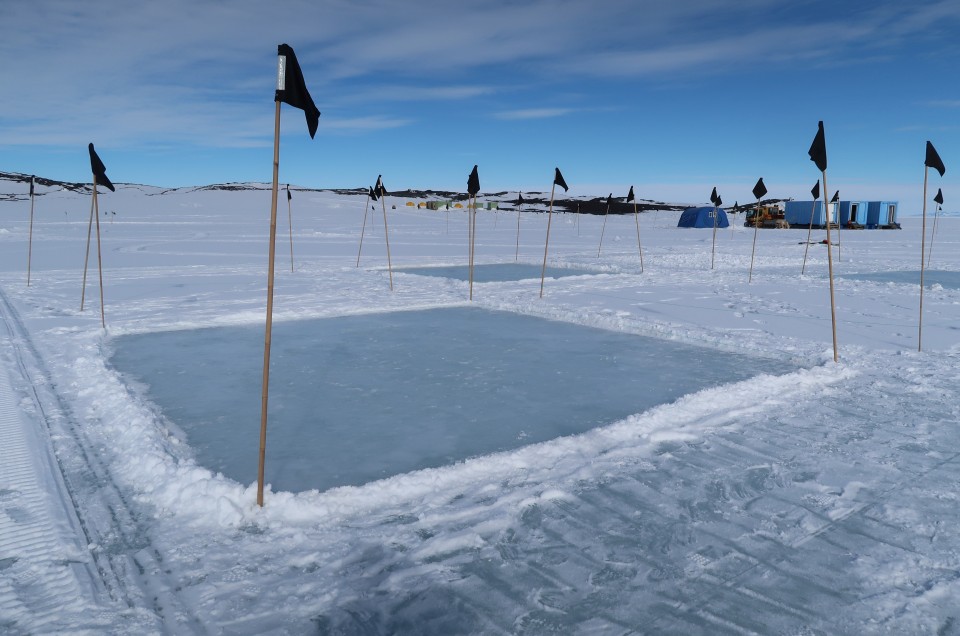 The scientists have been doing some snow gardening. These five metre plots will be used to monitor how sea ice algae responds to changes in snow depth. How do you think different snow depths could affect sea ice algae. Image: LEARNZ.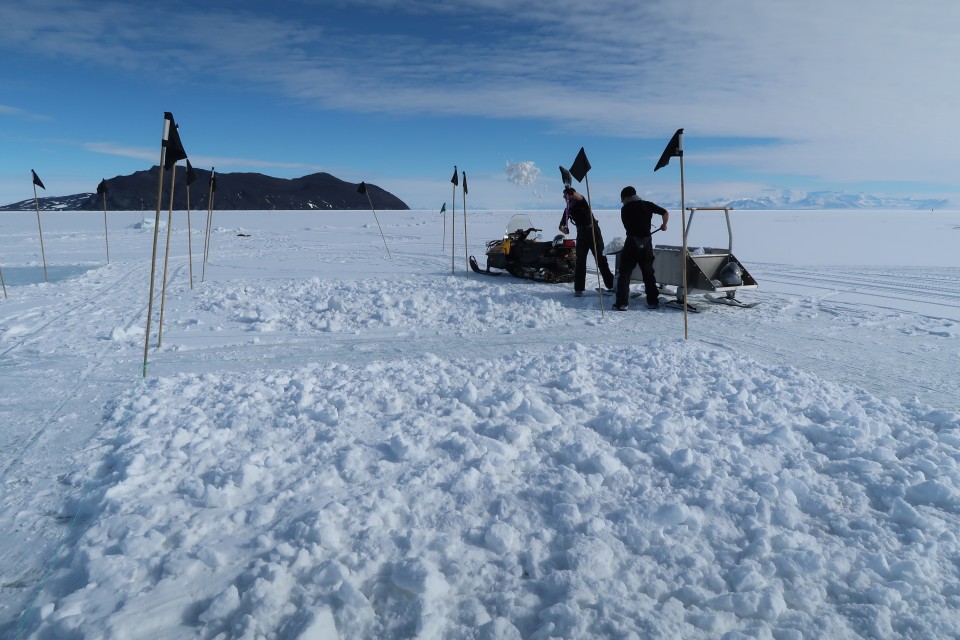 Scientists shovel snow on to areas of sea ice to model snow storms. Why do you think that it might snow more in the future in Antarctica? Image: LEARNZ.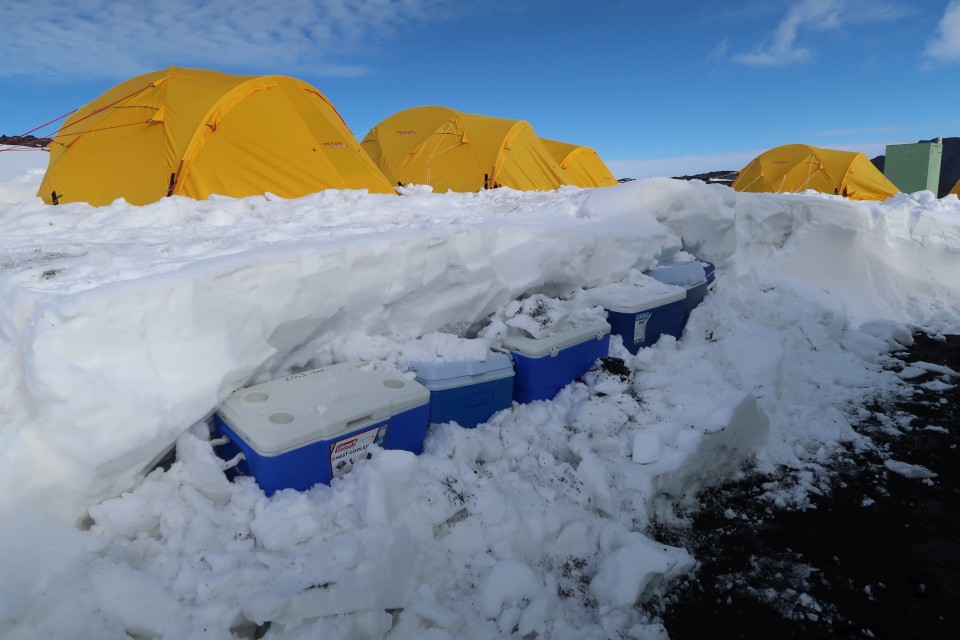 Chilly bins are kept cold in the snow. You don't need a fridge when you're camping in Antarctica! Image: LEARNZ.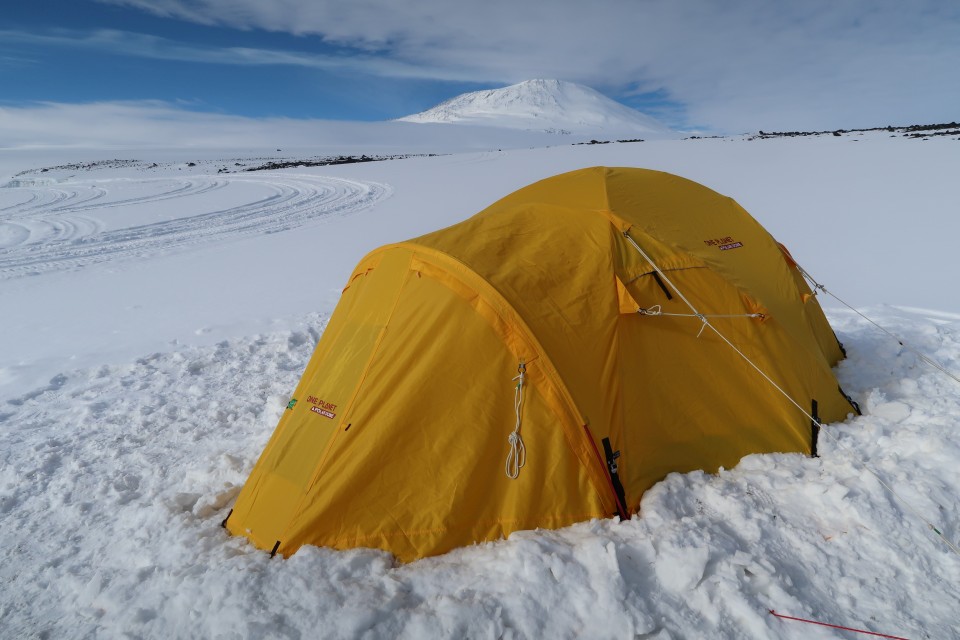 Don't let the sunshine fool you, it's 11pm and time for bed. Image: LEARNZ.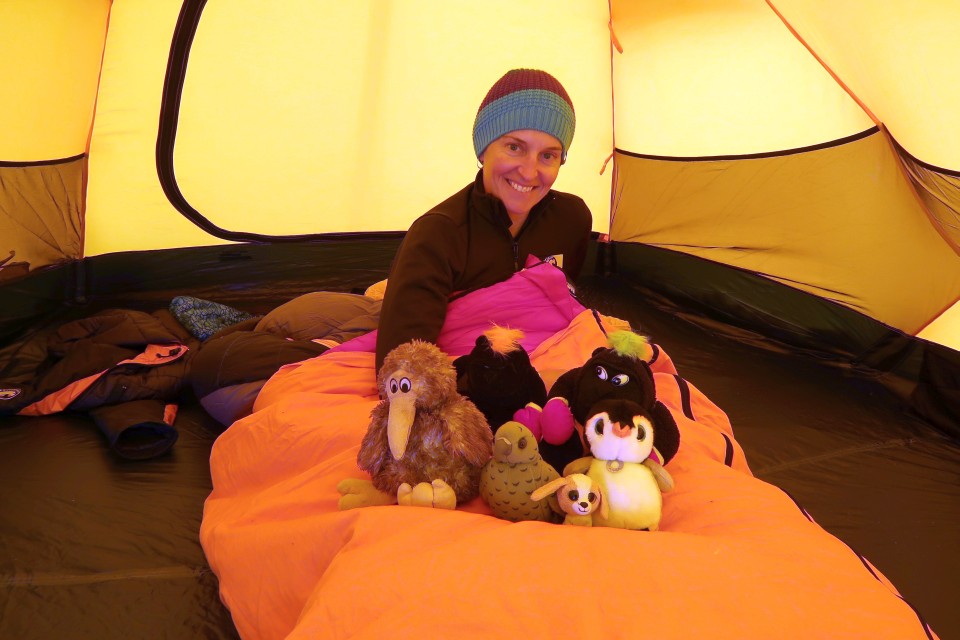 Shelley and the ambassadors settle in for the night at Cape Evans. What specialised gear do you think you would need to comfortably camp in Antarctica? Image: LEARNZ.